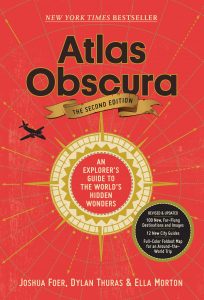 Atlas Obscura launched in 2009 as a Wunderkammer of a website that compulsively chronicles the world's endless expanse of strange, hidden, overlooked, and eccentric places, people, and objects. Crowdsourcing thousands of like-minded travelers in this collaborative, digital forum has yielded scores of the world's lost cities, deadly creatures, arcane relics, secret museums, et al. Three years ago, the site's co-founders first gathered some of their most surprising findings in a book, and in this second edition, Atlas Obscura: An Explorer's Guide to the World's Hidden Wonders (Workman, $37.50), 100 new entries have now been included. This daring departure from the familiar includes maps and guides to 12 cities, and if your kids seem ready to similarly embark on the unknown, a version has also been published for them: The Atlas Obscura Explorer's Guide for the World's Most Adventurous Kid (Workman, $19.95).
Holiday magazine famously blazed trails in travel photography, illustration, and journalism in the early years of jet travel, with legendary creative director Frank Zachary cultivating an unparalleled number of creative heavyweights—Henri Cartier-Bresson, Slim Aarons, Edward Gorey, and E.B. White among them. Zachary's mandate to his team: "Surprise me!" One of his most formidable in-house foot soldiers, editor Pamela Fiori, mines these riches for her compelling book, Holiday: The Best Travel Magazine That Ever Was (Rizzoli, $85). Even if many of the book's images are photographed from old issues, this jewel box of a retrospective still teleports readers to the glory days of magazines when travel budgets were as audacious as the work that came back with the team. 
"To awaken quite alone in a strange town is one of the pleasantest sensations in the world," wrote British photographer and writer Freya Stark in Baghdad Sketches: Journeys Through Iraq (1937), portions of which appear in Great Cities Through Travelers' Eyes (Thames & Hudson, $29.95). The illustrated anthology is drawn from the letters, diaries, memoirs, and contemporary reports of 38 voyagers traversing six continents. We start the trek in ancient Alexandria, 20 BC, wending our way through to 14th-century Constantinople, 19th-century Timbuktu, and all the way to 20th-century San Francisco.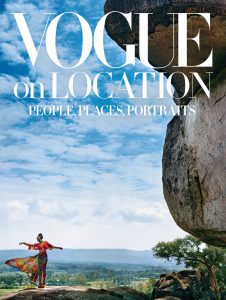 The 300-page, fashion-soaked travelogue Vogue on Location (Abrams, $60) harnesses the magazine's far-flung shoots with Richard Avedon, Helmut Newton, Irving Penn, and Horst P. Horst: from the iconic Veruschka shoots in the 60s; to Linda Evangelista in Technicolor tartan, marching to bagpipes for Arthur Elgort in the Scottish Highlands in 1991; to Lupita Nyong'o dancing with fellow Luo women in Kit Mikayi, Kenya, in 2016. Vogue went on location so you don't have to, but spend enough time with these pages and you're likely to be rummaging for your passport.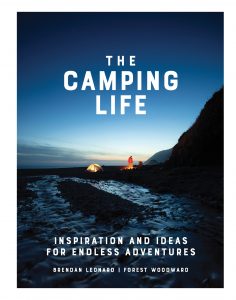 All manner of intrepid wayfinding erupts from The Camping Life: Inspiration and Ideas for Endless Adventures (Artisan, $24.95), from backpacking and rafting, to snow camping and glamping—the latter being a pastime passionately pursued by the Edwardians. Nearly every form of adventuring and navigating the great outdoors is collected in this taut little primer, and there is enough practical advice and inspirational photography to prompt you to pack your crampons and compasses—or at the very least to go out and buy a Williams-Sonoma sÅfmores kit and settle in next to your backyard fire pit. With such settings as the Desert Southwest and the Adirondacks, no matter what your threshold for roughing it, you'll gain inspiration from this book that is equal parts practical how-to and florid photography.