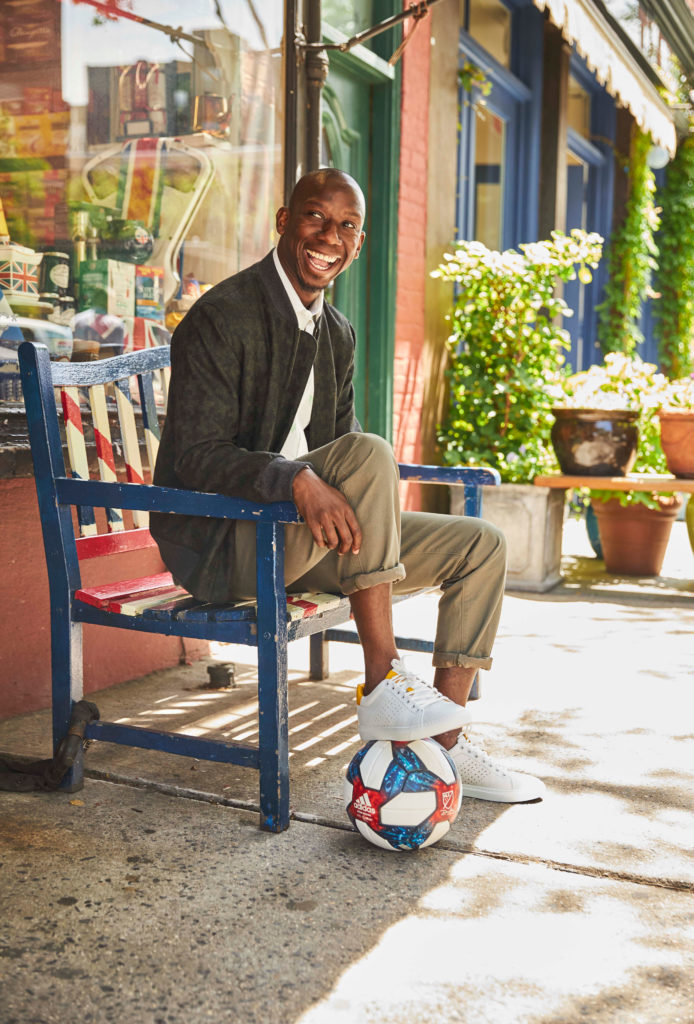 Bradley Wright-Phillips
"When you're in England you think you're famous and you end up putting your football second," says Bradley Wright-Phillips, who arrived in 2013 to join the New York Red Bulls. "Coming here, putting my head down, and finding that love for the game again … has been a real saving grace for me." The son of retired Arsenal legend and England international Sir Ian Wright, the 34-year-old's New York attitude appears to have paid dividends. In the six years since he arrived in the city he has catapulted himself into the annals of American soccer lore, becoming the first Englishman to score a hat trick in a Major League Soccer game, the fastest player in the MLS to score 100 goals, and the Red Bulls' record holder for most goals scored. It was a feat recognized by the club when it retired his number 99 jersey in 2018. Off the field, he runs his fashion label, Two Nines, and enjoys family time with his wife, Leanne, and their three children, Riley, 10, Ryan 6, and Rae, 2. For now, America is where he's happy. "When I go back home, after a week I need to get back here. I don't miss England yet."
---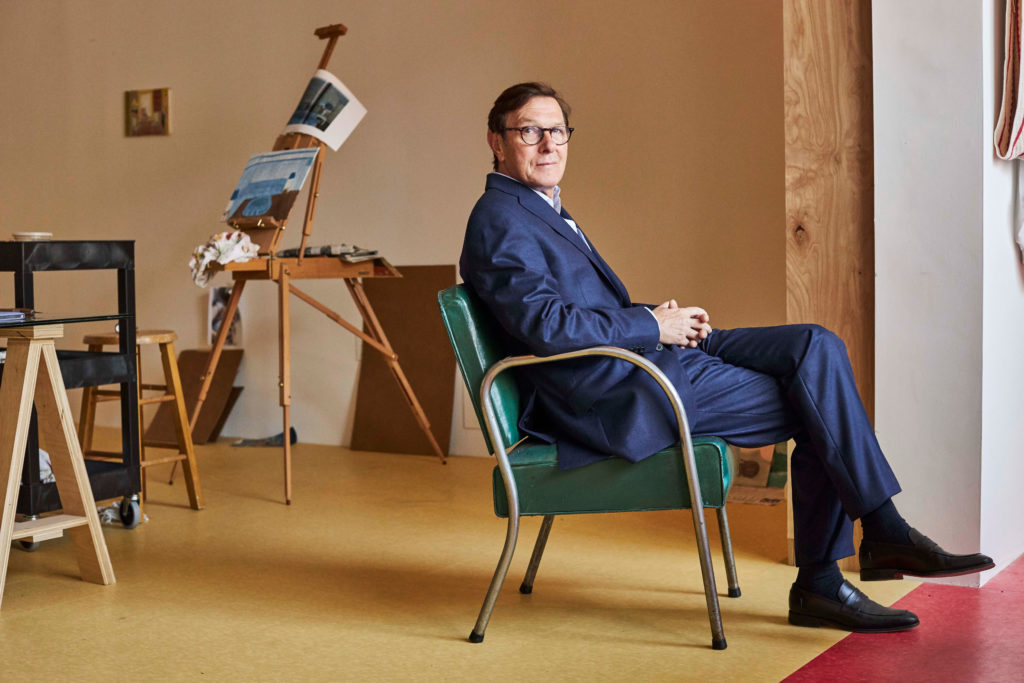 Hugo Guinness
"As invariably happens, some incident comes along very quickly, like you meet someone and you fall in love and you get married—and then 20 years have gone by," says Hugo Guinness of arriving in New York in 1995. Guinness is now a thoroughly confirmed New Yorker, married to American artist Elliott Puckette. He, himself is a celebrated painter, illustrator, humorist, and Oscar-nominee for the screenplay for The Grand Budapest Hotel. He cowrote the cult favorite with his close friend and collaborator, Wes Anderson. You'd be forgiven, and not alone, for thinking that his 19th-century townhouse in Brooklyn's Boerum Hill shares a remarkable resemblance to the home stealing the show in The Royal Tenenbaums. He shares the house, which has the feel of an artists' colony, with his wife and their daughters, Bella and Violet, both now away at college. On any given Sunday you might find Martin Amis and his wife, the writer Isabel Fonseca; landscape designer Miranda Brooks and her French architect husband Bastien Halard; and various members of the English diaspora all enjoying Puckette's legendary cooking. Weekdays are spent in his nearby studio working on his sought-after oils, watercolors, and linocut prints, which can be found at John Derian Dry Goods, the London gallery Wilson Stephens & Jones, and on Guinness's own website. He spent the last two years working on the screenplay of The French Dispatch, Wes Anderson's forthcoming comedy set in the magazine world of 60s Paris. In typical fashion, the famously self-effacing Guinness describes his writing role as "sitting there just to keep Wes company, really. He's the maestro."
"I remember arriving and seeing one of those bright blue New York skies, and just feeling completely free."

Hugo Guinness
---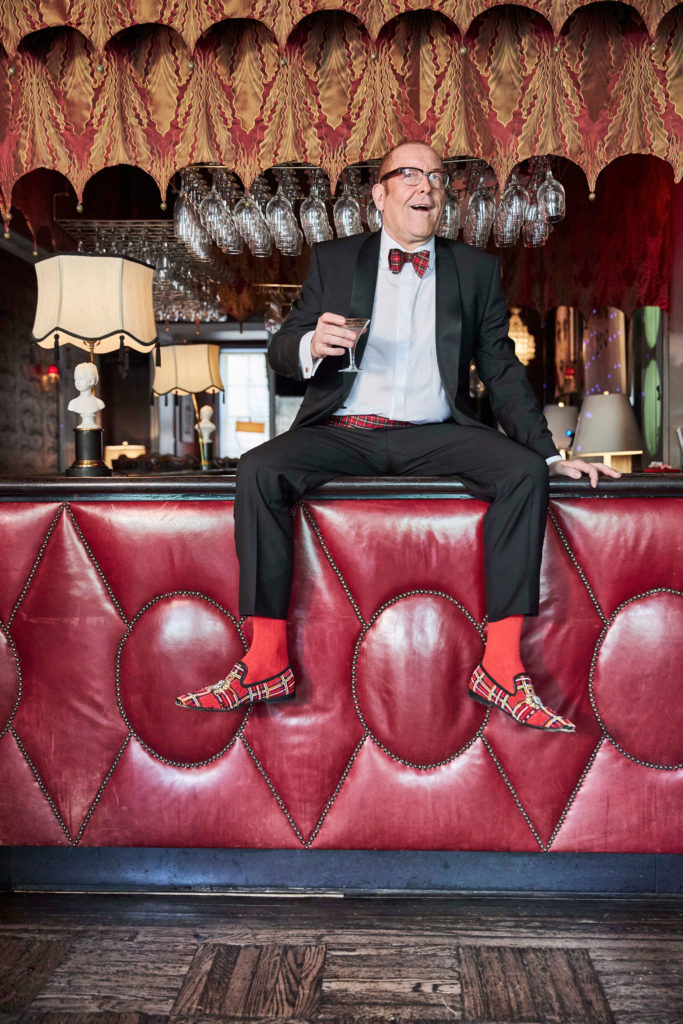 Alan Linn 
"I believe I've created a club in New York, but not necessarily a London club in New York," says Alan Linn, the convivial, larger-than-life Scotsman of launching his club Norwood 12 years ago. Since the heavy black doors first swung open, the club, which occupies the five floors and secret, walled garden of an Edith Wharton-style Greek Revival mansion on West 14th Street, has become the beating heart of New York's downtown, creative community. It's here that architects, fashion stars, musicians, art collectors, media moguls, high-flying hedonists, and a good smattering of Brits gather throughout the day and at dusk to socialize. "We have this alchemy of people dripping in," he says. "To me it's not about eliteness. It's about like-minded creative people coming together." Linn, who spent his youth in Dundee, Scotland, and was class president while a student at the Royal College of Art, has known one or two mavericks in his time. In 90s London, he managed the infamously rowdy members' club Blacks, where the fashion muse Isabella Blow and her husband Detmar would hold court, and where journalist Jeffrey Bernard was often wheeled home by Linn after a long night at the bar. "It was a rock 'n' roll time." New York is equally intriguing to Linn. "I find it quite a magical city, visually. There's a grittiness I like. It's not sanitized—there's light and dark." 
"The club is a culmination of everything I love: art, sociability, alcohol, food, and crazy people." 

Alan Linn
---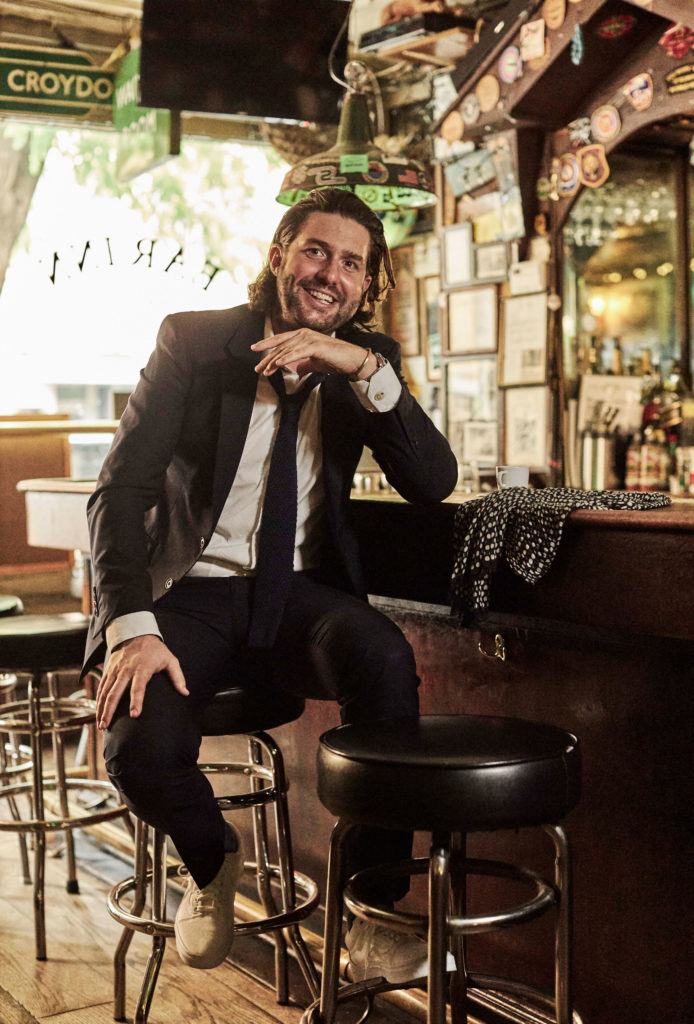 Phil Winser 
"You really felt like you could start something you were passionate about," says Phil Winser of arriving in New York in 2008 with just a weekend bag, and a head full of culinary ideas. Since then he has launched a string of eateries, including the Fat Radish, the Leadbelly, 58 Gansevoort, the healthy fastfood service TYME. his new brasserie/hotel in Chelsea with Basil Walter of BWArchitects, and yet another boutique hotel in upstate New York. The dashing Winser runs with a glamorous set, including fellow Brit Alexander Gilkes, the auctioneer and brain behind Paddle8, and American artist Richard Phillips. He cites his godfather, a chef, as a big influence: "He has a farm and vineyard in West Sussex, and one of the reasons I got into food was spending time down there with him." The relentlessly energetic Winser has also found time to start a family and move to the boroughs. He and his girlfriend, the Dutch model Rianne ten Haken, have a 22-month old son, Inigo, and have all relocated to Williamsburg. "I've finally done it," he laughs of crossing the Brooklyn Bridge.
"I always say, in the U.S., when you walk into a room you're considered the most interesting person until you prove otherwise." 

Phil Winser
---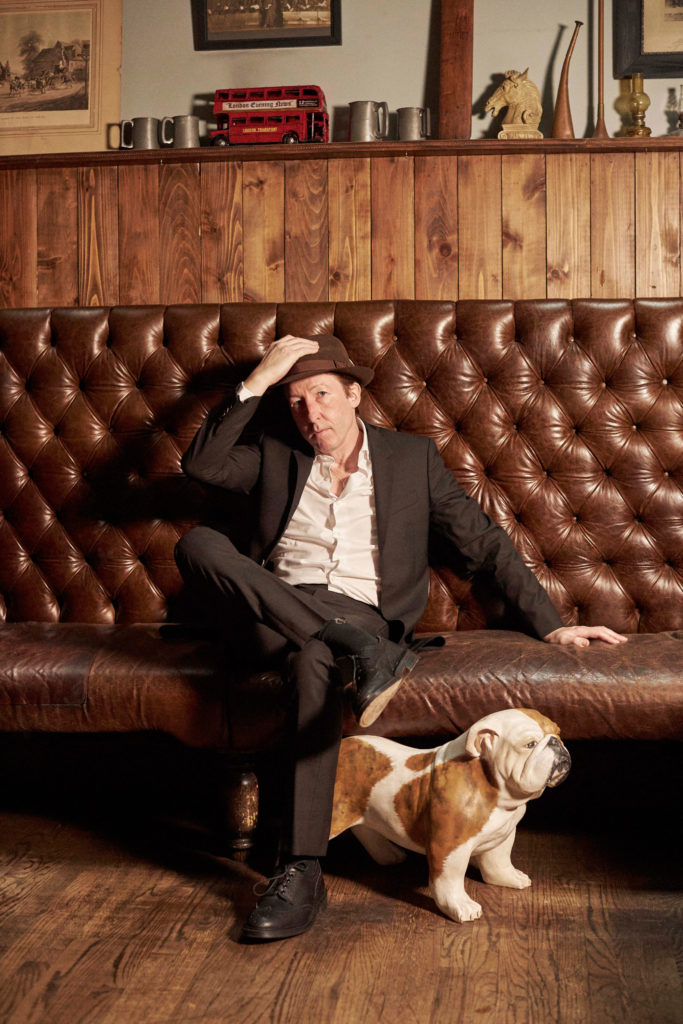 Craig McDean
"I like the buzz and energy of the city," says fashion photographer Craig McDean. "You forget: When you come from the airport and you see that skyline you think, 'Whoa, we're living here.'" McDean arrived from London in 1995. "New York was the place to be. It was the time of Liz Tilberis and Fabien Baron at Bazaar and all the stylists were here." One of the most respected fashion photographers working in the industry today, McDean was part of a new wave of British photographers in the late 80s and early 90s who cut their teeth on street-style magazines such as The Face and I-D. Dennis Freedman, the founding creative director of W magazine, brought McDean to New York. Since then he has forged a formidable career and family: he has two teenaged sons, Dylan and Elliott, with his former wife, the New York-based British shoe designer Tabitha Simmons. Away from the camera, McDean is what the British would call a "petrol head." Before he became a photographer McDean trained as a car mechanic, and describes himself in deadpan tones as "a pretty fearless driver." He currently owns a Ferrari, a Maserati, an old Porsche 911, and an Aston Martin. Previous rides included a Carrera and a Dodge, both of which he sold, describing them as "awful cars to drive." His recently published photography book, Craig McDean: Manual (Rizzoli), attests to his obsession with high fashion and American muscle cars—"I love the backyardness of them," he explains of the latter. On weekends, McDean can be found at upstate racetracks.
"I was never meant to live here, I just never left."

Craig McDean
---

Heather Hodson on Brits in our Midst

I came to visit New York 12 years ago for what I thought was a weekend and never left," says the award-winning restaurateur and hotelier Phil Winser, who has helped transform the New York dining scene with such foodie hotspots as the Fat Radish on the Lower East Side, the East Pole uptown, and his newly opened brasserie, the Orchard Townhouse, soon to be joined by a boutique hotel in the upper floors of the landmarked Chelsea brownstone. Now the city's de facto cultural barometer, Winser is not so unlike a young Keith McNally, who pulled off a similar feat decades earlier. "We were these excited, young guys," recalls Winser of arriving in New York and launching a string of businesses with his best childhood friend, Ben Towill. "People were so positive. The energy of the city just blew me away." 
For an Englishman, few cities in the world rival the magnetic pull of New York. How many Brits have visited Manhattan for the weekend only to find themselves, years later, embedded downtown or on the Upper East Side, a family and dog in tow? "I was never meant to live here," says the influential fashion photographer Craig McDean. "I just never left." Today, as Britain finds itself in a state of flux, New York's lure has only increased for potential ex-pats, and it doesn't go unnoticed that this nerve center of finance, fashion, food, art, and music owes much to previous generations of Brits. No surprise, then, that so many Englishmen like the ones featured in this portfolio continue to seek refuge in New York, responding to the city's rousing call with what E.B. White dubbed "the fresh yes of an adventurer." 
Says Bradley Wright-Phillips, the legendary soccer player who holds the record for most goals scored for the New York Red Bulls, "Coming here taught me that if you love something, you put everything into it." 
"New York is far more energizing than London," says Danny Moynihan, the debonair curator, painter, bon vivant, and author of the rollicking 90s art world novel Boogie-Woogie.  He arrived in New York three years ago with his wife Katrine Boorman, a film director and the daughter of John Boorman. "Along with the positivity of the conversation here," he says, "in New York you can lead several different lives." Moynihan is one of those Englishmen who can't stay away. This is his fourth stint in the city, having first arrived in the 80s, when he worked at the Robert Miller Gallery and knew everyone from Warhol to Basquiat. "I don't know how we did it. It was all night long, the Palladium or Area…and then plenty of drugs, bed at 5am, up at 8am to work…day in, day out. Completely crazy." Things clearly hadn't settled down a decade later, when he lived here again, this time with Damien Hirst and Hirst's girlfriend Maia Norman on Howard Street, where the trio threw notorious dinner parties. Nowadays it's a question of stamina, he finds. In comparison to New York's pace, says Moynihan, "living in London is like being in the country." 
"New York is far more energizing than London."

Danny Moynihan
Another great draw of our city to the foreign adventurer is that he gets to shed the assumptions of class, background, and status that can hover back at home. "I loved New York upon arrival," says man-about-town Euan Rellie, a product of Eton and Cambridge. "I had a very establishment upbringing in the UK. Here I felt like I could live life fuller–to the fullest." Arriving as a baby banker at the age of 23, he shared an apartment in the Police Building with Cambridge schoolmate and film director Chris Weitz. "I came here and ran with a gang of Brits–Chris, Rory Fleming, Toby Young," in addition to the stylish Sykes siblings, one of whom he married: Lucy, an author and fashion editor. 
Scratch the surface of an Englishman just landed at JFK and you'll often find an iconoclast raring to break loose. "I remember the incredible feeling of one of those bright blue New York skies, and the light," says the artist, writer, and humorist Hugo Guinness, a member of the banking clan. "Just feeling completely free." He was 37, and it was the mid-90s. "Was I running away from something, or running toward something else? In hindsight, probably a bit of both." 
Moynihan was similarly stifled by the Old Country. "I got bored of the Englishness of England–the nonacceptance and the pigeonholing. That's what the English love doing: pigeonholing people." In contrast, New York seems to allow Brits to blur and fuse identities, to be exactly who they want to be. Moynihan tries to explain it: "I think there's an openness here, nothing is closed off–you're not queuing up to wait for admission. In America you're allowed in, as a general rule. On different levels, it's about availability, and acceptance, and anything goes."
"In many ways, New York City is the embodiment of the American Dream for British expats."

Heather Hodson
One lesson contemporary Brits have learned about New York is that it's not enough to just trade on the accent. Cecil Beaton may have blithely assured his 1938 readers in Cecil Beaton's New York, "an unknown or untitled Englishman still warrants a greater interest than any other stranger," but times have changed. As welcoming as New Yorkers can be, Englishmen can only get so far living off their Old World mannerisms and cadence. To thrive here, they benefit from a solid work ethic. Show grit, and the whole shimmering grid opens up. "My wife and I talk about this all the time," says Wright-Phillips. "It's a cliché, but if you work hard, you can get it done. In America you can be anyone. Everyone has a chance." 
In many ways, New York City is the embodiment of the American Dream for British expats. "I always say: in the U.S., when you walk into a room you're considered the most interesting person until you prove otherwise," says the 35-year-old Winser. "Whereas in the UK, it's been the other way around." Agrees Rellie: "In New York, if you chance your arm a bit, people are predisposed to support that." Another Brit expat to recently chance his arm here is tastebroker and club mogul Robin Birley, son of the late Mark Birley, who recently landed here to prepare the ground for a New York outpost of Oswald's.
A willingness to put yourself out there. Industriousness. Restlessness. So what else does the British expat bring to New York? "Shabby chic," explains Moynihan. "There is that element of fading grandeur and a world gone by, a bit like Brideshead Revisited. The other thing about the English is we have a sort of nonconformity and humor. Americans are always amazed and horrified by some of the things we say. I think they enjoy it." 
"Many of us who come here are a bit excessive or extravagant," agrees Rellie. "We are the hot sauce on the chicken rice. I think there's a reason Americans invite Brits to their dinner parties. It's to be outspoken, and irreverent, and a bit cocky." 
"In New York, if you chance your arm a bit, people are predisposed to support that. Many of us who come here are a bit excessive or extravagant."

Euan Rellie
An unconventional attitude of mind and riotous sense of fun is a potent mix. Artists, writers, dandy-aesthetes, politicians, playboys, rock legends, aristos, journalists, actors, film stars, bankers, restaurateurs, night crawlers, stylemakers, and tastebrokers: the list of citylife-enhancing Brits is long. 
Like their forebears, the Englishmen (and one Scotsman) we've photographed for this portfolio are all making their mark on the character of New York. Stars in their fields, these Brits are changing the landscapes of fashion photography, the culinary and visual arts, sport, film, and nightlife. Some, like Winser and McDean, came here by accident. Others, such as Scotsman Alan Linn, founder of the private members' club Norwood, arrived by design. Says Linn, "The city—and the club I built here—was the culmination of everything I love: art, sociability, alcohol, food, and crazy people." 
So here's to that extended tribe of Brits who have thrown in their lot with us, and in doing so, have contributed to the distinct alchemy that is New York.
---
---
The Anglo Files
Culture Club
Martin Amis
Salman Rushdie
Hari Kunzru
John Oliver
Noël Coward
Danny Moynihan
Paul Kasmin
Jonathan Burnham
William Richmond-Watson
Brian Cox
Alan Cumming
David Ogilvy
David MacMillan
Henry Wyndham
David Miliband
Christopher Hitchens
Mark Shand

Journalists
Harold Evans
Paul Dacre
Adam Edwards
Geordie Greig
Tunku Varadarajan
Edward Helmore
Tom Shone
Christopher Mason
Andrew Sullivan
Adam Higginbotham
Ian Parker
Nick Denton
Chris Heath
Tom Sykes
John Cassidy

British Bad Boys
Rufus Albemarle
Marlon Richards
Keith Richards
Dan Macmillan
Lucas White
Jamie Blandford
John Jermyn
Toby Young
Howard Marks
Nik Cohn
Sid Vicious
Edward VII

The Fashionable Crowd
Hamish Bowles
Andrew Bolton
Cecil Beaton
John Lennon
Andrew Lloyd Webber
Mick Jagger
Sting
Paul McCartney
Bryan Ferry
David Bowie
Paul Bettany
Daniel Craig
Patrick Stewart
Marcus Wainwright
David Neville
Simon Doonan
Michael Macaulay

Scene Makers
Duke of Windsor
Quentin Crisp
John Richardson
Keith McNally
Brian McNally
Euan Rellie
Rory Fleming
Ben Towill
Nick Jones
Robin Birley
Adam Cohen
Oliver Clegg
Alexander Gilkes
Alex Logsdail
Alistair Clarke
Caspar Jopling
Mark Borthwick
English Haunts
Pubs 
The Churchill Tavern
The Shakespeare
The Red Lion

Shopping 
Burberry
Barbour
Turnbull & Asser
Richard James
Alexander McQueen
Charles Tyrwhitt
Mulberry
Harrys of London
New & Lingwood
Rag & Bone
Crockett & Jones
Tea Time/Dinner Time
Tea & Sympathy
Lady Mendl's Tea Salon
Lowell/Pembroke Room
A Salt & Battery
Bar Belly
The East Pole
Jones Wood Foundry
The Ear Inn

Clubs 
Norwood
Soho House New York
DUMBO House
Oswald's (opening in late 2020)