When Imbolo Mbue writes, she thinks about power. Political power, economic power, female power, male power, media power, power of government, Black power, White power. Power as a living, breathing, heart-thumping act of brutality, or even in fact of love.
With Mbue, you discover power where you thought none existed, as in her new novel, How Beautiful We Were. It weaves a heart-wrenching tale of environmental destruction and death at the hands of an American oil company and a callous, corrupt government.
It could not be more timely. Power and its resultant inequities stare at us with bared teeth as we confront a raging pandemic and recent environmental disasters like those in Texas and Ecuador. "That people simply asking to live in a healthy environment could be so horribly treated," Mbue told Avenue. "I find it very disturbing."
Speaking from upstate New York, where she and her family have decamped during the pandemic, the stylish writer with envy-inducing cheekbones wears a rose-colored top, her usually prominent hair wrapped casually in a shiny, colorful printed scarf. Judging from her numerous public appearances, she clearly favors bright colors and a coiffure — in public anyway — of a prim bun or a dramatic, asymmetric cloud.
Mbue first grabbed our attention with her debut novel, Behold the Dreamers, which won her the 2017 PEN/Faulkner Award, a spot on The New York Times bestseller list, an Oprah's Book Club pick, and a seven-figure advance.
Naturally, readers waited and wondered what she would do for her next work. Sophomore efforts of all kinds are notoriously jinxed and full of paralyzing pressure to live up to expectations: Would Rihanna repeat the success of "Pon de Replay," or be a one-hit-wonder? Could Raf Simons's second Prada collection be as tantalizing as his first? But indeed, book number two from this remarkable writer is a worthy follow-up to its predecessor.
Set in the fictional African village of Kosawa, the story unfolds from multiple vantage points as each narrator recounts how villagers fought to save themselves and their once-lush land bequeathed to them by their ancestors. In contrast, Behold the Dreamers focused on two families in New York City — one American, the other from Cameroon — during the 2008 recession.
While they differ, the books share some important DNA. "Both are very much about power," said Mbue. "You may think the African villagers are very powerless, but they have power."
The element of dreams is another important common thread in both novels. "It's not crazy dreams," said Mbue. "They just want to live a normal life with normal dreams, like a safe place to live. Enough to eat."
Astonishingly, Mbue has had How Beautiful We Were in the hopper for 17 years. "It was the first thing I started, when I started writing in 2002," she said. She put it aside to create Behold the Dreamers but "it was very personal to me, it kept haunting me" and she returned to it after she completed what became her debut novel.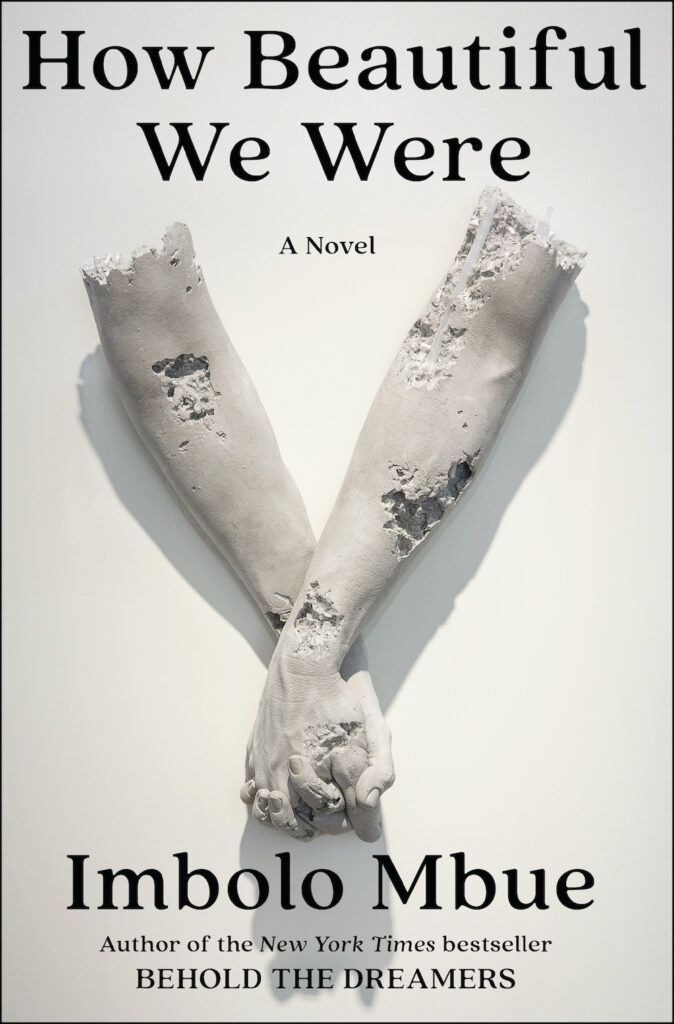 For the main protagonist, named Thula, she drew upon her own childhood. "A lot of it came from this African girl who I was, growing up — I was a bookish kid, underweight as a child," she said. "I didn't grow up in a place that has environmental degradation, but I did grow up in a dictatorship."
Mbue lived in two villages and the Cameroon port town of Limbe, the site of an oil refinery, before moving to America in 1998 at age 17 to attend Rutgers University, graduating with a BA before taking a master's degree at Columbia. "There was always oil in the story, but the environmental angle was not so strong in 2002," she continued.
Then came 2016. "There were all these things that were happening around 2016 — the Flint, Michigan [water crisis], the "Me Too" movement, Trump's election and Black Lives Matter," she said. And back in the news was one of the largest man-made environmental disasters in history, the BP oil spill. The Brookings Institute released a damning report that year, and several movies hit the screen, including Deepwater Horizon, starring Mark Wahlberg. Together they galvanized Mbue's thoughts about the story she wanted to write.
"When I was growing up, I was very affected by the murder of an environmentalist in Nigeria, Ken Saro-Wiwa," she said. "They imprisoned him and eventually hung him."
"As a child I was fascinated by revolutionaries…[but] to be clear, I'm not a revolutionary," she added, laughing. Now that that's cleared up, it's nonetheless very cool that she made the book's main character — a heroic, revolutionary figure — female. "At first it was hard to envision Thula. I couldn't just go by what I think." She had to dig deeper, knocking herself out to study several powerful leaders and revolutionaries: George Washington, Steve Jobs, Angela Davis, Patrice Lumumba. "Malcom, Martin Luther King, Mandela — I noticed everybody who had been celebrated were all men," she said.
Yet, she insisted, "everything that is in Mandela, Martin Luther King, Malcolm X, everything that makes them leaders, can be in a woman too. Thula's mother, Thula's grandmother, they represent a lot of African women who push back against injustice in their life," she said. "I grew up around these women."
Despite the heroics, as in Behold the Dreamers there is no kumbaya, gift-box-with-bow ending for How Beautiful We Were. "That's not me!" exclaimed Mbue, who often cried while writing it. "You'll not get that from me. You don't stand up and fight a multinational and not pay a price, go up against a corrupt government and not pay the price," she declared, her passion palpable through the Zoom connection.
Despite being in demand for interviews and events, Mbue maintains a boundary between her private and public life. She never mentions a spouse, but she's wearing what looks like a wedding ring. "I'll only say I'm married and I have children," she said, in a delightful sing-song voice accented by her native country's cadences. "I am a novelist and I give away so much of myself through my writing, I need that private space for myself and my loved ones," she explained with good humor. "What my husband looks like, how many children I have is not important. What I like to talk about is my journey as a writer. I like to inspire people who look like me. To let them know, it's not a pretty journey. But they can do it."
Like many of us, the pandemic has upended her life. "It was a difficult spring," she recalled. Her tour for Behold the Dreamers was interrupted and the release date for How Beautiful We Were was pushed back a year. She was also in the midst of trying to move apartments when Covid descended and she was forced to find a plan B. She took refuge in the country with her family, a compromise reached when they expressed little enthusiasm for her suggestion that they try Mexico.
"I'm fascinated by Mexico," she said. And she speaks Spanish, but nonetheless added that "New York City is my adopted home… I'm coming back next year." Forced as it is, she appreciates the time to recharge. There are no more half-finished manuscripts waiting. "The next one will be from scratch," she said with a laugh.
"I've lived in New York City more than anywhere else now — a total of 16 years. I walked down the street and got inspiration for my book," she said, referring to the black-car chauffeur who is a central character in Behold the Dreamers. "I love that. When I walk out of my apartment building I say, 'Wow! I live in New York City!'"
How Beautiful We Were, published by Random House, is available now.