Daughter of the legendary New Yorker illustrator Pierre Le-Tan, Cleo Le-Tan grew up surrounded by stalagmites of books and spent years spelunking the city's literary secrets for A Booklover's Guide to New York. The delightful, bookish romp hops from neighborhood to neighborhood, with more than 200 entries, and illustrated by her late father, this being his last passion project. Here, Cleo shares some of her favorite bookstores in the city, which she calls "a special place for curious bibliophiles." 
"New York is the epicenter of belletristic brilliance." 

Cleo Le-Tan
Argosy Book Store
116 East 59th Street
212.753.4455
argosybooks.com
Officially the oldest bookshop in New York City, having opened its doors in 1925, Argosy is currently on its third generation of family ownership. The leather-bound classics of literature on the ground floor and bankerly green-shade lamps confer an Old-World-library browsability. Up a flight is a Master & Commander captain's quarters of old prints, maps, and globes, with histories a floor higher and organized by region. The basement is legendary for its windowless Ali Baba's Cave aesthetic and its endless shelves, where it's far too easy to lose all sense of time and depart with a lighter wallet. 
Ursus Books & Gallery
50 East 78th Street
212.772.8787
ursusbooks.com
For nearly half a century, Ursus has been renowned among artists and collectors for some of the best new and out-of-print books. Originally in the Carlyle Hotel, Ursus has migrated to the ground floor of a nearby apartment building and feels no less secret. The offerings are beautifully displayed and are particularly rich in illustrated books of all periods, from the 15th through the 21st centuries. A website cataloguing a vast array of holdings can also be accessed off-site. 
Corner Bookstore
1313 Madison Avenue
212.831.3554
cornerbookstorenyc.com
A Carnegie Hill staple since 1978, the Corner Bookstore feels as retro as its name, spiked with such original details as tin ceilings, wood cabinetry, and a terrazzo floor, once covered with grime and paint until co-owner Ray (only first-names have currency here) restored things to their 1920s époque glory. History, biography, travel, cookery, parenting, poetry, mysteries, and art are well-represented in this collection. 
Three Lives & Company
154 West 10th Street
212.741.2069
threelives.com
Behind the red double doors, Three Lives & Company is a West Village holdover where new releases, classic fiction, nonfiction, art, and photography books feel as artfully staged as a luxury condo open house. The staff here is famous for reading prodigiously and for the resulting, qualified recommendations. 
Bookmarc
400 Bleecker Street
212.620.4021
marcjacobs.com
If Karl Lagerfeld could curate a bookstore in Paris, fashion designer Marc Jacobs could do likewise in New York—because why let inspiration and discovery go to waste? International treasures are to be found here alongside vintage finds and literary classics wearing cooler, more curated covers than you see elsewhere. Spotted recently: a graphic-design book detailing all the different typefaces in existence, rare imports from Japan, a signed photography coffee-tabler, and a whole section given over to en vogue international destinations. There are regular book signings, with a crowd as fashionably turned-out as the owner.
Strand Bookstore
828 Broadway
212.473.1452
strandbooks.com
Third-generation owner Nancy Bass (daughter of Fred, granddaughter of Benjamin) presides over this last squeak of Book Row, which once numbered 48 competitive book stores in and around Fourth Avenue. Founded in 1927, the Strand feels both timeless and historic—and possibly actually delivers on its "18 miles of books" ad slogan. There are sections for fiction, photography, and children, and on the third floor, a rare-book collection where everything has the veneer of being precious but where too, the surprisingly affordable book can be ferreted.
Rizzoli Bookstore
1133 Broadway
212.759.2424
rizzolibookstore.com
Rizzoli may have migrated to the Flatiron District, but the space is every inch the legendary bookstore of the earlier incarnation founded in 1964. The store's old soul is dictated by its architecture as in prior locations. The grandeur abides at 26th Street, with high ceilings, marble floors, and Fornasetti murals—accessorized as ever with inviting piles and shelves of books on art, architecture, photography, cooking, and fashion. 
McNally Jackson
52 Prince Street
4 Fulton Street
76 North 4th Street, Unit G, Brooklyn
mcnallyjackson.com
These three popular spinoffs of Canadian bookstore chain McNally Robinson have cafés that morph into reading-signing spaces by night. In addition to a well-curated selection of books, there are international magazines, and Japanese versions of old-school French journals and notebooks to buy. Open till 10, the stores double as post-dinner destinations for the smart set.
Books of Wonder
217 West 84th Street
212.989.1804
booksofwonder.com
Note from Avenue's editors: in a case of life imitating art, at press time, Books of Wonder, the inspiration for the charming bookstore in Nora Ephron's You've Got Mail, is being compelled to leave its beloved West 18th Street space as it struggles with the reality of life as an independent shop. Owner Peter Glassman says he is determined to find another downtown venue to reestablish the transcendent place that regularly hosted magical events, including two book signings with J.K. Rowling. Bibliophiles are lining up to support the GoFundMe campaign Glassman has created. Luckily the Upper West Side venue remains open.
While Assouline doesn't technically qualify as an independent bookstore, it's hard to imagine the city's literary landscape without this effervescent French publishing house and small, specialized book chain. The erudite brand focuses on art, fashion, interiors, travel and lifestyle titles in small shops tucked away in the Plaza Hotel, the Mark Hotel, and our favorite (because of its longtime knowledgeable shopkeeper, Helen) in the D&D Building on Third Avenue. Between Cleo's new book and the city's rich literary offerings, NYC is fighting the good fight, defending the beloved bookstore.
---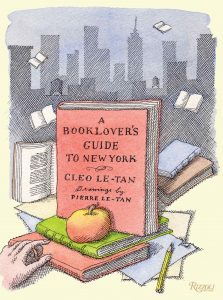 Extracted from Cleo Le-Tan's book, A Booklover's Guide to New York, (Rizzoli, New York, 2019).