Optimism is running so high among the more than two dozen galleries and auction houses participating in Asia Week New York this March that Nicolas Chow, the dapper Hong Kong–based worldwide head and chair for Chinese works of art at Sotheby's, positively has a song in his heart.
"Historically, when it comes to the market demand, there's been so much focus on Ming and Qing porcelains," he says. "What we are seeing now is that buyers who've been active in those areas for years are expanding their horizons with a decided preference for older works — early Song ceramics, ancient bronzes, and archaic jades."
Chow would know, having gaveled in some of the most expensive Chinese works ever sold at auction, including the Northern Song Dynasty Ru Guanyao brush washer, which fetched a record $37.7 million in October 2017. That sale topped his previous record of $36.3 million for the Meiyintang "Chicken Cup" in 2014. Paying for the cup with an American Express card, Shanghai buyer Liu Yiqian created quite the stir when he celebrated its acquisition by taking a sip of tea from the Ming Dynasty treasure.
In sizing up the current market, Chow tells Avenue, "The participation of Chinese buyers had been curtailed in the past few years, even before the pandemic, due to an ongoing trade war with the US and the Chinese government's efforts to control foreign exchange." Yet, he says, he is upbeat about the upcoming Asia Week sales in New York, as the demand from American collectors remains strong, particularly for the rarest works at the upper end of the market.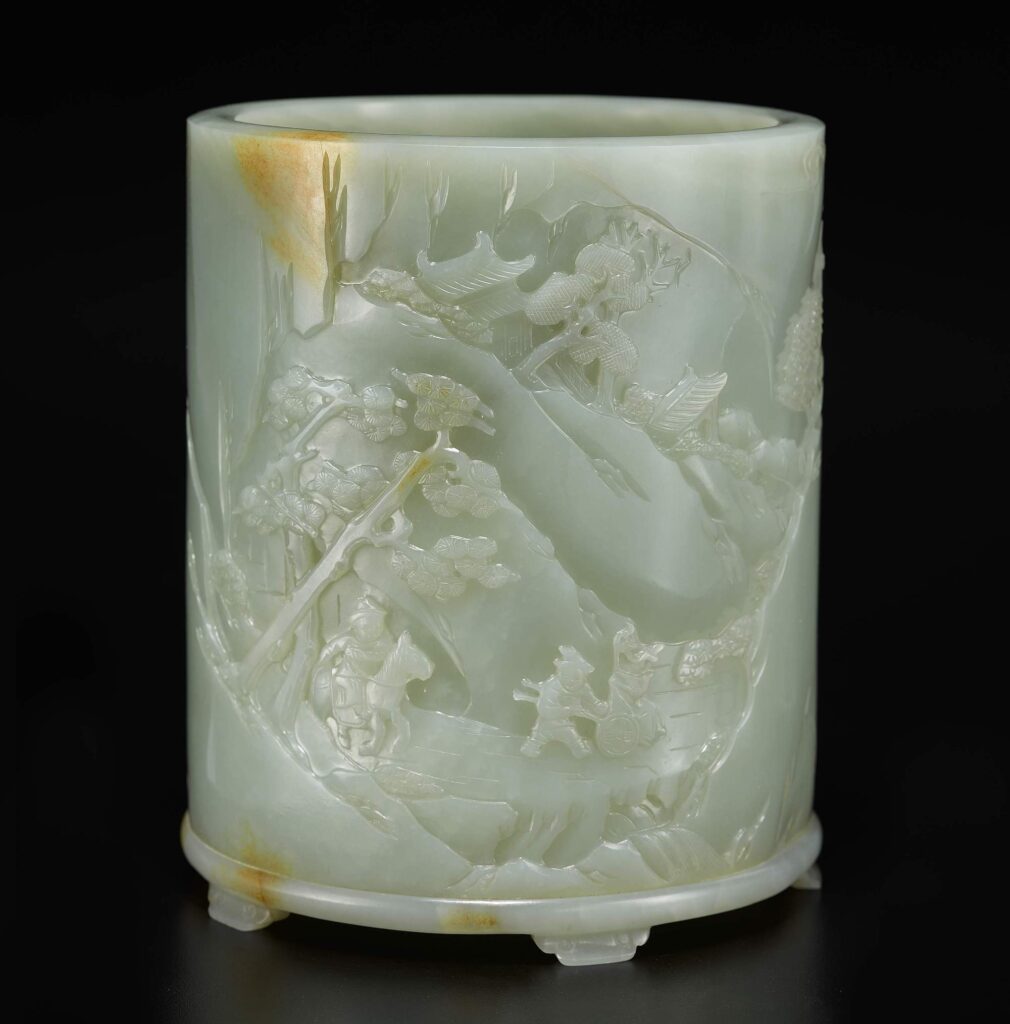 Among the highlights offered by Sotheby's is an exceptional white and russet jade brush pot from the Qianlong period, which hits the block on March 17 in a dedicated sale of works from the collection of the Brooklyn Museum of Art. It carries an estimate of $1 million to $1.5 million. Also of note is a diminutive blue and white Ming Dynasty "Yongle" bowl, one of only five known of its type. It is tagged at $300,000 to $500,000 and also goes under the gavel on March 17.
At Christie's, five early Chinese ritual bronzes from the Daniel Shapiro Collection hit the block on March 18. Leading the dedicated sale is the "Luboshez Gong," an important Late Shang bronze ritual wine vessel dated to the 13th to 12th centuries BC. Cast in the form of a hybrid creature — half pouncing tiger and half standing owl — the ornate figurative bronze carries an estimate of $4 million to $6 million.
The 29-strong roster of international galleries participating in Asia Week New York, via a blend of by-appointment exhibitions and online viewing rooms, includes Upper East Side stalwart Eric Zetterquist, who is presenting a pale-toned Southern Song Dynasty (AD 1127–1279) Qingbai vase with a sculpted dragon. Price upon request.
Asia Week New York runs March 11 through 20.