Around 1,500 years ago, a guy named Valentine was martyred in Rome so now, every year on February 14th, it's hard to get a table in Manhattan. Thus is true love.
But though I sneer at the naked commercialism of the holiday, I look kindly upon the romantic haze that surrounds it. For who doesn't desire to sit across from one's beloved as a (real) candle flickers in a dimly lit room and both of you are spoiled by an endless procession of delicious food that murmurs from the kitchen like sweet nothings? For a long time it seemed the most romantic dinners restaurants were confined to Western ones. This was nonsense for if Valentine's Day teaches us anything, it's that love is universal.
Mena
For years, Chilean Victoria Blamey has been cooking in other people's kitchens: first at Chumley's, then at Gotham, Blue Hill Stone Barns, and the Parisian pop-up Fulgurances Laundromat in Brooklyn. At each kitchen, Blamey brought her subtle palette and deep culinary knowledge to bear. Now Blamey has a playground of her own and my, what a pleasure it is. Tucked into Cortlandt Alley, Mena is bright and airy, a lithe shimmering space that feels like a secret. (It helps it's entered through an alley.) Her menu, which draws from the Chilean coast as well as farther afield, includes luxurious preparations of a golden squab with buckwheat honey and scallops atop a spicy butternut squash broth.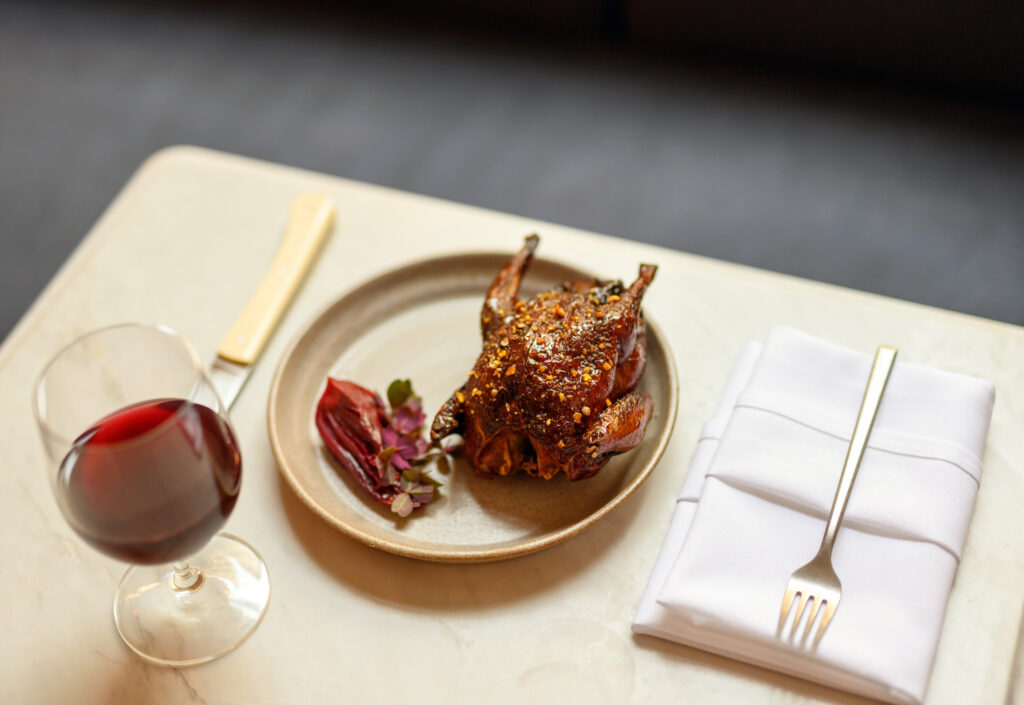 Jack & Charlie's No. 118
No. 118, a long and narrow space on Greenwich Avenue, has been so many restaurants in the last decade it feels like a slice of the Wheel of Fortune. (Cafe des Bruxelles, Lyon Bouchon Moderns, Pomodorosso, to name a few). The latest occupant, Jack & Charlie's No. 118 by chef Ed Cotton, looks to be a winner. Divided into a bar, a small middle room and a larger back one, the place feels like an upscale intimate tavern. Cotton's "New American" food nods at the steakhouse but without the heaviness. A duck meatloaf is divine but so too is a simple cedar-plank salmon, an oven mac-and-cheese, and a mixed vegetable salad that proves delicious doesn't mean fussy or fancy either.
Sona
It doesn't hurt that Priyanka Chopra Jonas owns this glamorous Manhattan Indian restaurant but it also isn't the only reason to go. Think more of the interiors — an Art Deco homage to 1930's Mumbai — and of the pan-Indian menu from author and chef Hari Nayak, whose genius is layering simplicity into complex (and delicious) preparations like Kofta Korma with ricotta dumplings; a Portuguese-tinged Goan fish curry, and Crab Puri with Caviar. For Valentine's Day, the restaurant is offering take-home flower arrangements tabletop for hungry lovers. 
Sweetbriar
Like many chefs these days, Bryce Shuman is playing with live fire at Sweetbriar. But Shuman comes from the esteemed kitchens like Eleven Madison Park and Betony (one of my all-time favorite restaurants) so he does it with immense finesse. A massive hearth dominates the kitchen of this long cozy room and what comes from it — some of the city's best pizza, gloriously smoked Black Pepper Maple ribs, pretzel crisps — is both comforting and refined. For Valentine's Day, Shuman is offering a three-course prix-fixe with special dessert: chocolate bonbons bearing the flavors of those famous ribs.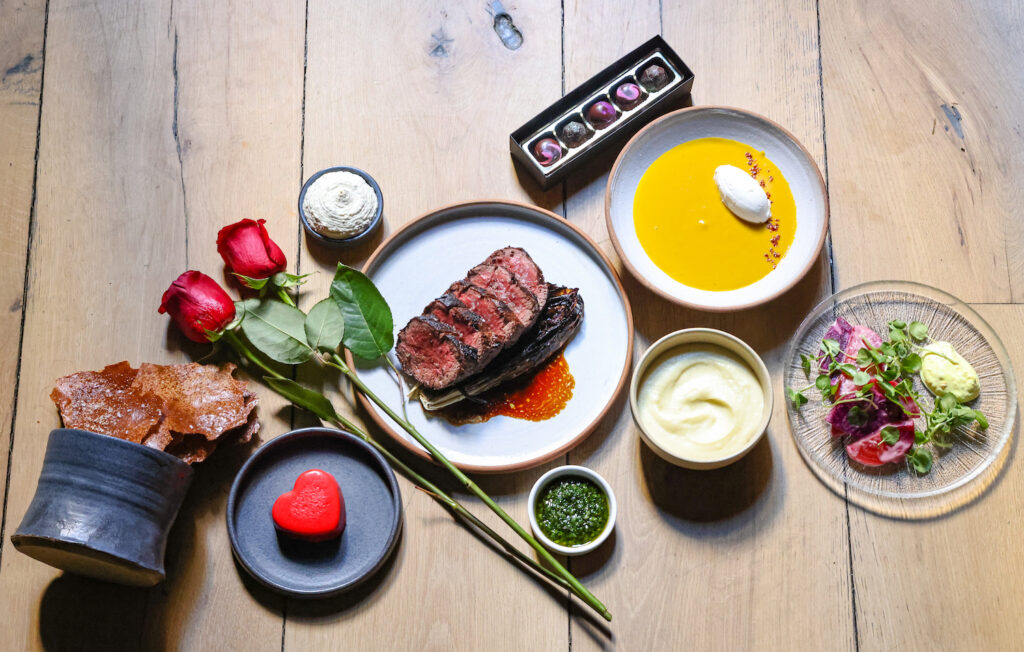 Genesis House Restaurant curated by Onjium
A car showroom might not be what most people think of as an ideal Valentine's Day date location — unless that is, you're buying a car —  but on the second floor of the sleek Genesis House in Manhattan is Onjium, an ambitious new Korean restaurant. Already Michelin-starred in Seoul, the second location here specializes in elaborate Korean preparations of Joseon Dynasty cuisine that embody notions of harmony. A snowy white poached egg (suranchae) comes with abalone and pops of color from snow crab. Fresh dubu (tofu) is commingled with fluffy rice. A large sirloin is accompanied by sunchokes and chestnuts. The meal, as it unfolds in this high-ceilinged high-concept space, feels a world away.