Clo Cohen says that she never plans an outfit. "I even wasn't sure I would wear my wedding dress on the day," she quips. "I go with how I feel at the moment — I'm very last-minute."
One thing she definitely knows how to do, however, is pack a bag. The longtime fashion executive, writer, sometime model, and now president and creative director of T. Anthony, the New York heritage luggage and accessories brand, comes from a family of inveterate travelers.
"My father is South African, and my mother is from Ireland," she tells Avenue. "They met in Dublin when my father was traveling around Ireland by motorbike."
Fast-forward a decade and their daughter, Clodagh Margaret Jacobs, the youngest of four children, was born in Johannesburg. Her father's business consulting career soon took the family to Europe, however. "We lived in Cap d'Antibes for 18 months, and then he moved us to Brussels for two years and I attended a French-speaking school," she recalls. There were also stints in Ireland and then Britain, the country she returned to after finishing high school in South Africa; she later studied at Oxford.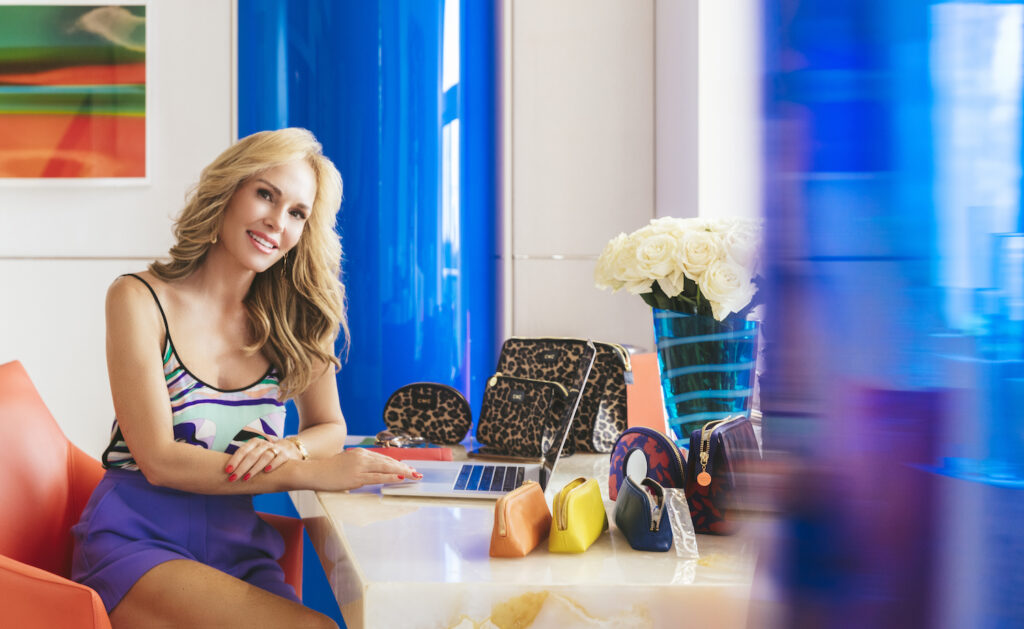 As a young graduate she worked in the advertising industry, and as a model and voice-over artist. "I love singing and music and even sang at weekends in a cover band that did parties and bar mitzvahs — we sang at Fergie and Andrew's housewarming, amongst other things," she laughs, referring to the Duke and Duchess of York. Then she was approached by a headhunter to work in the press department of Gucci in London when Tom Ford had just debuted his first collection for the brand.
"Tom Ford had just taken the helm and I never looked back," she says wistfully. "Fashion was my thing — I had found my niche."
Working with the designer at his creative peak was an eye-opening experience for the young luxury brand professional. "I adored Tom. To me, he was the epitome of living, breathing elegance and style," she says. "What I learned from him was simplicity in fashion. My exquisitely stylish mother had always told us, 'When in doubt about what you are wearing, don't add a piece, take something off, darling.' Tom's design ethic resonated with that."
At Gucci, Cohen was head of accessories, jewelry, watches, fragrance and sponsorship — experience that would be invaluable at every subsequent stage of her career. Indeed, after seven years at the Italian luxury house, she was approached by Tamara Mellon, who with designer Jimmy Choo cofounded the eponymous British shoe label in 1996. By 2002 she was living in New York and opening stores for the brand, as well as wrangling celebrities and managing red carpet looks for the Oscars.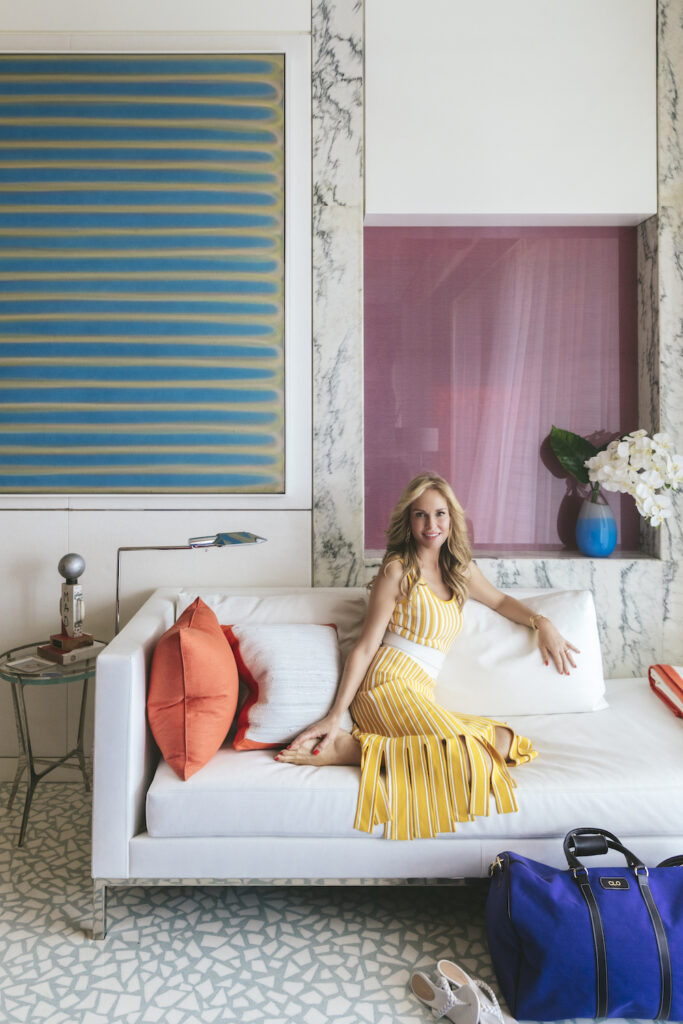 "Tamara is wonderful. She taught me that fashion could be very joyful and fun — up until then I had taken it all a bit seriously, and suddenly I was handling shoes with pompoms and feathers and arranging girls' lunches all over the US," Cohen says. "It was such a tonic in my life."
Another significant life event also happened around this time. "I had met my future husband, Charles, in London at a dinner party given by a mutual friend, Lady Caroline Wrey. We dated from the moment I moved to New York," she says. "We became engaged and were married in six months."
Cohen now has two boys, aged 12 and 14, as well as two older stepchildren, and the family splits their time between residences in New York City, Greenwich, West Hollywood, and Palm Beach. With all this moving around, it's no wonder she developed a taste for high-quality luggage — and one of the first brands that caught her eye was T. Anthony.
"When I first came to New York, I lived near the store on 56th Street. As I walked past, I thought the luggage was so clean and distinctive without obvious labels. I was traveling a lot across America, opening Jimmy Choo stores, and I wanted my luggage to be very clean to reflect my design aesthetic. So, I started collecting pieces," she says. "And when Charles and I got married, for various anniversary or birthday gifts, I would buy him pieces to start his collection."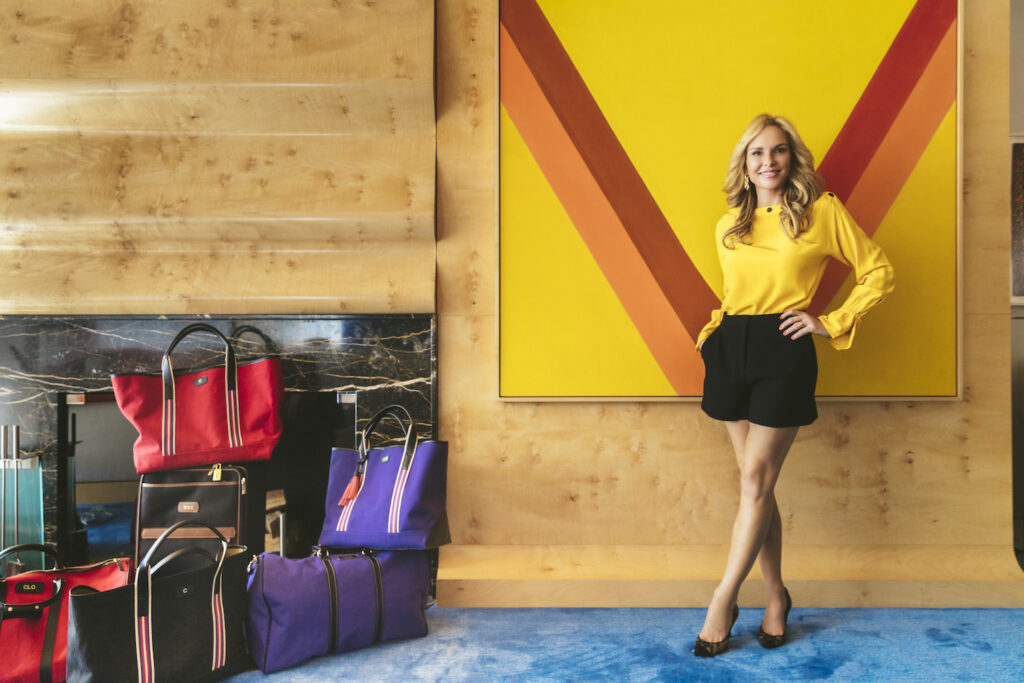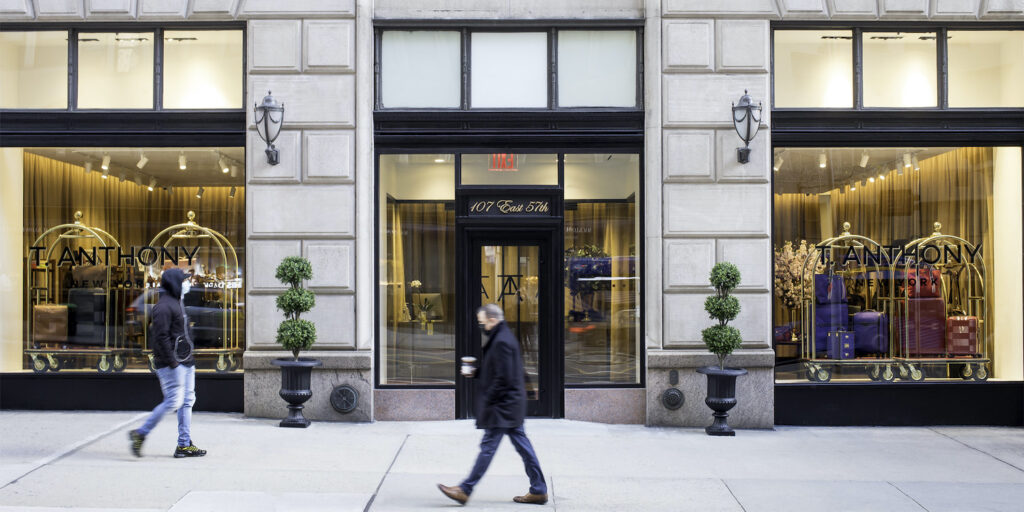 The young fashion executive could hardly have known that, just a few years later, T. Anthony would collect her.
In 1931 Theodore Anthony Froitzheim, a young graduate of the University of Heidelberg, fled the growing turmoil in Germany for a brighter future in America. After landing in New York at the age of 18, he worked his way up to become manager of the luggage department at Saks Fifth Avenue. In 1944, businesswoman Florence Nightingale Graham tapped him to create product cases for the burgeoning cosmetics empire she founded under a pseudonym — Elizabeth Arden.
Froitzheim — perhaps taking a cue from his successful client — rebranded himself as T. Anthony, and opened his first store under that name in 1946, on Madison Avenue at 66th Street. It was an immediate success, attracting influential clients including the Duke and Duchess of Windsor, assuring his wares would be seen in media around the world.
After that, the celebrity clientele rolled in — notably, in the 1950s, Marilyn Monroe, whose signature red luggage is still in production today. Jacqueline Kennedy Onassis was a frequent customer starting in the 1960s — followed by Ronald and Nancy Reagan in the 1970s and '80s. In the '90s and beyond, Elton John traveled with so many dozens of T. Anthony cases that his caravan became an object of fascination with the tabloid press, which would publish stories based on paparazzi shots of his luggage alone.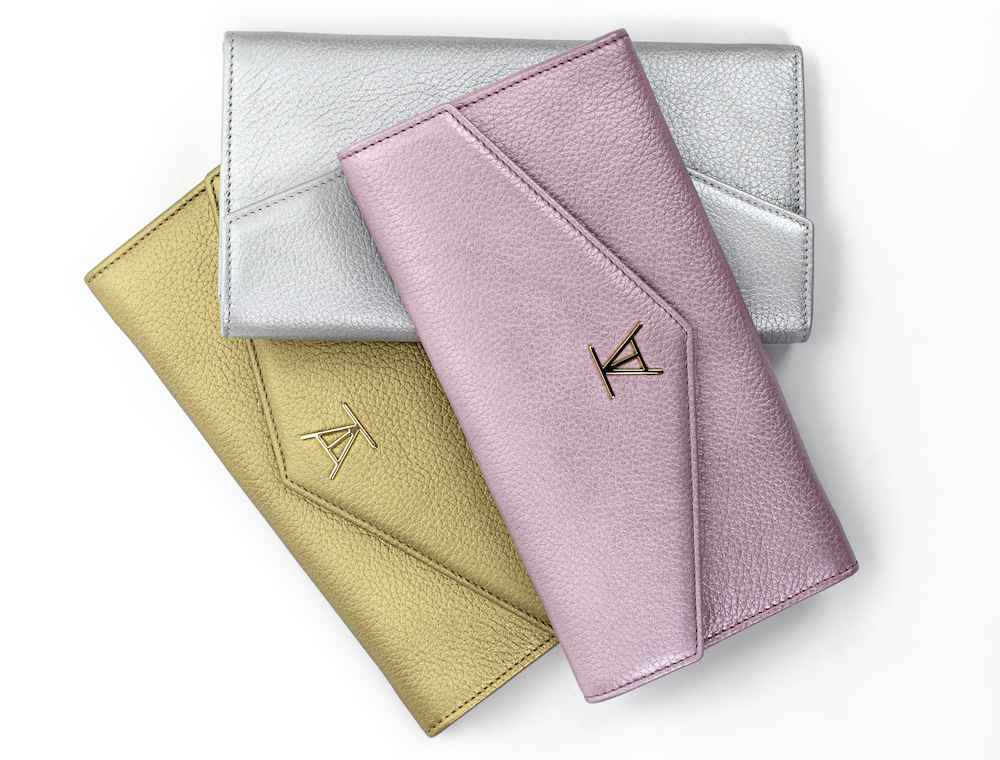 Froitzheim died while on a European cruise in 1972, earning a New York Times obituary, and control of the business eventually passed to his son-in-law, Michael Root. Over the years he declined many offers to sell the business, until receiving interest from Cohen's husband, Charles, who also publishes Avenue magazine.
"It tuned out that I was actually part of the deal, because the owner knew me as a longtime customer and knew that I loved the company," Cohen says. "He didn't want to sell to someone who would totally change the brand."
Root says that he feels fortunate to have worked in luxury goods for 38 years. "My goal for the succession was to find an individual who was better than I was," he wrote in an email last year. "Someone who shared my love of the brand, who understood the T. Anthony customer and the brand's DNA. But more important, the company needed someone with the vision, skills, and resources to the take the T. Anthony brand to a new international audience. That individual, our new president, is Clo Cohen."
Today, as president and creative director, Cohen is expanding T. Anthony's range while preserving its greatest hits. "The DNA of the brand is the most important element to me," she says. "I'm moving cautiously with the product, keeping the key pieces and adding where I believe our customer has needs. I want to provide the highest quality product with an ethical and responsible provenance."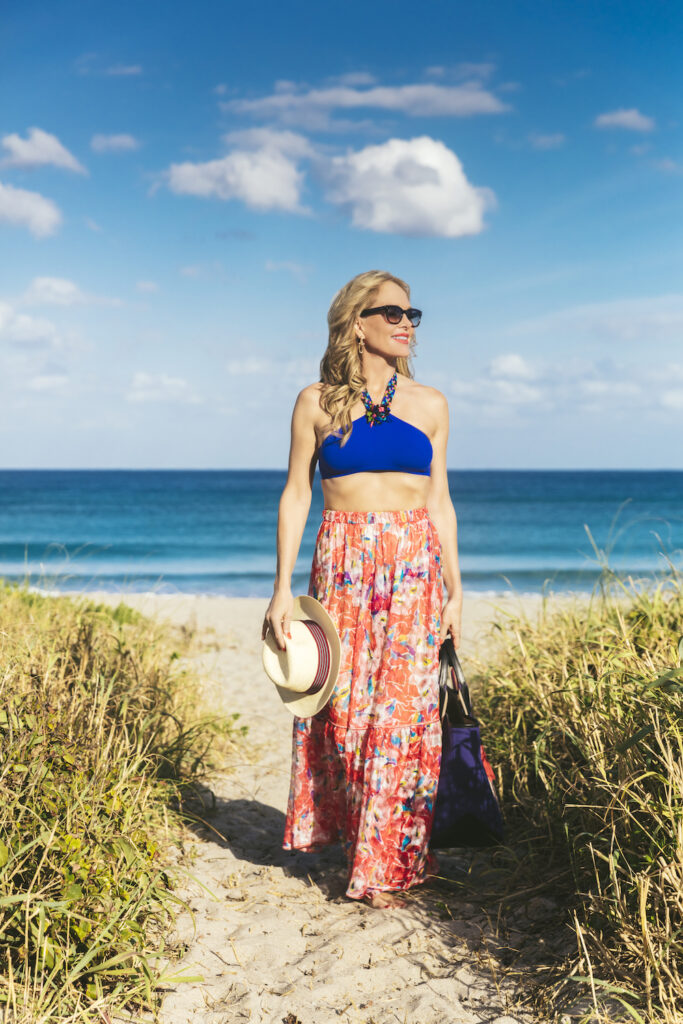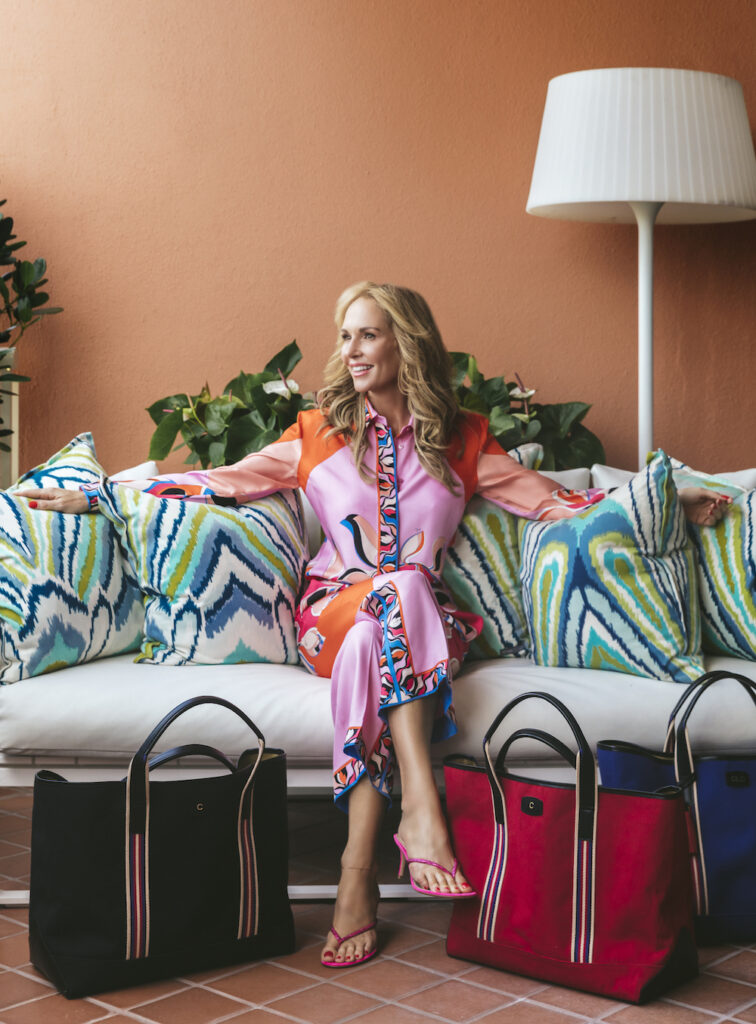 That means new color options for the brand's classic canvas luggage, as well as smaller pieces like organizing bags that fit within the luggage; cosmetics bags; luggage straps; and wallets and card cases.
"I've also introduced a beach tote for traveling around town or to the Hamptons; we have polycarbonate for a younger traveler that is super lightweight and has a webbing design that echoes the canvas fabric that is part of our heritage collection," she says. "I'm also working on some collaborations. In the past we created a capsule luggage collection with Vogue, and we did a leather travel bag with Jay-Z."
It helps that Cohen knows the T. Anthony customer so well. Their totes carry groceries in the morning, go on a school run each afternoon, and cart snow or beach gear on weekends. Their hard cases are just as likely to be tumbling off the roof of a Land Rover on the veldt as they are to be cosseted in the hold of a Gulfstream; their canvas duffels need to look equally stylish on a stroll along the Champs-Élysées or being thrown onto a dock in Curaçao.
"Most of us daydream about traveling the globe and experiencing this beautiful world, and so how much fun is it to collect luggage pieces or grow a collection for yourself or your children or for somebody you love? The memories endure and the collection increases with the trips you take, and it all becomes part of your life's tapestry and history. Our cases have seen every corner of this world: Africa, upstate New York, Vegas, Hawaii," she says.
"They're like stamps in a passport — except you renew your passport, and hopefully these cases go on forever."