The problem with going to Paris has long been getting to Paris, as if the magic of the City of Lights could only be reached through a long, dark tunnel of airplane corridors and uncomfortable flights. That was somewhat ameliorated in 2014, with the introduction of La Compagnie, an all-business-class service flying from Newark to Paris (and now Milan and Nice).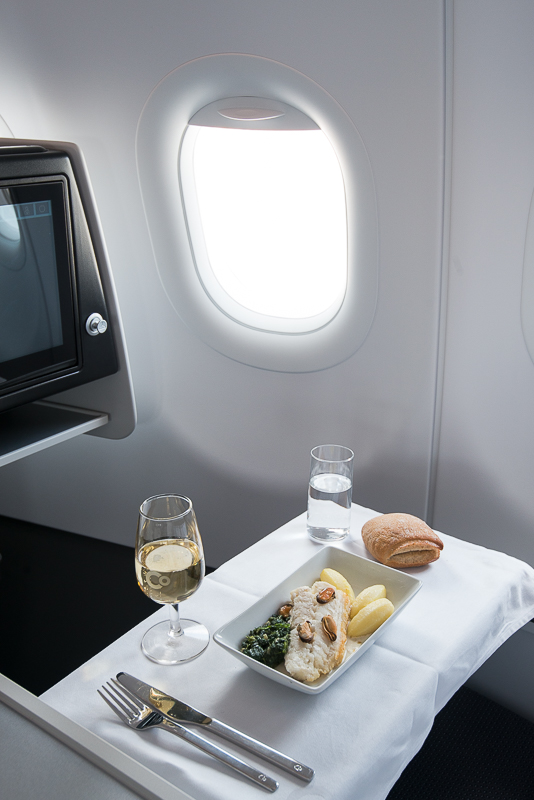 With it came the promise of 76 fully flat seats in two specially kitted-out Airbus A321neos. Now the airline is tackling that last bugaboo of travel: airplane food. With the launch of the 2023 Chefs & Co. program, a Parisian sojourn begins with wheels up in EWR. In May, chef Frédéric Duca, of the new (and impossible to get into) Parisian restaurant Rooster, inaugurates the summer season with a delicate marinated salmon, with Espelette pepper, kumquat, and tarragon aioli. But, of course, no trip to Paris — or, really, to the skies, or even just out of the house — is complete without a glass of wine.
This season La Compagnie paired with a pair of French wine critics, Michel Bettane and Thierry Desseauve, to curate a list of natural and organic wines, including cellar keepers like Châteauneuf-du-Pape from Romain Duvernay and a legendary Château La Tour de Mons, Margaux.