When Covid-19 hit New York City in early March, Scott Hesse, 39, along with his wife, Whitney, and their baby boy had just settled into their brand-new condo on the Upper West Side.
It was the home they had always dreamed of, designed by Sasha Bikoff, who, in a feature in Hamptons Cottages and Home magazine, described the aesthetic of the 2,100-square-foot three-bedroom apartment as "feminine and colorful, with some Hollywood glamour and Chinoiserie accents."
But soon the family bid their Hermès chandeliers and Deco settees goodbye. Hesse, who works as a data scientist for Amenities Analytics, a financial analytics firm, rented a charming rural house in Delaware to ride out the pandemic.
"We booked it for two weeks," he said, "but ended up staying three months." Eventually they returned to Manhattan to, as he says, "test the waters." But they returned to a city humbled and a block, according to Hesse himself, besmirched.
"They had just opened three homeless shelters near our apartment," complained Hesse, aghast. "It used to smell like urine every fourth block, now it smelled like urine every block." Hesse knew he had to leave.
"Winter was coming," he said, ominously. "We had to get out."
Soon the Hesses had joined a massive exodus of the well-heeled from the northeast to the sunny climes of Florida, a population shift made possible by the dissolution of the workplace: preferable by this no-goodnik virus, and perfect by Florida's lack of state income tax, which has turned the state into a palm-shaded neoliberal paradise.
According to a report by ISG World's Miami Report, more than 1,000 arrivals a day are flooding into Florida, many settling on the stretch between West Palm Beach and Miami, the lion's share of those new arrivals hailing from the Northeast.
According to Kelly Smallridge, president and chief executive of Palm Beach's Business Development Board, "Covid has really put us on fire." And whereas the southeastern coast of Florida once had a reputation as an old folks' home, many of the new folks aren't ready to shuffle into oblivion.
"The age of our new arrivals has come down dramatically," she says.
"It's not the waiting room of heaven," purrs Yaz Hernandez, the former New York City social fixture and current West Palm Beach resident, from her balcony overlooking the Atlantic Ocean, "it is heaven."
In May, Ms. Hernández fled her pad on Park Avenue. Broadway was quiet, restaurants were ghostly, the rain fell sideways, and long nights creaked with loneliness.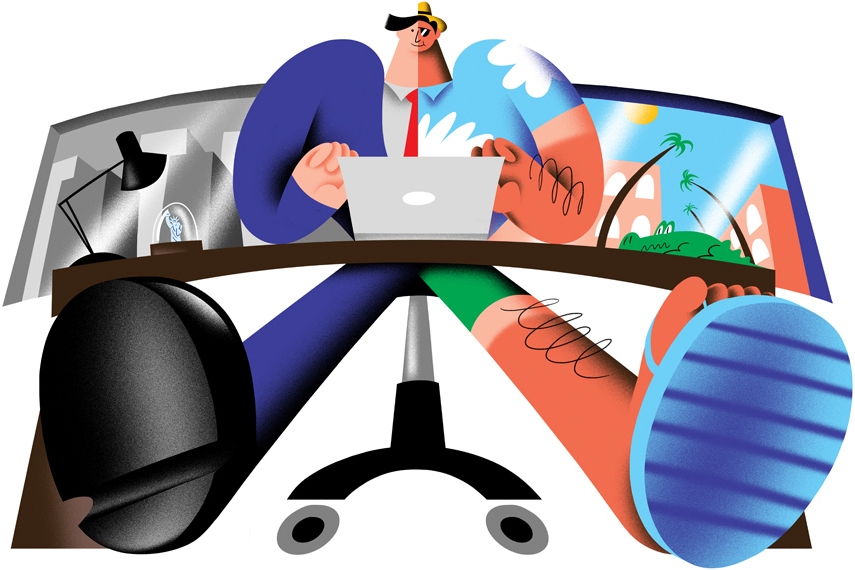 "I came to Palm Beach for a party and never left." (The party in question was the 50th birthday of Donald Trump Jr.'s paramour, Kimberly Guilfoyle, at Mar-a-Lago but, letting out a nervous laughter, Hernández says, "Maybe I shouldn't say that, no?") No matter, shortly after arriving, Ms. Hernández rented not one or two but three properties in the area. And though she's keeping her Park Avenue pad, Ms. Hernández isn't leaving any time soon.
"I love it down here. All of my friends are young and stylish. It has all the energy that's missing in New York."
Her neighbor, Felicia Taylor, another recent émigré, says she won't leave either. A longtime television journalist (and daughter of actor Rod Taylor), she put her Park Avenue condo on the market and moved south in February.
"I have quite a few friends who have come down here and bought apartments sight unseen," says Ms. Taylor. Speaking to Avenue from her terrace — "the first time in my life I have a terrace!" — she wondered why anyone would stay in New York. "With online platforms and technology there's no need," she said. "I just finished a documentary: the director was in Lebanon, the editor was in Brooklyn, and I'm here. It worked wonderfully."
Ms. Taylor's new lifestyle, she says, includes plenty of time spent outside, gazing at palm trees or zipping down the coast in her new white convertible, a circumstance seldom to occur in the tri-state area.
But much of the boom has been driven by big money hedge funds drawn to the laissez-faire regulatory framework of the Sunshine State. Among those who have recently relocated or are planning to move their hedge fund, wealth management, and family offices to Florida are Ken Griffin of Citadel Securities, whose firm rented out the entire Four Seasons in April; Paul Tudor Jones of Tudor Investment Corporation; Paul Singer of Elliott Management; Blackstone; and Michael Dell of MSB Capital, who moved his family to West Palm.
When they arrive, many are greeted by Ms. Smallridge, who as the head of the BDB acts as a sort of concierge for high-net-worth individuals. "I have a dog and pony show," she explains.
Those contemplating the move might start with breakfast at the Breakers, followed by lunch at the yacht club. Maybe the mayor of Palm Beach might meet you, perhaps some state official will drop by; if you have school-age children, Ms. Smallridge might arrange a meeting with the headmasters of local schools like the well-regarded Ransom Everglades or Palm Beach Day. The evening might end eating oysters at Blue Pointe Bar and Grille as the sun sets — and Ms. Small-ridge notes that there is as much state income tax in Florida as there is snow.
"We're looking at the weaknesses of Manhattan," she says, "and taking advantage."
But of course the influx has been hell for buyers. The market in Florida is, to the say the least, hot. According to figures from ISG, there are only 12,934 single family homes available in Miami-Dade, Broward, and Palm Beach Counties, down from 3,955 in 2019. Only 0.88% of single family home are for sale or rent in Palm Beach County, 0.96% in Broward and 0.83% in Miami-Dade. Houses that would sell for $5 million in 2019 are today going for treble that amount. As for the Hesses, they're still looking to buy.
"We've responded to a bunch of listings to rent, but by the time we did, they were gone," complained Mr. Hesse. Luckily, they did find a place in Jupiter. "It's at the Trump National Golf Club," says Mr. Hesse, noting its unusual availability. "I don't know if it's because of the name or what, but we're just happy we found somewhere to live."