What a strange world it is that man has taken the eggs of an ungainly prehistoric fish called a sturgeon and turned them into the very embodiment of luxury.
Caviar, in all its shapes, sizes and infinite gradations, is a Veblenian shorthand for "we made it." Also, with its delicate texture and distinct flavor, it is delicious. Although always popular, over the past two or three years, it's been on a tear: mozzarella sticks and caviar at Carne Mare; the caviar stuffed tamaki at 63 Clinton; the caviar and cornflower tin at Joomak Banjum. Everyone loves the eggs. But there's a true charm, too, of a classic caviar service. That is, caviar, straight no chaser. Though unadulterated, it does roll deep usually with an entourage of blini or toast and sometimes, for the cheeky, potato chips. Often there's some creme fraiche to soften the brine and some tiny cute allium (scallions or chives) as small as you can cut them. Such is my life that for the last few months, I've been forced to traverse the city's finer dining establishments in search of the best caviar service. Here's what I found. 
The Bar at Caviar Russe
The newly opened ground floor lounge of midtown's caviar emporium, Caviar Russe, extends its caviar service with all proper accoutrements into an elongated tasting menu such that the caviar is like a delicious (expensive) toupee over an assortment of foods from oysters to beef tartare. As one might expect from a restaurant focused on caviar — and from a company that supplies many other restaurants with theirs — the caviar is top-notch.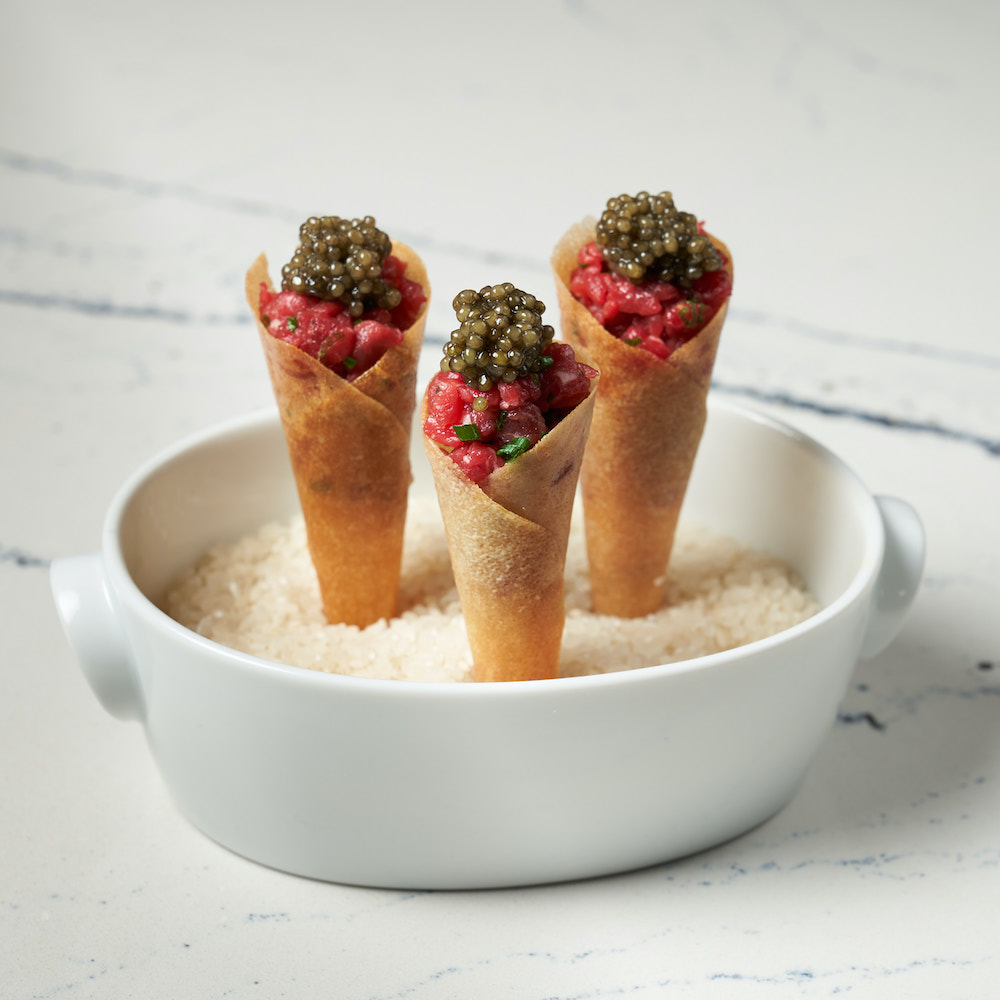 Cote
Since it opened in 2017, it's been impossible to avoid the heat surrounding Cote, New York's first Korean steakhouse. It's all well deserved. With hyper luxurious beef A5 Japanese Wagyu expertly prepared, it's a baller's paradise. Naturally the caviar service is excellent (Regiis Ova Kaluga Royal for $120/oz) and comes atop Korean milk toast. But my recommendation is the "steak and eggs" which includes hand cut filet mignon wagyu alongside the caviar.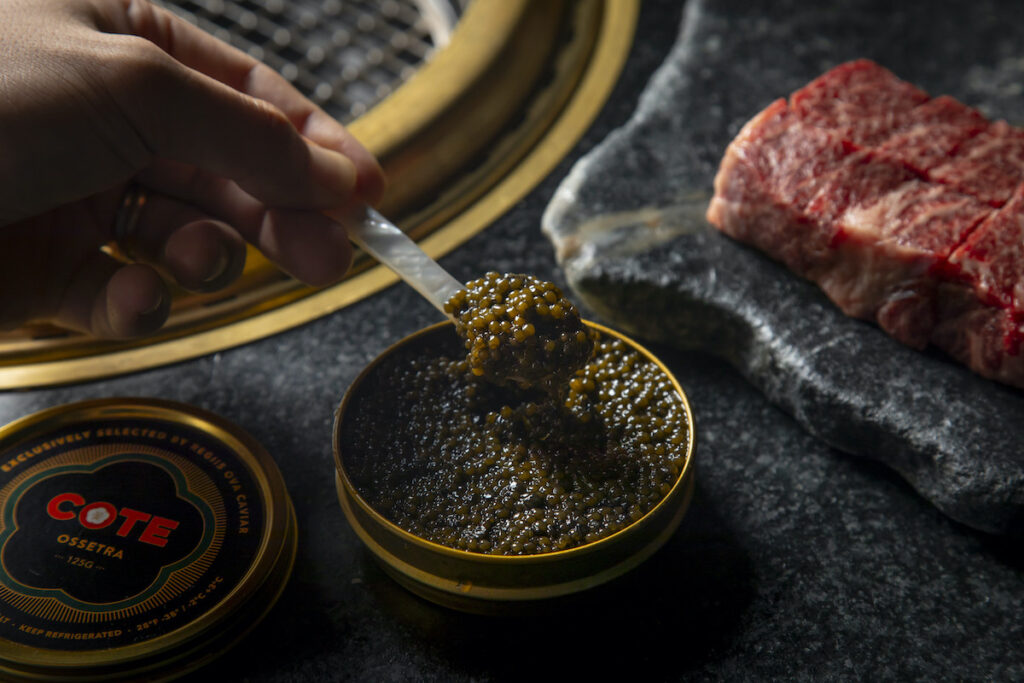 Russ & Daughters
Don't forget that caviar comes from sturgeon and, since 1914, the Lower East Side appetizing Russ & Daughters has been the so-called Queen of Sturgeon. Of course, they'd laugh you out of the store if you demanded caviar service at the OG location on Houston, but you can get the same Russ & Daughters caviar — I recommend the Hackleback from the Mississippi River Valley — with the most tender blini at Russ & Daughters Cafe around the corner. 
The Special Club
Because I'm dangerously close to being an alcoholic, it takes a lot to pry my Manhattan from my fingers. One way to tempt me is with champagne. Ariel Arce, New York's most innovative champagne evangelist, has been demystifying champagne since since she opened Air's Champagne Parlor. They do a killer caviar service (and caviar sandwich) too, but when you prefer your caviar while listening to audacious piano karaoke in a semi-secret underground jazz club, The Special Club is your place. The caviar here comes on potato chips (as Arce reminds me Grant Achatz pioneered) and is unusually affordable, thanks to the fact last year Arce started her own caviar company, CaviAIR.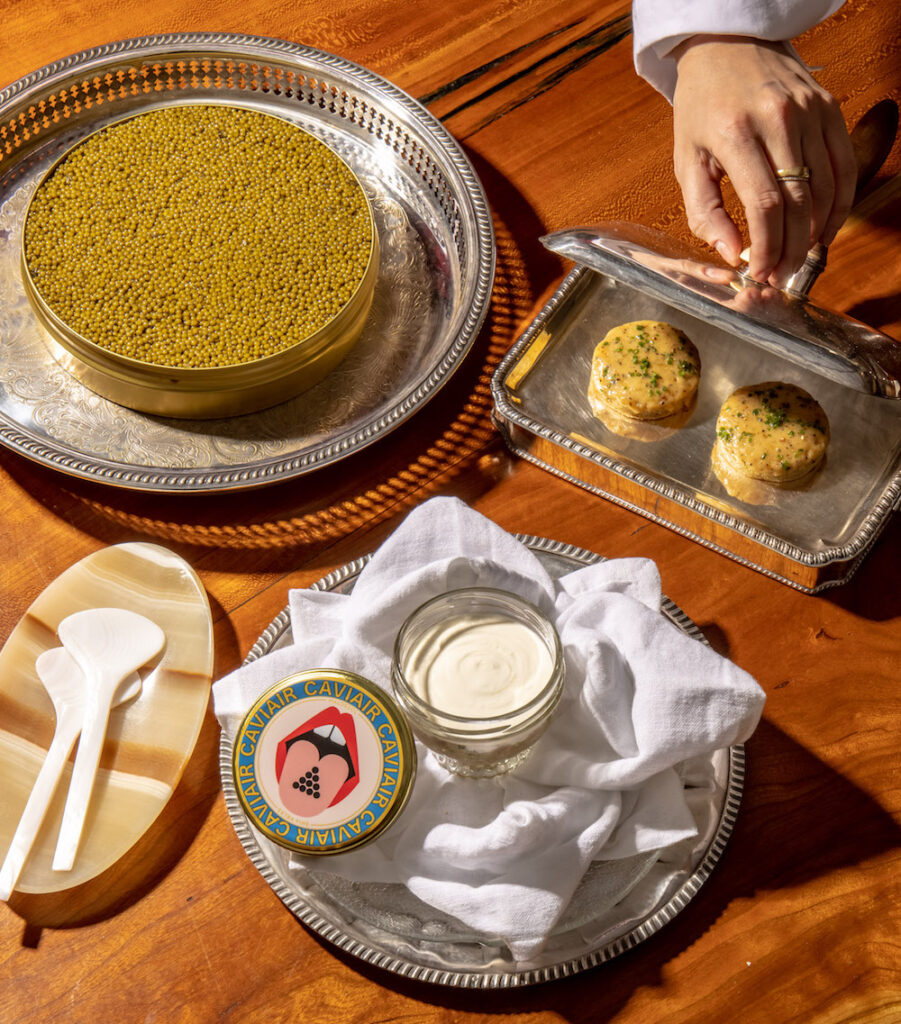 Le Bernardin
For caviar service without the ostentation, get thee to Midtown. The most classic iteration of caviar service is found at Eric Ripert's quietly lush Le Bernardin. Here the caviar hails from Paramount Caviar, Ripert's long-time supplier (both royal osetra and golden imperial are available) and rest like a glistening golden mount atop a scallop shell. It comes with all the classics: egg yolk, egg white, crème fraîche, parsley, and chopped capers, as well as toast and blini.