"Nous sommes nos choix," wrote Jean-Paul Sartre. We are our choices. But what of when we are deprived of choice? Who are we when our freedom is abrogated? Many bristle at the idea — as half the country has spent the year telling us in Covid-laden spittle rants. Sometimes, however, we would be wise to submit. These three new restaurants have, to varying degrees, preempted their clients' once sacrosanct choice of what's for dinner, and offer a case in point.
Angie Mar gained fame for her facility with meat at the Beatrice Inn, a basement in the West Village during its later years as an actual restaurant. (Previously, it had been known mostly as where celebrities went to get soused.) After being constrained by the minuscule kitchen and manifold tables of the Beatrice, then being edged out by the cost of rent, Mar cheekily opened its antithesis next door in the heat of summer. Les Trois Chevaux is a study in lightness where Beatrice was obfusc. The plates arrive with sauces so airy it's a wonder they don't float away like yesterday's dreams. The walls are white plaster; the chandelier, which once hung in the Waldorf Astoria, is crystal; the flowers are profuse; and there are but 37 seats, with an additional 9 at the bar. There is no steak on the menu. It's a brand-new Mar.
Even before one enters the ethereal empyrean of this culinary chameleon, one begins to shed choice, starting with what one wears. In a world of Michelin stars and T-shirts, Mar is a refusenik.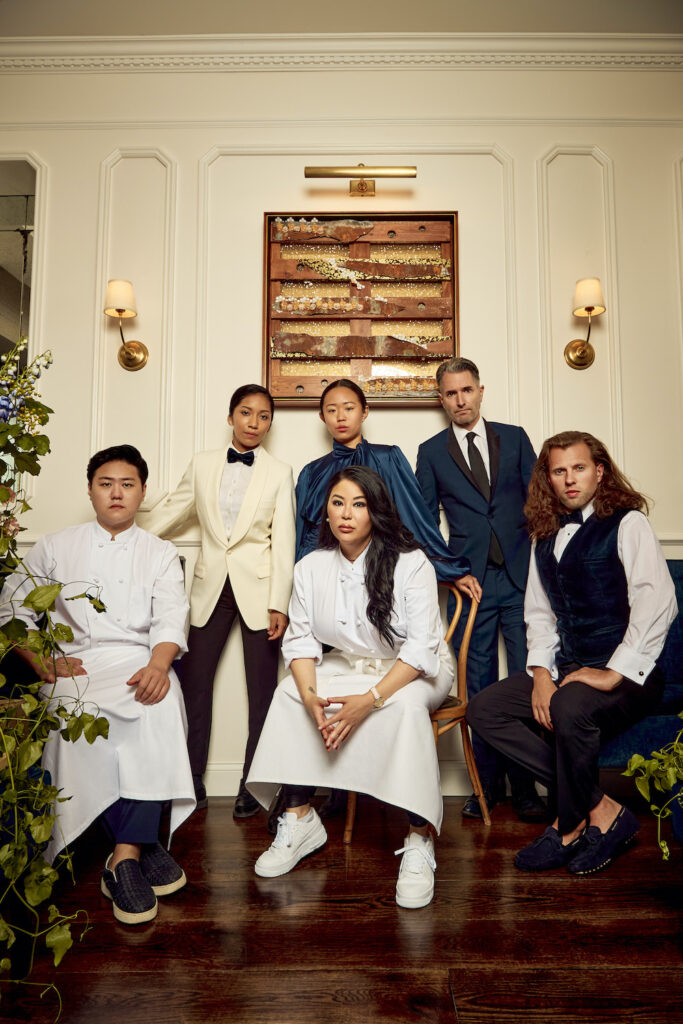 Les Trois Chevaux requires gentlemen to wear jackets. (However, I did espy an unjacketed and unmolested diner during my visit.) After a year and a half of forsaking blazers (and often shirts and pants), this itself was, for me, a significant act of submission. More saliently, the menu is prix fixe, which means each occupant of those 37 seats will be shelling out, at a minimum, 185 clams for three courses, including service but without drinks. That's a lot of clams.
And what is the payoff for such supplication? For lovers of French cuisine such as I, the meal at Les Trois Chevaux is like opening up a pack of Pokémon cards and finding they're all Charizards. If one is, perhaps, a birder, it's like seeing a wood stork, a brown booby, and a roseate spoonbill on a single walk. In short, it's the jackpot. The menu consists of seldom seen French classics like terrine de canard and cuisses de grenouille and quenelle de cervelle de veau. Mar has been on the record with her admiration of bygone French mainstays like Lutèce and La Côte Basque. Her friendship with Jacques Pépin has been well chronicled. But this would all be nostalgic culinary cosplay if not for her technical virtuosity.
Take for example, the terrine de canard, which is presented à table by a white-jacketed server. (The uniforms are by Christian Siriano.) Visibly suspended within a jiggling, shimmering, pear-shaped, orange-hued aspic: a perfect rectangular corridor of foie gras. Within that lurks another darkly rosy coil of cured and cooked duck, though this is only revealed when, a few moments later, one's very own tranche of terrine arrives, accompanied by a half dozen slices of dehydrated Cara Cara orange. The preparation is maniacal, a five-day festival of curing, cooking, setting, assembling and more. And, as Mar tells me later, made possible only by her foreknowledge that, as opposed to the Beatrice, where an impecunious customer could get out for less than $50 with just drinks and an appetizer, she can rely on every seat to financially support her herculean endeavors. Aspic the truth when I say it's worth it. Bursting with citrus and flavor — thanks to the suspended kumquat and a Lillet Rosé infusion — the terrine is tremendous.
A few moments later — for the second of the three courses — an even deeper cut of Escoffier arrives in the form of a crab pithivier. A pithivier, which looks like a large muffin top, is an arcane pastry from a small commune in north-central France. Often sweet, here Mar stuffs hers with more Dungeness crab than in the New York Aquarium and binds the meat together with a savory scallop frangipane. The whole thing is encased in laminated pastry dough, then doused with an Oloroso sherry sauce and then served like a mystery box crab cake. Gout is all but assured and one is only saved by a mid-meal salad, a few bright greens that arrive after the savory courses, à la manière française, to cleanse the palate.
Jackets are, thankfully, not required at Joomak Banjum, the new restaurant from chef Jiho Kim, formerly of the Modern; chef Kelly Nam, ex-Frenchie pastry chef; and chef Sarah Kang. As opposed to LTC, where the French accent is as heavy as Gauloises smoke on Rue Chabon, the culinary vernacular here is spectacularly novel. Though described as a Korean-Chinese fusion restaurant — joomak means tavern in Korean; banjum means Chinese restaurant — Kim is catholic in his interests and lofty in his goals. In fact, Joomak Banjum is as much like a tavern as the Inn at Little Washington is a Motel 6. Each of the four choices for each of the four courses is so alluring one struggles to choose between them.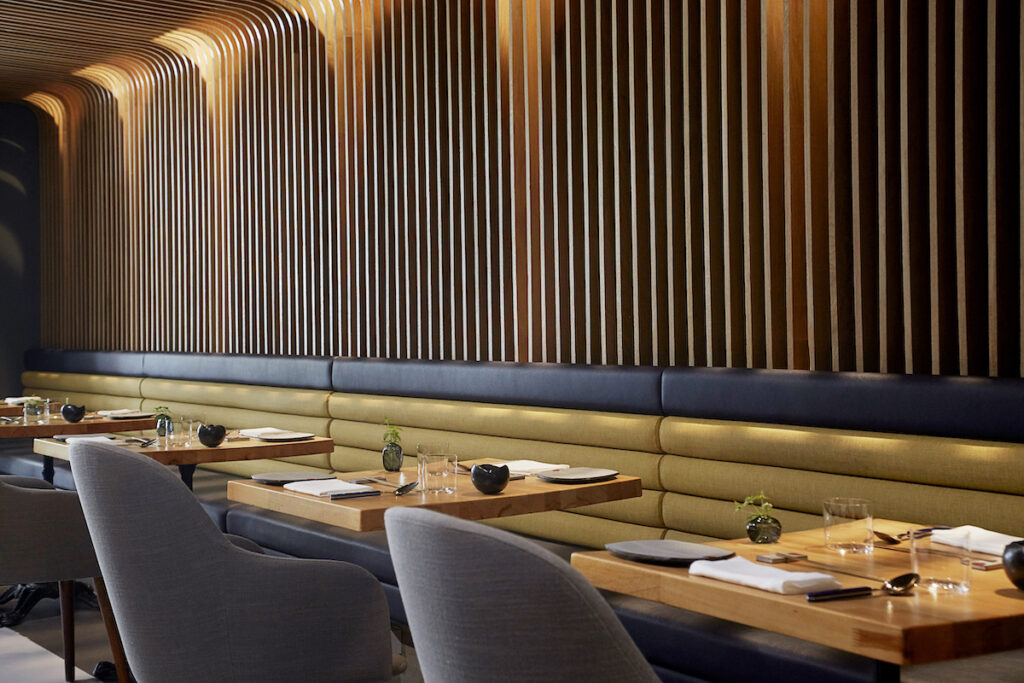 Like Mar, Kim says the prix fixe format — and resulting predictable check average — has allowed additional resources to be allocated to each course. For the first course, should one select the lamb tartare, hidden beneath a tangle of gochujang-flavored daikon, or the charcoal-grilled mackerel, atop a bracingly fresh colloquy of cucumbers, studded with sunflower seeds and a touch of mint? It's a Morton's fork, a Buridan's ass, as the dark side of choice is the choosing. In later courses, the choice is easier.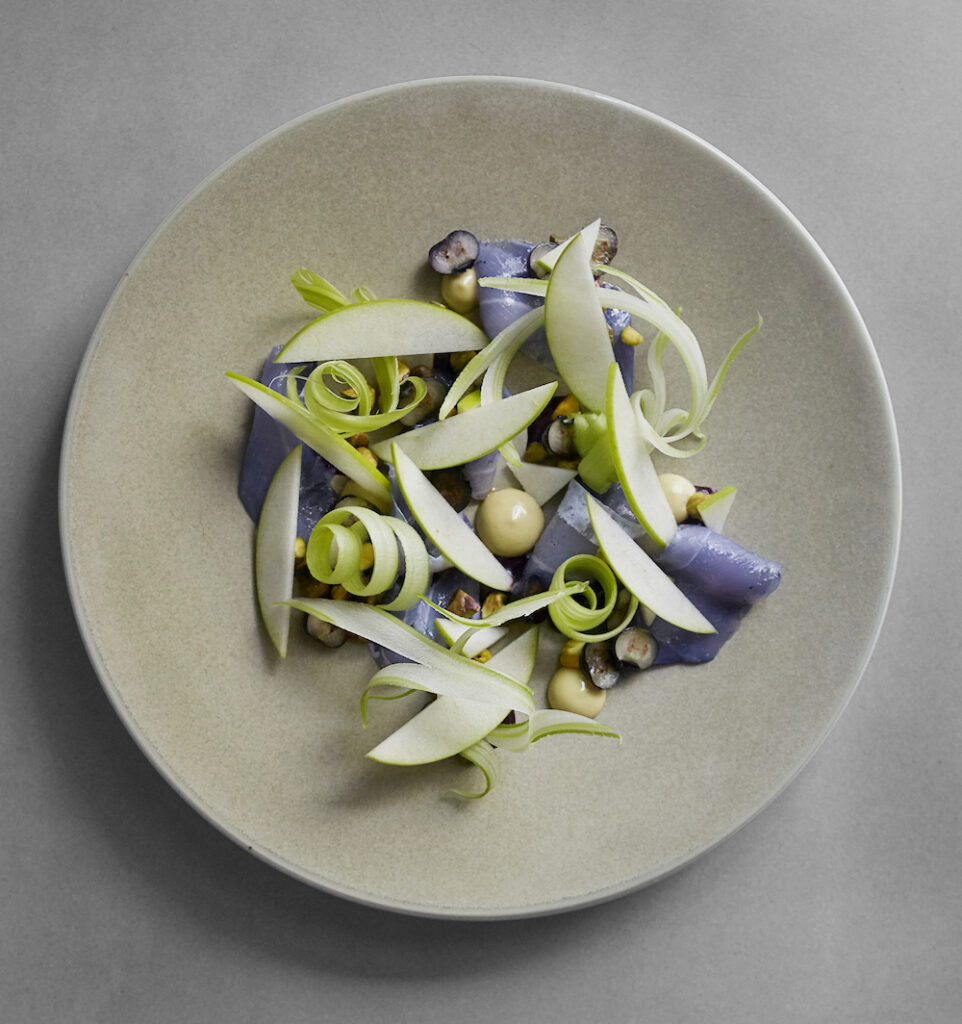 The jajangmyun, a Korean noodle dish and one of the most famous in the Chinese-Korean canon, is bound together with chunjang, a sweet black sauce made darker by squid ink. It comes with clams folded into it, and in a shimmering parmesan foam. It is, in this diner's opinion, one of the best pasta dishes in New York today. Would I have even known to order it had my choices not been narrowed? No. Sometimes we are as the simple child in the Four Sons parable in Exodus, who doesn't know enough to ask a question, even when that question is "May I please have…"
At Sixty Three Clinton, a restaurant from two alumni of the lauded Chef's Table at Brooklyn Fare, Samuel Clonts and Ray Trinh, there's nothing amiss with the concise tasting menu. Unlike at Joomak Banjum and Les Trois Chevaux, which offer an element of free will in the form of a prix fixe, the choice here is whether to take the seven-course tasting menu or leave it.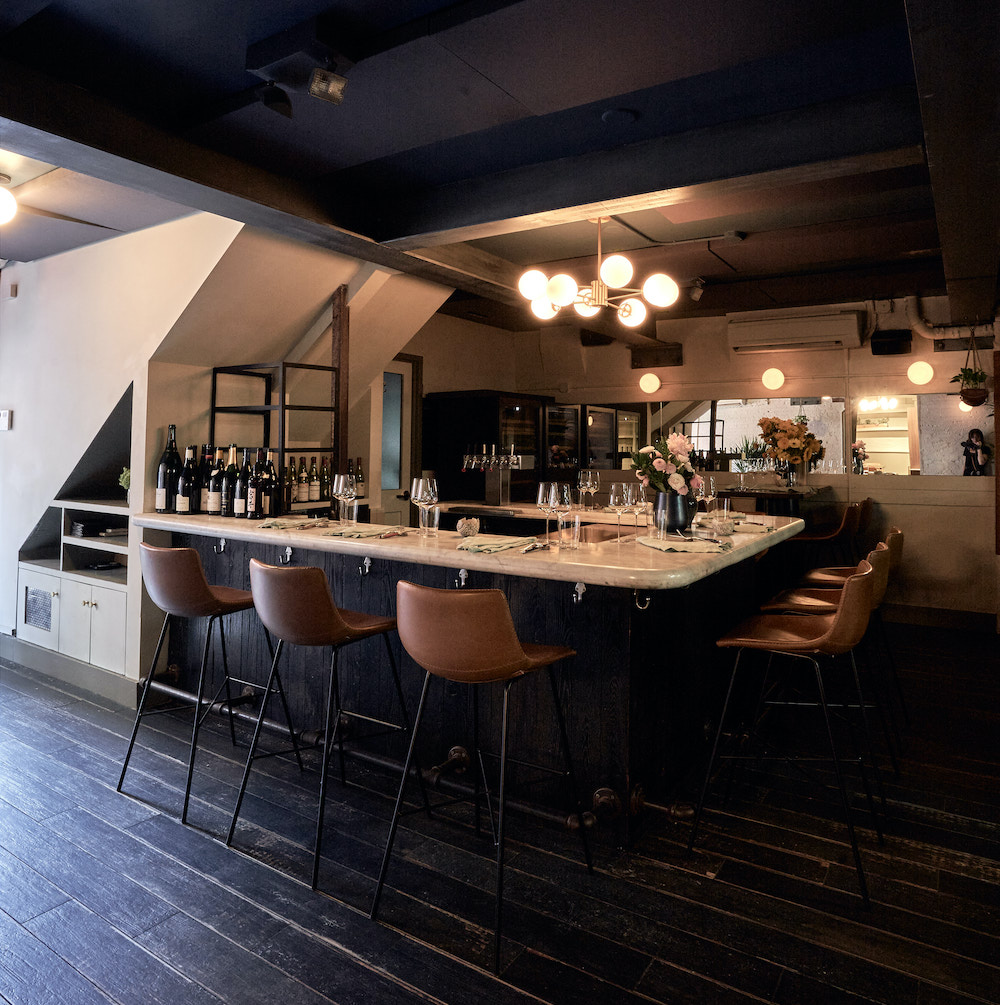 At its best, the food is transcendent. But nothing scotches a transcendent experience like being told you are going to have, are having, or just had one. Let's all agree to abolish phraseology such as, "What Chef has decided to do here is," as in "What Chef Sam has decided to do here is present tomatoes three ways," or "The X ingredient is actually [insert some slight specifying adjective] X ingredient," as in "The cabbage is actually Cara-flex cabbage." I don't think that is what "actually" actually means. One needn't be constantly alerted to the fact that one is at the altar of genius. I like being fed, not spoon-fed.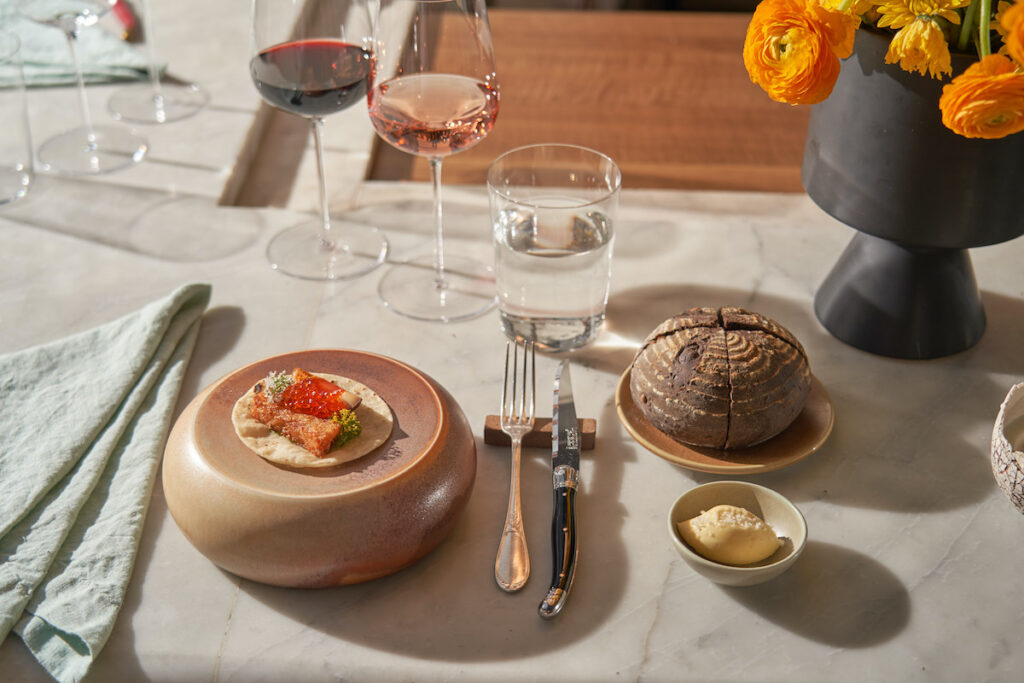 But though I resent, frankly, being told Clonts's work in this Lower East Side basement kitchen (of what used to be Speedy Romeo) is superlative, at times it is just that. A blue crystal prawn, for instance, comes with its head smoked and body raw. One sucks the head, savors the smoke, then enjoys the silken body, accompanied by sweet corn and Calabrian chili. The "it's actually Cara-flex cabbage" is layered with Comté cheese and topped with hazelnut. No, I don't need to know that the savory nori on which it sits is an example of how Chef Sam always likes to have something a little unexpected in each dish; it is self-evidently unexpected (and welcome.)
Although the last course, a blueberry peach pie, supposedly from Chef Sam's mother, is sweet indeed, the constant accompaniment of low-key hype threatens to leave an astringent aftertaste. But Sartre has the answer to that too: "Être libre, ce n'est pas pouvoir faire ce que l'on veut, mais c'est vouloir faire ce que l'on peut." To be free is not to be able to do what you want, but to want to do what you can. And when served a delicious slice of pie with a dollop of puffery, what you can do is savor one and disregard the other.