SHACKLETON: THE BIOGRAPHY
By Ranulph Fiennes (Pegasus)
Review by Angela M.H. Schuster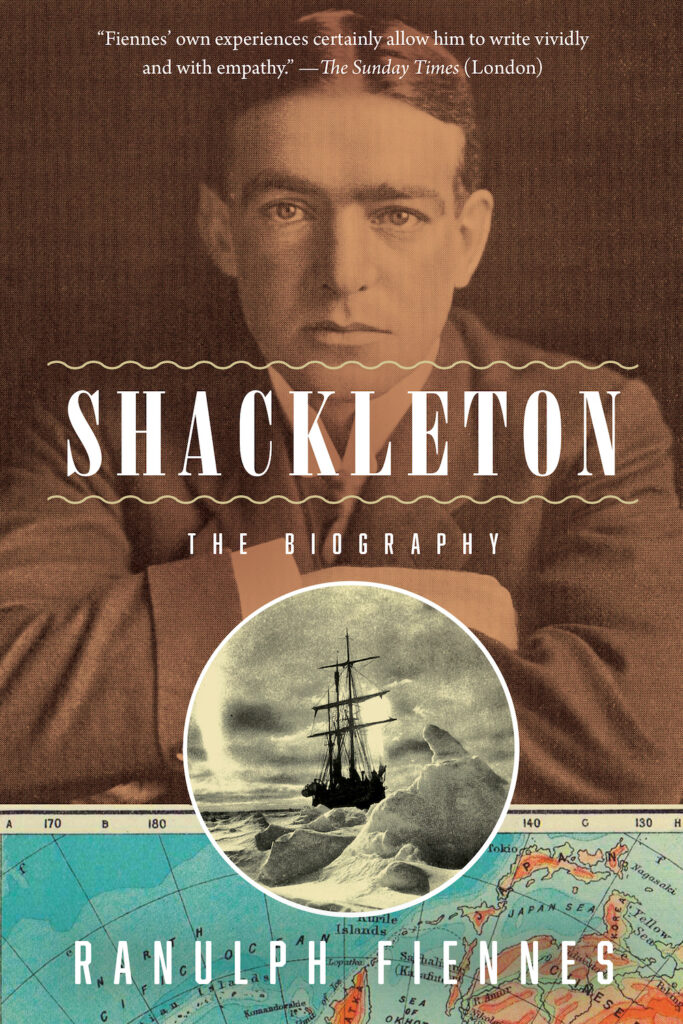 "To write about Hell, it certainly helps if you have been there," muses Sir Ranulph Fiennes in the opening salvo of his latest book, an engaging biography of his pioneering predecessor, Sir Ernest Shackleton. And this British polar legend, who has led more than 30 expeditions and penned some two dozen volumes, would know. As Fiennes is quick to point out, "no other Shackleton biographer has man-hauled a heavy sledge load through the great crevasse fields of the Beardmore Glacier, explored undiscovered icefields, or walked a thousand miles on poisoned feet, hundreds of miles away from civilization."
All manner of volumes on Shackleton — including the explorer's own, South — have been written in the century since he famously led his 27-man crew to safety after their ship Endurance became trapped in pack ice and ultimately sank during the Imperial Trans-Antarctic Expedition of 1914–1916. But this is the first to dive deep into the Anglo-Irish explorer's formative years and the seminal experiences that shaped his character.
Throughout the book, Fiennes works to separate the man from the myth by weaving in his own firsthand knowledge of the polar regions. In doing so, he stresses the importance of the skills they both gleaned from military service — Shackleton in the Royal Navy and Fiennes in the Royal Scots Greys — as well as the invaluable benefit of lessons learned from those who have gone before. But to succeed requires far more than that. It is abundantly clear from Fiennes's narrative that both author and subject have had one critical advantage in achieving their objectives — a canny ability to channel wit and charisma to make the most of opportunities, both presented and sought.
What emerges in Shackleton: The Biography is not only a greater appreciation of just what it took for Shackleton to accomplish the seemingly impossible, but also a more fulsome picture of the multidisciplinary training and mental fortitude necessary to operate in and endure extreme conditions only to return home eager to embark on the next adventure, however harrowing it promises to be.
SMALL THINGS LIKE THESE
By Claire Keegan (Grove Press)
Review by Heather Hodson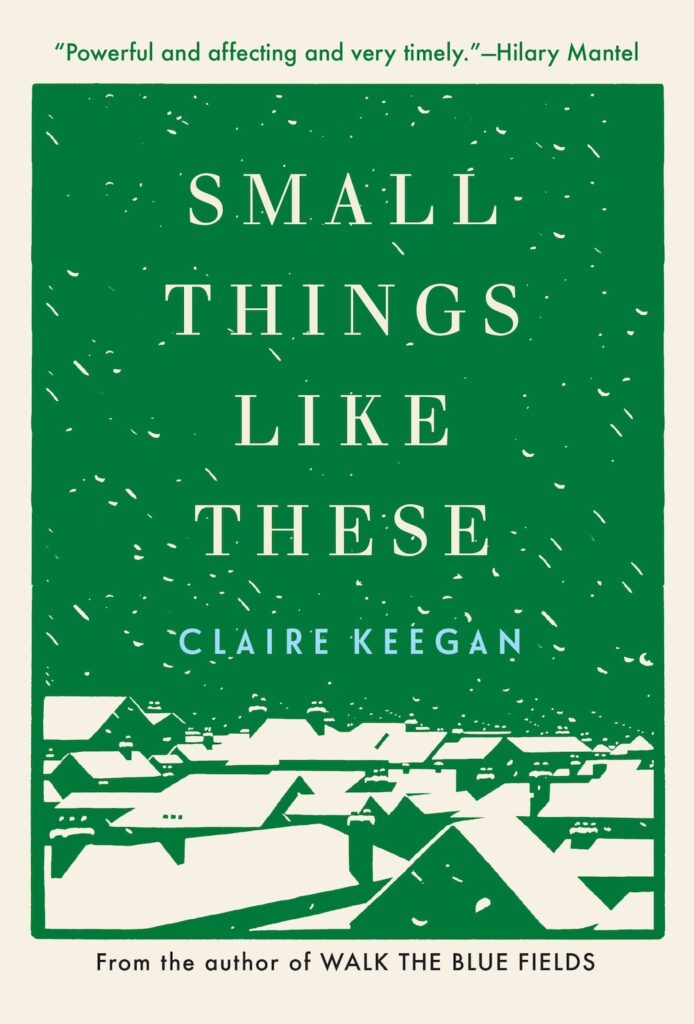 In this slender, exquisite jewel of a novel from the renowned short-story writer Claire Keegan, a secret smothers an Irish town like a blanket over a baby's face. In the weeks leading up to Christmas 1985, the community of New Ross is in the claw of the recession, with men losing their jobs and children scavenging for fuel. Up on the hill stands the local convent, "a powerful-looking place" presided over by the mother superior, while down below Bill Furlong, a coal and timber merchant, married man, and father of five daughters, works long hours in the yard, "determined to carry on, to keep his head down and stay on the right side of people, and to keep providing for his girls." But as the holidays approach he is beset with anxieties, childhood memories arrive "out of the blue," and strange emotions threaten his peace of mind.
One early morning, while delivering an order to the convent, Furlong unbolts the coal house door and makes a devastating discovery. What he does next — or does not do — becomes of burning consequence, not just for Furlong and his family, but for an entire community.
With just four slim works, Claire Keegan has edged past her peers to become Ireland's national author. Often set in southeast Ireland, where Keegan grew up on a farm, the youngest of six children, her short stories contain cruelty and violence: families crack apart, there are suicides and rapes, and children go missing. But the acts themselves often lap at the edges of the yarns, while the landscape creates an ominous, Hardyesque quality. Keegan understands at a deep level that narrative tension is often about withholding information, that the right word in the right place can evoke volumes of social history, and with Small Things Like These, her first novel, her art of subtraction is on full display. Furlong's earliest memory is of learning to crawl in a kitchen "of serving plates, a black range — hot! hot! — and a shining floor of square tiles," his childhood surrounded by love telegraphed in one short clause. At moments of peak intensity, Keegan slows time down, so that the baking of a fruit cake, or a long walk through a neighborhood, vibrates with a sense of time and place, and the act of reading becomes as close as it gets to the experience.
At the end of the work, in a note on the text, Keegan relates that in Ireland's infamous Magdalene laundries, run by Catholic orders and operating from the 18th century up until the mid-1980s, an estimated 30,000 unmarried mothers were "concealed, incarcerated and forced to labour." These institutions, she writes, were "run and financed by the Catholic Church in concert with the Irish state." In Small Things Like These, Keegan has produced a sublime novel that asks profound questions about power and religion, about a nation's complicity and guilt, about the difficult nature of restitution and the meaning of love, and the boundless courage of the human heart.
THESE PRECIOUS DAY
By Ann Patchett (Harper)
Review by Mark Libatique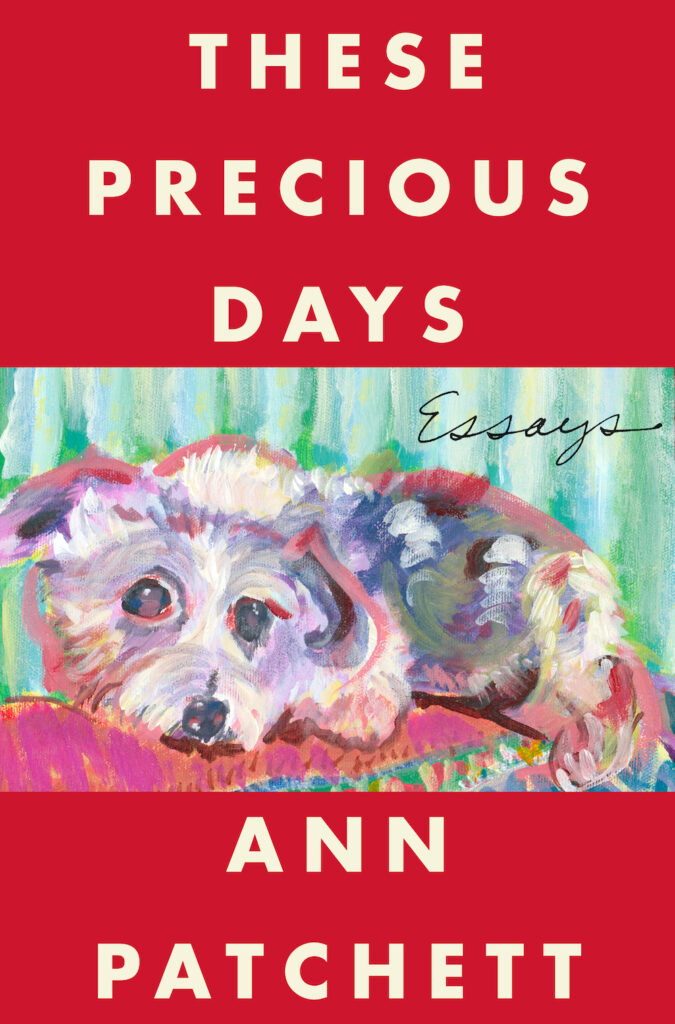 The writer Ann Patchett is a woman who has mastered virtually every aspect of the literary experience, far beyond her reputation for successfully writing in different voices and styles. In addition to being the mind behind decades of celebrated novels, nonfiction works, and children's books, she is a lifelong magazine contributor; a Nashville bookstore owner; a 2019 Pulitzer finalist; and the author of the 2001 work Bel Canto, which won the Orange Prize for Fiction and PEN/Faulkner Award for Fiction and was later turned into an opera. In 2012, she was on the Time 100 list of the most influential people in the world. A year later, she released This Is the Story of a Happy Marriage, a celebrated memoir collection of vignettes spanning her childhood, her early career, and her maturation, both personally and professionally.
Patchett offers us a sequel to that collection in her latest work, These Precious Days: Essays. Her reflections take us on a journey through her own experiences with marriage and death, with consumerism and youth, with Catholicism, Nashville, and Paris. Her recollections are gloriously intimate, with a series of memories recounted with an honesty and freshness that take them out of the past and into the present.
Ever the seasoned writer, her offerings, which read like a conversation over coffee, are as varied in length as the experiences she shares: some of the essays in this collection are just a few pages, and some are stories spanning years, which she takes her time telling. All of them invite you in. The stories in These Precious Days prove that embedded in life's seeming randomness — a French woman with a tattoo, a forgotten school award, a knitting pattern — are learning moments you may not recognize until their memories are softly triggered, sometimes a lifetime later.
Patchett takes on the task of exploring the complexities of living and approaches it with a depth that is grounded in gentility and lightheartedness. She shares with the reader the people and moments in her life in the same way that she cares for the characters in her novels — with reverence, dignity, and love. In doing so, she showcases a trademark vulnerability that comes through in her fiction. In These Precious Days, Patchett maintains a level of trust with the reader that allows her to freely relate a lifetime of both sudden and gradual growth, of formative moments of disappointment, and of quiet moments of joy and of friendship.
THE FINAL CASE
By David Guterson (Knopf)
Review by Aranya Jain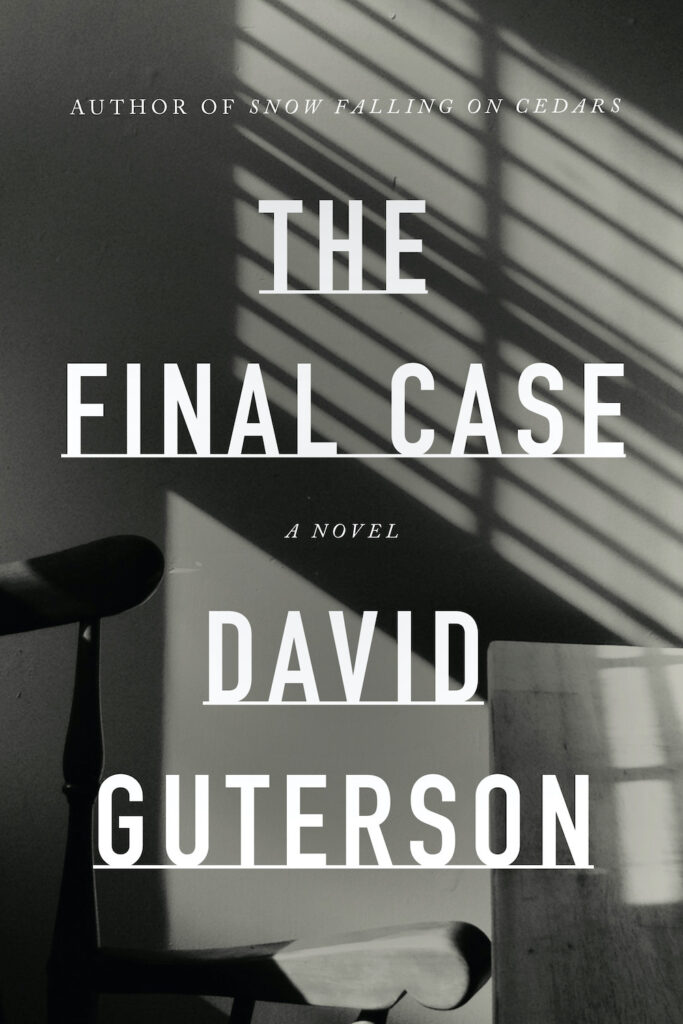 "There's no law against being patently evil," argues Royal, the 83-year-old criminal defense attorney at the center of David Guterson's latest novel, The Final Case. "There's no such charge as 'patently evil.'"
If there were such a charge, it would be delivered for the case at hand: two white Americans adopted an Ethiopian girl who later died from hypothermia, just steps outside their front door. But because that charge doesn't exist, because the word "guilty" holds complex legal meaning beyond its moral definition, Guterson's protagonist chooses to take up the case of the Christian fundamentalist Betsy Harvey, accused of murdering her adopted daughter Abeba on a cold, wet night.
In this courtroom drama, the author 's first since the 1995 PEN/Faulkner Award for Fiction-winning national bestseller Snow Falling on Cedars, Guterson turns the genre on its head. We don't wonder "whodunit" "how-was-it-done," or even what the trial's outcome will be. The facts are bare. The defendant is going to jail. What Royal is arguing for is "first-degree-manslaughter" rather than "homicide by abuse," as he attempts to uphold the precise terms of the law.
And yet, through a seeming focus on judicial terminology, the case's trauma becomes concrete, assessable in the reader's hands. Our nameless narrator, Royal's son, uses court-recorded dialogue, testimony, and journalistic interviews to launch into a kaleidoscopic range of opposing perspectives. We hear from Betsy's mother, who believes that her family is on trial for being "Christian and white"; Abeba's adoptive sister, who didn't know how to save her; and Abeba's adoptive brother, who thought that by following his mother's commands, he was saving her. Through orphanage reports, thumb drives, and schoolroom essays, we slowly come to know Abeba Temesgen, a child who once consoled toddlers when they cried, feared hyenas, and quietly believed that this family "can't break me" right up until she fell to her death. As the novel unfolds, its legal framework reveals its true stake: understanding how such a tragedy could occur within the systems we take part in.
And yet, life continues. Between harrowing court sessions, the narrator takes a tree-pruning class with his wife and watches passersby from his local café. He drives his father to work, listens to him reminisce on old cases in the middle of the night, and holds him when he ails. Hope triumphs through this vision of an old man and his son, trying their best in quiet ways to uphold America's societal framework and the very foundation of the legal system, so that "the law can get on with what the law's about."