The night was warm, and the footfall of Louboutin heels echoed against the travertine marble façades of Lincoln Center. Inside the David H. Koch Theater, deep-pocketed balletomanes sipped champagne and nibbled on tuna tartare at the School of American Ballet's annual gala earlier this spring.
Discreetly trailed by security guards, comely models dripped with diamonds. (The night was cosponsored by Graff.) Untrailed, patrons of the arts wore jewels of their own. (Among the guests were Kopelmans, Kargmans, and Rockefellers.) Speeches were given, toasts too, and soon young ballet students rushed to the parquet floor to chassé and fouetté and bound.
Ballet is an art form in which immense labor and effort appears easeful. Dancers are trained not to let their pain show. Have you ever seen a ballerina's foot after dancing en pointe? Have you ever tried to lift your leg in a passé développé in second? It is a heroic act to do at all and a godly one to do smiling. So it is with Lincoln Center, a loose confederation of high culture that celebrates its 63rd anniversary this year. Despite its stately Internationalist architecture and peaceful mien, Lincoln Center is, has been, and seemingly will always be in turmoil.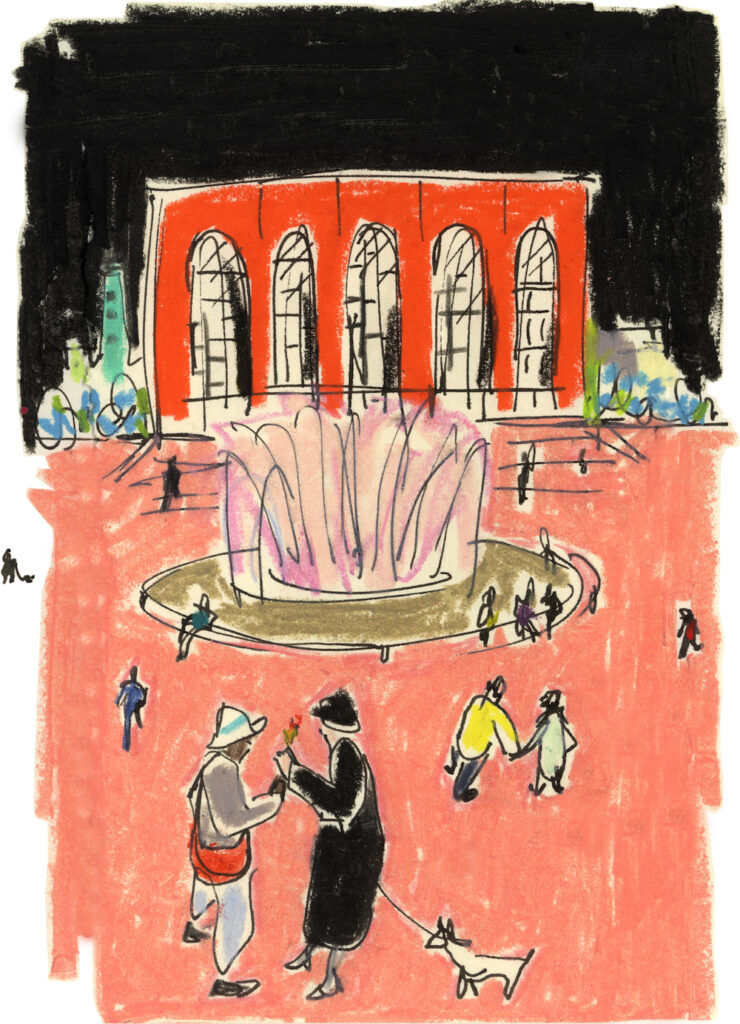 Part of that is the history of the space, which according to Joseph W. Polisi's recent book Beacon to the World: A History of Lincoln Center (Yale University Press) many call the center's "original sin." Anyone who's caught Spielberg's West Side Story — or has a passing knowledge of urban planning circa 1950 — will know the site of Lincoln Center was once a bustling community of black and brown New Yorkers called Lincoln Square or San Juan Hill. "The program was called slum clearance," explains Polisi, the author, former bassoonist, and a president of Juilliard. "It was overseen by Robert Moses and it wasn't just happening in New York but across the country."
In his book, Polisi chronicles not just the conflict surrounding the politically fraught establishment of Lincoln Center, a project shepherded by John D. Rockefeller III (popularly known as JDR 3rd), but the continued tension that has marked the center since. First of all, despite its relative architectural uniformity, Lincoln Center isn't a monolith. At its founding, the complex consisted of separate entities including the Metropolitan Opera, which had outgrown its theater on 39th and Broadway; the New York City Ballet; the New York Philharmonic, which was looking to escape Carnegie Hall; the Vivian Beaumont Theater; and the Juilliard School. Arching over this whole is another umbrella, Lincoln Center Inc., led first by JDR 3rd and then by the composer Bill Schuman, who envisioned the LCI itself as a cultural programming powerhouse. "The competition, between the constituents and LCI, between ticket sales, fundraising, and international festivals, all caused tension," says Polisi.
Today, that tension is somewhat abating. Under the leadership of Henry Timms, Lincoln Center is pulling back from its own programming, allowing each of the constituents a better chance at vying for an audience. In a remarkable turn of events, the New York Philharmonic's $550 million David Geffen Hall will debut in October, a full year and a half ahead of schedule. Nevertheless, drama continues. The hell of Covid will not be forgotten, says Polisi, nor will the awakening of the Black Lives Matter movement. "Not only is Lincoln Center at a crossroads," says Polisi, "but the cultural arts in America are at a crossroads too." Moving forward will take work, of course, but if anything can be learned from the lithe limbs of the ballet students, many destined for NYCB, it will be beautiful to behold.