The Lauder family is known to be closely knit, at work, at play, and at home. In fact, asked about lockdown during COVID-19, Aerin Lauder Zinterhofer says she continues to work remotely, and although she misses being able to travel, she is philosophical.
"With the bad, you get the good," she says, speaking one recent morning at the family home on the East End of Long Island she shares with her husband, Eric Zinterhofer, an investment banker, and their sons Will and Jack, 20 and soon to be 21, respectively.
"It was special to be home with my two boys so much before they went off to college; dropping them off at the Wharton business school in late August was bittersweet. And I got to spend a lot of time with my father" — Ronald Lauder, chairman emeritus of the Estée Lauder Companies and president of the World Jewish Congress — "who is normally traveling all the time."
As we learn in Aerin's new lifestyle book, Entertaining Beautifully, in which she shares her personal thoughts about hosting and which encompasses more than 20 celebrations, the Lauder family famously celebrates holidays together, including the Fourth of July, Thanksgiving, Hanukkah, and Christmas.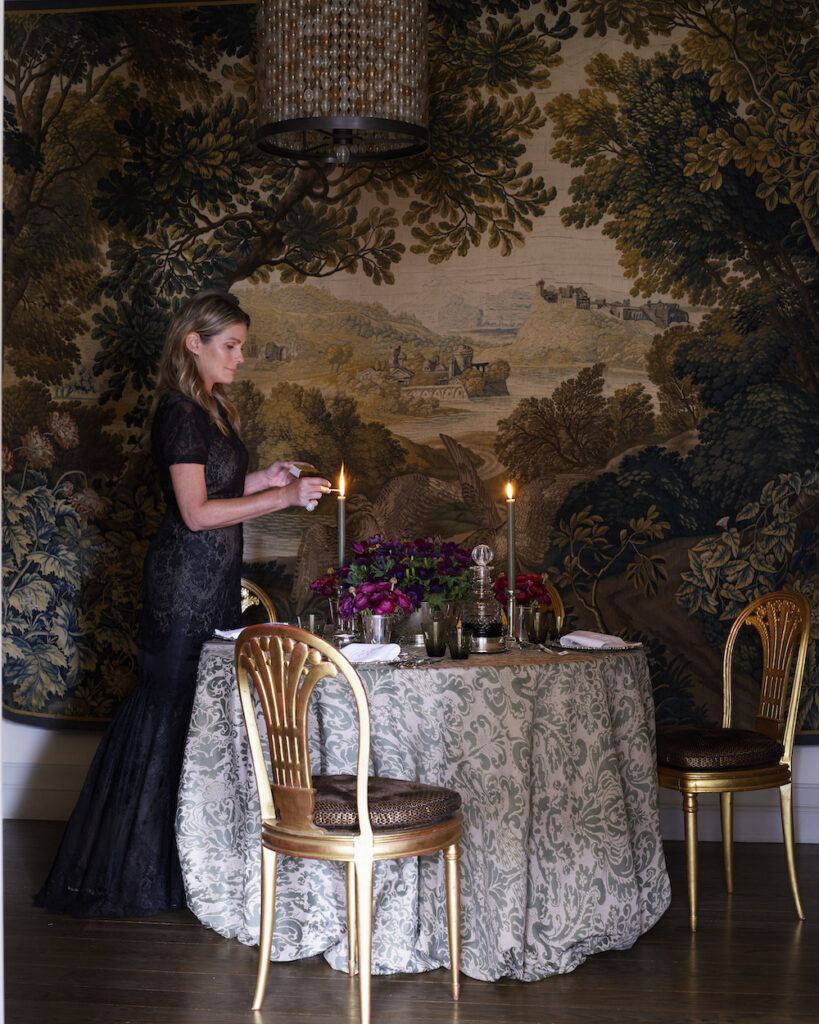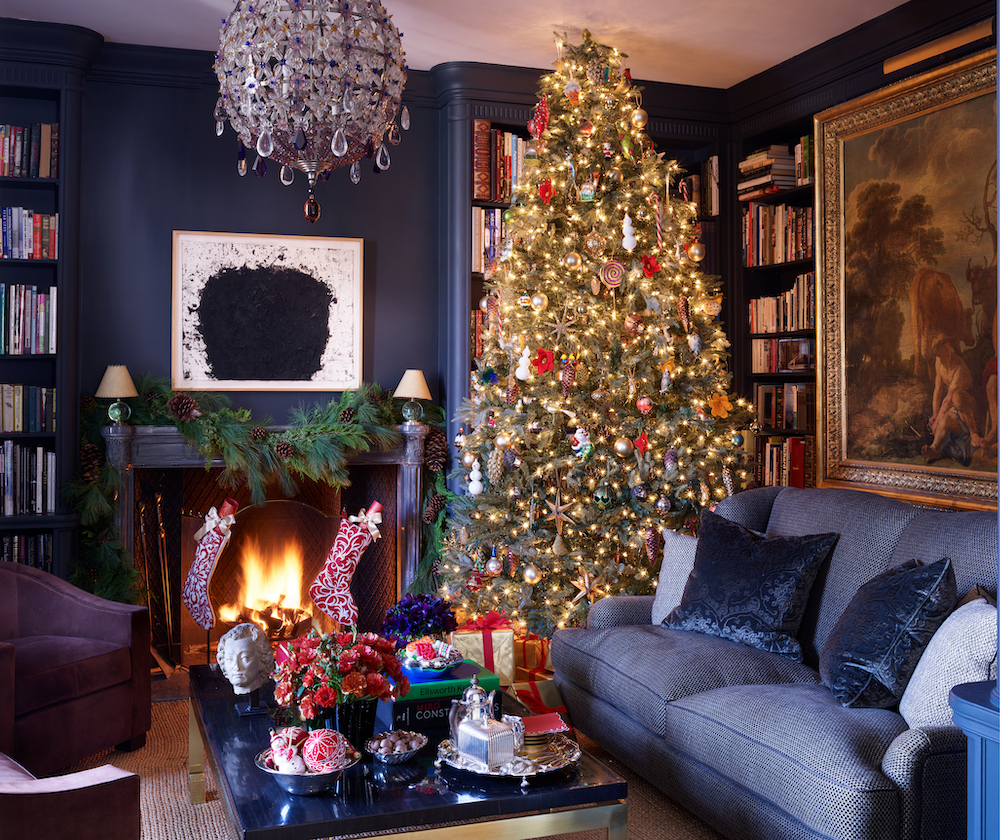 In a normal year, she says, "We have Thanksgiving dinner at my parents' house in the Hamptons, usually 60 or 70 people, including my sister Jane, the parents-in-law, and all the children."
This year? Probably not.
"I think that it's very important to still celebrate the holidays, even during this unique time," she says. "The holiday season has always been filled with family, nostalgia, and wonderful memories, which will not change this year. I plan to decorate my home and spend quality time with the people who are most special to me. I'm looking forward to my favorite classic comfort foods and entertaining at home in a new way."
"Entertaining doesn't always have to be a large, formal gathering," she adds. "Hosting a smaller group in an intimate setting can be just as meaningful."
We are seated in the pool house of the Greek Revival, columnated Hamptons mansion not far from Georgica Pond she inherited from her grandmother, Estée Lauder. Beautifully dressed in a chiffon print blouse, wearing gold jewelry and gold sandals from her own line, Aerin, 50, is poised, unpretentious, and candid.
"Living in her house has been so comforting during lockdown," she tells me. "Using her plates and silverware, I feel her presence."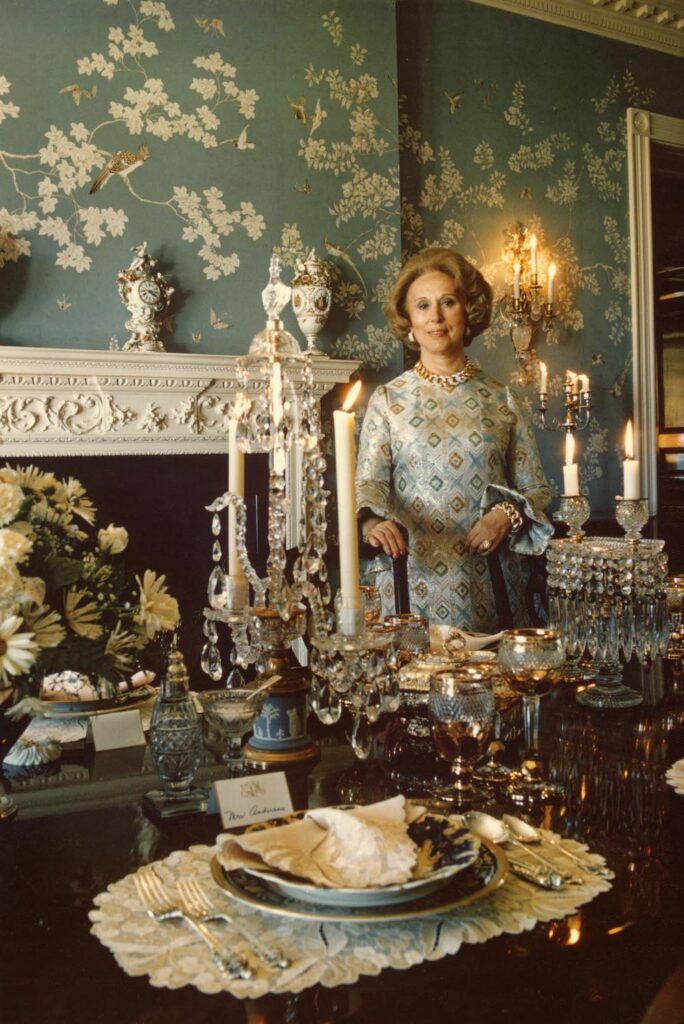 The design of the pool house was adapted from a Slim Aarons photo of Babe Paley leaning on a pillar of her pool house in Jamaica.
"That simple, elegant structure, open on two sides, was the inspiration."
Apart from a few floral throw pillows, everything is white: walls, floor, ceiling, coffee table, garden seats, the canvas upholstery on the rattan seating, even the coral chandelier. The decor is pristine and calming. ("I hate clutter," she confesses.)
On the coffee table she has proudly arranged some of her products: faux-shagreen boxes, fragrance candles, flower vases, and an elegant woven raffia tray from a line that she has fabricated in Italy. They are, like her, traditional, chic, and well-mannered, not trendy nor cutting edge. These are pieces that won't go out of style.
This year, despite the pandemic, Aerin plans to participate in another beloved Hamptons family ritual she details in Entertaining Beautifully: a casual lunch the day after Thanksgiving with her mother, Jo Carole Lauder, and father. Her mother hosts the lunch in a rustic, centuries-old log cabin that was moved to their property from Virginia.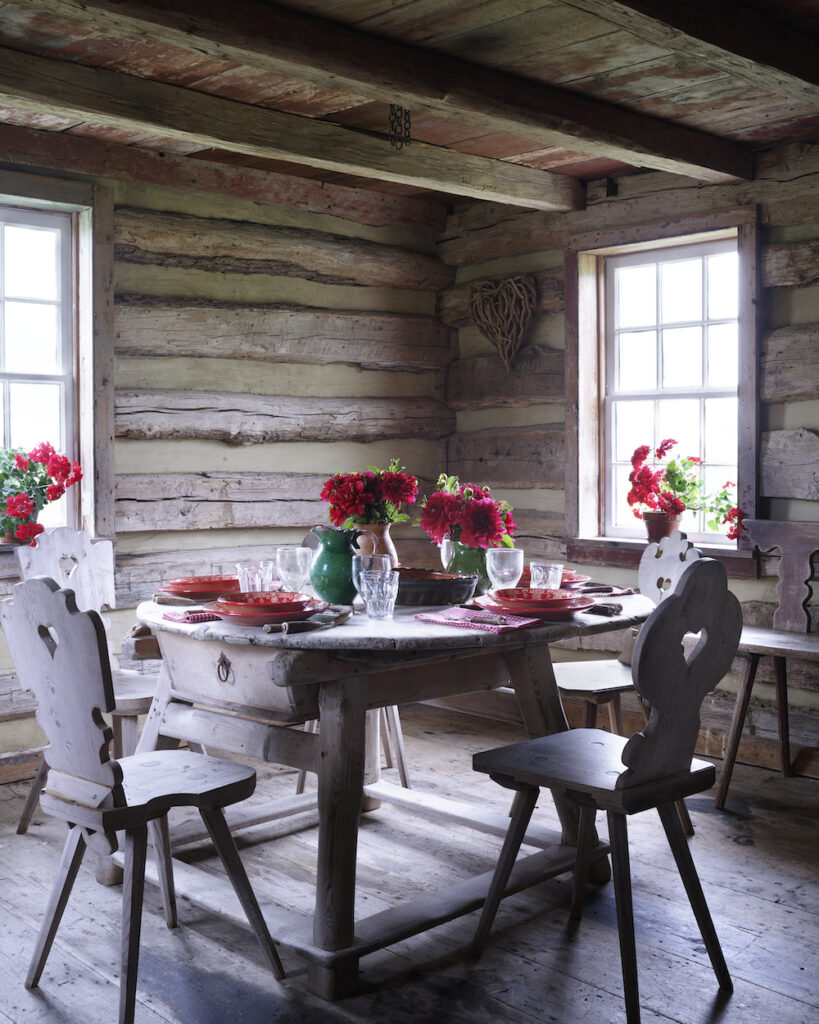 "It is furnished with primitive Austrian wood furniture and filled with charm and history that transports us back to another era," Aerin says. Her father served as U.S. ambassador to Austria in the late 1980s, when she was a junior in high school, and she has fond memories of Vienna.
The atmosphere of the cozy cabin interior is gemütlich (for those without a Berlitz handy: "pleasant and cheerful"). A small antique Austrian trestle table is surrounded by simple Tyrolean country chairs with heart cutouts in their backs. The table is set with folkloric dishes, monogrammed red-and-white gingham napkins, horn-handled flatware, and pots of red geraniums.
"My mother has long collected a type of hand-painted earthenware pottery made in Austria," she explains. "These ceramics have been made in the town of Gmunden, on the shores of Lake Traunsee, since the 1400s. The whimsical, green-and-white-striped and looped dizzy patterns, as well as the leaping green deer, are my favorites."
"After the elaborate Thanksgiving feast, this simple, bucolic meal with turkey leftovers is an ideal antidote," she continues. "It can be just as creative — if not more so — to entertain in a rustic, bare-bones space as an elegant, luxurious one."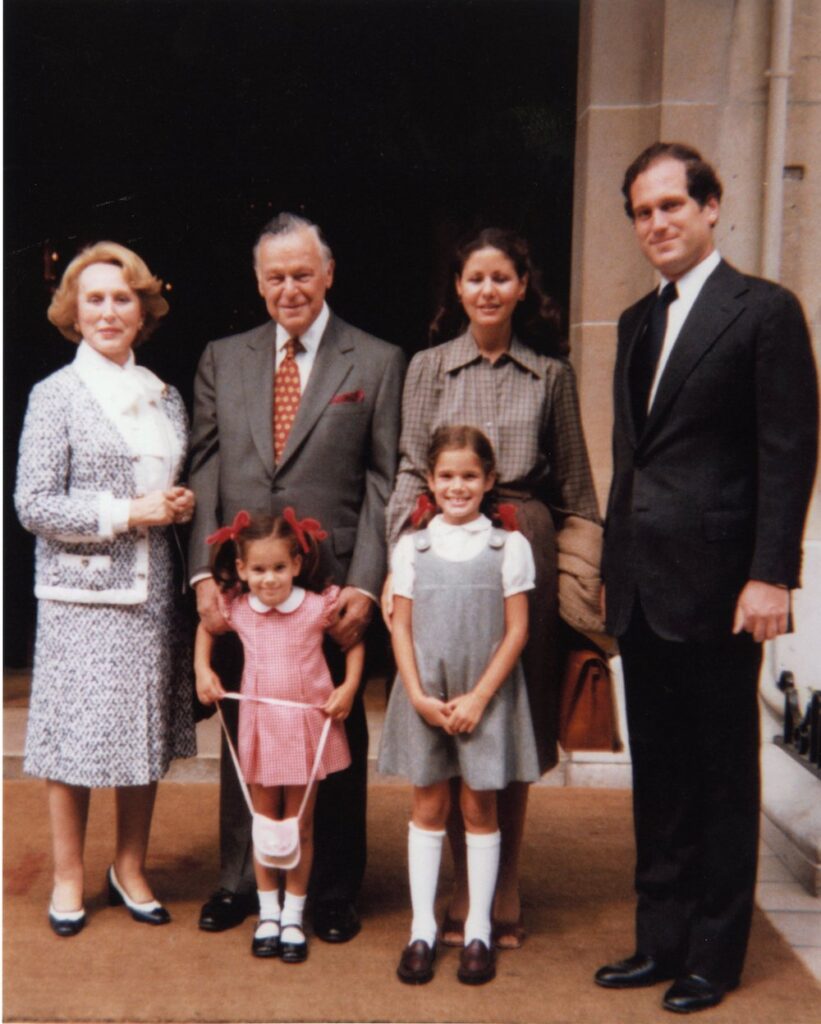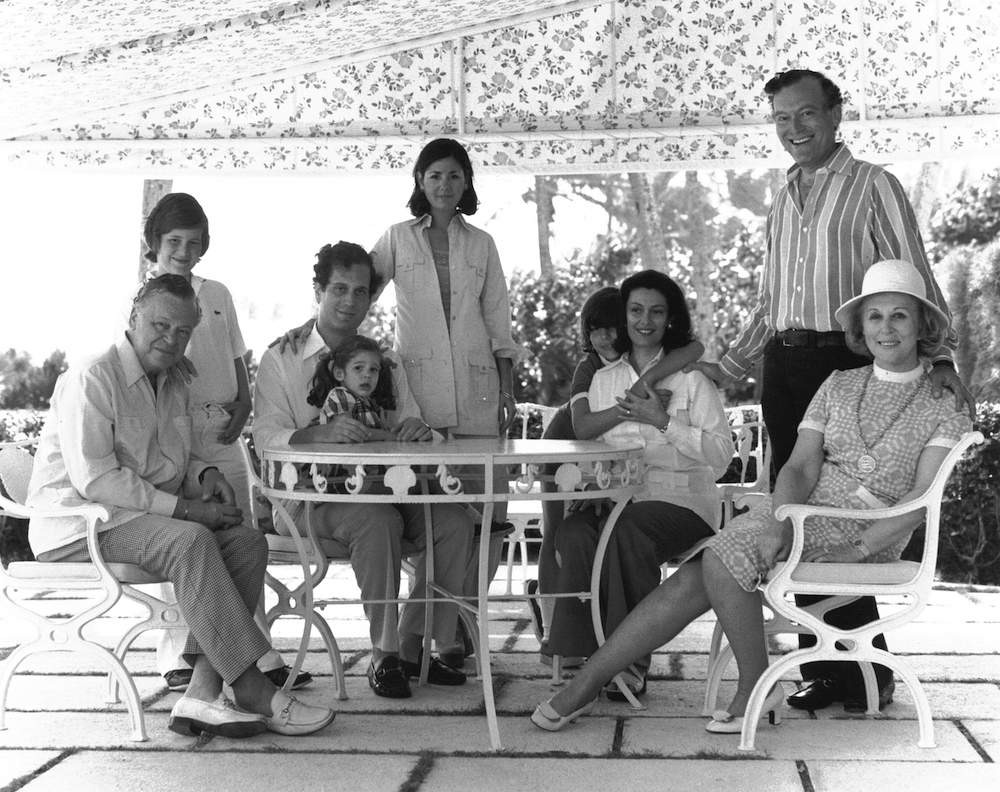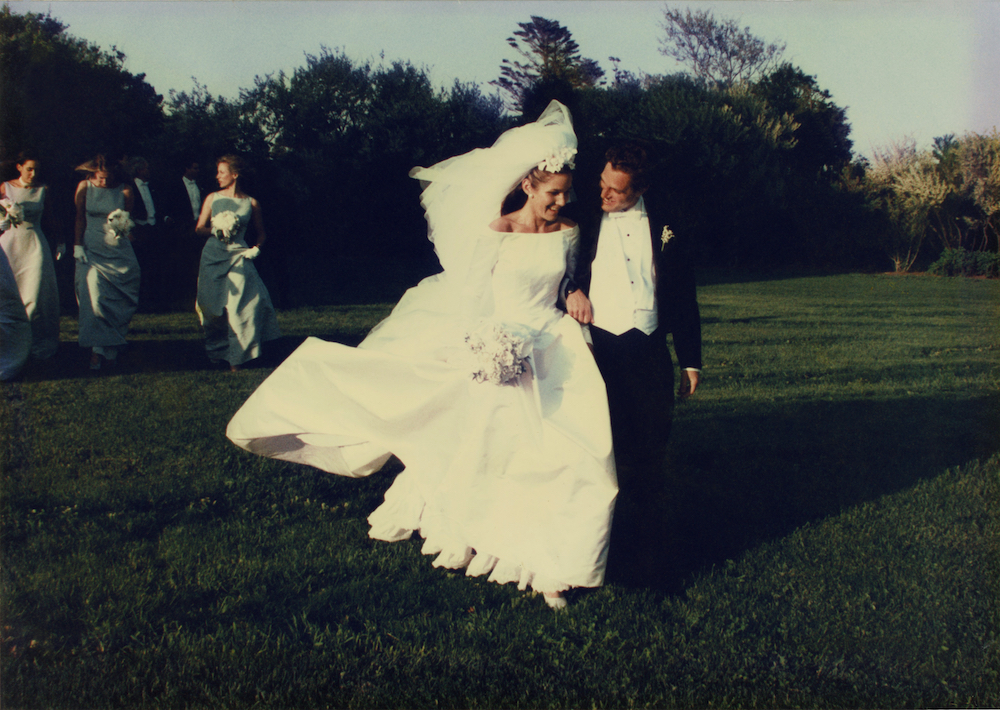 Growing up with such stylish parents, is it any wonder that this Upper East Side entrepreneur has become the face of her own lifestyle brand, along with her own makeup and fragrance lines? After working for 25 years (since interning at college) at the Estée Lauder company, where she still retains the title of style and image director, in 2012 she launched AERIN, her own beauty, home, and luxury lifestyle label, where she serves as creative director.
"The whole brand is about surprise and delight," she says.
Her elegant boutiques in East Hampton, Southampton, and Palm Beach showcase her creations as well as those of friends, including a line of dresses by Amanda Ross, a former Harper's Bazaar editor.
"Fashion has always been part of my life," says Aerin, who was regularly featured in the glossies, pre-COVID, at parties wearing Oscar de la Renta, Derek Lam, Stella McCartney, and Michael Kors. "When I was 15, Estée took me to Paris to see the fashion shows. I was riveted."
Inspired by her grandmother, Aerin is a hard worker, like her fellow Park Avenue women entrepreneurs Tory Burch, Cristina Cuomo, and Lauren Santo Domingo.
"We are all in different businesses, but I love strong women."
Asked about her schedule, she says, "I am definitely an early riser; I don't sleep very much. The first thing I do when I wake up is take the dogs out. If I'm working out, I prefer to do that in the morning as well, before I start my day. I love Pilates and going for walks outdoors. I like to go alone; I get my best work ideas when walking."
On weekday mornings she can be found walking her dogs in Central Park, not far from the family home on the Upper East Side.
Her work day? "After having a cup of coffee and getting dressed, I spend my day on calls or in different meetings. No two days are ever the same, which is one of the reasons why I love what I do. I am very hands-on."
"Sometimes after work I meet up with friends like Lauren duPont and Samantha Boardman, since I find old friends are the people you depend on," she continues. "Then, after a busy day, my favorite thing is to have dinner with my family. It helps me unwind, disconnect from work, and re-connect with the people I love most."
She proudly points out that Estée went to work every day until she was in her mid-eighties. It is easy to imagine Aerin Lauder doing the same. She shares a favorite saying of her grandmother's with me: "There is no such thing as an ugly bride, only a lazy one."
In other words, if you try, you can be beautiful and have a beautiful life. She will show you how.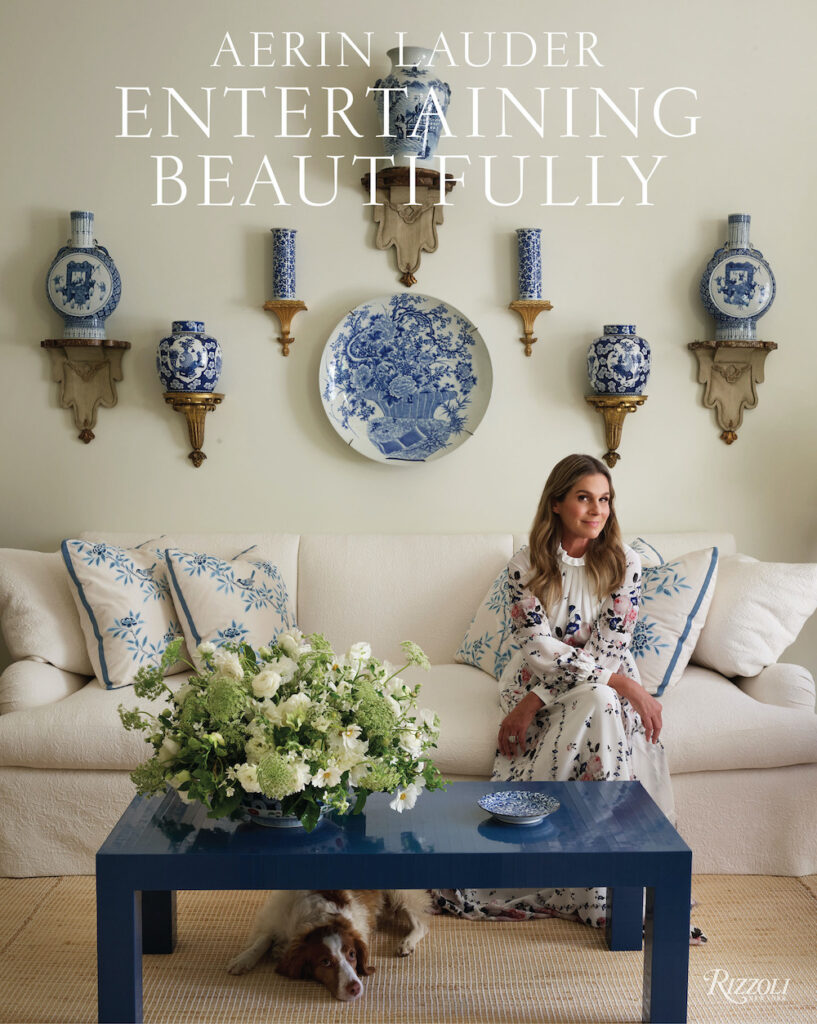 Entertaining Beautifully is published by Rizzoli.