Palm Beach's most elegant shrimp eaters know that The Circle opens on Sunday at 11 a.m. sharp. The legendary brunch served in this vast and impressive dining room is a principal weekend attraction of The Breakers, Henry Flagler's opulent, neo-Renaissance hotel sitting on 140 acres of the most enviable real estate in America. Early arrivals are asked to wait in the extravagant loggia, modeled after the Palazzo Davanzati in Florence. It was upon sofas here, on a recent Sunday at the start of the season, that women in outrageously colored Lilly Pulitzer dresses and men draped in pastel and khaki gathered to share a weekly meal that, for almost a hundred years, has been a Palm Beach institution.
And this particular institution has multiple virtues it can credit for its longevity. It isn't just the buffet, though that is a stunning Lucullan spread. Nor is it simply the dining room, though the room itself is grand. It's not only the view (splendid), the service (stellar), or the harpist (Marcos). No, brunch at The Breakers is also perhaps the best place in Palm Beach — being at once exclusive and democratic — for people watching.
Like the Atlantic Ocean visible through banks of 15-foot windows, The Circle's brunchers come in waves. The early crowd arrives between 11 and 11:30, followed by the post-worship crew, who might tumble in around 1 p.m. after attending Bethesda-by-the-Sea or St. Edward's. The former pulls largely from the swell of hotel guests: around 60% according to Dan Rundle, The Circle's general manager. They are obviously well-to-do, as The Breakers' rack rate can start at $755 per night, and the price of brunch is $155, plus tax and tip. Nonetheless, there still seems a touch of country mouse about these celebrants as they enter, eyes wide and heads tilted toward the ceiling 30 feet above them. On it, various Italian idylls depicting cavorting nymphs, wise emperors, and equanimous heroes were painted by a Palermo-born artist, John B. Smeraldi, in the 1920s, shortly after the first iteration of The Breakers burned down and, like Lazarus, was restored to life (and then sainthood.) From their perch, these figures gaze upon the 47 tables, three ficus trees, and waiters scurrying about with champagne in one hand and juice in the other as, setting down their Chanel clutches, the diners shuttle back and forth to the buffet, the heart of The Breakers brunch.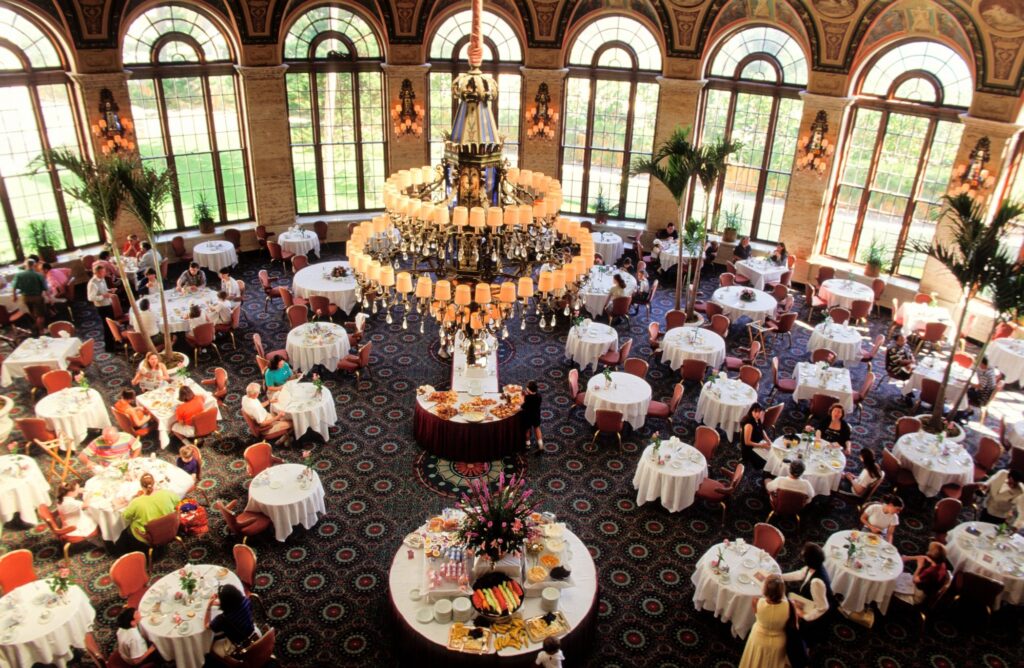 This buffet is a centerpiece, a statement, the nuclear rod, a Bacchanalian marshaling of what the earth, sea, and sky can offer man to eat. It spans more than 150 feet and two islands, plus an omelet, waffle, and crepe station. At the tip of the island closest to the omelets is the seldom-trafficked pasta salad and deli meats section. Slices of glistening salami are artfully rolled into cones on tiny plates; tranches of quivering mozzarella are drizzled with olive oil. Circumnavigating the buffet island, one encounters the first of many extravagances: trays of neatly aligned sushi rolls. These, a relatively recent addition, are made by the chefs at Echo, The Breakers' Japanese restaurant. They are cheek by jowl with an array of desserts, from tiny slices of tangy key lime pie topped by a glitter-dusted blackberry to decadent chocolate demitasses filled with tiramisu, and arrays of cheerful macarons.
A reporter observed this island, and its satellite omelet station, to be the most trafficked by the brunch arrivistes. To their tables they trot, plates laden with Gruyère and mushroom omelets, tobiko-encrusted maki, and an assortment of miniature desserts, like raspberry tarts with a passion fruit cream, say, or shiny chocolate domes flecked with gold leaf.
But although full, these diners might not yet be sated. For the apotheosis of The Breakers brunch is found on the second island. On this other monument to man's appetite, one finds glazed bone-in ham and tender prime rib, its center rosy and its crust spiced and charred, glistening under a heat lamp. Nearby lay pans of caramelized mushrooms with creamed spinach; a neat row of lamb, bones frenched; and a Lower East Side's worth of smoked salmon and blini. It's a world's fair, the supreme food court, a Disneyland of digestion. Whether these flavors should go together (or not) is perhaps less important than the fact that one can choose whether they do.
These are impressive, but the pièce de résistance is a veritable coral reef of stone crab, lobster claws, lobster tails, and shrimp. Each are piled high before a neat battalion of ramekins filled with tartar and cocktail sauces. Throughout the service, these precious proteins are replenished as if on a magical table. On any given Sunday, The Breakers runs through 250 whole Maine lobsters, 150 pounds of stone crab claws, 400 oysters, 150 pounds of prime rib, 80 pounds of shrimp, and a truly mind boggling 25 pounds of caviar. Want is a stranger here; abundance is the norm. And truth be told, abundance is delicious. For the first of my three courses, I piled my plate high with lobster claw meat, a pair of tails, a few jumbo shrimp, and four or so stone crab claws. I grabbed a ramekin of drawn butter, muttering an apology to both my rabbi and my personal trainer, and followed the flow of diners to my seat. Though the house is too refined to phrase it this way, brunch at The Breakers is all-you-can-eat, and the Bloody Marys, Bellinis, and more are bottomless. Before my khaki-clad buttocks hit the upholstered chair, my server arrived with a bottle of champagne in one hand and orange juice in the other. "Mimosa?" she asked, and who was I to refuse?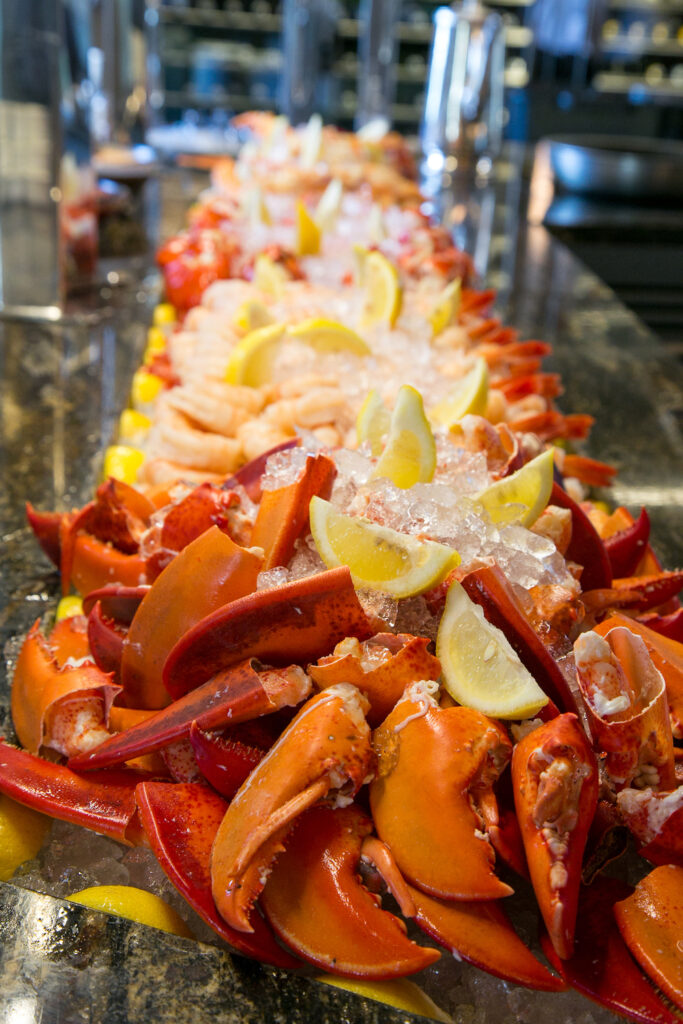 Over the course of two hours and two more visits to the buffet, I studied my fellow brunchers. They were, at least age-wise, a diverse group. (As best I could tell, there were no guests of color in the dining room whereas, with the exception of the sushi bar, all those working behind the buffet were BIPOC or Latinx. For more on this, I'd recommend Saru Jayaraman's excellent report "The Great Service Divide: Occupational Segregation and Inequality in the US Restaurant Industry.") The table of eight loud Russians by the door, colorful in both clothing and demeanor, presided over a table heavy with caviar, blinis, and Bloody Marys, which were quickly sucked down. Next to me, closer to the window — proximity to the window being a good marker of prestige — a young couple sat. He, tall with flowing brown hair, a Hawaiian shirt, and Tod's drivers, watched as she, wearing the shortest shorts imaginable, posted Instagram stories about stone crab. They were observed by an older couple, she dripping in jewelry, he nose in his phone, both very tan, who moved tables twice — each time closer to the window — before piling their plates high with bacon and sausage. To my left, an older man and his younger, presumable lover ate lamb chops and, at the table beyond that, another older man and his even younger this-time-ponytailed presumable lover, fed each other sushi. (A trio of older women barely hid their alarm.) We regarded each other with curiosity, as fish might in an aquarium devoid of predators, nodding as we glided past each other to and from the buffet.
Having moved to the carving station for my second plate, I contemplate the deeper meaning of the meal over rosy and generous slices of prime rib. I watch the hungry who snake by in their Sunday best, clad in oranges, pinks, and reds reminiscent of crustaceans. Because, seeing as the claws have already been removed from various respective carapaces and tail meat coaxed from its home by the twitch of a fork, as they eat their haul, Palm Beach brunchers aren't looking down, or even at their companions, but at each of their fellow diners with the genteel complacency of belonging. According to one longtime brunch patron, The Breakers has the benefit of being a socially demilitarized zone in a town with a not always glorious tradition of mixing faiths. Generally speaking, Palm Beach's sizable Jewish community find themselves at ease at the Palm Beach Country Club, while its gentile population has traditionally been comfortably ensconced at the Everglades. The clubs are both exclusive and mutually exclusive. "The Breakers is like the neutral ground in West Side Story," said the Palm Beach wag. "It's like, 'meet behind the gym.' "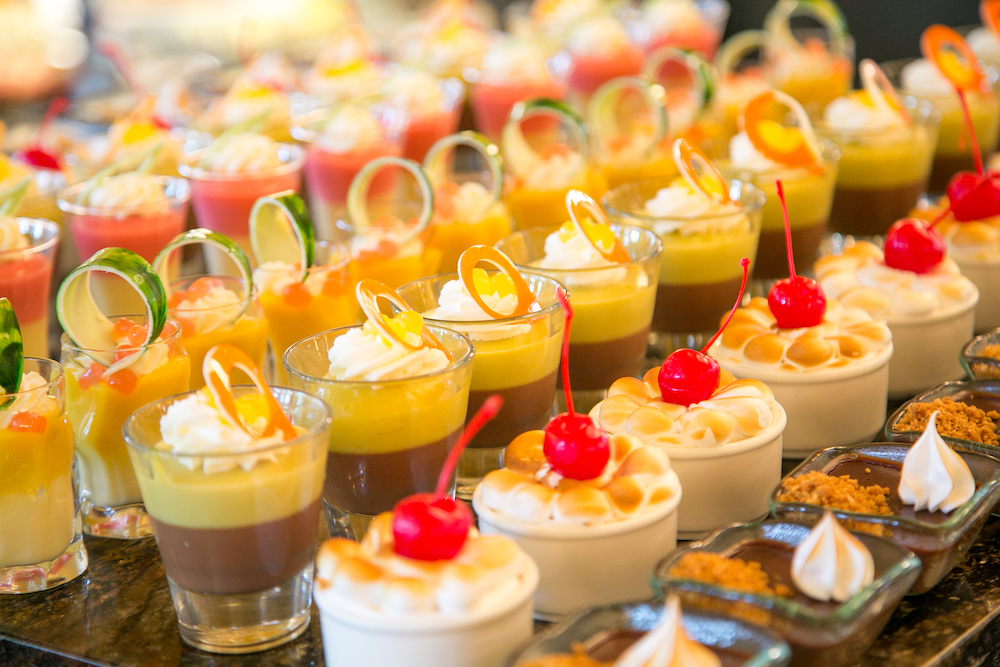 Equals to each other, perhaps. But in this rarefied strip of land, it is understood that also means being head and shoulders above the rest. Because the true meaning of brunch at The Breakers isn't to be found in the intrasocial mingling of Palm Beach's lotus eaters, or in its omelets and prime rib. Or even in the inexhaustible shrimp. For what brunch at the Breakers says to its guests is that the world itself is our buffet. Ours to enjoy (a cynic might say, plunder) on not one but three and five trips to the spread.
Like all earthly pleasures, this one is fleeting. Specifically, it ends at 2:30. For now, however, Marcos is playing "It's a Wonderful World" behind a ficus, and the ocean roils silently beyond the stormproof windows. My plate is empty temporarily once again. But the caviar is endless, the stone crab has just been replenished, and the buffet beckons me back.