It was a cold first Friday in May and the Bellport restaurant was packed. The small country bistro, at the end of the pretty little main street of the South Shore, Long Island, village, didn't even have a barstool for me. Right at the window by the door, Alexandra Lebenthal and Jay Diamond, Friday regulars ever since their now-college-age daughter was born, greeted old friends walking in from the cold. With the gleeful air of country clubbers who hadn't seen each other all winter or giddy college students returning for the fall, quietly stylish people hugged and air-kissed while cute young servers in bow ties and white button-downs scurried around them.
Katia and Howard Read — she's an artist who cofounded Friends of Bellport Bay to seed oysters here and he's an art dealer whose Peter Shear show at Cheim & Read gallery in Chelsea had just gotten a warm Times review — sat down with Peter Schlesinger. The artist, author, and former lover of David Hockney had come out to check on his garden. He was busy in the city archiving the work of his recently deceased partner, Eric Boman, the Vogue photographer whose memorial service last summer had been organized by Anna Wintour on the nearby Brookhaven farm of Isabella Rossellini. Lucy Danziger, the triathlete, former editor-in-chief of Self, and gregarious host-about-town was there, too. Stefan Beckman, the affable creative director with a chic boutique across the street, Bellport General, towered over the hobnobbing crowd. He had just come from the city after the Richard Avedon opening at Gagosian, which he had designed.
"It turned out pretty well," he said, with typical Bellport modesty.
Within moments, Lisa, the restaurant's chic host (the place is owned by the beloved guitar-playing Taylor Alonso, whose flamboyant late wife, Patricia Trainor, reigned as hostess for years) found me a bar spot. "It already feels like summer," she said. "Everyone's here."
Welcome to the Long Island weekend retreat often called the "Unhampton." Closer to the city than the fraught and posh East End and tiny by comparison, Bellport village and Brookhaven hamlet, its agrarian neighbor (where Nicky Hilton and James Rothschild bought the former home of designer Francisco Costa on the same road as Hugo Guinness, photographer Douglas Friedman, Jay Johnson, and Tom Cashin), have been hopping with real estate prices popping lately — although in this compact, pastoral bayside enclave, growth remains controlled and as modest as the dress code.
"I don't mind all the new people coming into my store for coffee," Beckman told me. "They're nice and can't overbuild or tear down too many houses, so it's all good."
That may not be 100% true; I've seen my share of flipping recently. And kerfuffles can occur when plans for oversized, modern homes rankle a protective, tight-knit community that feels closer to remote Maine than Manhattan, which is located just 90 minutes to its west. Did that finance couple need something so big and close to a flood zone that it required pile drivers? Did that respected, environmentally sensitive architect need to go against local wishes and build up on the waterfront spot where everyone enjoys strolling for the view? And what about that super-high roof commissioned by that late art-collecting media mogul and his wife? I used to admire them motoring over in a Boston Whaler across the Great South Bay to wander the remote ocean beach on the end of Fire Island. Now a charmless statement house dominates the water's edge.
"There's an embraceable scale here and the renegades have little respect," says Amanda Burden, the former commissioner of planning in New York City, who first moved to Bellport in the 1990s when she was with Charlie Rose. "They violate what we hold dear."
But if resentment occurs with changes, it dissipates in Bellport soon enough. Even onetime favorite neighbor Rose, an affable dinner guest who has been supportive of community needs for decades, has been getting invited around again since he was accused of misconduct in 2017. Last summer, ahead of her 70th birthday, Rossellini pushed for Rose to interview her at a fundraiser, at which he dubbed her Bellport's "queen." But unlike a fashion queen or Hamptons celebrity, the bohemian actress and model circulates and engages visitors on the street or at her farm (named, simply, "Mama Farm"), where she gives tours and draws on her master's in animal behavior with quirky details about her heritage chickens, sheep, and goats. Rossellini first came to Bellport in the 1980s because of Bruce Weber, the photographer who was the subject of a 2012 show at the lively Bellport-Brookhaven Historical Society.
"Bellport is such a sweet, fun, easy community to live in, full of wonderful and fascinating people," says Rossellini's daughter Elettra Wiedemann, a former model with her own master's degree — from the London School of Economics — who oversees Mama Farm for her mother. She moved out here with her partner, Caleb Lane, from Brooklyn a few years ago, before the more recent Covid-induced influx of young creatives. "Everything just felt easier, and we were so much calmer and happier."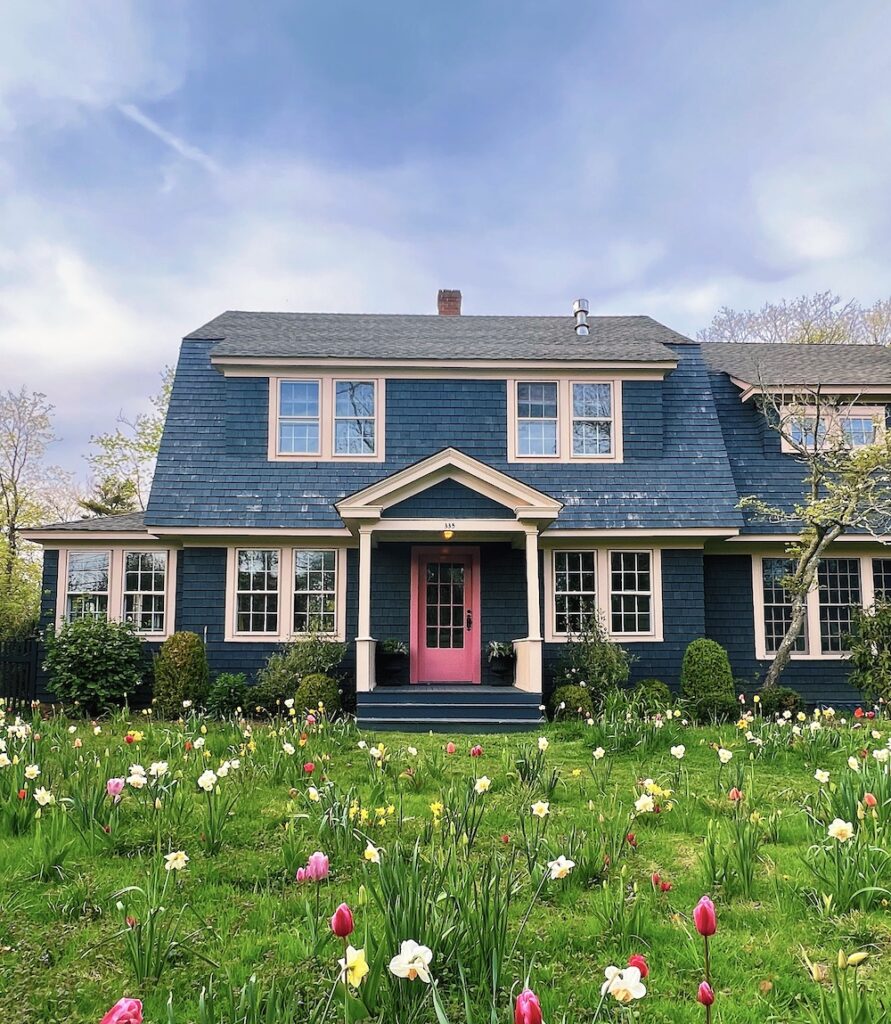 Other relatively recent arrivals, whether part-time or full-time, seem equally content. Whenever I see Billy Porter at a party or the liquor store (I once let him go ahead of me with his bottles of champagne) he tells me he loves it. Although he is one of only a handful of people of color, he is by no means the only gay one, with a recent influx of young male couples. Maneesh Goyal, a co-owner of Sona and Temple Bar in Manhattan, arrived not long ago and started throwing pink parties and louche bacchanals with what seemed like half the village on his guest list. His dinners and soirées (including late-night sing-alongs at my piano where the signature cocktails are vodka stingers) are chronicled in a recent Rizzoli book by Tricia Foley called Entertaining by the Sea: A Summer Place. Another notable resident, Brian Sawyer, whose firm Sawyer/Berson designed homes for the Seinfelds, Julianne Moore, and Vera Wang, has a large white colonial farmhouse with ample room for his garden beds and a free-roaming black pug named Alice. "The light and land might be more impressive in the Hamptons, but I like it here because it's small and I can walk around and run into the best people," he tells me while on an evening stroll on tree-lined streets to the marina where a boisterous party is just breaking up in the tiny yacht club building. "I walk out of my house and it's like walking out of my building on Ninth Street."
Nicky Hilton, another newbie who surprised people by giving up on the Hamptons, fits right in. She shows up on Saturdays with her three young children at Early Girl Farm and the Hamlet Organic Garden on the roads we share. (We don't honk here, by the way.) She likes the local "chilled, creative vibe" and told the New York Post in 2021 that "you are more likely to see chickens in someone's yard than a sports car." A few years after her arrival, she and Rothschild, her good-natured husband, generously offered their brick Georgian colonial to the Boys & Girls Club of Bellport for their Beach Ball, the community's mainstay summer fundraiser. These days the fundraisers, music events, and farm dinners with escalated prices have multiplied like trumpet flowers or, for the more cynically minded, the biting greenhead fly population on our beach.
But, along with the boom in citified benefit parties and high-end shops, including Copper Beech by Aero Studio's Thomas O'Brien and his husband, Dan Fink, a sophisticated art scene has taken root. The Storefront, opened before Covid by art world party planner and city transplant Melissa Feldman, offers curated shows in addition to quality books — a welcome addition after years without a place to buy them. Marquee Projects shows challenging and playful work curated by artist Mark Van Wagner and Tonja Pulfer, including the Guggenheim Fellowship-awarded Brookhaven photographer Gary Schneider. The latest gallery addition is in the garage of a gas station: The Something Machine is a spare white space with challenging international conceptual art run by art advisor Esther Flury and world-class curator Jeffrey Uslip.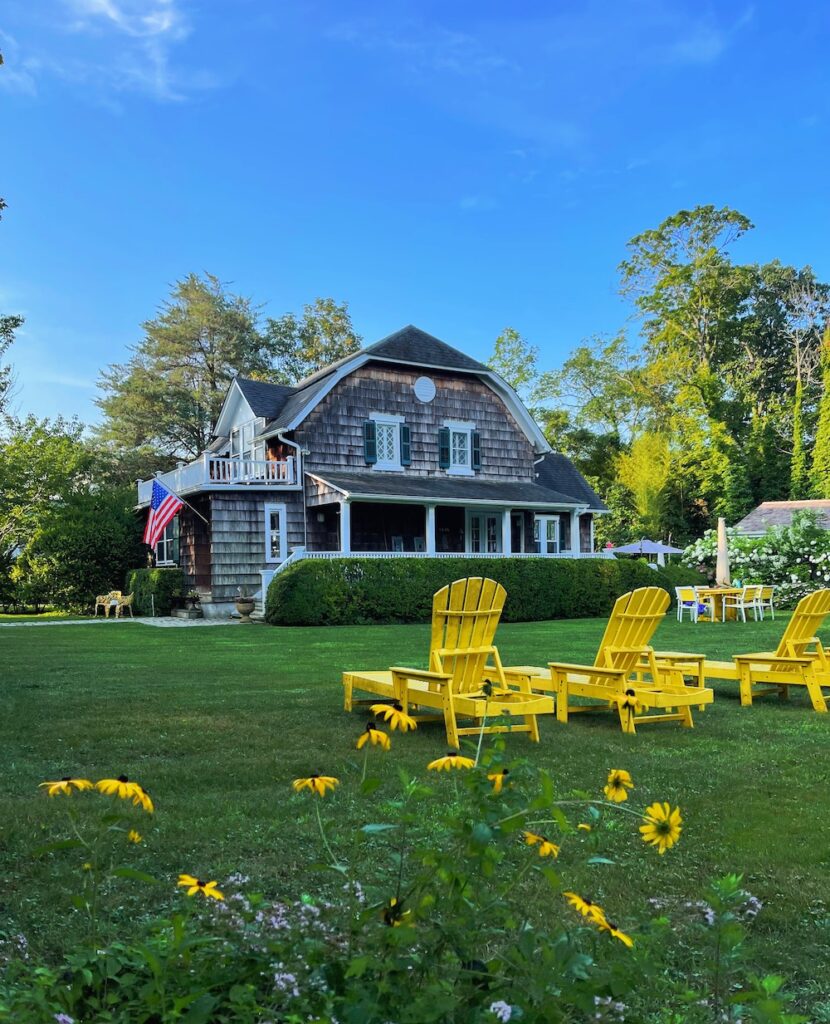 "There's an interesting art scene," says Angela Westwater of Sperone Westwater gallery on the Bowery, who represents Bruce Nauman, Tom Sachs, and the late Malcolm Morley, who lived in Brookhaven. "And the art galleries add to the diverse and stimulating mix of shops."
If I sound like I'm dropping names and dripping with pride here, I am. I'm proud to be a part of this thoughtful and talented community, and I enjoy knowing everyone: from local teachers, professors, and social workers to style arbiters like Bruce Pask, the men's fashion director of Bergdorf Goodman and Neiman Marcus, and entertainment moguls like Colin Callender, producer of BBC hits and Harry Potter and the Cursed Child on Broadway. He and his wife, Elizabeth, give the best post-Thanksgiving bash and include the entire community.
In a place as sweet as this you feel both inclusive and protective (there will be plenty of residents who object to this article, as they do to any Bellport publicity) and want the best for it. That's why I once ran for mayor — a rogue move and a way to get some new ideas across to a caring but ensconced administration. I have had my issues, as many people do, about how things are run here. It makes for lively, and at times contentious, village board meetings in the community center on Mondays. But, when the politics of zoning and the complexity of party juggling (not to mention all the parades) get to be too much, there's always the natural beauty.
The other day, Nicolas Mirzayantz, a former head of International Flavors & Fragrances and excellent photographer who has shown his work at the Storefront here, called to ask me to join him for an ocean sunset. We zipped across the choppy dark bay, tied up, said hello to Howie Guja, a young relator with a stylish Instagram of Bellport life (there are several now), who was having a cocktail picnic by the dock. Then we walked several miles by the art-director-perfect waves conversing about life, love, and more. Nicolas and his wife, Princess Alexandra of Greece, an artist, have an international life, with homes in New York, Athens, and time spent with her parents on Patmos. But Bellport will always be a base. He loves the depth of conversations he has here. "And the beauty of all this nature," he said, above the purr of his heritage Chris-Craft, as we buzzed home past houses on the shore lit up like Japanese lanterns. "It's so restorative."
After that, with windburned cheeks and a smile as wide as the bay, I popped back into the Bellport restaurant. It was another preseason Friday and, once again, everyone was there.