Fashion thrives on change. It's something Angie Mar — arguably New York's most fashionable chef — has always embodied in her restaurants. When Mar took over the West Village's famed Beatrice Inn in 2016, she revamped the neighborhood haunt, giving it a luxe edge (and a much-needed injection of youth). When she moved next door and eventually opened Les Trois Chevaux in 2021, she filled the space with fine art and tapped Christian Siriano to design the staff's uniforms. It was a hit, but with a core audience that resided uptown. And so uptown is where Les Trois Chevaux shall go, opening next year. In its place comes Mar's new venture: Le B. 
"I've cooked in the West Village for the last 15 years. The idea of leaving it completely didn't really make a lot of sense, because this is where I cut my teeth. This is where I made my name, and this is where I have culinary roots," Mar told Avenue over the phone this week. "What made sense was to open a restaurant and retain the space, and open a restaurant that made more sense for the Village."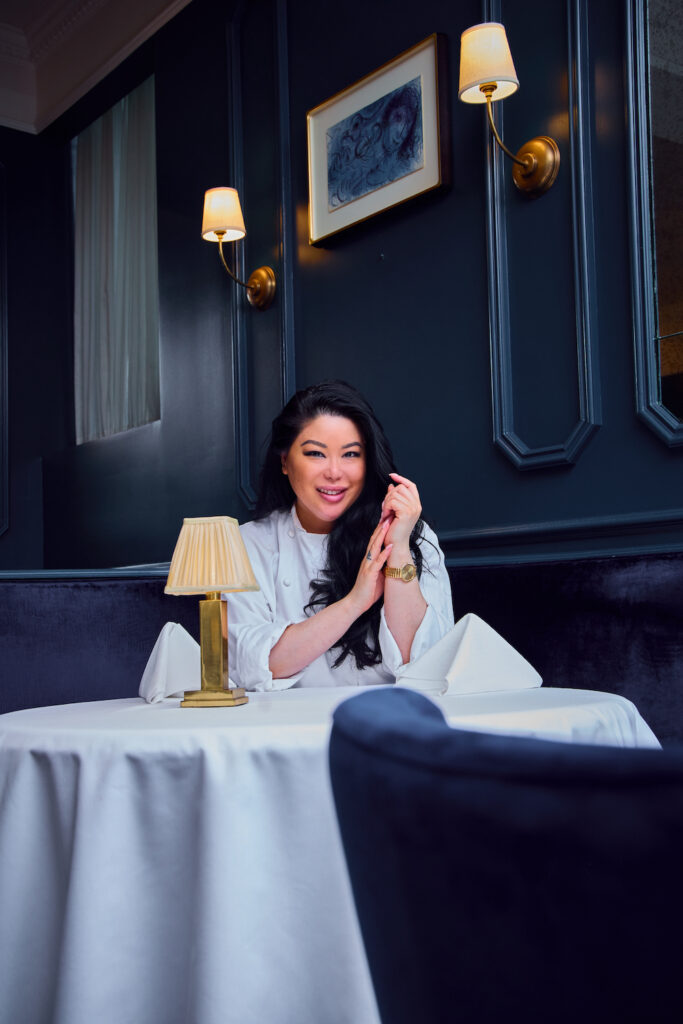 Le B. debuted with a buzzy party on Wednesday night, giving locals a first taste of its deep navy walls, sultry dim lighting, and a relaxed dress code (Les Trois Chevaux, notably, had a closet of YSL dinner jackets for patrons who didn't meet its sartorial requirements). It's decadent. It's intimate. It feels like a great place to confess your secrets over a bottle of wine.
The spark for Le B. initially came from another major part of Mar's history: the Beatrice Inn, which this year would have turned 100. "I would have kept Les Trois Chevaux going until we moved it uptown until I realized that there was a centennial this year," she explained. Though she is absolutely adamant Le B. should be recognized as "its own thing," there are direct ties back to the old establishment. A neon artwork reminiscent of the original Beatrice Inn sign is displayed prominently in the space, and Mar is bringing back its famous burger in limited quantities ("Only one burger per bar seat a night," she says. "And when it's gone, it's gone").
Otherwise, the menu is Continental, and puts a nostalgic Americana twist on Mar's French culinary training. "It's really important for people to recognize that my food has changed. My food has evolved. I've evolved," she says, when asked how her new menu compares to those she created for the Beatrice Inn and Les Trois Chevaux. "I think where we're at creatively right now, it's joyful. It's youthful, and there's a lot of whimsy to the cuisine on the menu right now. And that's very exciting for us."