A fashion force has emerged from Washington D.C. Anifa Mvuemba is a disruptor in an industry finding its feet as it navigates headwinds like the pandemic and its attendant supply chain disruptions.
She's built a business on loyal customers, sans the industry's traditional gatekeepers, and outside a major fashion city. Moreover, almost ten years in, and it's clear Mvuemba knows how to craft bold, sophisticated body-licious designs.
Mvuemba shows signs that she could one day be a much bigger business or be hired to head a major house.
Last year, she shook up the fashion world with a 3-D digital presentation. In her first in-person runway outing, she proved it wasn't all about the technology; it's also about her design talent.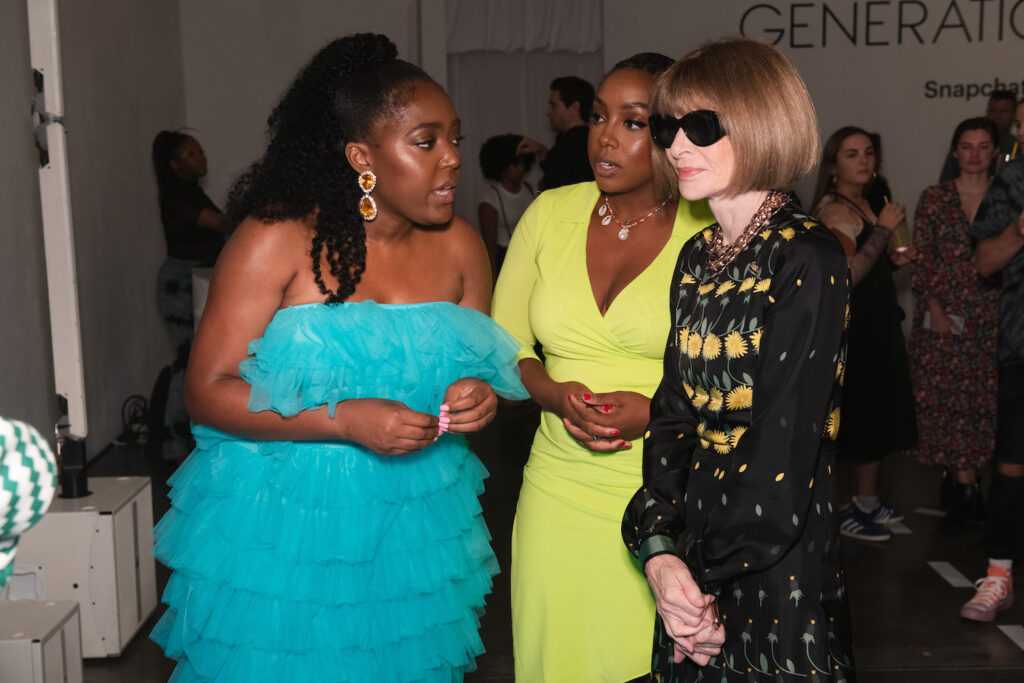 Despite the acclaim and offers of space to make her buzzy debut during New York Fashion Week last September, Mvuemba chose to stay local, inviting about 400 guests to her runway show at The National Portrait Gallery in Washington D.C. last month.
"This is where it all started," said Mvuemba. "We don't have moments like this in D.C. and I wanted to give some support to local sew-ers, local models, local stylists."
The show was "see now, buy now." Many had apparently bought already. Guests wearing Hanifa creations and mightily ready for their IG moments, strolled into the Gallery to the sounds of a live classical ensemble.
It's uncommon now to see dozens of show attendees wearing the house unless they're celebrities paid to do so. Consumers are such brand agnostics these days.
Lucite chairs, with Hanifa written in pink script lined both sides of the runway, covered in a shade of pink carpet that would look perfect in a baby nursery.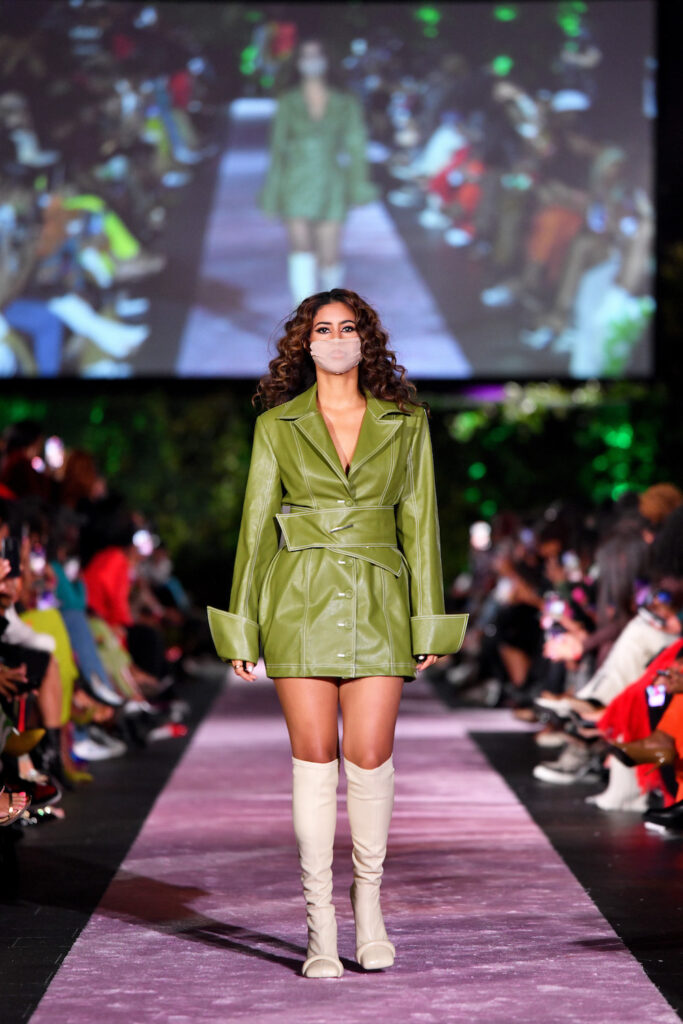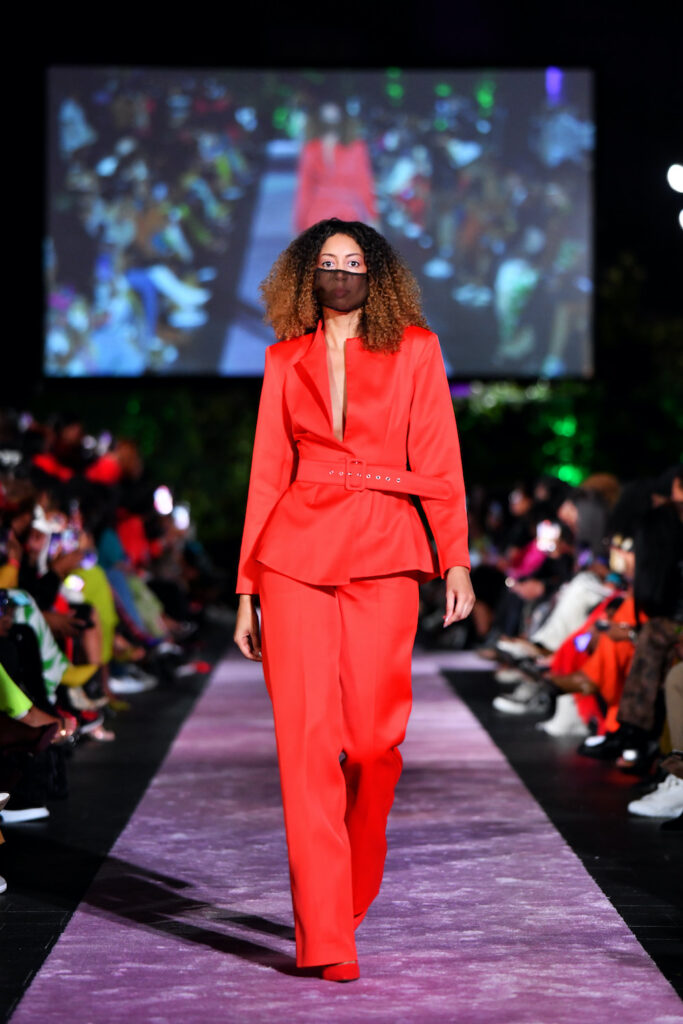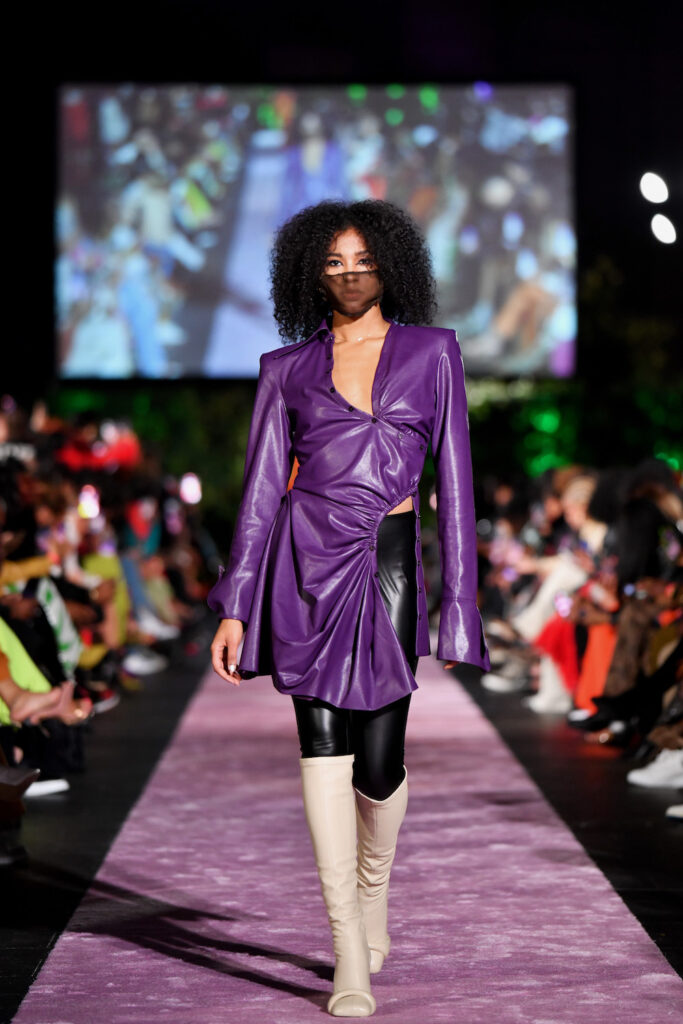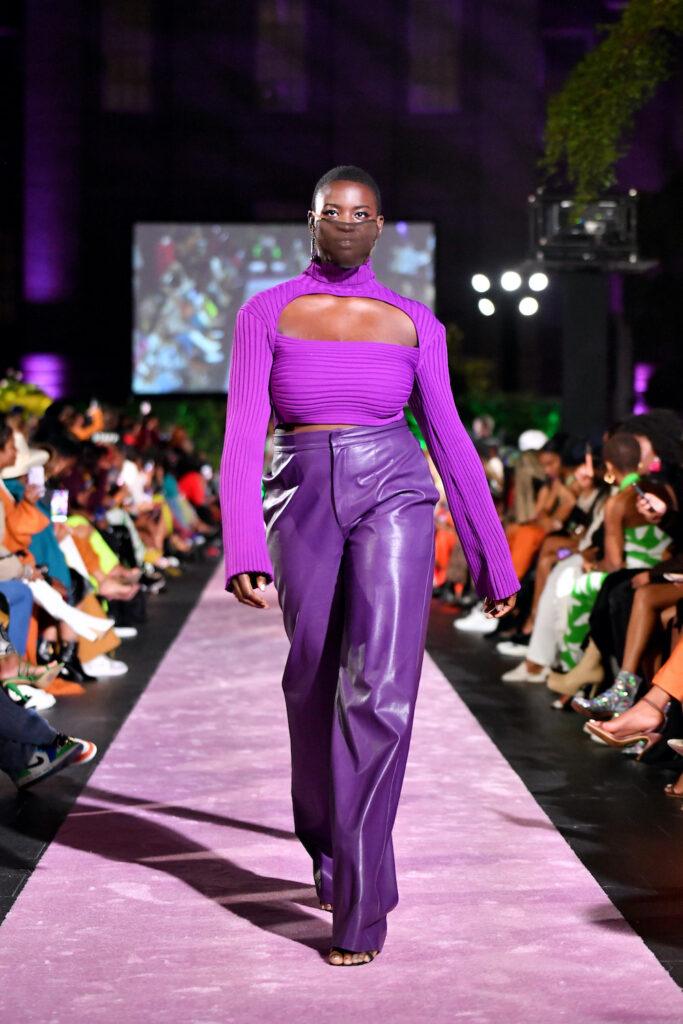 Rounding out this mise en scene was the cast from The Real Housewives of Potomac part of Bravo's hit franchise, and designer Kenneth Nicholson. The Washington Post's Pulitzer Prize-winning fashion critic Robin Givhan chatted with designer Kerby Jean-Raymond of Pyer Moss, who said he drove down from New York in his Ferrari.
It was important that he be there for Mvuemba, who is a designer of color,  he said.
"It's not a lot of us that support each other all the way through," he noted. "That's why we have the collective. We have to support each other."
The collective (not to be confused with the Black Design Collective based in Los Angeles) is a group of Black designers who have come together to help ensure success for more designers of color. Called Your Friends In New York, Jean-Raymond is the founder and majority owner. YFINY currently supports eight designers including Mvuemba and is backed by luxury conglomerate Kering, according to a story in The New York Times last week.
"Anifa was one of the first people who reached out to me from the beginning," said Jean-Raymond told me.
She also attended Jean-Raymond's first haute couture show held in New York in July.
Mvuemba's designs celebrate the female form. As an introductory video faded to black, the first high-stepper strutted onto the runway, waist cinched, lips pouted. The collection was bookended by two indigo showstoppers: A navy patent belted trench piped in white and a strapless denim gown with an undulating fishtail hem. In between, there were knit dresses festooned with yarn in dusky mauve, and ribbed dresses and tops including turtlenecks with sexy cutouts. The designer used vegan leather throughout, in jackets and pants, dipping into an intense palette of blues, purple, peach, pink and greens.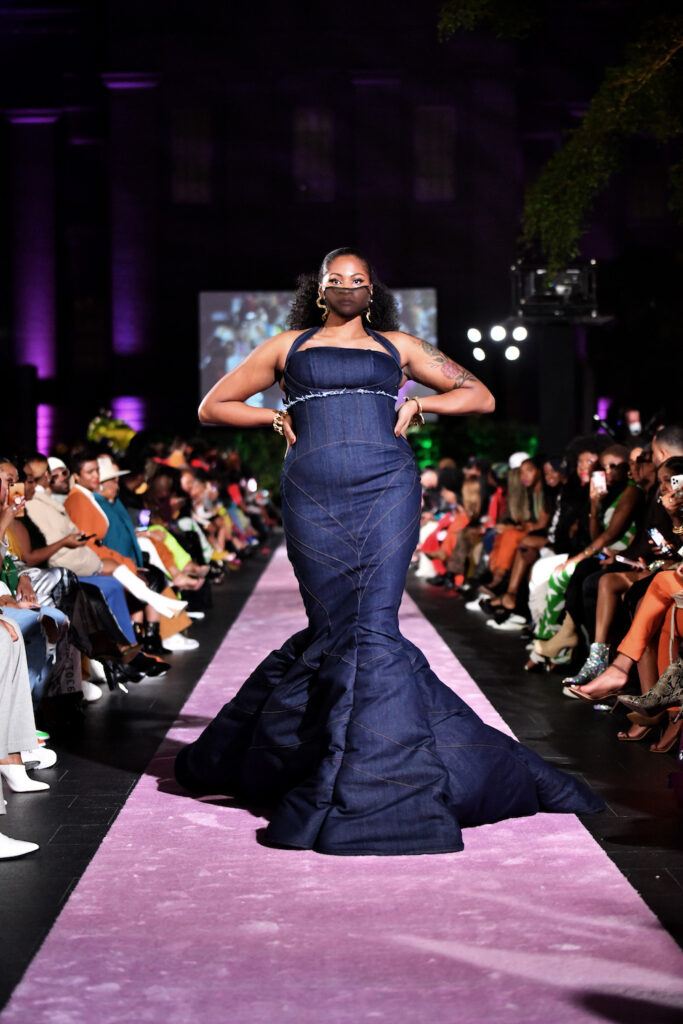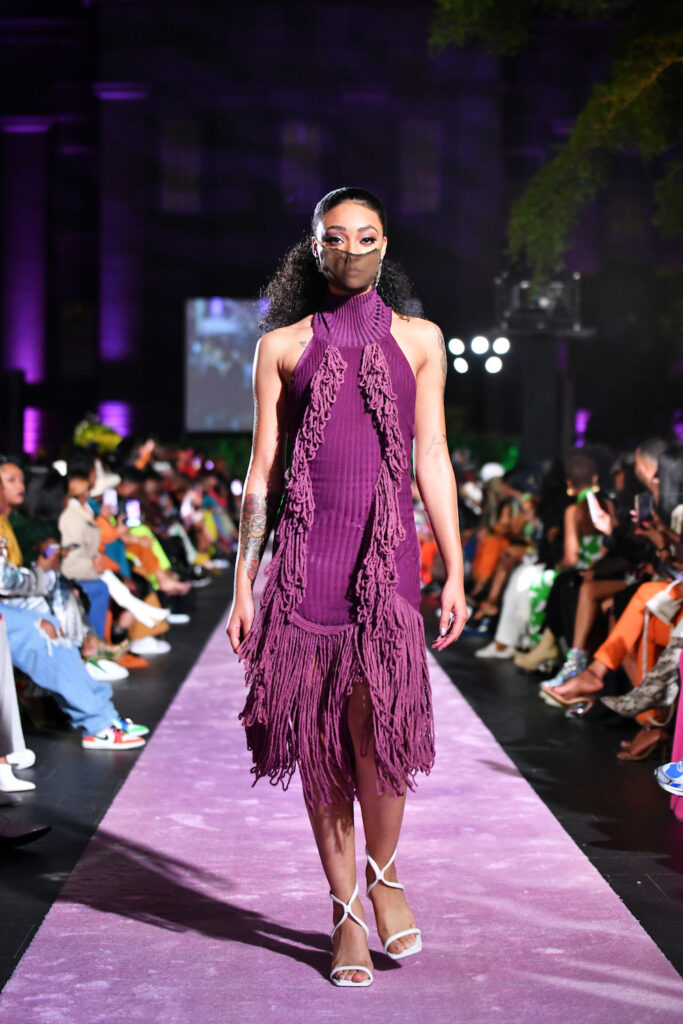 When Mvuemba slips a thick model into one of her designs, it doesn't look like it was conceived for a thin body and then thoughtlessly blown up to a size 18. She approaches it with sophistication and skill; the result: A look that any size woman would covet, like the aforementioned trench coat.
Because it was in-season, on occasion runway mirrored audience, some of whom came from as far away as New York and Atlanta. One petite woman wore a body-hugging teal ribbed knit dress with tonal buttons. Another chose a sharply tailored fuchsia jacket with feathered sleeve.
The designer's journey into fashion's spotlight was unusual. As Mvuemba took her first runway now, her mother, who immigrated from The Congo decades ago, handed her daughter a bouquet of flowers.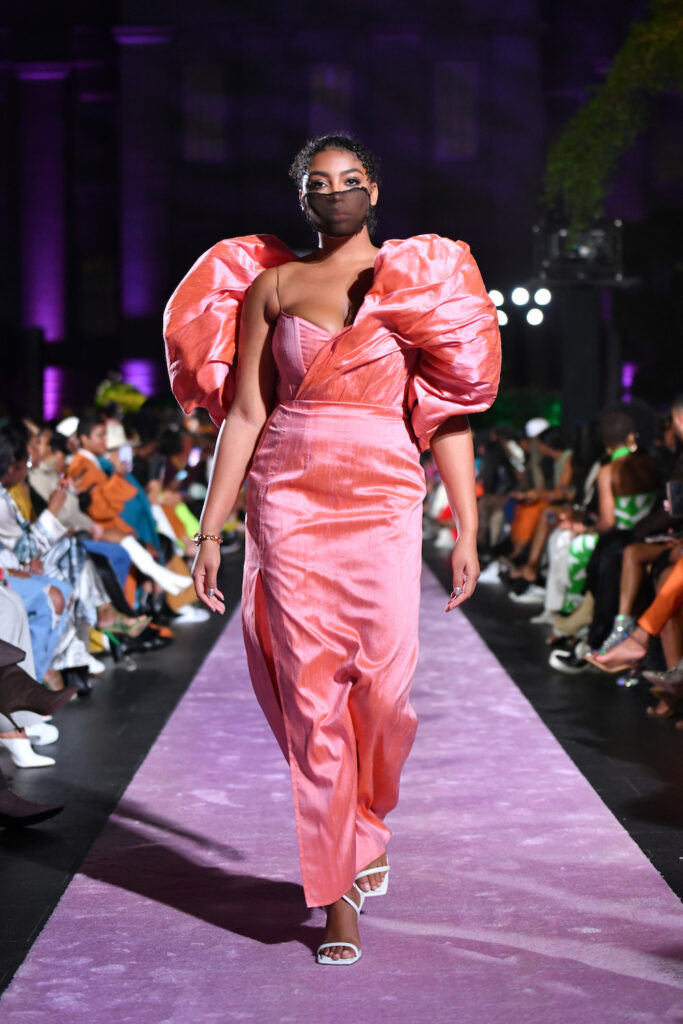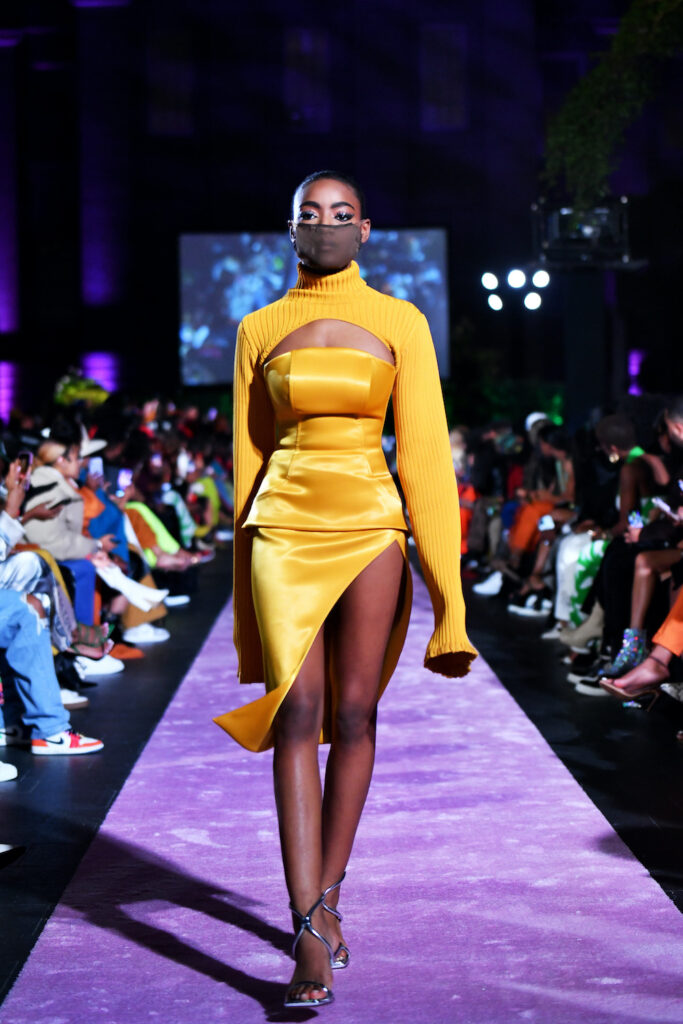 Her daughter's journey points to fashion's growing decentralization and increasing inclusivity, which more accurately reflects the heterogeneous nature of consumers locally and on a global scale.
Based in Maryland, she started her business 10 years ago and recently introduced a creative agency CBYAM to help other brands navigate the fashion industry.
You will not find in her early story in any Parsons School of Designs, Vogues nor rarified retailers like Neiman Marcus. Instead, there's an HBCU, social media, her own e-commerce site, and an innovative mindset.
She attended Morgan State, the Maryland HBCU (Historically Black Colleges and Universities) often overshadowed by the nearby "Black Harvard," as Howard University is sometimes known (vice president Harris is among its many powerful, accomplished alumni). Morgan State, in contrast, is known more for its homecoming extravaganzas.
Rather than brick by brick, she's built her business click by click getting to know her customer and her craft. She introduced her own footwear collection so she can now dress her woman head to toe. And viewing the sexy heeled sandals and second-skin boots, they'll take her far, as this millennial looks toward her second decade in business.