I fancy myself an adventure-travel junkie; comfortably at home in far-flung locales like the Nayara Tented Camp in the Costa Rican rainforest and the canyons of Amangiri in Utah (I like a heavy dose of luxury while in the wild). But nothing has come close to my recent, awe-inducing voyage to the untouched Arctic polar circles around Greenland and the vast ice floes that are less trampled on than the surface of the Moon.
To our friends, my fiancé, Ted, and I seem to be on a perma-honeymoon. When we informed people that we were going on such a quest, the response was more of, "Another vacation?" than, "That's so awesome!" We kicked off our journey jetting from New York to Reykjavík, Iceland, flying Icelandair, which hippies favored in the '60s because it was the cheap way to get across the Atlantic. I had been to Iceland years ago — for a Joe Fresh underwear fashion show, of all things — but had forgotten just how otherworldly the landscape is to the eye. I cued Björk's "Earth Intruders" on Spotify and imagined we'd crash-landed on a strange planet out of a vintage Star Trek episode. The capital city of Iceland is buffered by molten rocks, thunderous geysers spewing boiling-hot water and steam, and dramatic cliffs you don't want to slip off while snapping a selfie. Jet-lagged and puffy-eyed, we commanded our taxi to hightail it to the country's famous Blue Lagoon, a geothermal spa in a lava field on the Reykjanes Peninsula near Grindavík, a short drive from Keflavík Airport. The ethereal milky-blue lagoon water, rich in silica, salt, algae, and minerals (ideal forde-bloating) remains at 102 degrees Fahrenheit all year round. We splurged for the "premium" day pass ($122), which includes three face masks you slather on while wading through massive man-made lagoons, dodging tourists sipping fizzy, electric-blue cocktails. I could have skipped the unabashed nudity on display in the changing rooms, but bare-naked showers are mandatory before entering the water. Three hours later, Ted and I left recharged and amped to board the stately sounding Le Commandant Charcot — the world's only luxury icebreaker cruise ship — to sail to the isolated territories of the Arctic Circle.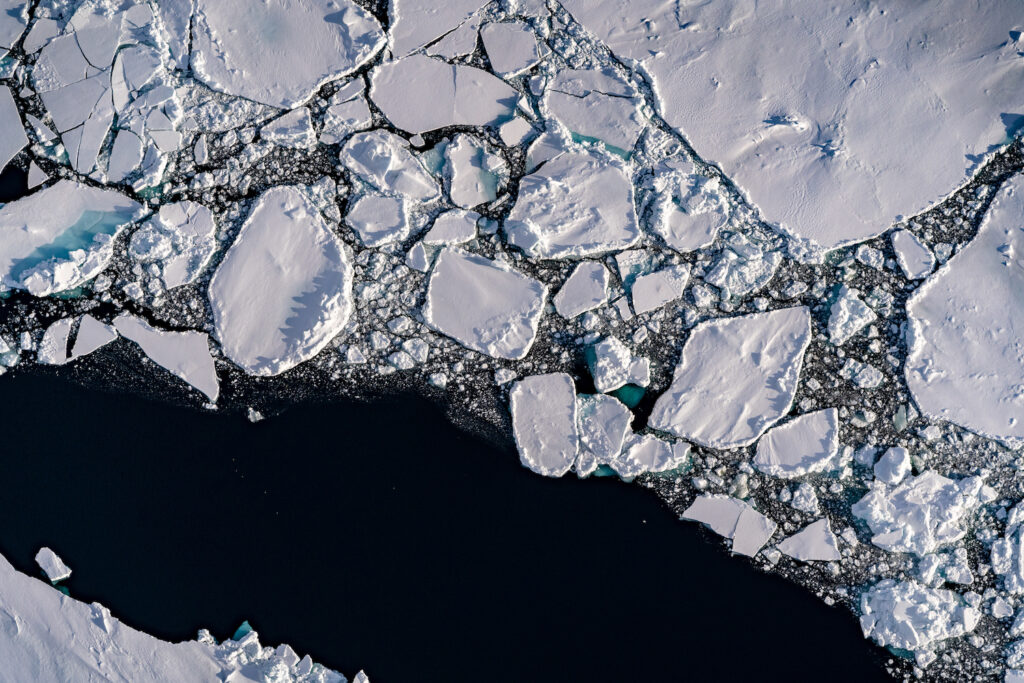 Built by the French luxury travel outfit Ponant, Le Commandant Charcot is no ordinary ship. Named after Captain Jean-Baptiste Charcot, a French Arctic explorer who Robert Falcon Scott called the "polar gentleman," the sustainable vessel is the first hybrid-electric polar exploration boat on the planet and is powered by liquefied natural gas and electric batteries. Using powerful hybrid propulsion, the Charcot literally slices through ice sheets, giving new meaning to the term "icebreaker." You slide into remote fjords, where snow-capped Alpine mountains merge with the sea and no human has ever visited.
The first leg is crossing the tempestuous Denmark Strait, a route originally traversed in the late 10th century by Vikings, led by the badass Erik the Red (named for his carrot-colored mane and fiery temper). It can be a rough passage; in 1833, Jules Poret de Blosseville and his crew of 83 men set out for Eastern Greenland on La Lilloise. They were never seen again. Soon, however, we were tearing through thick ice sheets, and the rumble knocked my matcha latte off a table. A nearby doctor from Great Neck and his wife let out a yelp. "It's just a little turbulence," Ted said, annoying me more than assuring me that all was safe. I flashed back to the mini 2014 earthquake I experienced in Los Angeles and did a quick Buddhist chant, which quelled my nerves for about 30 seconds.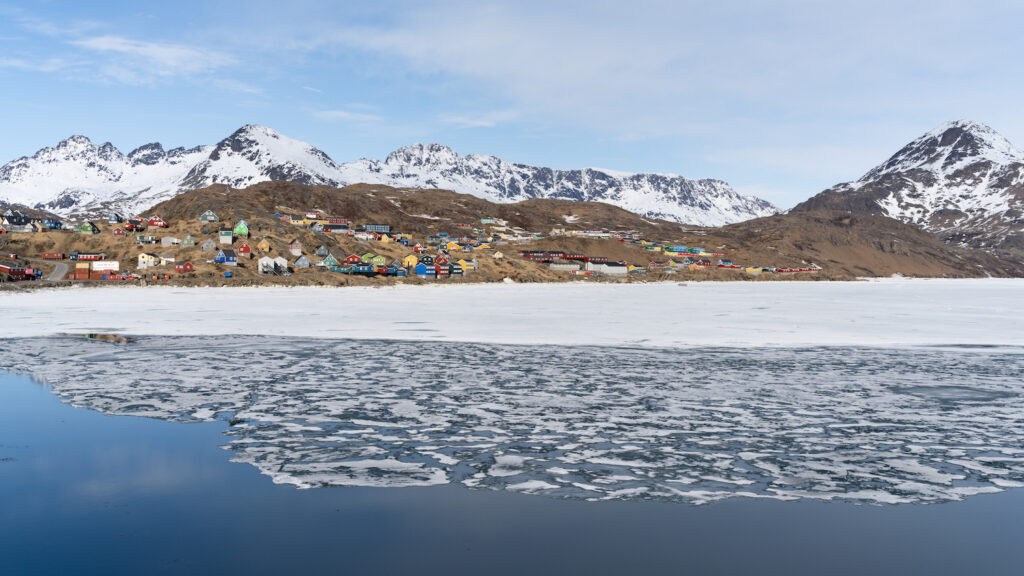 I found the chicness of Le Commandant Charcot — a truly five-star hotel on water — to be more calming. When the ocean tossed and turned, I retreated to the spa, which was replete with a "snow room" for après sauna chill sessions and a heated indoor pool where I ordered "wellness smoothies" made with fresh fruit and elixirs. I also have never feasted so well for nine consecutive days — not a huge shocker as Alain Ducasse oversees the menus at the three restaurants: Nuna, the fanciest on board; Sila, with the most delectable buffet I've ever encountered; and Inneq, for casual munchies like grilled lobster. My sugar addiction went bonkers. "So much for quitting sweets," Ted said as I double upped on my favorite French dessert, île flottante, and Parisian pastries that would make Marie Antoinette's mouth water.
The design of the Charcot, with 123 staterooms (some duplexes for big spenders), is French minimalist — sleek and stylish avec dark wood paneling and brass hardware. I felt like I was on my billionaire buddy's mega-yacht, not on a small cruise ship-cum-scientific vessel. Salma Hayek was so charmed with her Ponant experience a few years ago that she convinced her husband, François-Henri Pinault, to buy the company in 2015 (the travel outfit was originally launched as Compagnie des Îles du Ponant by Jean- Emmanuel Sauvée and officers from the French merchant navy academy in 1988). With the CEO of high-end fashion conglomerate Kering in charge, Ponant now reeks of French luxury stronger than soaking in a bath of Chanel No. 5. We had a private butler and 24-hour room service (2 AM steak frites, anyone?). The observation deck lounge felt like the hottest new member's club in Paris, albeit with views of floating icebergs. Of the around 100 guests, most are French and skew 60+. Tout get dressed to the nines for dinner and two formal events that include dancing. It's a throwback to the luxury travel of yesteryear — the days when men sported suits to fly on a plane. Counting the gigantic diamonds on display became a parlor game for Ted and I at every meal. Ice, ice baby!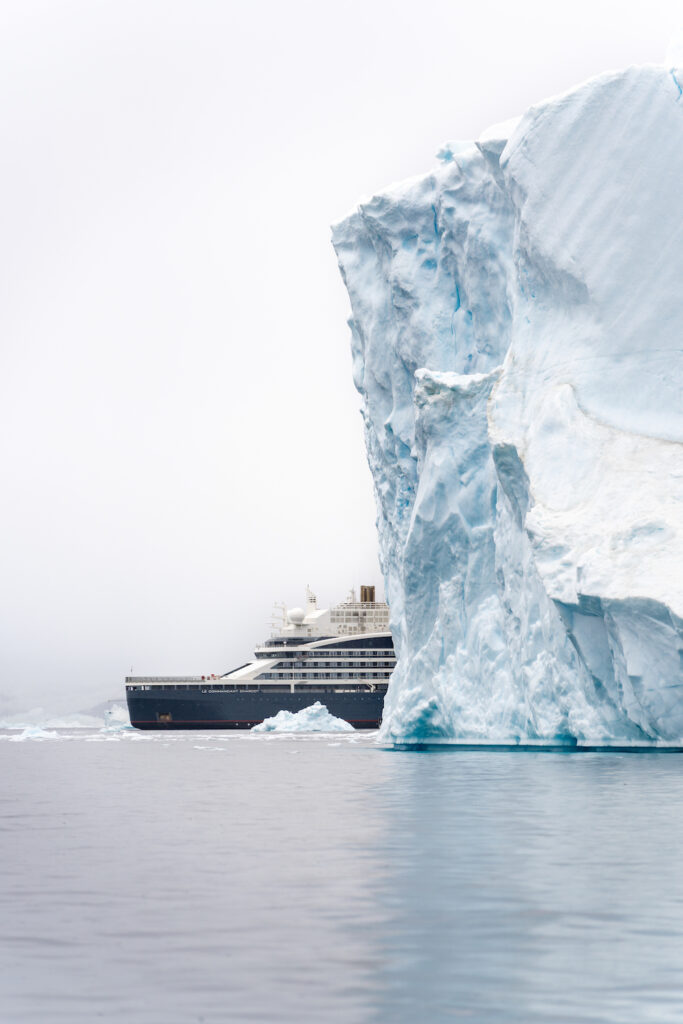 As fancy as the Charcot is, Arctic exploration is the agenda. Every day we met like students in the boat's theater for "briefings" on routes, weather conditions, and activities. Ponant gifted everyone with a bright orange waterproof parka for the icy outings. We docked on day two, and a helicopter team surveyed the icescape to make sure it was safe to walk on before we ventured into the whiteout wilderness. The first outing was a lazy one: dogsledding, which was my least favorite, as the small huskies poop a lot while pulling you over the ice. The next day was kayaking with a team of naturalists. We paddled around massive icebergs, an activity so over-the-top that I forgot to take photos until we had almost made it back to the boat. We also snowshoed for miles (a definite workout) and cross-country skied to gaze out from vistas that were, for lack of a better word, unbelievable. Every night Ted and I could barely fall asleep; we were so excited for what crazy adventure the next day would bring. One especially memorable moment was the polar plunge, before which I had to take an EKG to even get cleared to do, despite signing a waiver basically saying that if I fall under the ice and freeze to death, it was my own responsibility. But jumping into the freezing cold water, a leash tied around my waist so I didn't pass out and float out to sea, was not as cuckoo as it sounds — it almost felt like some sick spa treatment. My skin was tight and glowing as I emerged from the subzero water to both crew and guests hooting approval. After every challenging activity, Ponant awarded us with a patch you can iron on to your jacket — a stylishly subtle way to brag. I became obsessed with collecting the patches. Growing up in Manhattan, I was hardly a Boy Scout, and each patch I earned pumped up my ego. It was such a boost that, if I hadn't read Into Thin Air, I might have entertained the idea of climbing Everest.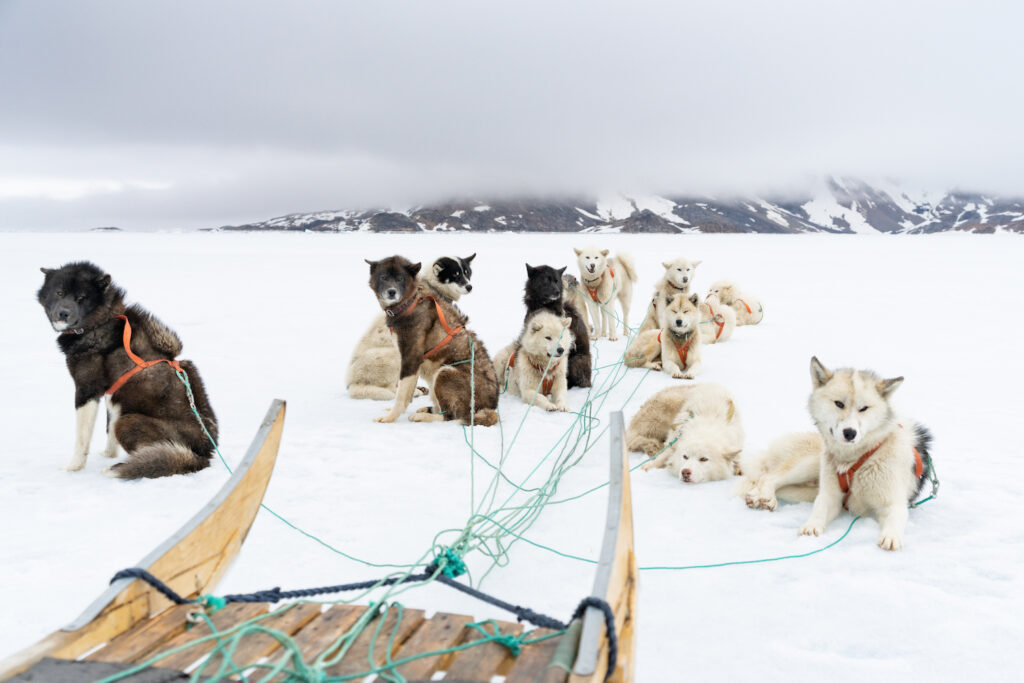 We were pretty spent during every night's predinner recap of the day with the various glaciologists, geologists, ethnologists, and scientists on board to collect seawater, ice samples, and polar fauna to study in the high-tech research labs on the lower decks. The Ponant Foundation invests heavily in fighting climate change and employs scientific researchers for every cruise. On one morning's visit to the research lab, I learned that the poles keep our planet balanced and regulate the earth's climate, slowing down the warming of the oceans.
I bought the new Leica Insta360 camera for the trip, and my Instagram feed has never looked more far-out fabulous. My DMs exploded with responses like "WTF" and "OMG" and, "Where the heck are you?" followed quickly by, "Please be safe." But I had never felt safer than trudging through the icy wilderness, led by friendly naturalist guides, one of whom tells me he rappels off mountains for fun. The Charcot boasts a photo studio, across from Illu, the ship's boutique (where you can score Vuarnets and nautical-themed cashmere sweaters), with professional photographers (called "photography ambassadors") and videographers doling out editing and shooting tips and hacks. This included photographer/videographer Ian Dawson, a member of the Alpine Club, and Sue Flood, an award-winning visual artist who worked on the docuseries The Blue Planet and Planet Earth for the BBC. The two sharpshooters became our pals on the trip and schooled me on the right filters to capture the whiteout landscape and even seals sunbathing on floating icebergs in the far-off distance.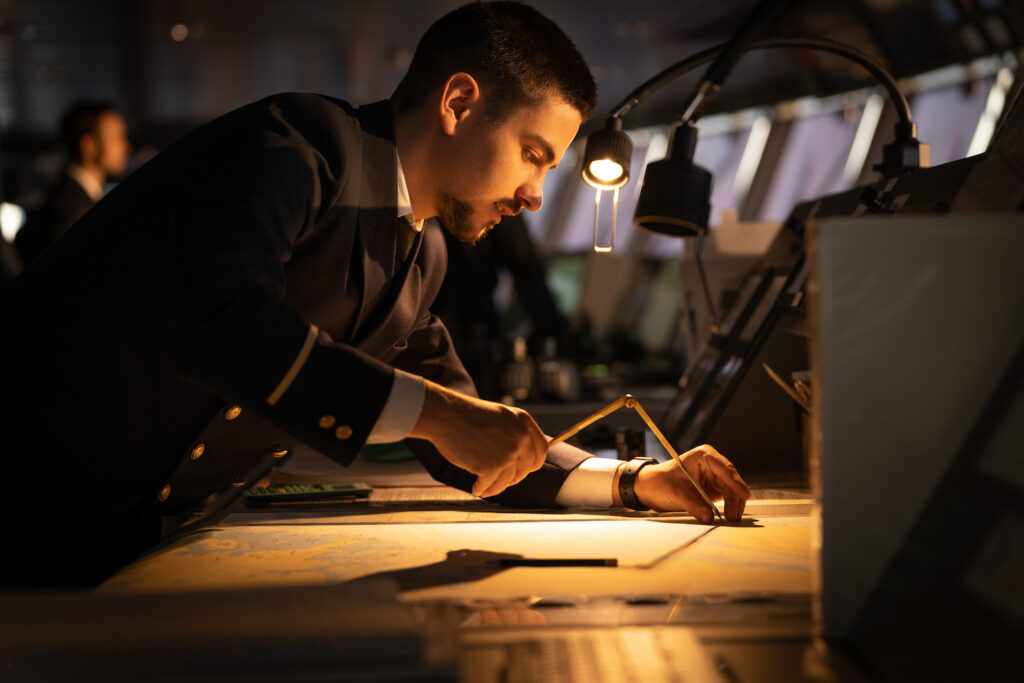 In the nine days that flew by, we hit Storo island, the Ammassalik region, the Blosseville Coast (where hapless explorer Jules vanished), and Tasiilaq, which was the only time we set foot on actual dry land. The latter is a teensy town with a population of 1,985 Inuits and is only reachable by boat when the ice melts or by helicopter. It's as isolated as it gets. The Charcot is the town's most welcome visitor, as the ship cuts a pathway through the ice so that locals can then take fishing rigs out to sea to catch whales, seals, and fish, which they eat to survive. When we arrived, it felt like a national Tasiilaq holiday — crowds lined up to tour the boat, while Ponant donated crates of food to the village. A local gave us a tour of the town, which is surrounded by the mountains where Game of Thrones filmed and the second largest ice sheet on the planet. Our guide proudly showed me an iPhone photo of a (very bloody) polar bear he had slayed two days before. The villagers are allowed by law to kill 25 of the seriously dangerous animals a year. Not only do the Inuits munch on the bear meat, they also use every part of the animal to make necessities and, of course, clothes. I opted not to leave Tasiilaq with a polar bear fur coat.
On the final night, Ted and I put on bow ties and dinner jackets for the farewell gala hosted by Captain Patrick Marchesseau, a tall, elegant Frenchman. The other, oft-aloof, guests had loosened up after a week of polar plunges and Arctic exploration and everyone was swapping photos and contact info.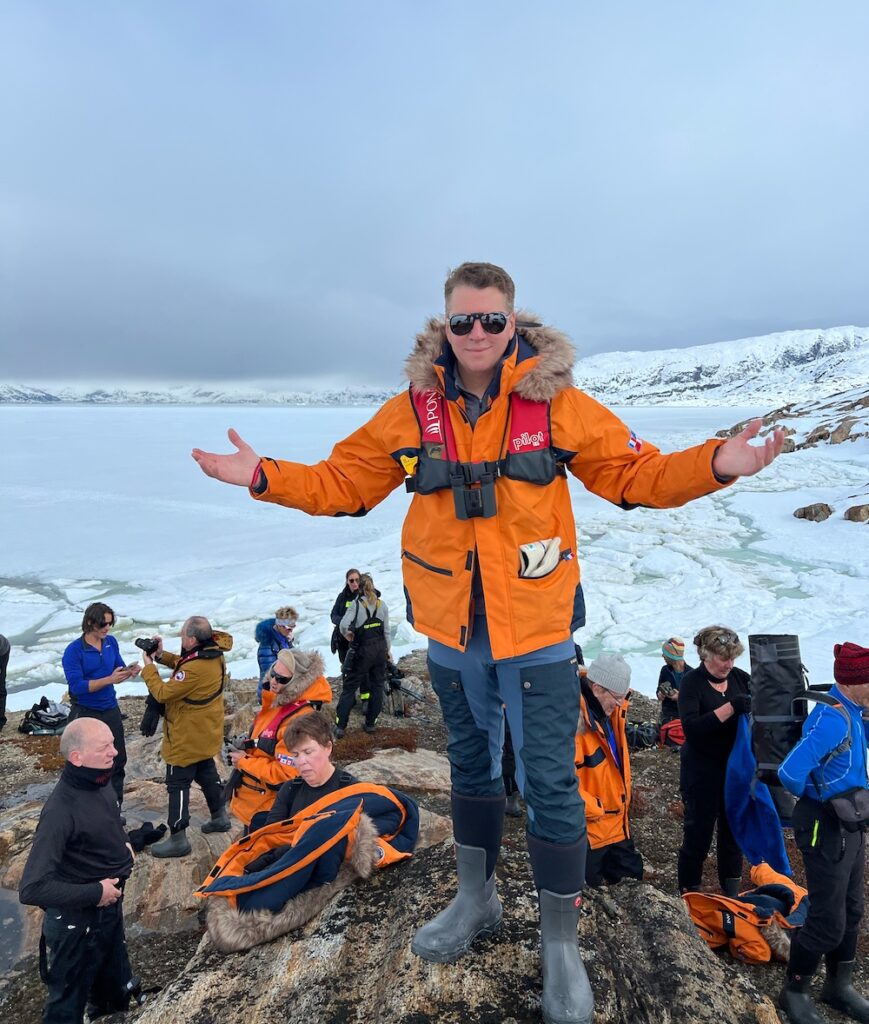 The next morning, we set sail for Iceland. While sipping my morning cappuccino in the lounge, the boat encountered 20-foot waves. I wasn't sure if it would turn out like A Perfect Storm or the extreme vomit scene in Triangle of Sadness, and neither option sounded fun. I was soon on a real-life aquatic roller coaster ride. The Shelley Winters death scene in The Poseidon Adventure flashed through my brain every ten seconds. During lunch, cutlery and dishes flew off tables, crashing to the floor. Waiters and busboys, who would fit in at La Grenouille, swiftly and nonchalantly scooped everything up as if it was all no biggie. My tummy churned. I couldn't even stomach the elaborate cream-filled French pastry on my plate. Even Ted couldn't brush this off as nothing-to-worry-about sea turbulence. My new Canadian pal Elia gave me a Gravol, a seasickness tablet. I thanked Neptune or God or whoever commands the seas, and I was knocked out within minutes. Down for the count, I snoozed through the scary storm and woke up the next morning at the port in Iceland, more concerned with the placement of my adventure activity patches on my parka than the possibility of recreating the final scene in Titanic the day before. Plus, I had hundreds of photographs to post to Instagram.