The sun has not yet risen in Uluwatu. The grassy cliffs on the very southern tip of Bali are covered in darkness and dew. The Indian Ocean, hundreds of feet below, is slate gray and the sound of the waves crashing against the rocks floats up only as a whisper. Still, in the loam, I can make out the faint silhouettes of a dozen or so small black figures amongst the break of a long wave. This is one of the best surf spots in the world, and surfing is done best in the ins and outs of days.
Bali, an island in the vast Indonesian archipelago, is a haven for spiritual questers, beauty chasers, and towheaded bohemian jet-setters. (Since 2022, it has also become a refuge for Russians, who have set up their own street signs and Russian-speaking enclaves — but that is another story.) Even in the 1970s, as Westerners flocked to other spots like Ubud and Canggu, the breath-taking stretch of Uluwatu's cliffs and jungle remained largely untouched by visiting hands. Certainly, the waves were untamed. It was only in 1972, after Australian documentarian Alby Falzon brought two surfers — a young American named Rusty Miller and 15-year-old Australian phenom Stephen Cooney — to first glide across the waves at Uluwatu on their longboards, that the village developed its reputation as a surfer's paradise. Even then, only the most intrepid surfers found themselves in Uluwatu.
I am not an intrepid surfer. I am an intermittent one. I am what surfers like Rusty Miller and Stephen Cooney would call a "kook," slang for a beginner. Kooks, in general, have a bad reputation for poor wave etiquette, a general lack of control, and, though it's not a technical term, chronic lameness. In defense of kooks everywhere, I'll only say that everyone, from Kelly Slater to Laird Hamilton, was once a kook. The only problem with being a kook is if you remain one, and I've tried not to. I surf as often as I can at my local beach, the gritty Rockaways in Brooklyn. Though only a few miles from my apartment, to get there is still an hour-long odyssey involving a bike, a car, and a train. In Bali, the commute from my villa in Uluwatu is just five minutes down a very steep set of stairs. There is no excuse not to, except that the villa is, well, spectacular and my bed is nearly as vast as the ocean and a lot flatter. And I'm on vacation and it's 6 A.M. and maybe I should just surf tomorrow.
Tim Russo, the founder of Uluwatu Surf Villas, is a tall former music promoter from Maryland. Like everyone else in Bali, he's ruggedly handsome and deeply tan with a rakish smile. (Beauty seems to be a visa requirement.) When Russo happened on the property in 2002, the collection of rundown villas spread over the 7.5-acre property was owned by a group of South African friends. Over the next six years, Russo convinced each one to sell their individual villas then helped to construct 10 luxurious casitas, many using reclaimed teak from former Dutch colonial buildings and traditional alang-alang thatched roofs. In 2020, shortly before the pandemic almost hermetically sealed off the island, Uluwatu unveiled its latest development: six modern tropical villas atop a cliff, ranging from three to five bedrooms. Each had been conceived of by Russo, a German architect named Alexis Dornier, and Abbie Labrum, an English designer. Each incorporates Western and Balinese elements, such as a Balinese understanding of the permeable relationship between inner and outer space. In one villa, mine, Cliff Front 6, a towering pandan pudak grows from the ground floor up to the second while the wall-less living room is open on one side, giving a view of a full-size swimming pool, a reach of verdant lawn, and then nothing but the ocean far below.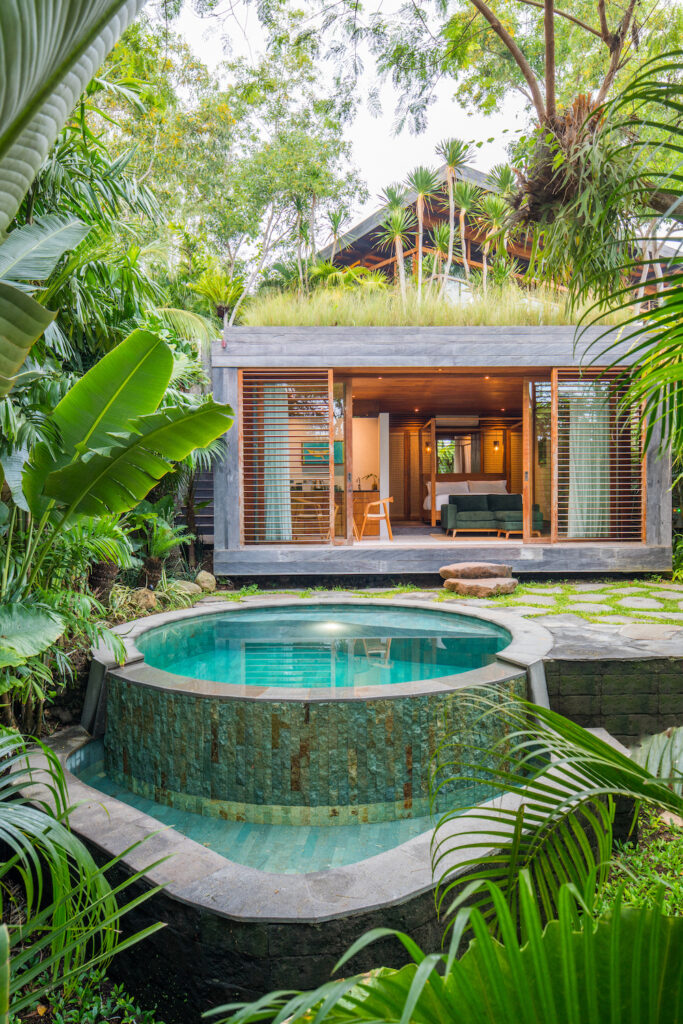 Fifty years ago, Uluwatu was mostly uninhabited by man. (The terrain makes rice growing, Bali's primary rural industry, impossible.) But, if you braved the flora and fauna, you would be rewarded with powerful waves that roll easily along, breaking with the same even consistency as tearing open a string-sealed bag. Today, Uluwatu is a small, sweet town (with a population of just 7,000) and these surf villas cater to both pro surfers and the sort of fantastically wealthy, still able-bodied captains of industry who like to surf. (Many oligarchs like to kite surf, but relatively few of them surf-surf because it's hard.) Russo's idea, and a good one it turns out, was to transform the villas from a relatively ascetic outpost for hardcore surfers into a place to bring one's entire family, surfers, and non-surfers alike. For instance, in 2014, he built the Morning Light Yoga shala, an outdoor pavilion made from reclaimed teakwood, which offers twice daily classes. Just last year he opened a skate park in the jungle. (Picture the coolest version of a skate park in a jungle, filled with foreign and Balinese kids absolutely shredding, and then multiply that by 10 and you have a good idea of what it's like.) There's always the communal pool, where the view includes not just the shimmering ocean but the most lithe and lovely long-limbed nymphs and well-defined Adonises this side of the Wallace Line. That activity, however, bears the risk of rendering one exceedingly aware of one's own middle-aged and somewhat dissolute body; that is to say, of the sense that time is passing and one's nose and ears (and the hairs therein) are only growing and, as seen through the eyes of these Bali-based dreamers, one is at the denouement of one's life story which, seeing that it does not include chasing epic waves around the world or moving to Bali, is exceedingly conventional and lame.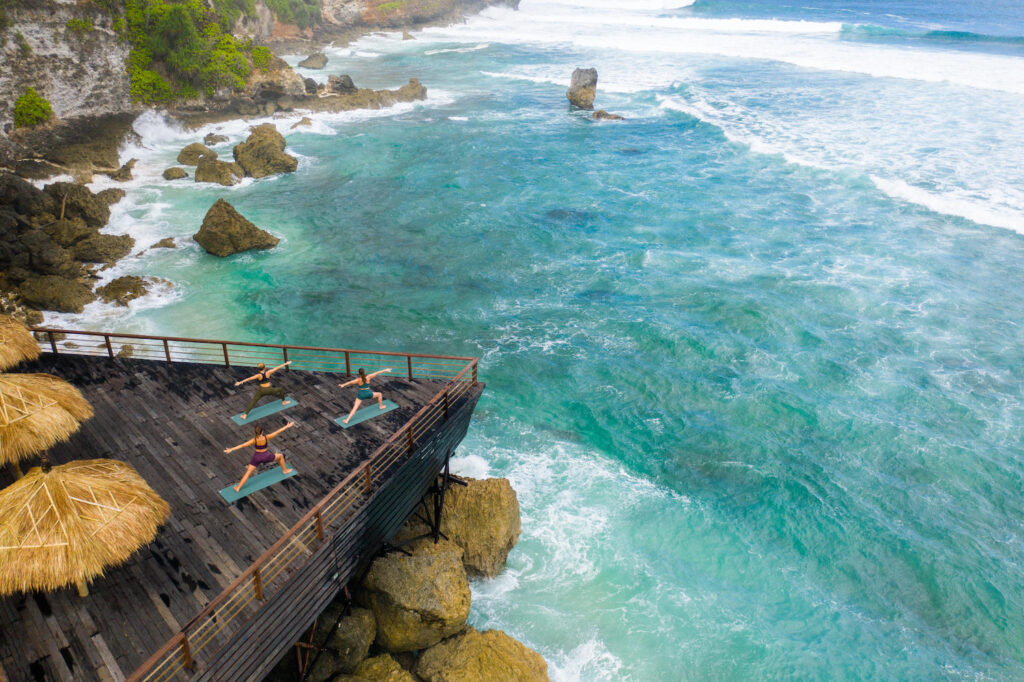 But I can feel the ravages of time anywhere. I had come to Bali to surf. So, by and large, I eschewed the calm beauty of the pool for the more awesome beauty of the ocean. What makes surf villas surf villas aren't so much a proximity to waves as all the support that they can provide for a surfer. At Uluwatu, this means a board room — that is, a room with surfboards in it, not a conference room with crummy pastries and a VoIP phone — populated with boards shaped by some of the world's greatest shapers. Another is the stairway (not made from reclaimed teak, thankfully!) down a vertiginous cliff straight to where you paddle out. The Balinese are terrific, nimble, and skilled builders, Russo tells me, and they built this steep stairwell clinging to the limestone cliffs in only two weeks. But it has saved hours and hours of time for guests. (And only guests are allowed to use it.) Normally, to get to the best (and most crowded) wave — called Racetracks, a powerful left-hand reef break — one must walk to the far side of town, past an almost medieval seeming warren of shops and stores, and paddle out from the mouth of a cave, where the ocean doubles up on itself, brave an often rollicking and rough white water, then paddle 20 minutes down the coast.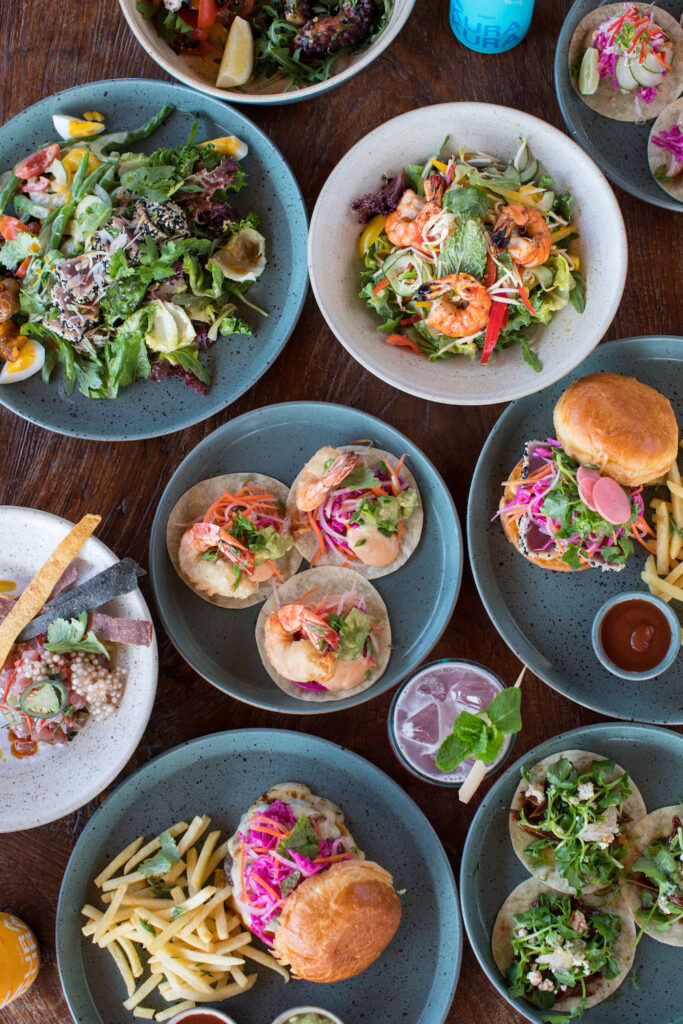 That's not to say paddling out from the villas is a piece of cake either. Thankfully, I have a guide, and he may even be my friend now. His name is Curtis Lowe. He's a tall Floridian lad and, yes, he's ruggedly handsome, deeply tan, and has a rakish smile. Technically, I think, Lowe is the marketing director for Uluwatu Surf Villas but, really, he's the genius loci. He helps with the film programs at the villa's restaurant Mana (a recent entry was a documentary about a trio of surfers in Siberia), concerts on the lawns, and, occasionally, squires journalist kooks into the ocean.
Just as I'm standing on the cliff top, contemplating whether to go back to bed or maybe grab an early breakfast at Mana (they have the best espresso in Bali and probably the only decaf) or maybe whether I should make an early morning yoga class or book a massage, Lowe approaches me, board in hand. "You ready to get after it?" he asks. And, as I contemplate the waves and the ocean and the fact that my bed will still be there when I come back to shore, I nod to say that I am, and we head down the stairs and out toward the sea.