Recently engaged, my fiancé, Ted, and I decided to go on a mini-moon — a sort of dress rehearsal for when we go on our actual honeymoon. (I am campaigning for Cambodia.) We wanted somewhere hassle-free and relaxing. Where better than Cap Juluca in Anguilla, the ultra-luxe Belmond resort on the most beautiful, secluded stretch of cashmere-soft, sugar-white Caribbean sand?
Historically, Anguilla, a British overseas territory, was not that easy to get to. That's changed since just over a year ago, when American Airlines christened its first direct flight, from Miami to Anguilla.
The resort sits on a crescent beach in Maundays Bay, dotted with small white stucco buildings that have a Moorish vibe, with Islamic domes and grand horseshoe arches. Every room, from a one bedroom to the fancy "Jonquil Suite" (which has a freshwater infinity pool and heated jacuzzi), has views of the sea. After checking in and wolfing down some Peruvian tapas — local mahi-mahi ceviche, crispy shrimp with Andean cereals — at Uchu, one of the resorts restaurants, we are assigned our own 24/7 butler, George. Like all Anguillans we meet, George is always smiling and is a wealth of island know-how. George could book a boat to sail for lunch on the uninhabited Prickly Pear cays where we can swim with turtles just as easily as he could a table at Sharky's, the hottest restaurant on the island. Scoring a reservation is like getting an 8 PM table for four at Polo Bar. "Sharky's is always full," George warns with a toothy grin to allay any disappointment. "But I will work my magic." And work his magic he did.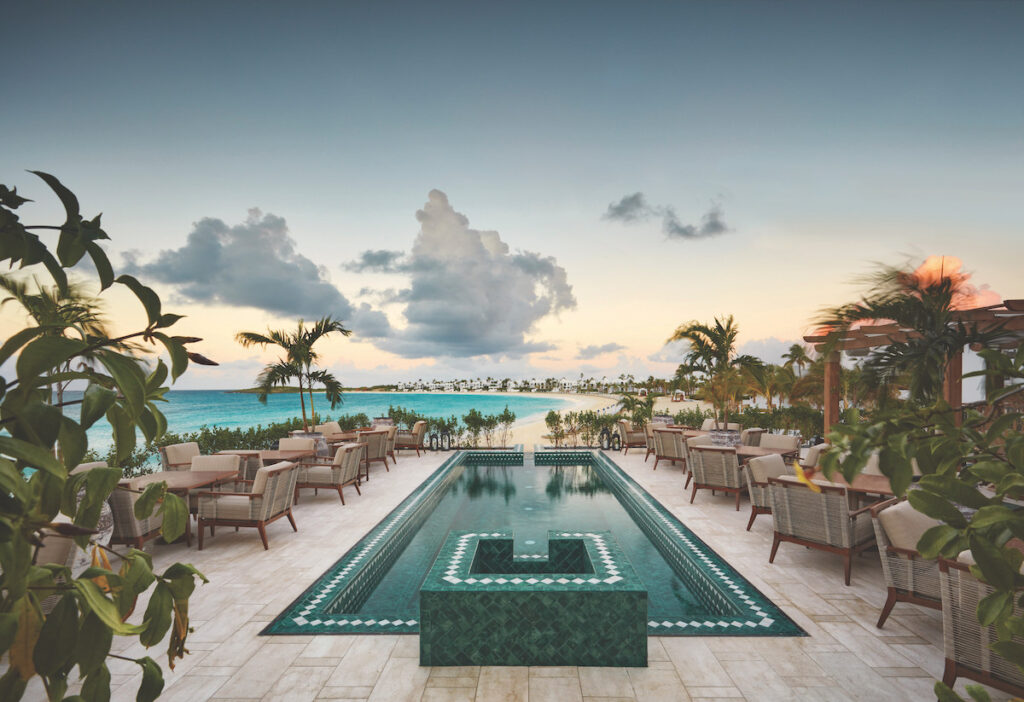 George isn't the only magical thing about Cap Juluca. The service, as it is at all Belmond properties, goes beyond personal. When we entered our palatial suite, a large, framed photo of me on bended knee proposing to Ted weeks earlier sat on the bedside table, alongside a colorful pop-up card that reads: "Cap Juluca will only compliment the engagement in Vail, so enjoy sun, sand, and sea."
That night we eat at Cip's by Cipriani (Belmond also owns Venice's Hotel Cipriani). The food is Italy via the Caribbean, and the resort culls as many ingredients as possible from a garden on the property where they grow tomatoes, asparagus, herbs, and more. I have tuna tartare and Ted the risotto con ossobuco. We dine by the sea and waves from high trade winds crash against the rocks so dramatically I can't resist taking an Instagram Boomerang of Ted with an explosion of water behind his head. I forget my disappointment that Cipriani's infamously delicious vanilla meringue cake is not on the menu when I taste the perfect tiramisu, surrounded by fresh island fruit.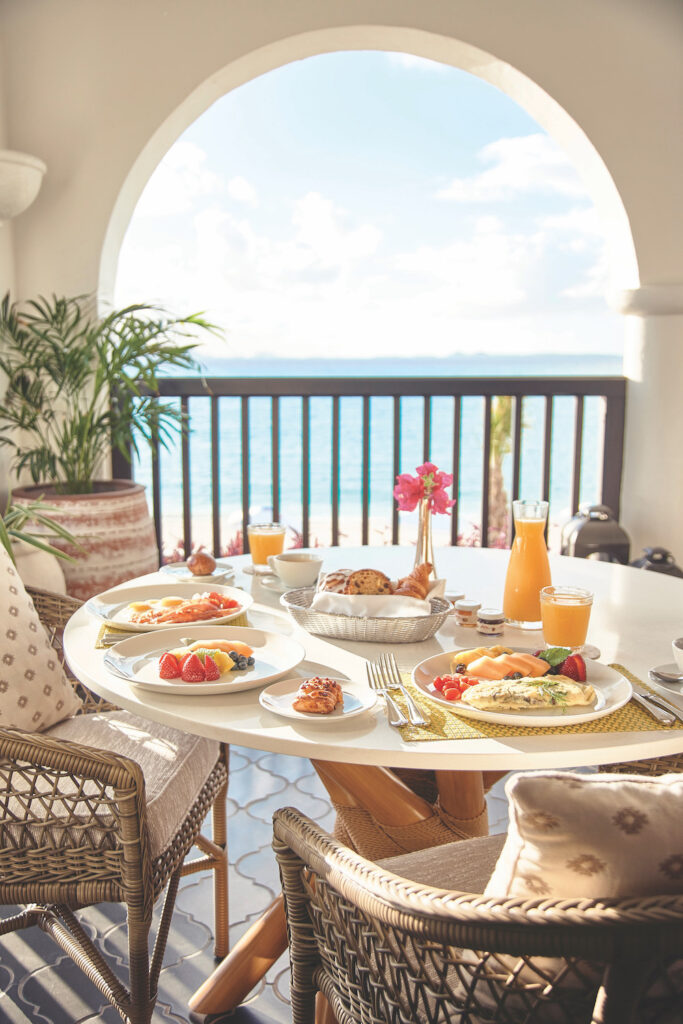 In the morning, during an endless buffet breakfast at Pimms, which sits next to Cip's, our waitress Marilyn schools us in Anguillan fun facts. The low-lying, flat island — only 16 miles long and three miles wide — is named after the Italian word for eel. Thousands of years ago, the Arawak, a peaceful tribe that originated from northern South America, were the only inhabitants. Juluca is the rainbow god of the Arawak and, later that day, as if the Arawak gods had been eavesdropping, a double rainbow stretches across the beach. Marilyn suggests we visit Big Spring and Fountain Cavern, two ceremonial cave sites where there are petroglyphs and archeological remains. There is also some speculation on who exactly discovered Anguilla. Some insist that Columbus spotted the island on his second voyage in 1493, while others argue that the French Huguenot explorer René Goulaine de Laudonnière set foot on Anguilla in 1564. Let's let the French and Italians battle that one out. After the French and British fought for over a century to control the island, which was mostly used to grow tobacco and sugar, the Brits won. Anguillans seem happy to be a British territory. Marilyn even has an opinion on Prince Harry and his tell-all tome, Spare. "Harry shouldn't have written that book and left England," Marilyn says, sounding like a true royalist. "His duty is to the throne."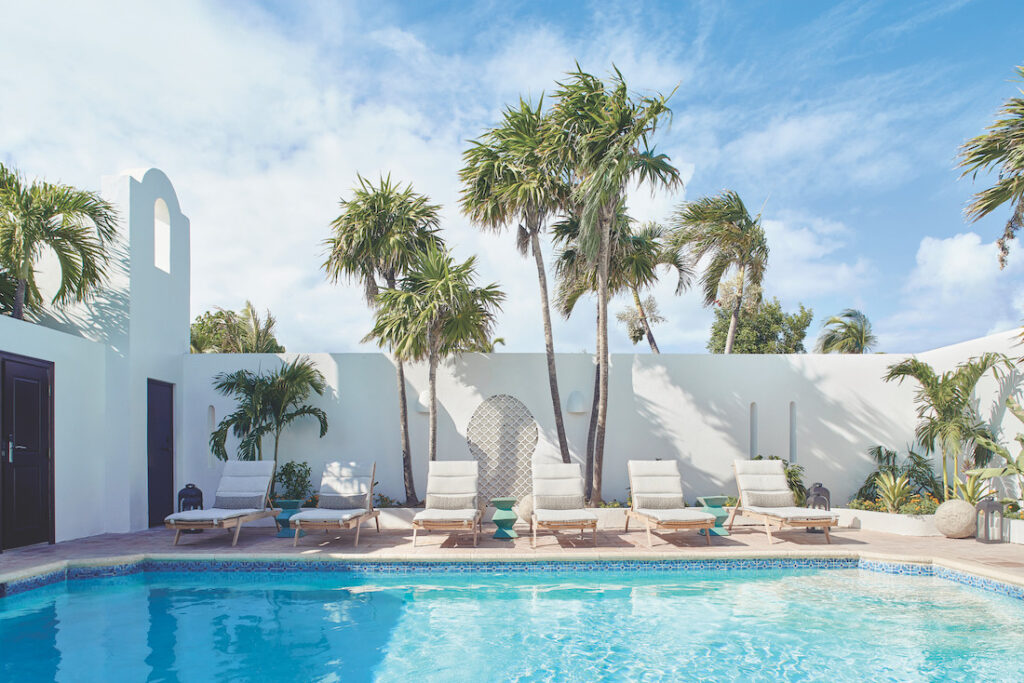 For lunch, we hit the SunShine Shack, a charmingly ramshackle beach hut on Rendezvous Bay. Sharpie pens in plastic cups sit on tables for visitors to scrawl their names on the walls. A British flag flaps in the bright sunlight. You can rent beach chairs to lounge in while you wait for your food, which famously can take hours to arrive, as the SunShine Shack is decidedly on island time. Our BBQ ribs (tasty with "Garvey's Awesome Sauce") and grilled spiny lobster took about two hours to make. But don't bother stressing about your order — soak in the reggae tunes and the sun and enjoy Anguilla's answer to Saint-Tropez's Le Club 55. The bartender, a portly woman with a gap-toothed smile, tells me that Paris Hilton, who calls Anguilla her "secret island," has eaten at SunShine Shack.
George, our personal butler, books us treatments at Cap Juluca's Arawak Spa, which offers "curated experiences that reflect the seven colors of the rainbow and five senses of discovery." Ted opts for an aromatherapy massage and, because my skin is scorched from too much sun at Rendezvous Bay, I get the "Arawak Noni Body Wrap." During the treatment, a noni fruit skin elixir is applied (almost) everywhere, then you are wrapped up in a body cocoon for healing and tightening. I feel like a human burrito but smell of tropical flowers, not cilantro. Once unwrapped, my skin is massaged and hydrated with coconut milk, which soothes my sunburn. Renewed and suddenly energized, I find George again to inquire about Sharky's. We have only two nights left — it is time to get serious. "They don't have any room," George says, then adds quickly: "But not to worry — I have connections and I am making some calls."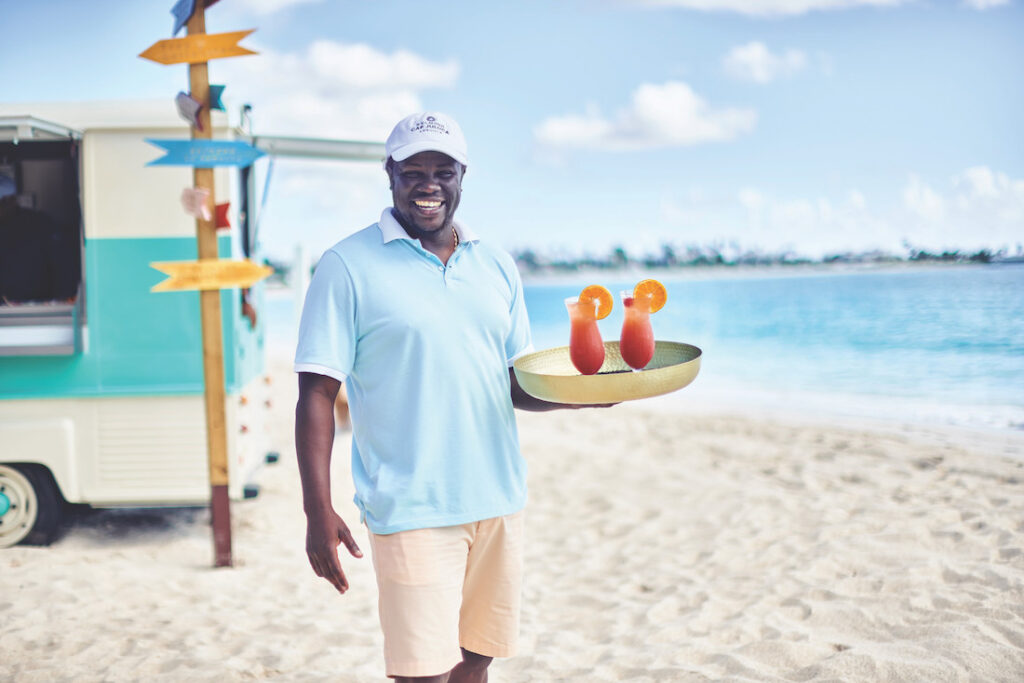 It's easy to never leave the beach at Cap Juluca, with its four chic cabana bars and many attendants. Though the restaurants are buzzing with guests — a cacophony of accents: French, Italian, British — the beach is never crowded. It truly feels like your own private barefoot paradise. No wonder England's rock royalty, like Harry Styles, Adele, and Paul McCartney, flock here. It's the antithesis of St. Barts — no loud, expensive beach bars and not a paparazzi in sight. Another Cap Juluca fan, Justin Timberlake, even name-checks Anguilla in his song "My Love."
That night, Ted and I Uber back to Rendezvous Bay to check out the Dune Preserve, a beachside nightclub of wood plank decks and tin shacks and makeshift stages that feels like a dilapidated pirate ship. A guy in a Rihanna concert tee shirt is selling loose joints (two for $20) by the bar. Owned by local reggae star Bankie Banx, tonight Bankie's son Omari Banks, a onetime star for the West Indies test cricket team, is performing. Omari, tall and built like an athlete, takes the stage in ripped jeans and two gold hoop earrings with his dreads piled high on top his head in a bun. He croons original tunes that all seem to be about a beautiful island girl he is madly in love with. With 14,000+ followers on Instagram, Omari is no stranger to the spotlight. The bartender at the Dune (as regulars call the place) informs us that the last time Justin Bieber was on the island, Omari performed a duet with him.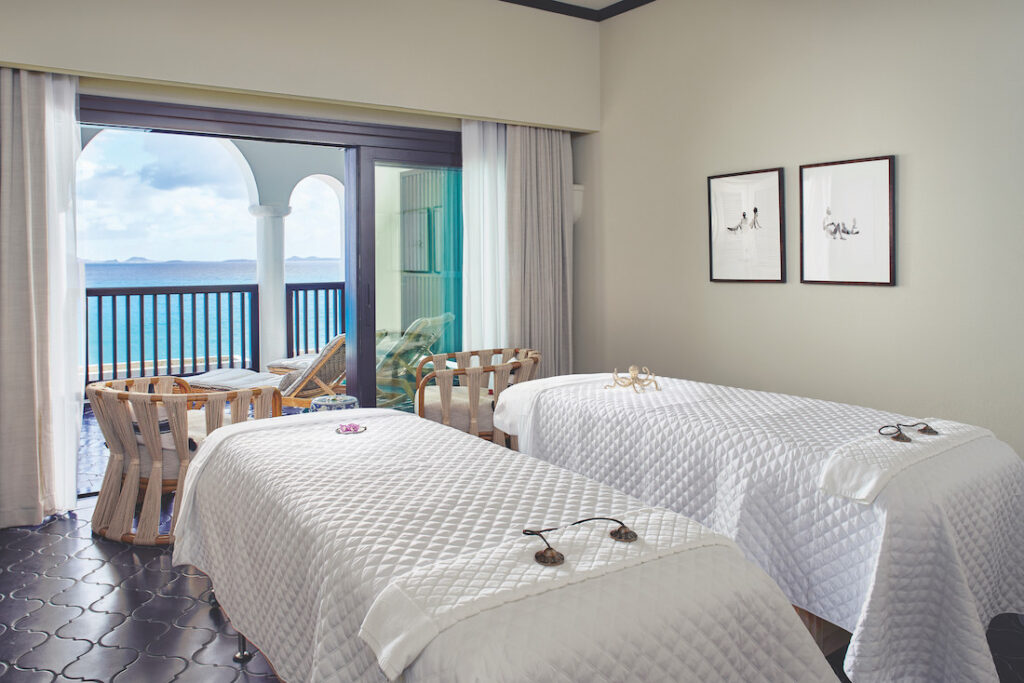 On our last day, instead of playing tennis with a pro, kayaking, fishing, or an early bird nature hike on nearby Cove Pond with conservationist-in-residence Jackie Cestero, Ted and I decide to just chill on the beach. Isn't "doing nothing" what a micro-honeymoon is all about? We munch on conch salad and BBQ crayfish and loll about in the azure Anguillan sea. I fall asleep for an hour, then wake up in a panic. What about our table at Sharky's? I frantically ring George. He doesn't answer. I go into a tailspin. Sure, there are other great restaurants — three at our resort and, on Meads Bay, a place called Blanchards that Harry Styles likes — but I only have tastebuds for Sharky's. Ted attempts to calm me down, reminding me that this honeymoon-esque four days has already been perfect. I take a deep breath, channeling my yoga class in Williamsburg. Moments later, the phone rings. It's George. We are in at Sharky's, he says. Having a personal 24-hour butler is like a human Amex Centurion card: it makes things happen.
After all the intense buildup, Sharky's does not disappoint. Tables are on an outdoor porch and a live musician sings everything from reggae classics to '70s disco hits from a platform in the front yard. And, as if anything could match the best chicken curry I have ever eaten, Grammy Award-winning songwriter and producer Mike Post — who worked with both Kenny Rogers and Dolly Parton — pops up from his table, grabs a mic, and belts out the Rogers/Parton duet "Islands in the Stream." A true "only in Anguilla" moment — and only at Sharky's.