Avenue's ongoing review of the year's most worthy reads. This season sees the release of four books that travel through time, memory, and remarkable landscapes, with Emily St. John Mandel's new novel, Constance C.R. White on Margo Jefferson's memoir, and two figures' contrasting encounters with history.
March/April
SEA OF TRANQUILITY
By Emily St. John Mandel (Knopf)
Review by Claire Gibson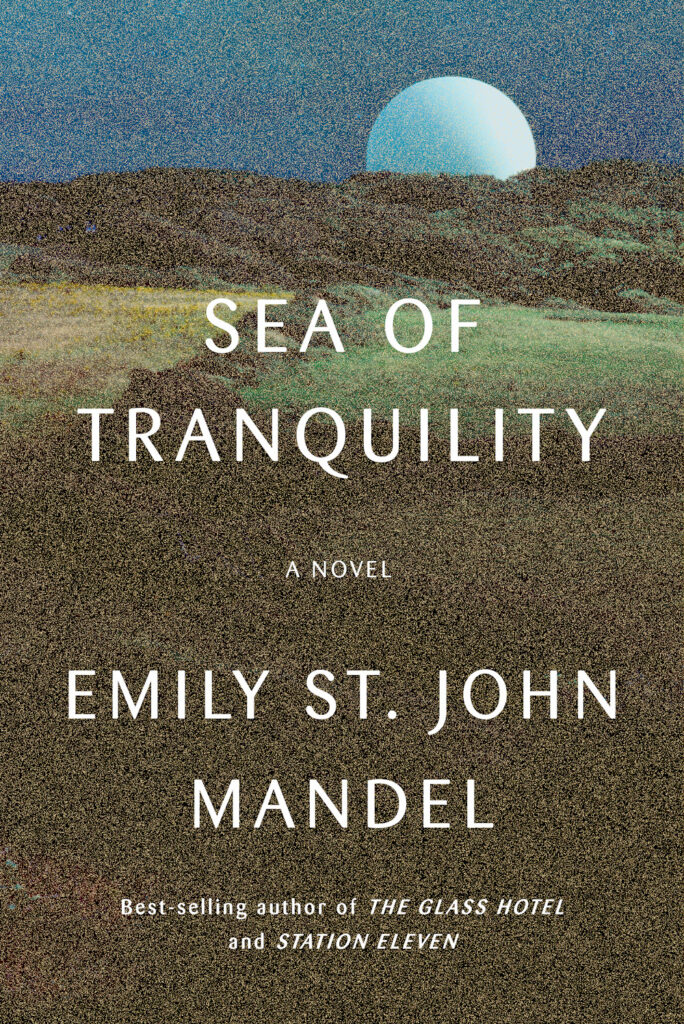 "Illness frightens us because it's chaotic," writes Emily St. John Mandel in Sea of Tranquility, her new novel. "There's an awful randomness about it." Set across multiple centuries both past and present, Mandel focuses the heft of her story on the eerie anticipation that exists just before the outbreak of a global pandemic — unfortunately, an experience we know all too well. Ours, too, have been the strange pinpoint decisions we've had to make, the frantic last-minute orders for food and for entertainment in the face of lockdown, the odd hopefulness. After all, we tried to tell ourselves, hunkered down in our homes, this is a chance to consider how we want to reemerge — if we can. And yet we've also approached this outlook with a certain dread, that perhaps this time the world is really ending.
The novel begins in 1912, two years before the outbreak of the First World War and six before the Spanish influenza, as British 18-year-old Edwin St. Andrew crosses the Atlantic, exiled to Canada from his family estate after speaking out of turn at dinner. Some years later, on a walk in the woods, he experiences a strange flash of light, accompanied by faint violin music, then a loud whoosh, and almost as quickly, the vision dissolves. It's a strange event, shortly followed by an even stranger one, when Edwin shows up to meet his priest at church, and finds instead a charlatan named Gaspery, who takes off before Edwin can determine his true intentions.
Don't get comfortable, though: we're thrust forward nearly a century to 2020 on the eve of Covid-19. But the story really lifts off in 2203, as Olive Llewellyn, who writes about pandemics from her home on the moon, heads off for a book tour on earth. "We have a desire to believe that we're living at the climax of the story," Olive tells one of her rapt crowds. "It's a kind of narcissism. We want to believe that we're uniquely important, that we're living at the end of history… but… What if it always is the end of the world?"
Uncannily, though, she delivers the same remarks, over and over again, in a rotating log of cities, in one beige hotel after the other, with St. John Mandel and her brilliant attention to detail weaving in layer upon layer of mystery. Sea of Tranquility ends up being as much about time travel as about its world-weary travelers, about the pain of mortality, the randomness of sickness, and the stymying chance that everyone is interconnected after all.
Whether against lunarscapes or down below, traversing eons or simply trying to make it through the most recent bout of illness ravaging the globe, the novel still insists on shimmering with hope and possibility. The world might be ending, yet there's no place we'd rather be.
THE DUCHESS COUNTESS: THE WOMAN WHO SCANDALIZED EIGHTEENTH-CENTURY LONDON
By Catherine Ostler (Atria)
Review by Celia McGee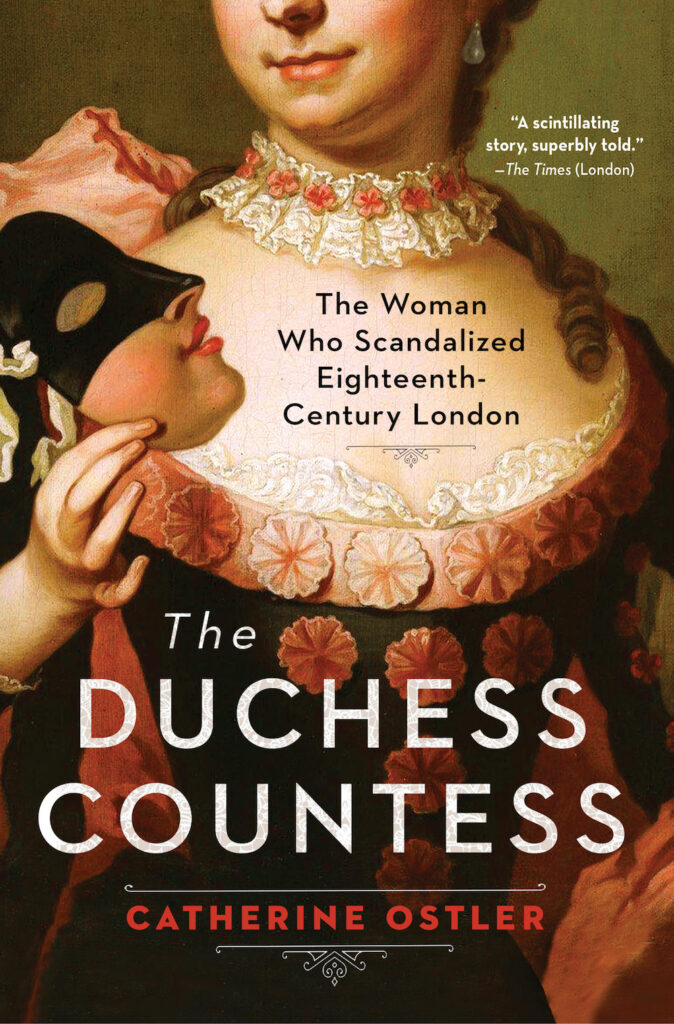 Reynolds painted her. Walpole chronically condemned her. Her wiles and her wit struck Thackeray and Coleridge, Dickens and Woolf. Casanova himself was stopped in his tracks in 1765 by encountering the "celebrated lady" Elizabeth Chudleigh so soaked by a spring downpour "she looked worse than naked." He added, "she seemed to enjoy it," an impression not unlike her famous appearance at a London masquerade ball attended by George III as a sacrificial Iphigenia. "So naked," wrote Elizabeth Montagu, "the high priest might easily inspect the entrails of the victim." As Catherine Ostler points out in her vibrant, vivacious, and scrupulous biography The Duchess Countess: The Woman Who Scandalized Eighteenth-Century London, George Washington and the war for American independence hardly stood a chance in the English press when this electrifying, polarizing figure went on trial for bigamy before the full House of Lords in 1776.
Sometimes we just want to take history by the scruff of the neck and ask, what took so long? Where has Elizabeth Chudleigh, Duchess of Kingston-upon-Hull and, according to the criminal and civil claims leveled against her, secretly and simultaneously Countess of Bristol, been all this time? Friend to Europe's high and mighty, where have the annals been hiding her? The answer, so simple, and so complex, is finely teased out by Ostler, well-credentialed for this task both as a former editor-in-chief of Tatler and having read 18th-century English literature at Oxford. She has the period dead to rights.
Standards didn't get much more double than in the Georgian England that Elizabeth Chudleigh was born into in 1721. Her father's position as lieutenant governor of the Royal Hospital at Chelsea afforded the family social connections that came through for her despite his death when she was seven, as well as, in Ostler's view, a lifelong sense of abandonment, vulnerability, and lavish neediness. A bright, spirited girl, she soon learned to place beauty ahead of brains in an era of gender-biased power as breezy and inexorable as a foxhunter's crop against the flank of a thoroughbred.
Appointed a maid of honor to Augusta, Princess of Wales, in her early twenties, she was thrust, too, into a culture increasingly in thrall to the airing of private matters by professional gossipmongers, with reputations tried by cacophonous reportage and published opinions that Ostler deftly presents as foreshadowing our own. Chudleigh's socially restive personality soon met its ill-fated match in the impulsivity of the dashing, irresponsible Augustus Hervey, third Earl of Bristol. Married in stealth, both almost immediately volte-faced, meaning relatively little for him, but for her several decades of convoluted machinations in order to be able to marry the love of her life, Evelyn Pierrepont, the powerfully wealthy Duke of Kingston. Upon his untimely death, relatives hopeful of inheritance brought the bigamy charges associated with Chudleigh to this day. In The Duchess Countess, Catherine Ostler separates the life from the sentence, the reality
from the notoriety, and reverses supercilious historical disdain.
RIVERMAN: AN AMERICAN ODYSSEY
By Ben McGrath (Knopf)
Review by Mark Libatique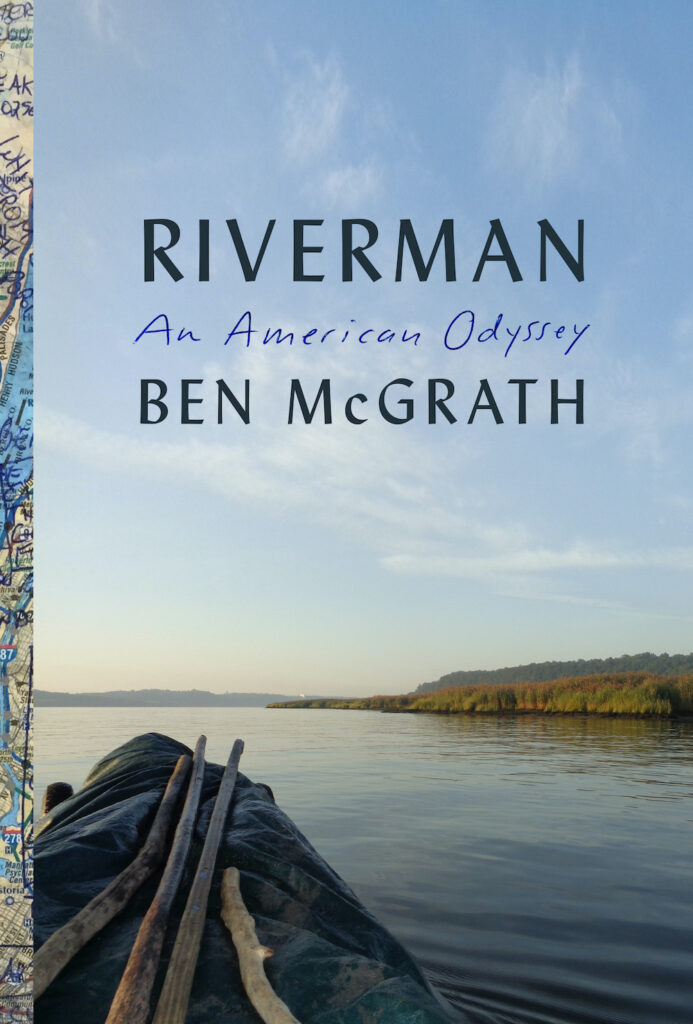 At one point during the high autumn November days of North Carolina in 2014, a farmer and his young son happened upon an abandoned, overturned red canoe tucked among the stumps of cypress knees in the Albemarle Sound, an estuary that serves as the convergence point for several local rivers in the region. For investigators at the time, this was
another missing persons case in a body of water known for occasionally risky weather patterns and depleted fishing stores. For journalist and veteran New Yorker staff writer Ben McGrath, this was the beginning of a yearslong quest to uncover the fate of someone who, as it turns out, happened to be an unexpected friend to countless unconnected people all over the country. Riverman: An American Odyssey is McGrath's debut book, a touching tribute to the man to whom the canoe and its contents belonged.
The story of Dick Conant checks off all the boxes of an urban legend, the only unqualifying detail being that there are dozens — if not hundreds — of direct-encounter stories of him from all over the country, spanning decades. His colorful and notoriously unforgettable personality left its mark among Americans from all walks of life. A former Catholic seminarian and a military veteran, Conant traded a life on the land for a plastic canoe and oar and committed to spending the rest of his days meeting people at their homes, shops, diners, and bars, wherever the country's crisscrossing tributaries took him.
One such person was the book's New York–based author, whose house on the banks of the Hudson River Conant one day paddled past just two months before his unsolved disappearance. McGrath begins the collection of first-person narratives that make up the book with his own. He describes his enchantment with the mysterious, yet effortlessly sociable, middle-aged boater, a man largely disconnected from the technological grid, with an Old World explorer's spirit in an age when this is becoming impossible. McGrath, along with the many men and women he interviewed for the book, refers to his unmistakable presence ironically coupled with a timid sense of self-awareness, and gives us readers a sense of meeting the one-of-a-kind Conant ourselves.
Equal parts historically detailed and distinctly personal, Riverman is not only the biography of one man but an anthology of the riverside towns both small and large that have been the centuries-old lifeblood of an America that has always quietly existed.
CONSTRUCTING A NERVOUS SYSTEM: A MEMOIR
by Margo Jefferson (Pantheon)
Review by Constance C.R. White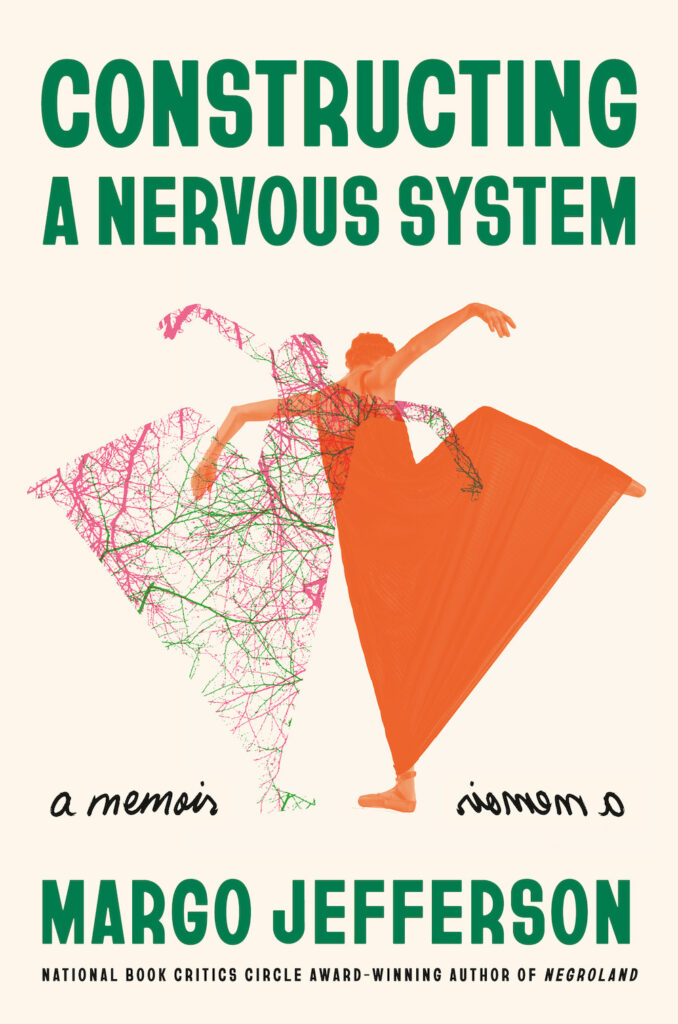 Even before I worked there, I loved to read Margo Jefferson on theater, on books, and on popular culture in the The New York Times. Her musings might take off in one direction, change course to state a philosophical truism, leap into a juicy slice of American history, and lunge acrobatically into contemporary society along the way.
Unconstrained by any traditional definition of a memoir, in Constructing a Nervous System, Jefferson asks us to reconsider what form it might shape-shift into, presenting the emotional affects and mental exercises of her inner world as an invitation for us to reflect on our own lives as she responds to external events that define her and, more broadly, America.
Growing up in Chicago's Black elite (chronicled in her 2015 memoir, Negroland), Jefferson saw her parents travel to New York for Broadway shows, she attended Brandeis and Columbia, and became a sought-after academic, author, and a critic, one who was awarded the Pulitzer Prize. Yet
to become a person of what she considered "complex and stirring character," she writes, "I must break myself into pieces — hammer, saw, chisel away at the unworthy parts — then rebuild…. It was laborious…. Like stone masonry."
How well it worked. This book's pacing is a Ferris wheel, starting slowly, then climbing, faster, higher, higher to deliver thrill after thrill: Among a dazzling number of others, Harriet Beecher Stowe, Bing Crosby, Josephine Baker, and Willa Cather are along for Jefferson's revelatory, inspiring, and provocative ride. She draws a thematic line from Cather, who once passed herself off as a William, and declared that she loved women, to her own life as an African American woman. "Willa Cather, I know something about your abjection, your compensatory drives, your erotic and emotional needs; how you made yourself into a vessel that could contain longing and rapture; desire never assuaged but never renounced."
When Jefferson enters into a six-year heterosexual love affair with a memorably younger Brazilian lover, it's a traffic sign pointing to the slipperiness of love and ageism.
It's not the only whispered "ism" she prods. Remembering how "besotted" she was with Nina Simone when she was young, she also admits with stone-cold honesty to a teenage self contaminated, like so many Blacks, then as now, by colorism. "In 1959, would I have preferred Miss Simone to be a lighter brown? Yes." This is vintage Jefferson, a statement at once startling in its hostility and poignant in its vulnerability, delivered by one of the nerviest memoirists writing today.
---
January/February
SHACKLETON: THE BIOGRAPHY
By Ranulph Fiennes (Pegasus)
Review by Angela M.H. Schuster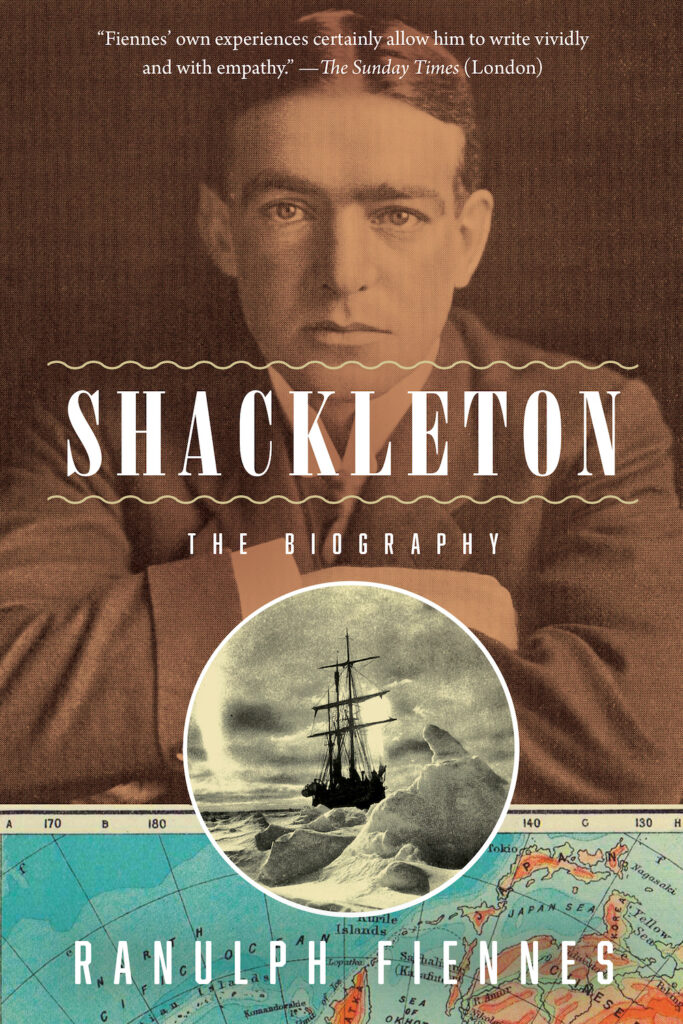 "To write about Hell, it certainly helps if you have been there," muses Sir Ranulph Fiennes in the opening salvo of his latest book, an engaging biography of his pioneering predecessor, Sir Ernest Shackleton. And this British polar legend, who has led more than 30 expeditions and penned some two dozen volumes, would know. As Fiennes is quick to point out, "no other Shackleton biographer has man-hauled a heavy sledge load through the great crevasse fields of the Beardmore Glacier, explored undiscovered icefields, or walked a thousand miles on poisoned feet, hundreds of miles away from civilization."
All manner of volumes on Shackleton — including the explorer's own, South — have been written in the century since he famously led his 27-man crew to safety after their ship Endurance became trapped in pack ice and ultimately sank during the Imperial Trans-Antarctic Expedition of 1914–1916. But this is the first to dive deep into the Anglo-Irish explorer's formative years and the seminal experiences that shaped his character.
Throughout the book, Fiennes works to separate the man from the myth by weaving in his own firsthand knowledge of the polar regions. In doing so, he stresses the importance of the skills they both gleaned from military service — Shackleton in the Royal Navy and Fiennes in the Royal Scots Greys — as well as the invaluable benefit of lessons learned from those who have gone before. But to succeed requires far more than that. It is abundantly clear from Fiennes's narrative that both author and subject have had one critical advantage in achieving their objectives — a canny ability to channel wit and charisma to make the most of opportunities, both presented and sought.
What emerges in Shackleton: The Biography is not only a greater appreciation of just what it took for Shackleton to accomplish the seemingly impossible, but also a more fulsome picture of the multidisciplinary training and mental fortitude necessary to operate in and endure extreme conditions only to return home eager to embark on the next adventure, however harrowing it promises to be.
SMALL THINGS LIKE THESE
By Claire Keegan (Grove Press)
Review by Heather Hodson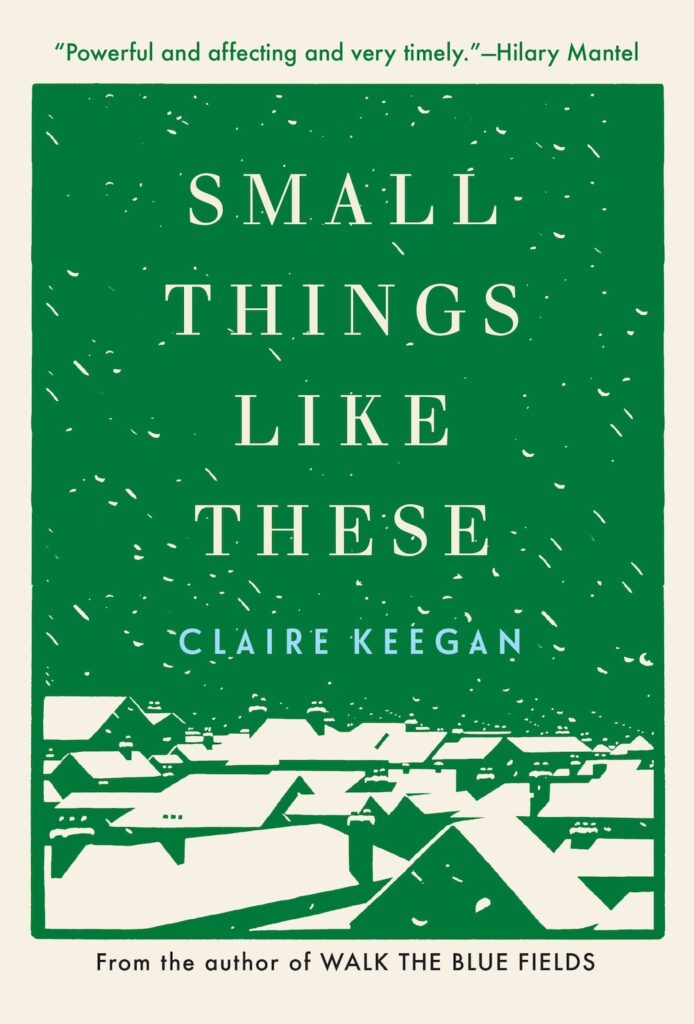 In this slender, exquisite jewel of a novel from the renowned short-story writer Claire Keegan, a secret smothers an Irish town like a blanket over a baby's face. In the weeks leading up to Christmas 1985, the community of New Ross is in the claw of the recession, with men losing their jobs and children scavenging for fuel. Up on the hill stands the local convent, "a powerful-looking place" presided over by the mother superior, while down below Bill Furlong, a coal and timber merchant, married man, and father of five daughters, works long hours in the yard, "determined to carry on, to keep his head down and stay on the right side of people, and to keep providing for his girls." But as the holidays approach he is beset with anxieties, childhood memories arrive "out of the blue," and strange emotions threaten his peace of mind.
One early morning, while delivering an order to the convent, Furlong unbolts the coal house door and makes a devastating discovery. What he does next — or does not do — becomes of burning consequence, not just for Furlong and his family, but for an entire community.
With just four slim works, Claire Keegan has edged past her peers to become Ireland's national author. Often set in southeast Ireland, where Keegan grew up on a farm, the youngest of six children, her short stories contain cruelty and violence: families crack apart, there are suicides and rapes, and children go missing. But the acts themselves often lap at the edges of the yarns, while the landscape creates an ominous, Hardyesque quality. Keegan understands at a deep level that narrative tension is often about withholding information, that the right word in the right place can evoke volumes of social history, and with Small Things Like These, her first novel, her art of subtraction is on full display. Furlong's earliest memory is of learning to crawl in a kitchen "of serving plates, a black range — hot! hot! — and a shining floor of square tiles," his childhood surrounded by love telegraphed in one short clause. At moments of peak intensity, Keegan slows time down, so that the baking of a fruit cake, or a long walk through a neighborhood, vibrates with a sense of time and place, and the act of reading becomes as close as it gets to the experience.
At the end of the work, in a note on the text, Keegan relates that in Ireland's infamous Magdalene laundries, run by Catholic orders and operating from the 18th century up until the mid-1980s, an estimated 30,000 unmarried mothers were "concealed, incarcerated and forced to labour." These institutions, she writes, were "run and financed by the Catholic Church in concert with the Irish state." In Small Things Like These, Keegan has produced a sublime novel that asks profound questions about power and religion, about a nation's complicity and guilt, about the difficult nature of restitution and the meaning of love, and the boundless courage of the human heart.
THESE PRECIOUS DAY
By Ann Patchett (Harper)
Review by Mark Libatique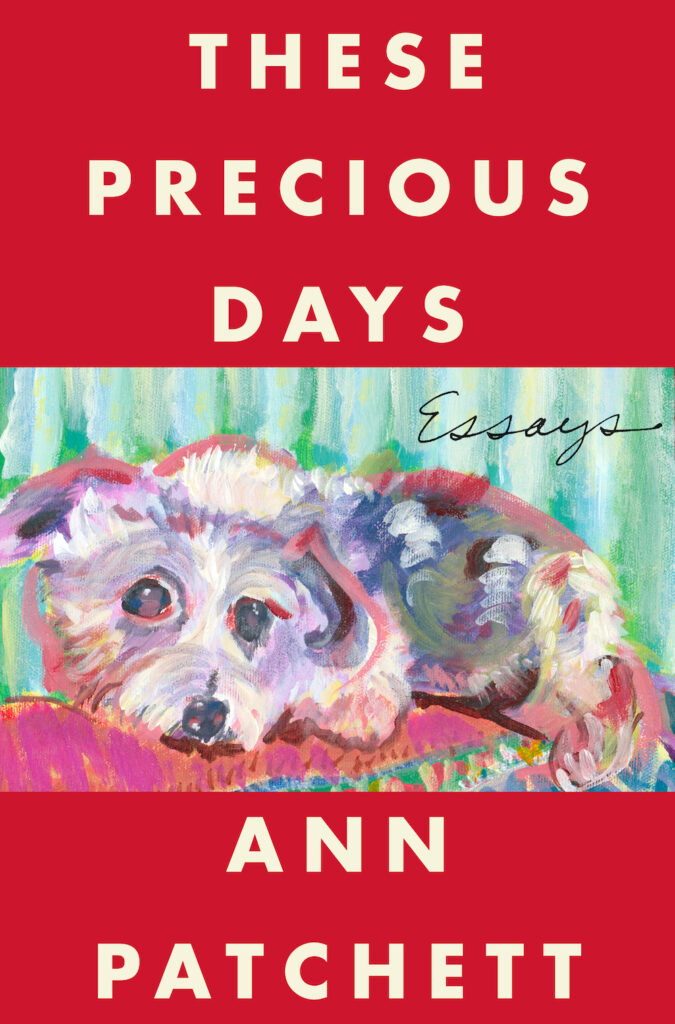 The writer Ann Patchett is a woman who has mastered virtually every aspect of the literary experience, far beyond her reputation for successfully writing in different voices and styles. In addition to being the mind behind decades of celebrated novels, nonfiction works, and children's books, she is a lifelong magazine contributor; a Nashville bookstore owner; a 2019 Pulitzer finalist; and the author of the 2001 work Bel Canto, which won the Orange Prize for Fiction and PEN/Faulkner Award for Fiction and was later turned into an opera. In 2012, she was on the Time 100 list of the most influential people in the world. A year later, she released This Is the Story of a Happy Marriage, a celebrated memoir collection of vignettes spanning her childhood, her early career, and her maturation, both personally and professionally.
Patchett offers us a sequel to that collection in her latest work, These Precious Days: Essays. Her reflections take us on a journey through her own experiences with marriage and death, with consumerism and youth, with Catholicism, Nashville, and Paris. Her recollections are gloriously intimate, with a series of memories recounted with an honesty and freshness that take them out of the past and into the present.
Ever the seasoned writer, her offerings, which read like a conversation over coffee, are as varied in length as the experiences she shares: some of the essays in this collection are just a few pages, and some are stories spanning years, which she takes her time telling. All of them invite you in. The stories in These Precious Days prove that embedded in life's seeming randomness — a French woman with a tattoo, a forgotten school award, a knitting pattern — are learning moments you may not recognize until their memories are softly triggered, sometimes a lifetime later.
Patchett takes on the task of exploring the complexities of living and approaches it with a depth that is grounded in gentility and lightheartedness. She shares with the reader the people and moments in her life in the same way that she cares for the characters in her novels — with reverence, dignity, and love. In doing so, she showcases a trademark vulnerability that comes through in her fiction. In These Precious Days, Patchett maintains a level of trust with the reader that allows her to freely relate a lifetime of both sudden and gradual growth, of formative moments of disappointment, and of quiet moments of joy and of friendship.
THE FINAL CASE
By David Guterson (Knopf)
Review by Aranya Jain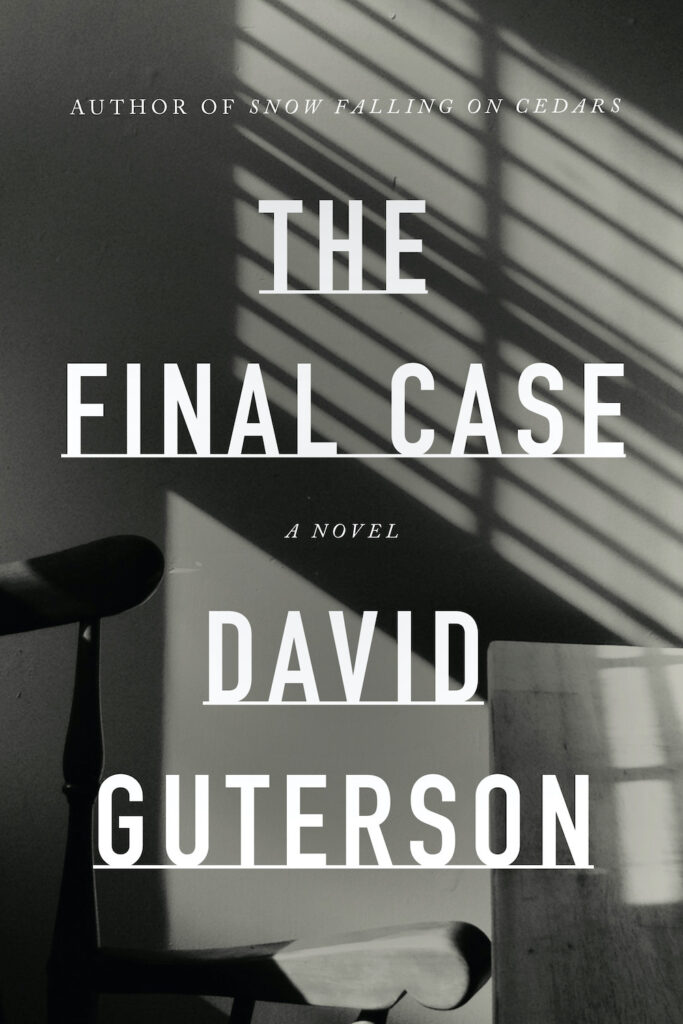 "There's no law against being patently evil," argues Royal, the 83-year-old criminal defense attorney at the center of David Guterson's latest novel, The Final Case. "There's no such charge as 'patently evil.'"
If there were such a charge, it would be delivered for the case at hand: two white Americans adopted an Ethiopian girl who later died from hypothermia, just steps outside their front door. But because that charge doesn't exist, because the word "guilty" holds complex legal meaning beyond its moral definition, Guterson's protagonist chooses to take up the case of the Christian fundamentalist Betsy Harvey, accused of murdering her adopted daughter Abeba on a cold, wet night.
In this courtroom drama, the author 's first since the 1995 PEN/Faulkner Award for Fiction-winning national bestseller Snow Falling on Cedars, Guterson turns the genre on its head. We don't wonder "whodunit" "how-was-it-done," or even what the trial's outcome will be. The facts are bare. The defendant is going to jail. What Royal is arguing for is "first-degree-manslaughter" rather than "homicide by abuse," as he attempts to uphold the precise terms of the law.
And yet, through a seeming focus on judicial terminology, the case's trauma becomes concrete, assessable in the reader's hands. Our nameless narrator, Royal's son, uses court-recorded dialogue, testimony, and journalistic interviews to launch into a kaleidoscopic range of opposing perspectives. We hear from Betsy's mother, who believes that her family is on trial for being "Christian and white"; Abeba's adoptive sister, who didn't know how to save her; and Abeba's adoptive brother, who thought that by following his mother's commands, he was saving her. Through orphanage reports, thumb drives, and schoolroom essays, we slowly come to know Abeba Temesgen, a child who once consoled toddlers when they cried, feared hyenas, and quietly believed that this family "can't break me" right up until she fell to her death. As the novel unfolds, its legal framework reveals its true stake: understanding how such a tragedy could occur within the systems we take part in.
And yet, life continues. Between harrowing court sessions, the narrator takes a tree-pruning class with his wife and watches passersby from his local café. He drives his father to work, listens to him reminisce on old cases in the middle of the night, and holds him when he ails. Hope triumphs through this vision of an old man and his son, trying their best in quiet ways to uphold America's societal framework and the very foundation of the legal system, so that "the law can get on with what the law's about."