When I announce to friends and family that I am heading to Costa Rica to stay in a tent in the middle of the rainforest, it is met with gales of laughter.
"Don't forget to pack mosquito netting," my sister Minnie snorts, while my best friend Steven texts, "Good luck with that," followed by a slew of laughing emojis. But while I am a bug-averse New Yorker who vacations in ski resorts to minimize the wildlife quotient, my fiancé Ted is an adventurer — a binocular-wielding, zip-lining, rope-traversing type who has always wanted to spot a sloth in its natural habitat. So, in an act of goodwill towards our future union, I book a trip to the Nayara Tented Camp located deep in Costa Rica's Arenal Volcano National Park near the border of the Arenal volcano and pack a few bottles of insect repellant.
On a crisp day in October, Ted and I land at San José International Airport after a five-and-a-half-hour flight from New York. We are greeted by a cheerful driver from Nayara and set off on a three-hour journey to the Arenal Volcano National Park, possibly the windiest drive I have ever been on. Memories of my sister Minnie's trip to Costa Rica after college — when she stayed up all night battling furry spiders and beetles the size of Mini Coopers, returning home to New York with mosquito bites as big as dinner plates — are immediately banished when we arrive at Nayara Tented Camp. What greets us is a chic encampment of luxury tents rising majestically on stilts above the lush undergrowth, with breathtaking views of the cone-shaped Arenal volcano in the far distance.
We check into our secluded "tented" suite, which is completely sheltered from the rest of the hotel encampment, surrounded by lush fauna which appears to almost glow green, and wild orchids, fronds, and ferns that are so gargantuan they resemble small trees. The suite is sleek and chic, decorated in soothing shades of tree-bark brown, moss green with touches of smooth leather, and each comes with its own luxurious double-head outdoor shower. A bed rests in front of an impressive botanical mural and is draped in mosquito netting, a reminder that, somewhere in the undergrowth surrounding us, hides the poison dart frog, red-eyed tree frog, and the scarily famous bullet ant, which is known by locals as hormiga veinticuatro or "24-hour ant" for the 24 hours of stinging pain their bites can cause. Double ouch, to say the least. But I refuse to bug out. Minnie may have shacked up at a Costa Rican hippie hostel sometime back in the '90s, but this is 2023 and I am at the Nayara Tented Camp, the ultimate in glamping. I will not be going face-to-face with the Costa Rican zebra tarantula on my vacation.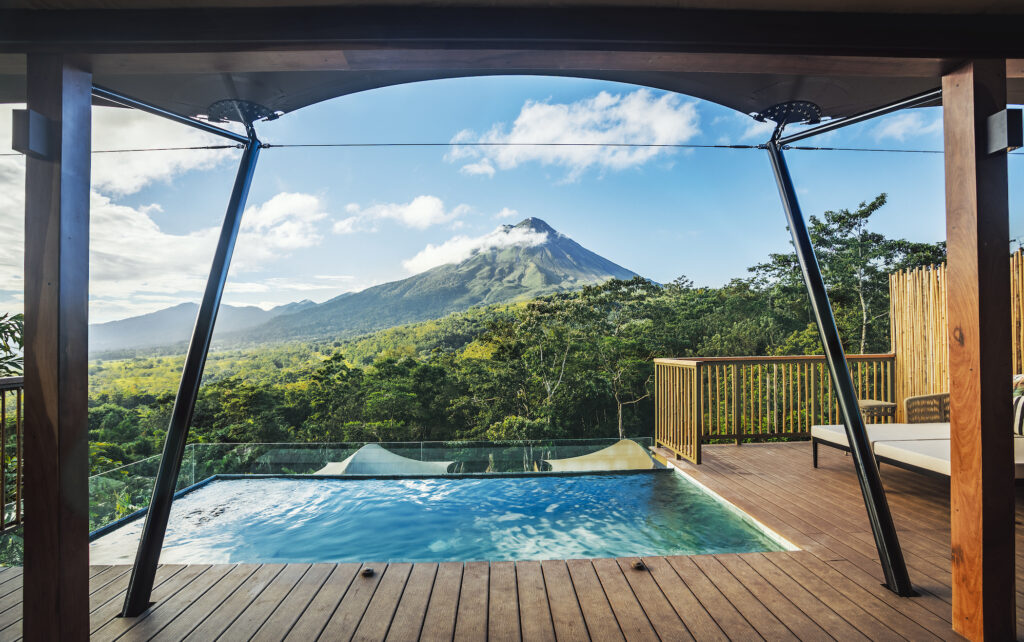 After mulling over whether to lull about on the private wooden deck looking out to the still active volcano, we opt instead for our private infinity plunge pool, which is fed with crystalline water from the volcanic hot springs, for which the area is known. "This," says Ted, "is what I call a tropical paradise."
Costa Rica is one of the most important biodiversity zones in the world and the Northern Plains, where the Arenal volcano is located, contains a host of protected lakes and lagoons, waterfalls and evergreen forests, all of which are sanctuaries for mammals, reptiles, and water birds (75% of the country's bird population live here), and such endangered species as the prehistoric gaspar fish and the great green macaw. The rainforest plays a critical role in planetary health and Nayara Tented Camp is committed to both nurturing and protecting it. When Nayara's cofounder, Leo Ghitis, purchased the land, the original rainforest had been razed to make way for agricultural pastures. Ghitis enlisted the renowned Australian landscape architect Matthew Flynn to reforest the area with thousands of guarumo and cecropia trees, a main food source for sloths. "Bringing back the rainforest was a huge objective," Ghitis stresses. "We wanted it back to the way it was." Now the area is once again full of the sounds of toucans and howler monkeys, which have the capacity to vocalize and project their roar for miles.
Our first dinner is at Ayla, a modern Mediterranean restaurant with Middle Eastern flavors. Located in the main lodge, Ayla sits under a long rectangular tent with breezy curtains overlooking a shimmering infinity pool and the ever-present volcano. The name Ayla means "halo of light around the sun or moon" in Turkish. Looking up at the night sky as we eat, it is like nothing we have ever seen before, so bright are the stars without the light pollution we have become used to in New York. A long-haired musician in braided leather sandals strums acoustic versions of songs by Sting and Beck as we nibble on hummus, harissa chicken, fish kebabs, and the best tahini I've ever tasted.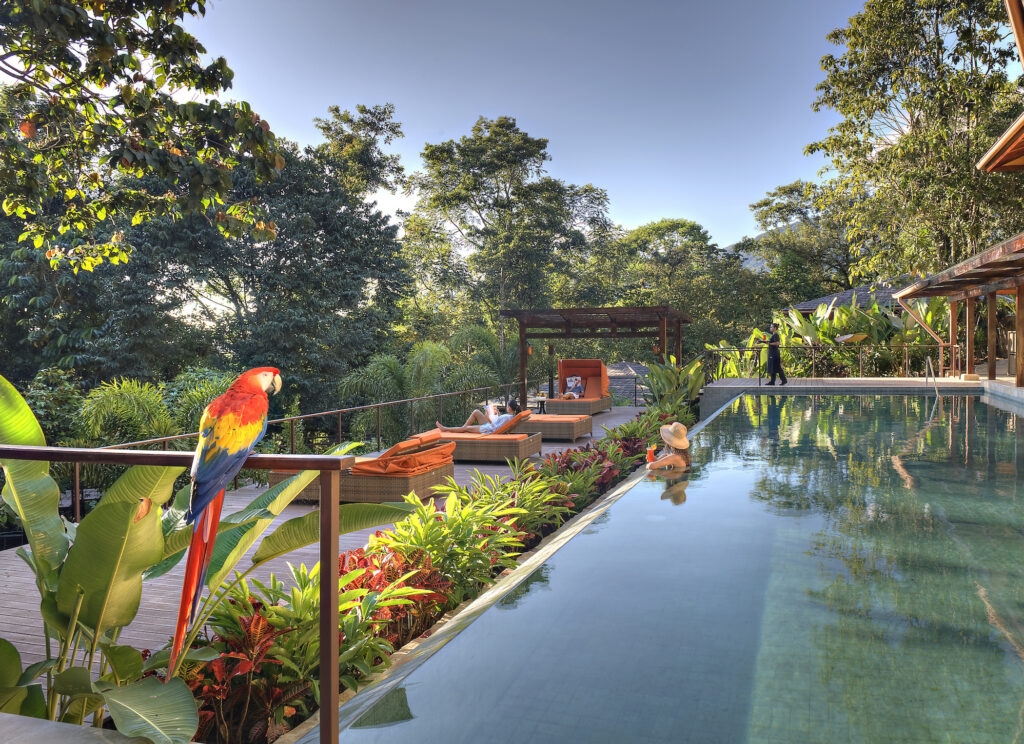 That night, we snooze soundly to a symphony of chirping birds (the area is home to over 900 species). If the infamous howler monkey is out and about, I am too tired to hear its haunting roar.
I wake up refreshed and ready for the rainforest safari Ted has been enthusiastically blabbing about since we left New York. Dressed to trek in Patagonia shorts and a breathable Topo shirt, I am prepared to greet Costa Rica's unofficial Big Five: the howler monkey, the red-eyed tree frog, the venomous eyelash viper snake, the rainbow-colored scarlet macaw, and the lazy three-toed sloth, the pura vida, or "pure life," mellow-vibes mascot of Costa Rica. Bring it on! I have also brought my wide-brimmed hat, having been warned that howler monkeys have a wicked sense of humor and are known to hurl fecal pellets like bullets at hapless tourists. Naturally, I do not want to be hit in the eye by monkey poo.
We set off for the Mistico Arenal Hanging Bridges Park with our expert guide from Nayara. It's exhausting work hiking the two miles through the jungle park to the 195-foot La Fortuna Waterfall, but we are rewarded with sights of two coiled snakes hiding inside a tree stump, an iridescent blue morpho butterfly, and small spider monkeys dangling upside down from their tails high in the trees. Our guide even teaches us what game-changing iPhone filters to use for Instagram-worthy images of every creature we encounter, which includes an army of ants lugging leaves ten times their size to an anthill below the foot of a hanging bridge. My Instagram stories have never looked this far-out. I say a quick prayer that National Geographic might follow me.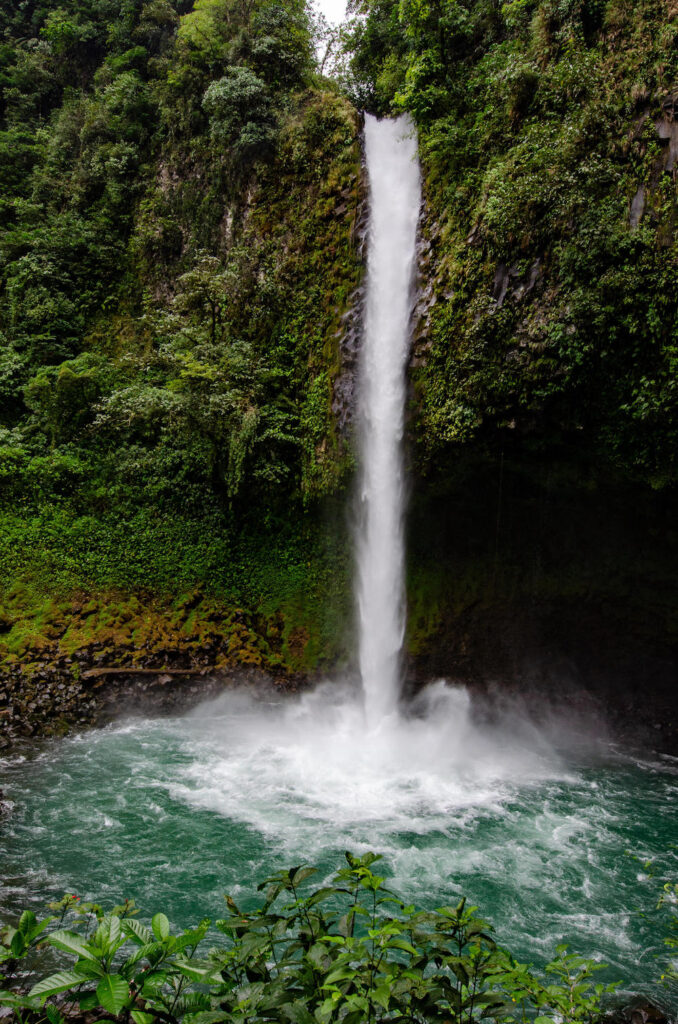 That afternoon, obviously not even slightly fatigued from the long hike, adrenaline-starved Ted decides to zip-line over the rainforest canopy. For $115, Sky Tram & Sky Trek gets you to the top of the mountain in a cable car, gears you up with Mad Max-like hooks and harnesses, and then whizzes you off at lightning speed along cables between canyons. The open-air gondola ride up is enough vertigo pour moi, so I sit and watch Ted leap off a cliff as high as a Midtown skyscraper. I do manage to yelp, "Cowabunga!" as he leaps, feet first, into the abyss.
Back at Nayara I consult the "Sloth Concierge" Juan Pablo, who will happily locate Tony, the resort's star sloth. Sloths have an extremely low metabolic rate, so move through trees at a languid pace — 41 yards per day, to be exact. They are also very shy, so finding Tony may take some time, Juan Pablo says. That night, after a dinner of zucchini blossoms and tropical cazuela (seafood and bean noodles with red and green curry) at Amor Loco, the louche restaurant-cum-nightclub at Nayara Springs (a Relais & Châteaux sister resort just down from our suite), there is a knock on our door. It is Juan Pablo, and the three of us speed off in a golf cart, where we catch Tony snoozing in a tree, his fur a mossy green (sloths sleep so much that algae grow on their backs). Tony is definitely my kind of creature.

On our final day at Nayara, we take a yoga class on a pavilion high up in the rainforest which gives beautiful views out across the panoply of trees. Afterwards we go hot spring hopping, soaking in all seven of the interconnected mineral hot spring pools at the camp, which range from chilled to piping hot. A bartender is on hand to serve us guaro sour cocktails to sip as therapeutic water bubbles around us. We also decide to pay a quick visit to the open-air spa for a volcano hot stone treatment — a soothing treat after mucho hiking.
That evening we head off on a pre-dinner trek with a naturalist guide, walking across the resort's footbridges in search of wildlife. We spot the otherworldly red-eyed tree frog (score!) as well as a translucent glass frog whose inner organs pump under the glare of flashlights. The "Rainforest Journal" that Nayara gave us when we arrived now feels almost complete. Our farewell dinner is my favorite: at Asia Luna, the Costa Rican-Asian fusion restaurant which gives the impression that you're dining in a tree house.
As we feast on shrimp tempura, avocado, and fried plantains, our conversation is interrupted by the call of a group of howler monkeys, their cries echoing around the canopy of trees. If a spider monkey had swung by, or even the red-eyed tree frog, I wouldn't have raised an eyebrow. I am at home in the jungle now.