The restaurant matrix, according to this little scrap of paper I just jotted it down on, consists of a vertical line (y) indicating quality of food and a horizontal one (x) the liveliness of scene.
A place like, say, Noz 17, a small omakase spot by Nozomu Abe's protegé Junichi Matsuzaki, sniffs the rafters of y while the subdued susurruses of its acolyte diners edges the place to the far left margin of the quadrant. (Liveliness of scene, ranging from subdued to rollicking, is independent of quality; quality of food, ranging from blech to virtuosic, is obviously not.) Tao, that giant goiter of a nightclub in Chelsea, on the other hand, is in the bottom right-hand quadrant. You get it. Are you looking at the food or are you looking at the people or are you looking at something else entirely, like the view?
This summer, while others might be boarding aeroplanes to flit around the globe, I'm sticking to traversing this restaurant plane. There's plenty of ground to cover, including Four by Jesse Schenker, which occupies a small house in Oyster Bay, Long Island; Fasano, a sprawling showroom for conspicuous carbohydrate consumption, which has taken up residence where the new Four Seasons restaurant recently (and briefly) was; and The Fulton, Jean-Georges Vongerichten's bi-level pleasure palace, with its view of the river on Pier 17, where the Fulton Fish Market once stood.
I wonder what Joseph Mitchell, New York's greatest chronicler, would feel, wandering around the Seaport today. Many of Mitchell's best stories unfolded in this small brick-laid corner of Manhattan, from "Up in the Old Hotel" to "The Mayor of the Fish Market." "Every now and then, seeking to rid my mind of thoughts of death and doom," he once wrote in the New Yorker, "I get up early and go down to Fulton Fish Market… The smoky riverbank dawn, the racket the fishmongers make, the seaweedy smell, and the sight of this plentifulness always give me a feeling of well-being." At dusk on a recent evening, the East River was indeed shimmering a glittering salubrious pink. The fishmongers had all fled to the Bronx, taking with them the seaweedy smell, but there was plenty of plenitude. The Fulton is one of the crop of over-the-top luxurious restaurants to occupy Pier 17. (Among the others are Momofuku Ssäm Bar and Carne Mare.) It is billed as Jean-Georges's first seafood-focused outing, fitting for the locale.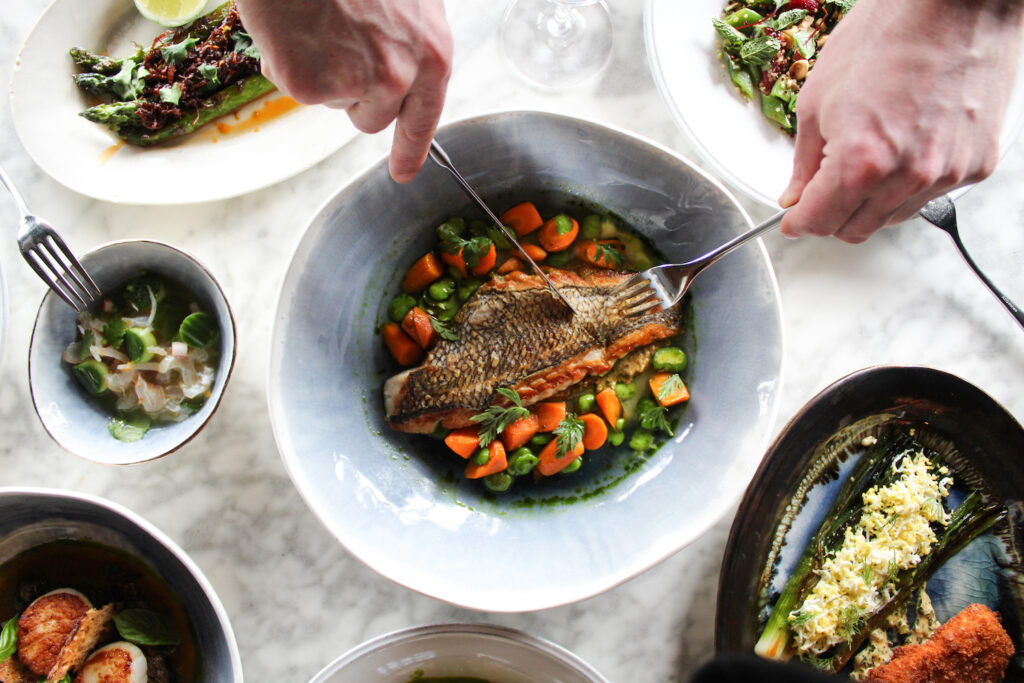 Like sunflowers, the restaurant follows the view. The best seats in the house all face the water, whether on the patio or on the second floor. Jean-Georges has always restricted his whimsy to the margins of his cuisine, while knowing enough not to sacrifice the old familiarity that has kept him in business since 1986. Here is no exception. Some menus one reads with a sense of wonder; this one gives a feeling of Mitchellian well-being. There's a seafood platter, which is exactly that. There's a fluke crudo, of course, this one with a touch of heat thanks to a habanero vinaigrette and Szechuan bud and a hint of herbaceousness, thanks to some chiffonade mint. That herby, vervy sweetness mix is repeated in the red snapper ceviche, this time with cucumber and lime. The only thing intriguing in the crispy calamari salad — which was compulsively enjoyable — was whether the addition of a few sprigs of arugula under the fried bodies actually constituted a salad or not. But with the calamari's carrot-and-ginger topping, the question was academic, as they soon disappeared.
The same sense of familiarity is found in the main courses. Each is expertly made but seldom revelatory. The best of them, like the black sea bass, a crisp-then-yielding filet sitting in a light carrot broth with fava beans and a peanut romesco, captured springtime. Others, like the Dover sole Grenobloise, check the boxes in elegant script. The single best thing I ate at this Poseidon's temple was a cheeseburger, the Gruyère cheeseburger au jus. My gods, what a glorious thing that was. It wasn't just that it felt somehow illicit to order it but that it arrived with deeply caramelized onion jus for dipping, with crispy onions secreted twixt burger and bun, and Gruyère for days atop a juicy patty.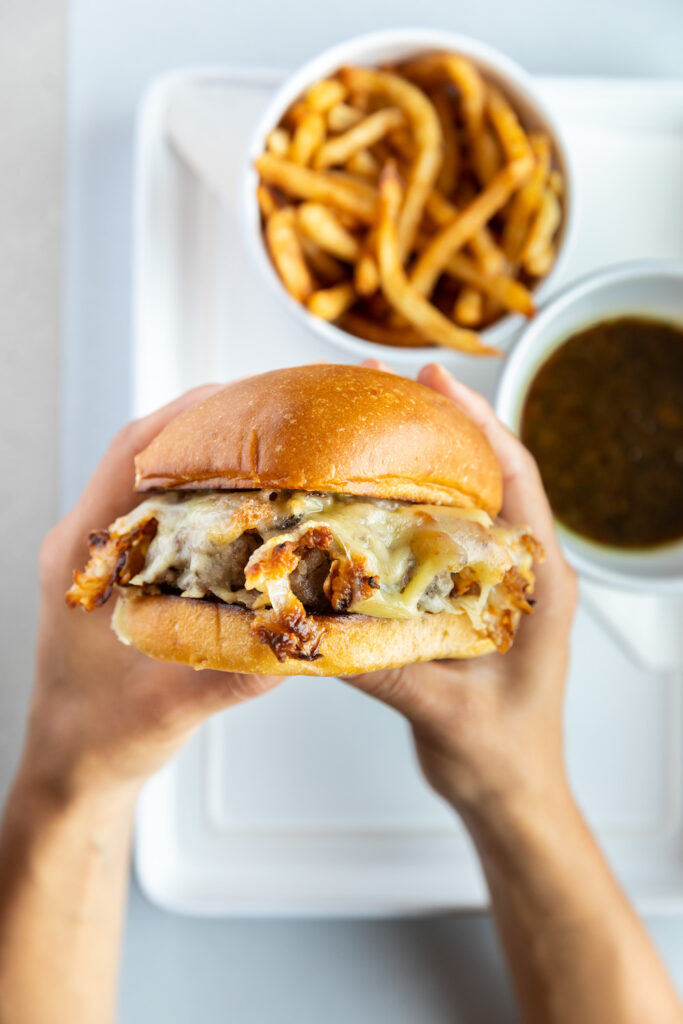 If it sounds like I'm being dismissive of the food, well, I might be. But it's hard not to neglect what comes from the kitchen when the view of the water and the sun bouncing off it and the tug boats tooling down it and the Brooklyn Bridge spanning it draws one's eyes and attention away from the plate. That's hardly a knock on Vongerichten's food, but more a testament to the view his restaurant boasts. So if what you're looking at is the view, The Fulton is my favorite place. After all, the sun sets at the end of every day. That it is familiar does not make it any less beautiful.
Now, if it is people and a scene that you wish to watch, there is no better venue than Fasano, housed in the old-new Four Seasons place on West 49th. Fasano, of course, operates firmly in the realm of comfort. The most excitement I felt was mistakenly walking to the Fasano Hotel on 63rd and Park only to realize I was 20 blocks away. Would my companion wait or not? I speed-walked and she did.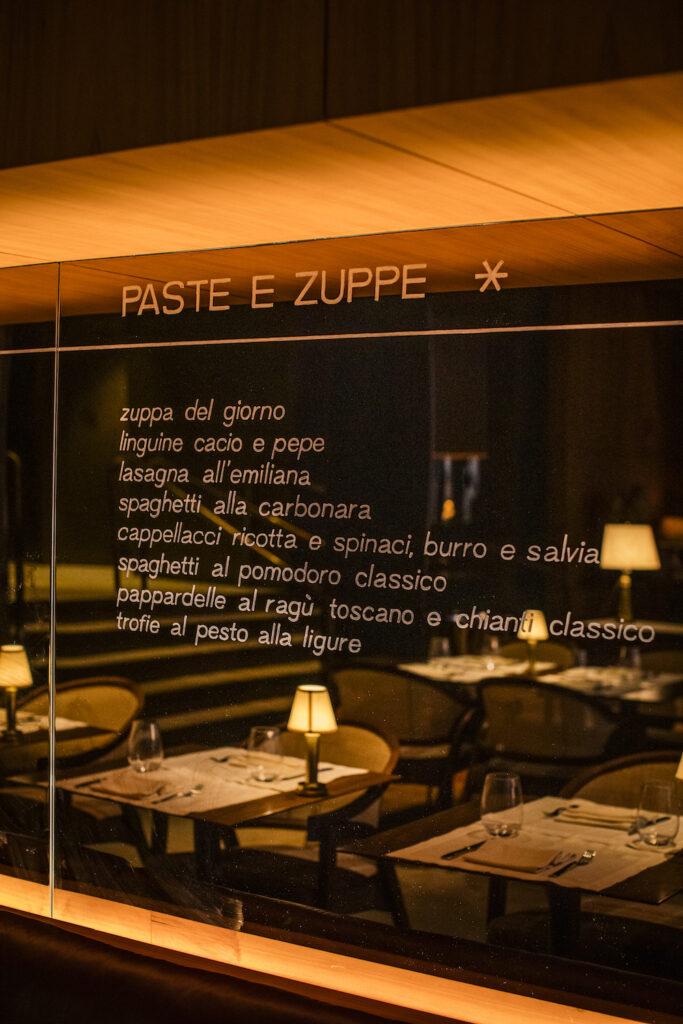 What awaited me is the sort of hushed fine dining experience meant for people for whom dinner is more an opportunity to socialize than to delect. Nominally northern Italian, the restaurant proffers forth a standard carte of risotti, paste, and carni. Much has been made of the veal Milanese, so perhaps the less said of it here the better. (It was powdery and desultory.) The saffron risotto with lobster had both saffron in it and lobster. It was risotto. Beyond that, what I admired most was that it was served by congenial waitstaff with slick backed black hair and white blazers. They were a welcome diversion from the white-haired grazers and pearled princesses who filled the rest of the carpeted dining room with their cheerful chatter. More stimulating than what came out of the kitchen was the sort of high society Kremlin-ology by which one sought to divine social standing based on where each party sat in the room. Such a pastime is pleasure itself, and if a meh $72 Milanese is the price of admission to be blessed in the carefree company of New York's sweet-smelling panjandra and their elegant consorts, who am I to puncture the placenta with vulgar quibbles such as taste?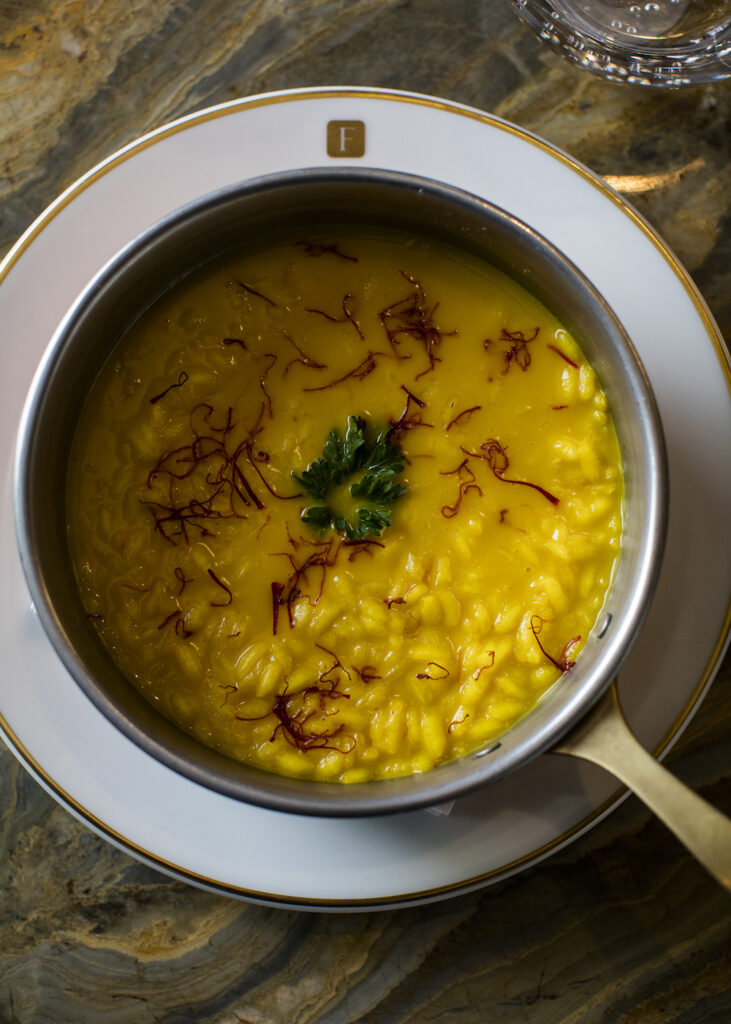 If taste is what you're after, take 495 to 108 North right up to Oyster Bay. Remember Jesse Schenker? Back in 2010 he had a restaurant in the West Village called Recette and later The Gander. But a while ago he moved out to Oyster Bay and, in 2021, opened Four.
Four occupies a two-story Victorian cottage on Spring Street. It has ten seats at a chef 's counter and an open kitchen over which hangs a painting of Tony Bourdain holding a Burger King bag and swigging a glass of wine. Here, Schenker runs hog wild over 17 courses. Each one is an exquisitely balanced punch of flavor. The first bites — a deep fried char siu and pomme mousseline croquette and a mini arepa with a touch of Alp Blossom cheese — are shots across the bow.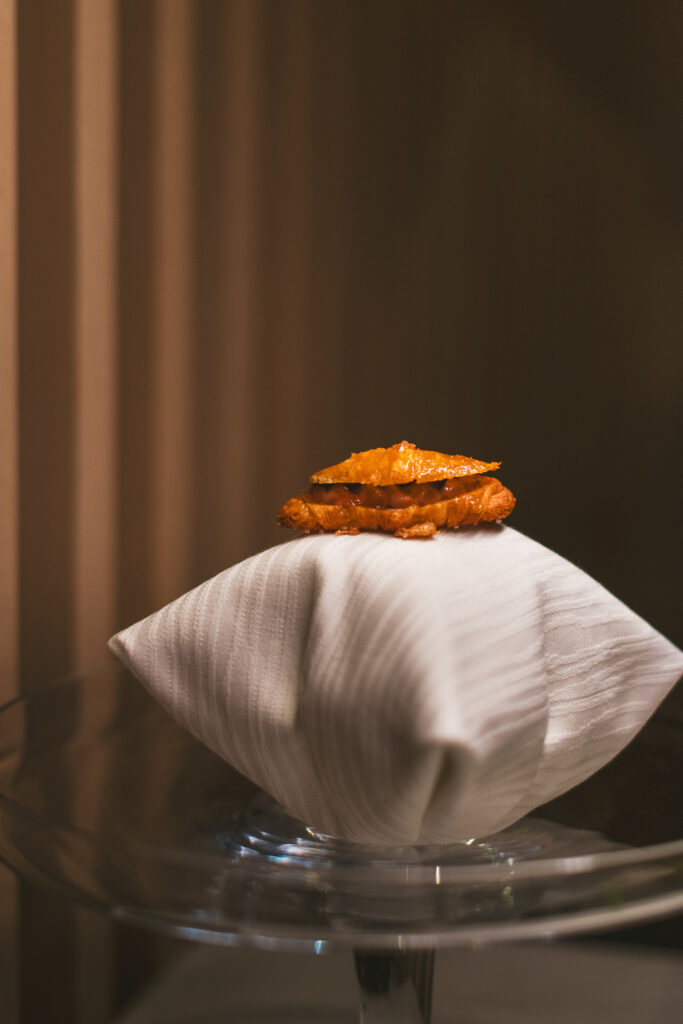 Liberated from Manhattan, Schenker is gonna Schenker. So it is that the audacious menu includes an ethereal beef tendon chicharron and a fermented fennel sea bream and silken langoustine served in an Italian glass ashtray (it looks like the most beautiful plate in the world) and a duck fat croissant filled with foie gras and served on a pillow. It's wild cooking on Long Island, man, the work of a chef on a spirit quest, rummaging the world for delicious. It's high on x, high on y, and high on my list for dinner.