Now that New Yorkers can once again savor their beloved restaurants at full capacity, Heather Hodson and Angela M.H. Schuster round up a short list of some favorite French menu venues.
UPTOWN
CAFÉ LUXEMBOURG
200 West 70th Street
cafeluxembourg.com
(212) 873-7411
This Upper West Side bistro, which opened in 1983, was the second dining establishment opened by Lynn Wagenknecht and "was-band" and friend Keith McNally, cofounders of the wildly popular Odeon, which has remained in Wagenknecht's hands since the two parted company in 1994. Café Luxembourg has a faithful following of patrons seeking out its French bistro staples of steak tartare, moules frites, and croque monsieur, which have been complemented by comfort-food sides such as mac and cheese. In addition to Odeon, which has become a Manhattan institution of sorts — being the birthplace of the Sex and the City signature Cosmo and the cover star of Jay McInerney's 1984 novel Bright Lights, Big City — Wagenknecht's French portfolio includes the charming Café Cluny on West 12th Street, which opened in 2006.
DANIEL
60 East 65th Street
danielnyc.com
(212) 288-0033
No list of French restaurants in New York, indeed America, would be complete without Daniel, the Michelin-starred flagship of restaurateur Daniel Boulud, who has no fewer than ten Gotham establishments. At the age of 13, the New York–based French chef was an apprentice cook in one of the great restaurants in his native Lyon, receiving training in both the ancient culinary art of French cuisine, and the local, Lyonnaise methods. Possibly no one has more knowledge at his fingertips of la grande cuisine than Boulud. At Daniel, the lucky few sit in a modern yet majestic dining room framed by old-world colonnades, dining on gastronomic creations that verge on ambrosia. Best dishes: wood-roasted pigeon and suckling pig.
LA GOULUE
29 East 61st Street
lagouluerestaurant.com
212-988-8169
When La Goulue, the clubby French bistro on the Upper East Side, was ejected from its Madison Avenue premises in 2009 after more than a quarter century, cries of anguish could be heard throughout the doorman buildings of Park Avenue. Mon dieu! Where would we all eat now? In 2019, its owner, Jean Denoyer, a Parisian restaurateur who now has no less than five Manhattan eateries, finally reopened this bulwark of Franco-American civility just four blocks from the original. Temporarily shuttered due to the pandemic, La Goulue has opened its doors once again, and everything is reassuringly the same: the façade is the color of faded tobacco, the matchbooks are frog green; the interior is redolent of a Toulouse-Lautrec painting (Denoyer had cannily saved the wood paneling from the original location); executive chef Antoine Camin presides over the kitchen; the crowd is cosmopolitan, and the Bordeaux is flowing. Best dish: steak au poivre, done the way only La Goulue can. Entre nous: The fabled cheese soufflé is now only served at lunch.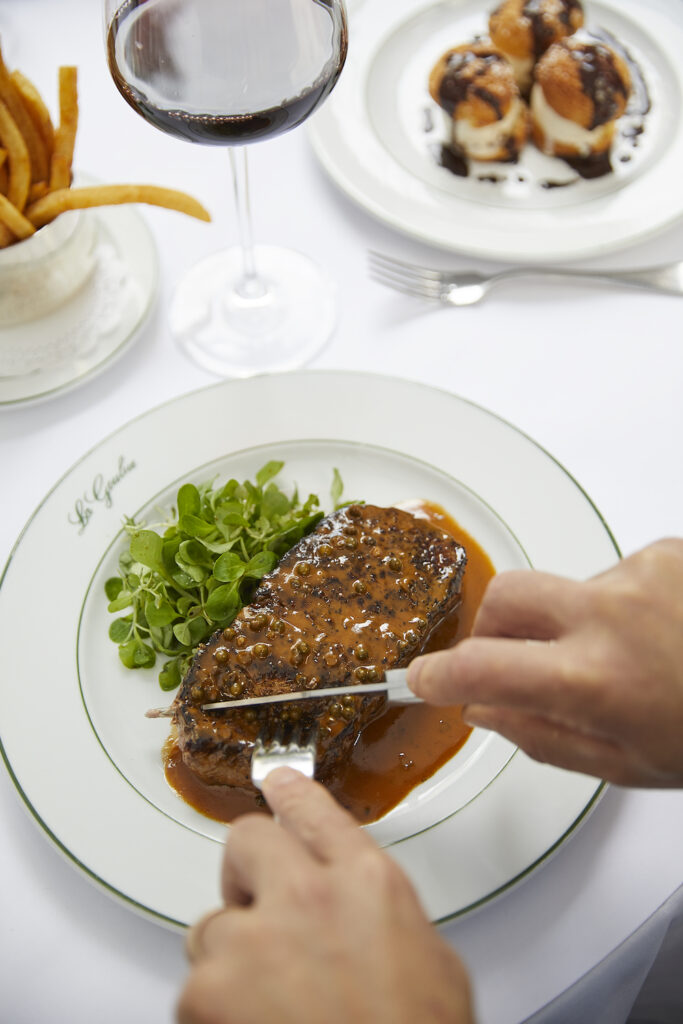 LE VEAU D'OR
129 East 60th Street
(212) 838-8133
When New York was the city of That Touch of Mink and men dressed like Cary Grant, Le Veau d'Or was the place to go. It opened in 1937 at the dawn of the golden age of French restaurants in New York, with authentic French food and staff, and from the beginning was frequented by the likes of Ernest Hemingway, Marlene Dietrich, Oleg Cassini, and Grace Kelly. Customers had charge accounts, jacketed waiters would wheel around dessert carts to the French banquettes, and it was just fabulous — until the public's taste moved on from old-school French cuisine. Nonetheless, Catherine Treboux, the daughter of longtime owner Robert Treboux, carried on heroically until 2011. Now, the Frenchette owners Riad Nasr and Lee Hanson, veterans of the Keith McNally empire, are reviving the grand old duchess of the French dining scene, and hopes are riding high that it will once more become a bastion of La Belle France.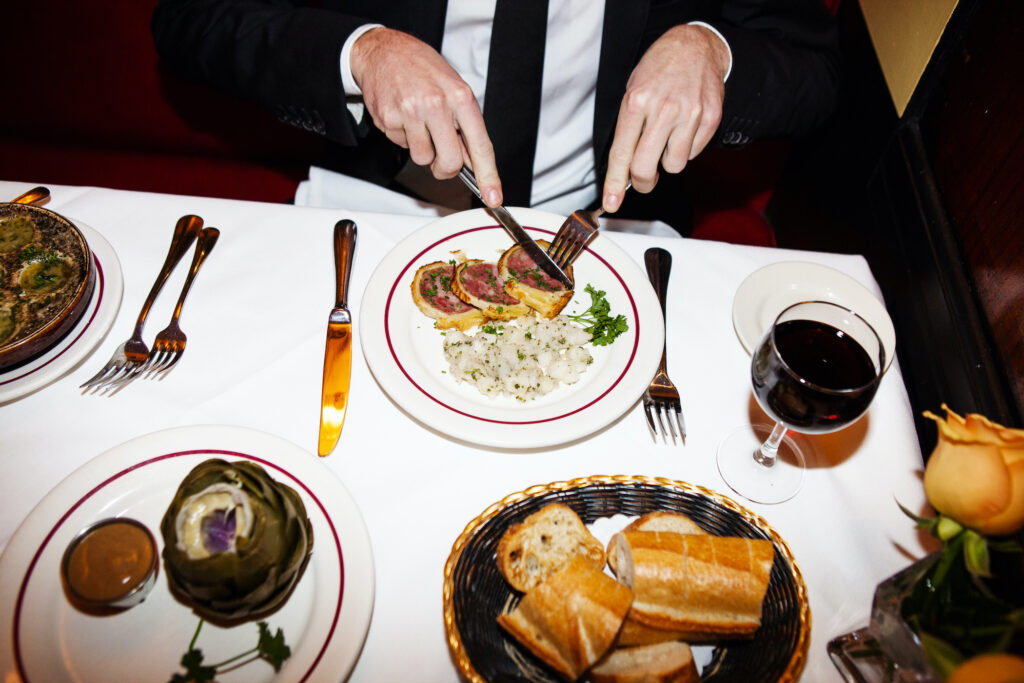 MIDTOWN
CHEZ NAPOLEON
365 West 50th Street
cheznapoleon.com
(212) 265-6980
Enter this cozy, beloved, family-run boîte in the Theater District and you are on French territory: Napoleon's portrait is on the wall, noses are buried in the day's Le Figaro, tablecloths are white, and the cuisine is old-school and sublime. In the 60 years since the 44-seater first served sailors from the French Line ships docked at the Hudson, it has barely changed, which is how the loyal clientele like it, returning again and again for the canard a l'orange and bouillabaisse cooked by the Piaf-sized matriarch Elyane Bruno in the minuscule kitchen. Along with her son and co-owner, William Welles (a silent presence behind the bar, dressed in full goth), Madame Bruno has ensured that this enclave of traditional French cooking remains alive in New York. Vive la France! Best dish: escargots de Bourgogne broiled in garlic butter (infused with an original 1908 absinthe recipe with a liver-ruining alcohol content of 78 percent). Entre nous: Ask for a bottle of the house-made vinaigrette to take home with you.
LA GRENOUILLE
3 East 52nd Street,
la-grenouille.com
(212) 752-1495
Founded in 1962 by Henri Soulé apprentice Charles Masson, Sr., and his wife, Gisèle, La Grenouille is the last of the famed New York haute cuisine restaurants opened in the 1950s and '60s to survive, having deftly outlasted such formidable rivals as Lespinasse, Lutèce, and Soulé's own La Côte Basque — all of which had shuttered by 2004. Since 2014, the establishment has been operated under the watchful eye of Philippe Masson, grandson of its founder, and head chef, Jean Christophe Guiony. "Must orders" here include Dover sole in Dijon hollandaise and La Grenouille's classic whitefish quenelles. Upstairs, a spectacular three-tiered skylight room with a grand fireplace, which is available for private parties, is dedicated to Antoine de Saint-Exupéry, who, during the 1940s, wrote part of the Le Petit Prince in that very room, which, at the time, was the home of noted French painter Bernard Lamotte.
JEAN-GEORGES
1 Central Park West
jean-georges.com
(212) 299-3900
Considered the crown jewel in Jean-Georges Vongerichten's portfolio of 14 New York restaurants — with 42 and counting worldwide — this eponymous two-Michelin-starred eatery, which opened in 1997, showcases the Strasbourg-born, Paul Bocuse–trained chef 's signature cuisine, which is built upon the intense flavors of seasonal farm-fresh produce rather than on the heavy cream and meat stocks of traditional French cuisine, with added influences from Asia. Highly sought dishes at the light-filled restaurant overlooking Central Park include tuna tartare with avocado and ginger marinade, seared scallops with caper-raisin sauce, and, during the summer months only, crunchy soft-shell crabs with a sugar-snap remoulade and pea salt — and, of course, the molten chocolate molten cake is not to be missed. For readers summering in the Hamptons, a bit of the Jean-Georges experience can be enjoyed at Topping Rose House, a historic property in Bridgehampton, which the chef took over from Tom Colicchio in 2016. As of this writing, rumor has it that Jean-Georges will be offering his culinary excellence at Sunset Beach, the uber-fashionable boutique hotel and evening spot on Shelter Island, which had been renovated and relaunched by André Balazs in 1997. Make way for the gastronomies of the East End.
TOUT VA BIEN
311 West 51st Street
(212) 265-0190
Having opened its doors in 1948, Tout Va Bien is the oldest French bistro remaining in the Theater District and as such is populated largely by longtime patron expats and thespians — and will be eagerly welcoming them back this summer. It is known to be a favorite of actress Angela Lansbury, who has been spied there on more than one occasion. The cozy ground-floor establishment, which today is under the stewardship of third-generation owners Michael and Cyril Touchard, has built a formidable reputation on such staples as escargots, saucisson en croûte, steak au poivre, moules frites, and a marvelously decadent crème brûlée. In 2013, les frères Touchard ventured out of their Midtown neighborhood, opening Le Baratin, a casual French bistro in the West Village.
DOWNTOWN
AMÉLIE WINE BAR
22 West 8th Street
ameliewinebar.com
(212) 533-2962
An evening spent in this chic sliver of a wine bar feels like a portal to Saint-Tropez, such is the ebullient atmosphere. The crowd of young Euros and Upper East Side kids come for the sleek décor, the cool soundtrack, and the generous pour. The two Frenchmen behind the concept are Samie Dida and Germain Michel, who know a thing or two about their wine — the latter is a certified sommelier from the Court of Master Sommeliers and has his own biodynamic winery in the Languedoc region, along with a label with the gnomic sounding name of Cassette. If you prefer uptown, head to its sister bar, La Petite Amélie, which occupies an even slimmer premises on Amsterdam Avenue. Entre nous: Do try the cuvée from Michel's Languedoc winery.
BALTHAZAR
80 Spring Street
balthazarny.com
(212) 965-1414
Since bursting on the New York food scene with the opening of the cocktail-centered Odeon and the French brasserie Pastis in the early 1980s, British-born restauranteur Keith McNally has his pulse on what's next in the city that never sleeps. And his current portfolio of eateries, including Balthazar, which reopened in late March after a yearlong pandemic-related slumber, shows he is still at the top of his game. With a charming 102 seats for outdoor dining, the famed brasserie is once again attracting the beautiful people who have clamored for its comfort food comestibles, including its bubbly Gruyère-topped French onion soup gratinée — voted among the best in the city — which head chef Shane McBride serves up at a rate of 15 gallons a day. Not to be missed is the herbaceous steak tartare on crusty bread from Balthazar's boulangerie just next door and all manner of freshly sourced raw bar favorites. McNally's Meatpacking favorite Pastis is also more than worth a meal, having reopened amid great fanfare on Gansevoort Street — a stone's throw from its original location — after a five-year hiatus in June 2019.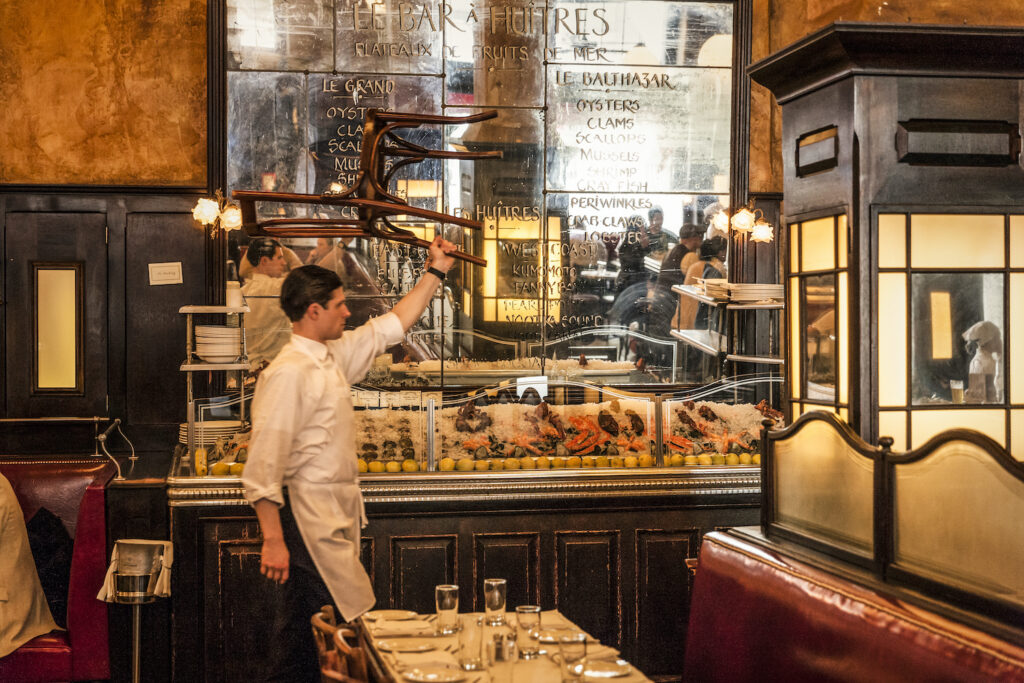 FÉLIX
340 West Broadway
felixnyc.com
(212) 431-0021
"It's a must — every French person in New York meets here. and the energy is amazing," says Alexandre Assouline, the publishing scion, of this fashionable downtown watering hole, where the floor-to-ceiling windows open up on to the sidewalk and the menu is surprisingly good. It's also the best place to watch a French soccer game. Best dish: moules frites. Entre nous: It's always packed, so book if you can.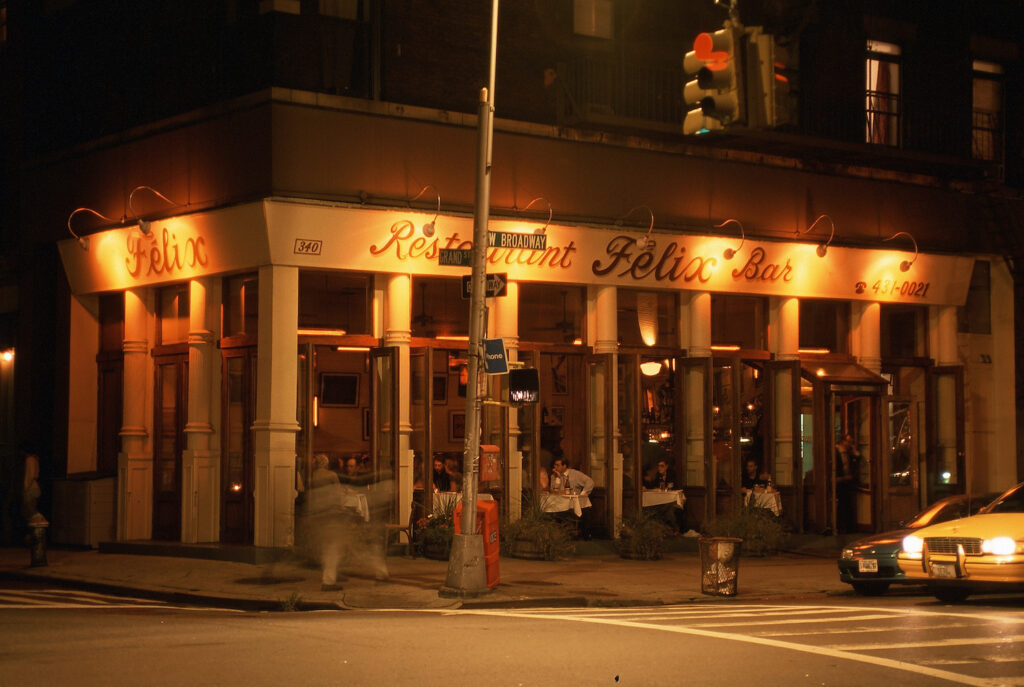 FRENCHETTE
241 West Broadway
frenchettenyc.com
(212) 334-3883
Hailed as the new Odeon, getting a reservation at this sleek French bistro is virtually impossible. The creation of Riad Nasr and Lee Hanson (both were opening chefs at Balthazar), so they know a thing or two about creating scene-based French bistros. Frenchette definitely has all the ingredients: sleek Art Deco interior with oversize red banquettes, delicious food, beautiful people, and a wine list that is something of a talking point (their big thing is natural wines without sulfites, so the grapes are a little obscure). Nasr and Hanson's next big project is to revive the much loved Le Veau d'Or (see in the Uptown section). Obscure fact: The eatery takes its name from a David Johansen song which has the first line, "You call that love in French, but it's just Frenchette."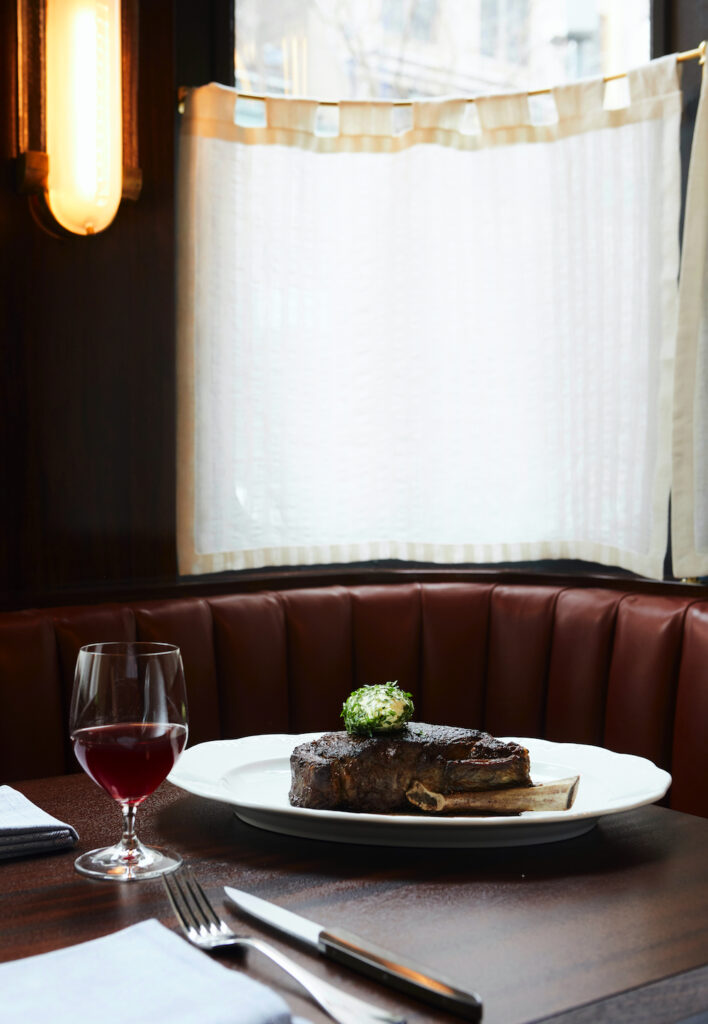 L'ATELIER DE JOËL ROBUCHON
85 Tenth Avenue
latelier-newyork.com
(212) 488-8885
The humble potato was anything but in the hands of the late Poitiers-born Joël Robuchon, who, in 1981, conjured his signature purée de pomme out of but four simple ingredients — potatoes, milk, butter, and salt — the luscious ambrosia quickly earning him three Michelin stars at his first restaurant, Jamin in Paris. The dish has remained a must order at his two-Michelin-starred, 34-seat New York outpost, one of more than a dozen namesake open-kitchen, counter-seating establishments worldwide. (As of this writing, the Miami outpost had reopened with New York slated to follow suit this fall.) Robuchon, who counted Gordon Ramsay and Eric Ripert among his protégés, once remarked during a preparation of the pommes, "I owe everything to these mashed potatoes."
L'APPART
225 Liberty Street
lappartnyc.com
(212) 981-8577
A disciple of Pierre Gagnaire in London and Gérard Vié of Les Trois Marches in Versailles, chef Nicolas ("Nico") Abello made his mark at Daniel before opening the boutique 28-seat L'Appart in the spring of 2016. Located in Le District, the French marketplace in Battery Park City, the Michelin-starred open-kitchen eatery offers seasonal tasting menus served in a manner evocative of an intimate dinner party, with each dish paired with an exquisite tipple from its wine list, replete with Champagne and classified Bordeaux. L'Appart is notable for its haut caviar service and mouthwatering mains, including Dover sole.
LUCIEN
14 First Avenue
luciennyc.com
(212) 260-6481
A favorite of the French diaspora, there is no better place to sink a couple of bottles of Brouilly at lunchtime. The creation of the late, lauded Lucien Bahaj, who moved from France to New York in time to cut his teeth at Indochine during the '80s restaurant-as-cool-club scene, Lucien became the French-style bistro for the art crowd in the aughties. Now run by his son Zac, it has retained its feel of a cultural salon, where zine editors cross paths with art and fashion people and the doors stay open until 12 a.m. Best dish: the steak frites, hands down.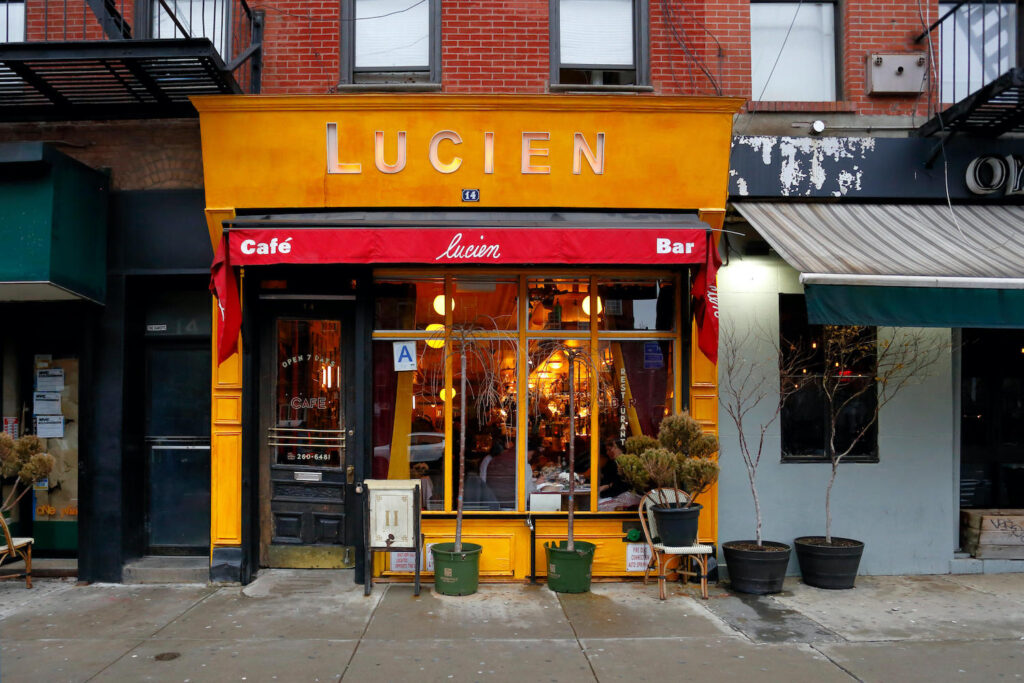 RAOUL'S
180 Prince Street
raouls.com
(212) 966-3518
One of the last great old-school neighborhood restaurants downtown, Raoul's was near mythical back in the day. Opened in 1975 by brothers Serge and Guy Raoul, it became a magnet for artists and drag queens, bohemians and degenerate bankers, and in the '80s, its heyday, the banquettes lining the narrow front room would be packed, people might dance on the saloon-like mahogany bar, and drink (and drugs) might be imbibed. Karim Raoul, son of Serge, is now the proprietor, and in its new, more respectable iteration it still feels like Raoul's, only the food is better. The steak au poivre is one of the best in the city, and the burger (we know, it isn't French, but it must be mentioned) is arguably the best on the Eastern seaboard. As for the crowd, now that the pandemic is over, Raoul's devotees old and new are beating a path to its door. "People are giving me handshakes and tearing up," Corwin Kilvert, the dapper manager, tells Avenue. "What a powerful thing, what a powerful place." Entre nous: Only 12 burgers are made each evening and they can only be eaten at the bar. Best table: The corner banquette by the door is best positioned for people watching.