Rich in riches and blessed by nature, one would assume the Hamptons to be engorged with an incandescent restaurant scene. It's not: the restaurants in the East End tend toward conservatism. Many are just good enough, and all are wildly expensive. Why? Two theories have emerged and one, both, and neither might be true.
First, socializing in the Hamptons is centered around houses more than public spaces like restaurants. When one can afford a private chef in their own kitchen, restaurants, even the expensive ones, are still a bit déclassé. Secondly, the Hamptons is a seasonal game. Even the best of restaurants operates on a profit margin so thin that to contemplate bleeding money for more than half the year is unthinkable. What normally happens is that a few marquee city restaurants open seasonal outposts, day-trippers and weekenders crowd into what tables they can find, and those locals who can stay well behind their hedgerows, do. Scarce though they may be, however, the Hamptons are not a restaurant wasteland. A crop of new ones has opened, including François Payard's Southold Social on the North Fork and Mavericks in Montauk, joining a new stable of surprisingly delicious options.
The best place to eat on the South Fork is Il Buco al Mare, but I might be biased. (I cowrote Il Buco's cookbook with its founder, Donna Lennard.) Though the Il Bucos in Manhattan tend to focus on the aspirational distillation of Umbrian and Spanish cuisine, its Amagansett outpost marries a landward glance with, naturally, the sea. Using heritage Triticum durum grain from Sicily, a somewhat misleading focaccia section — it's pizza, dammit! — features a few precious pies, some with seasonal toppings like forest mushrooms with grilled onion and provolone, and some classics like a margherita and a bracingly anchovian eggplant pizza.
But so much of the restaurant's strengths rest not only in its manipulation of ingredients but also its rigorous curation of them. Among the best things I ate at Il Buco al Mare were those least touched by the human hand: a half dozen sweet, briny, teardrop-shaped Beau Soleil oysters augmented only by a pinch of turmeric and cava vinegar; tautog, a local blackfish simply grilled and served with olives and greens; five large prawns, chargrilled, charmoula-marinated, and heads on; littleneck clams in a bracing citrus-chili sauce. Nowhere was man's hand made showy. For all the conspicuousness that is part of the Hamptons scene, Il Buco al Mare is the most lovingly understated and the most delicious.
Only a few minutes away, the Topping Rose House appeals to both those staying in the 19th-century mansion-turned-luxury hotel and locals in need of truffles. The property's restaurant is run by Jean-Georges Vongerichten — who, coincidentally, was sitting next to us at Il Buco al Mare — and headed by Paul Eschbach, who previously oversaw Vongerichten's restaurants in China and Hong Kong. The French chef has a special knack for catering to the tastes of the very wealthy, using luxury ingredients but never relying on them. It is here that truffles, naturally, make an appearance, as do caviar, dry-aged rib eye, and lobster. They are necessary, I suppose, but not sufficient, and Vongerichten knows this. The caviar, for instance, rests atop a toasted brioche, and three sous-vide egg yolks in one of his classics, the egg toast caviar. Any habitué of a Jean-Georges joint knows the appetizer, it's nothing new, and yet, every time the sweetness of the brioche, the surprising give of the yolk, and the shot of salty caviar touches one's mouth, the jolt of pleasure remains unfaded.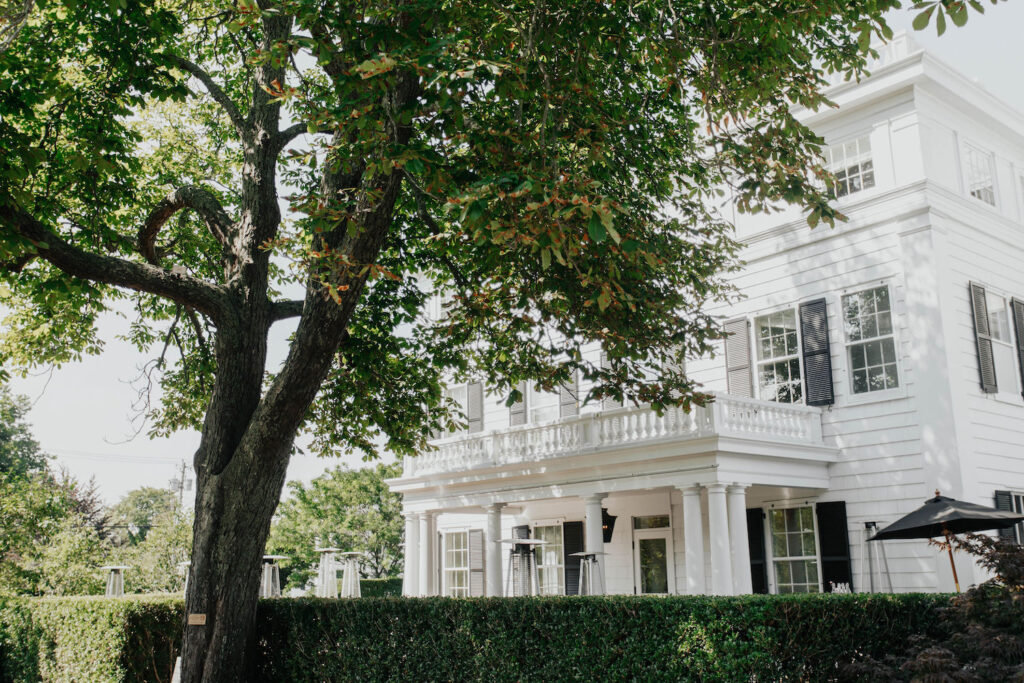 Elsewhere on the menu, his facility with herbs turns what could be leaden cuisine lively. A sea bass comes alive with a green olive vinaigrette. A beef tenderloin is pierced through with mustard butter, atop silken asparagus. Burrata arrives with a rhubarb compote and enough black pepper and basil to turn the creamy orb into something interesting. And for dessert, even the most militant novelty seeker must surrender to the charms of a molten chocolate cake, the often imitated classic. Here it is in its original form: a thin chocolate cake crust which yields into a liquid flow of rich chocolate. All that is comforting, all that is good, is on that plate.
The newest restaurant in the mix, the Good Ground Tavern, had the added benefit of being downstairs from where I was staying. Canoe Place Inn & Cottages in Hampton Bays was once called the "Good Ground," as in a good ground over which to traipse to portage one's canoe. Now it's a good ground on which to have dinner — if, of course, if you can get in.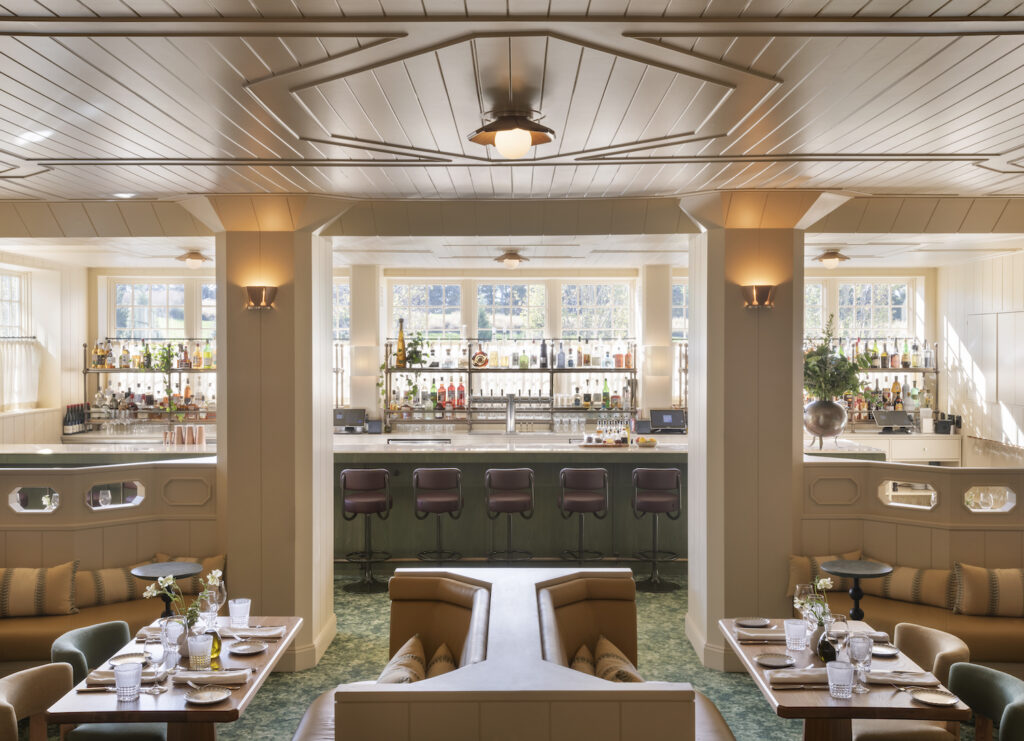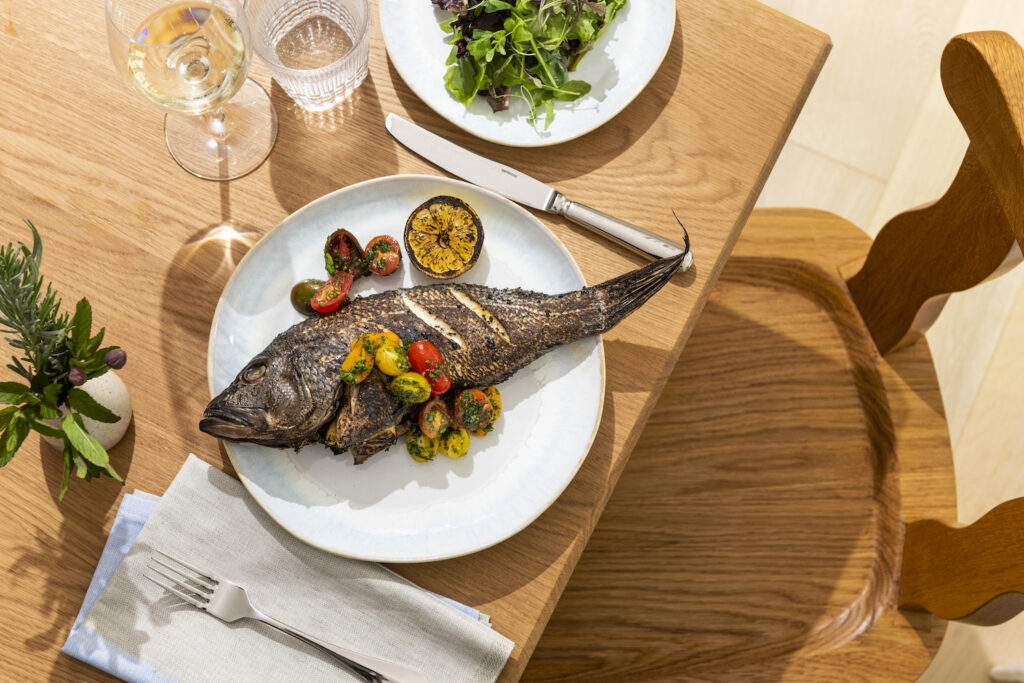 As the latest joint on the block, Good Ground Tavern is a hard table to book, but try anyway. The restaurant's chef, Ülfet Ralph, mines the Mediterranean for flavors that crackle and pop. She's not averse to a certain over-the-top showiness. The homemade grissini must be at least three feet high, but when it comes to flavors, Ralph lets the bounty of the East End speak for itself with dishes ranging from a Peconic Bay clam pie to a simple olive oil-poached black bass. But it is a tavern, and if a tavern must have a burger, this one is one to have: a thick American Wagyu patty under two squares of cheddar cheese on a brioche bun. It comes with a side of fries and, of course this being the Hamptons, they must come truffled.