Could it be that New York City, almost 4,286 miles west of Rome and 4,402 from Naples, has the highest concentration of truly extraordinary pasta in the world? At first blush, pish-posh. We are a city of bagels and pizza by the slice, taco trucks and the avant-garde. Upon reflection — and a visit to three outstanding Italian restaurants where pasta plays a starring role — forse.
What do we have here? An insatiable appetite. An unsaturatable market. A mania for restaurants. A more particular mania for regional restaurants. A real hard-on for obscurity. Deep pockets and empty bellies. There are eight million stories in the naked city, and most of them have a break for pasta in them. So to New York flock Italian chefs bringing with them the shapes of the provinces. And in New York flourish chefs who, like Joseph Conrad did to English, have become masters from the outside with the zeal of a convert. And we, the pasta-huffing chubbies, rejoice with mafaldine, fideo, cavatappi, and anelli.
Al Coro has been a long time coming, rising from the ashes of what was Del Posto before that august Italian restaurant burned in the immolation of Mario Batali's #MeToo scandal. In some sort of divine justice, the chef Melissa Rodriguez had worked under Batali as the chef at Del Posto from 2017 to its closure in 2021, but now the whole shebang is hers. (Rodriguez, with her business partner Jeff Katz, also run Mel's, a casual pizzeria in the adjoining space.) Al Coro is big and I'd call it brassy, but the space is a symphony of muted colors. The first thing you notice when you walk in is a music loft where, on the night I had dinner, a jazz quartet was covering "Angel from Montgomery" by John Prine. It was, well, angelic. Spiritually, at least, Al Coro is brassy. It's celebration food, unapologetically elevated, wearing its tablecloths not in the traditional white but in the somehow even more daring dark brown. The better, I suppose, for the plates to pop off from.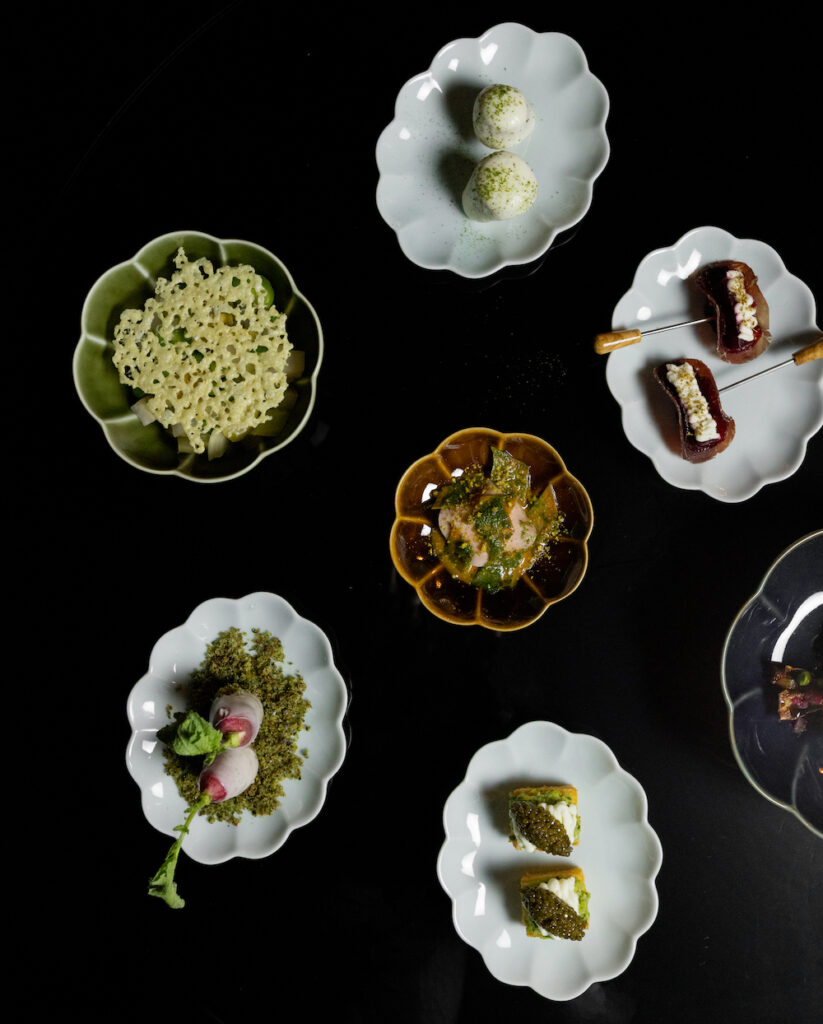 Pop off they do. There's no choice in the matter. Al Coro, like Del Posto before it, offers only tasting menus. Five courses for $195; seven for $245. The seven-course dinner starts with an en masse arrival of fantastical aperitivi. Each uses an Italian classic much as Kanye West does an Otis Redding song. Rodriguez finds the hook and builds her own hit around it. A pair of radishes arrive, tops bright green and perky, round red bottoms dipped into buffalo butter flecked with anchovy and nori. There is no better combination of flavors than radishes, butter, and anchovies on the planet. Panelle, a chickpea fritter from the Sicilian streets, is topped with a quenelle of caviar and ceci gremolata. (Two chickpeas; one app.) Thinly sliced beets are wrapped around bresaola like miniature tacos, with mascarpone playing cotija and fennel pollen just doing itself.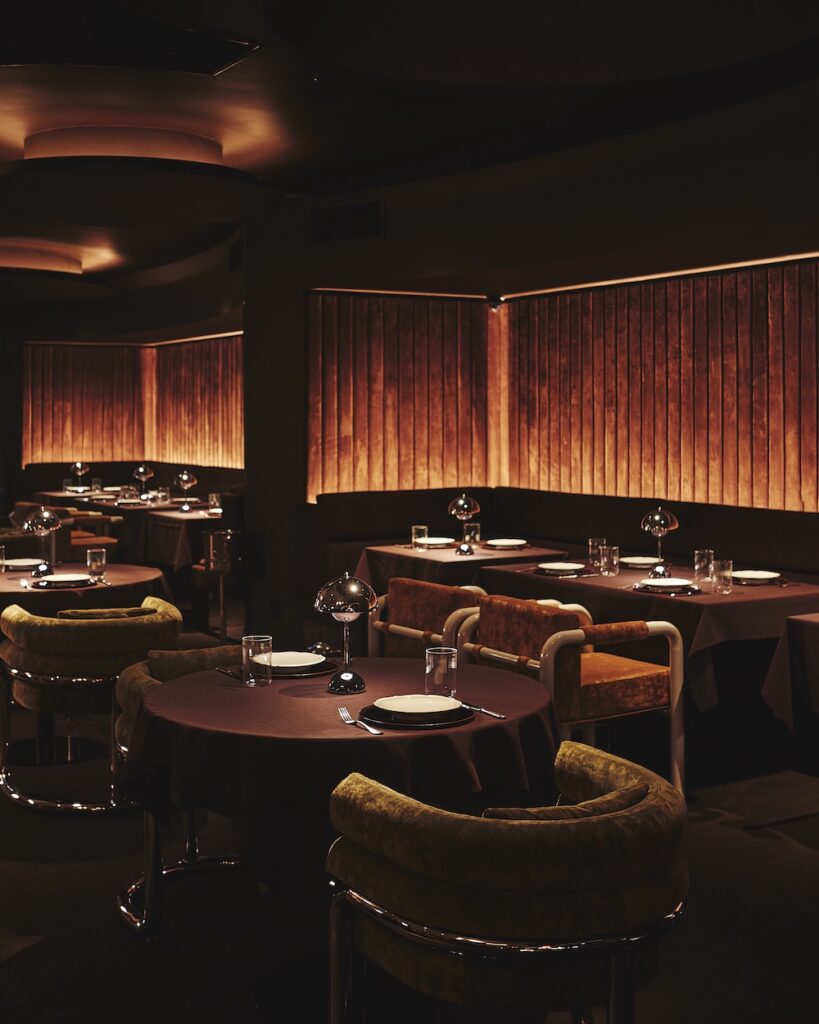 But I was here for the primi. There are many different types of Italian and Italianate restaurants. Not all of them need to have a primi course, of course. But when pasta is on the menu, it will be the measure by which that restaurant is mentioned. Fair or not fair, it's the truth. Some writers can allow tension to build. They are masters of the slow unveiling of information until the reader, well tantalized, is practically slobbering over him or herself awaiting the final reveal. Me? I'm too impatient for that. All I'll say about the primi piatti at Al Coro is that there are many terrible things happening in the world. But that there is one man — his name is Carlos Perdomo — in the kitchen of a restaurant on the West Side of Manhattan who is painstakingly plaiting and then forming pasta dough into rings called anelletti that warms my heart immensely. Because these annelletti — usually such a humble shape — are small works of art, dripping with pork cheek ragù, and promise. They are glistening proposals for us to enjoy our senses. The meal progressed. More obscure pastas appeared, including a dumpling from Ogliastro in Sardinia called culurgiònes, as close to a classy cheese pierogi as I've ever seen come from an Italian kitchen. This one was shimmering with caviar butter sauce and razor clams. There was more too, but my mind and heart was wedded to those anelletti, for I was betrothed to not just what they were but what they stood for.
In terms of absolute fidelity to the fine art of pasta, La Devozione is unrivaled. Having suffered somewhat from being located within Chelsea Market, where it could easily be dismissed as a workaday lunch option, the restaurant, which opened in 2021, serves as a showcase for the Pastificio San Martino, a century-old pasta company based in Gragnano, a speck of a town on the Amalfi Coast near Naples. In the back of the restaurant, called A Tavola, is a 30-seat chef's counter called The Oval. It is an oval, ovulously. Like Al Coro, The Oval offers a seven-course tasting menu for $165. Every course, except the dessert, contains pasta. Mamma Mia, that's a lotta pasta. Though conceived by Michelin-starred chef Peppe Guida, the chef manning the pots and pans — 750 pans to be exact — is a young tattooed Campanian named Alessio Rossetti. On the night I visited The Oval, there were but two other souls at the tasting counter and only a handful of others at the more casual A Tavola. Such are the perils of a nighttime restaurant in a daytime market.
But the pans were gleaming and the pots already boiling. The question has been asked: why submit oneself to seven courses of pasta? It seems like a stunt at best and a gut bomb disaster at worst. In portions, at least, The Oval is restrained. One eats about 150 grams of pasta, which means each course is just a few bites. In terms, however, of audacity, this is pasta at its most far-out.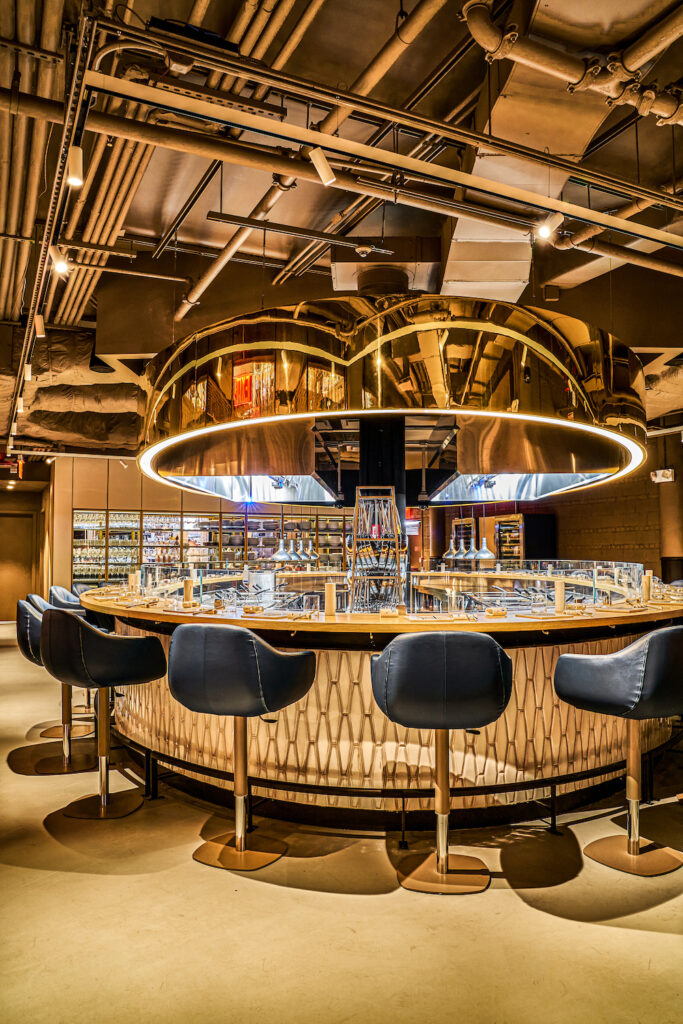 Pasta has always been a vehicle for sauce. At The Oval, the symbiotic relationship between pasta and its payload is inverted, explored, détourned, and exploited. Four big ol' paccheri, cooked in fish broth and water, form pontoons on top of which silky slices of smoked swordfish carpaccio are placed along with fennel pollen, fennel, and Calabrian chili. In a later course, spirals of eliche giganti are placed in a wineglass and swirl table side with beetroot cream and goat cheese until the two commingle. In Marco Polo, a dish inspired by that Italian's travels, linguine is cooked in oolong tea, topped with garlic foam, and finished with ossetra caviar.
I must admit that, to me, often the inventiveness outstripped the flavor. This is an advanced pasta play from restless minds, and perhaps it flew over my head. The best single bite of the meal was a simple elegant bite of spaghetti, pre-twirled on a golden fork, cloaked in sweet tomato sauce made from Lampadina tomatoes and finished with a single leaf of basil. It is called simply: "La Devozione." Vibrant, masterful, and surprising, precisely because it seems so staid, one could taste the durum of the spaghetti, the sweetness of the tomato, and, finally, the fruit of 110 years of pasta obsession.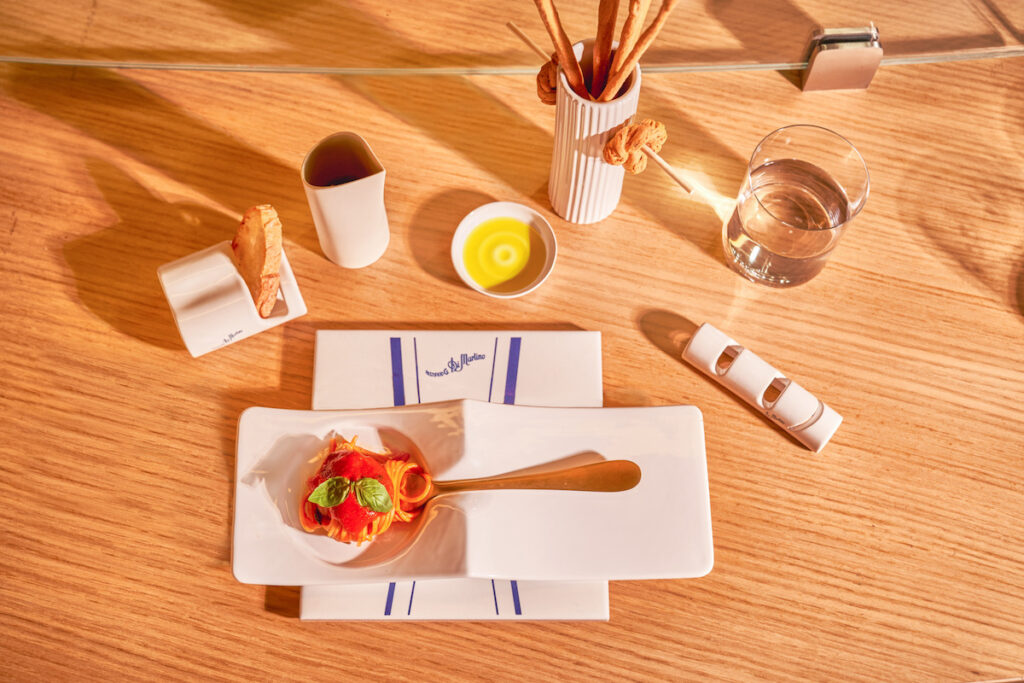 As a 40-year-old man still trying to look good naked — for I have yet to come to terms with my own mortality and the fact that my body will soon enough sag and decay, and instead of trying to grasp on to youth and tautness, perhaps I should embrace vulnerability and impermanence, stop dating younger women, and find an actual life partner — I was ready to be over with my pasta walkabout. But there was one place that kept popping up when speaking with pasta people: Rezdôra.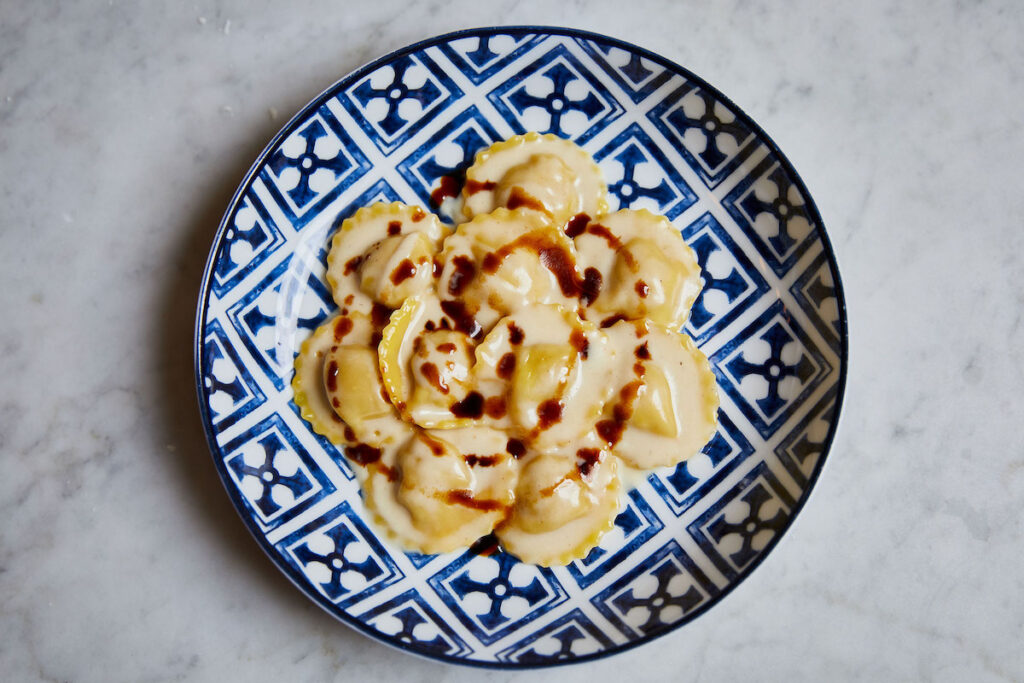 Like La Devozione, Rezdôra offers an all-pasta tasting menu. Unlike La Devozione, Rezdôra has its own charming building on East 20th Street, a Michelin star, and a packed dining room. There are but five courses in the pasta tasting menu, which at $90 feels like a steal. (There is also an a la carte menu.) The Dallas-born chef, Stefano Secchi, is an Emilia-Romagna obsessive and has dived deep into that region's pasta traditions. The tasting menu starts off with tortelli in brodo, the ur-Emilian celebratory dish. Here the tortelli are jewel-size, and stuffed with a mixture of ham, mortadella, veal, and Parmesan. The brodo (broth) is intensely flavorful chicken stock made of older chickens. See, age makes us tastier.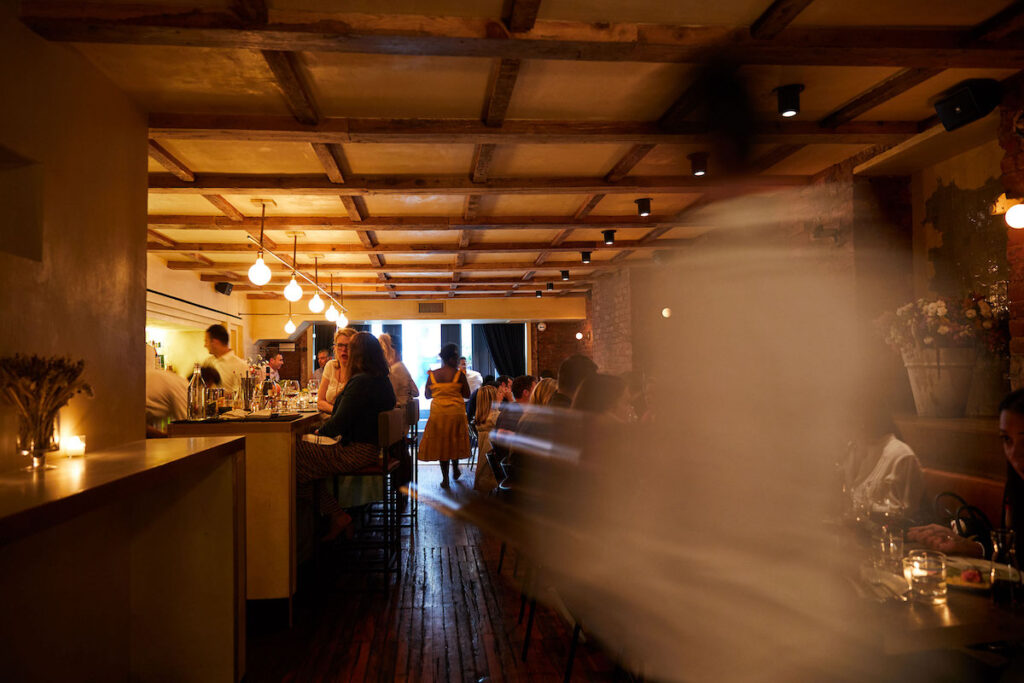 In fact, there might be no better place than Rezdôra to appreciate aging. There were at least three birthdays in the small restaurant the night I ate there. The depth of flavor imbued by time was evident everywhere. In the aged prosciutto di Parma that comes atop pillowy fried gnocco. In the aged balsamic vinegar that is drizzled atop the anolini di Parma, the final pasta. Those arrive, looking like six little meat-stuffed parson's hats, shimmering in Parmesan cream. Secchi, a tall and handsome man, arrives with a cruet of aged balsamic, which he ceremoniously presents above the pasta as a priest might a censer. The viscous liquid forms a dark sweet stream, cutting through the air and then, the richness of the cheese and pasta. And then the dish is ready, the work has been done, and there is nothing left to do but to enjoy.