New York City has had a long and storied love affair with cocktail culture. The father of our country gathered his troops to celebrate the victory over the British at Fraunces Tavern, which still operates today. Everyone has heard of McSorley's Old Ale House. Opened in 1854, it only began admitting women in 1970 (and didn't have a women's restroom until 1986). And then there's the famous (but sadly now closed) speakeasy Chumley's — where the term "86'd" was coined. With two entrances, cops on the payroll would warn of a raid by calling the bartenders and telling them to "Eighty-six your customers" — sending them out the 86 Bedford Street entrance.
Post-prohibition saw a booming cocktail scene — P.J. Clarke's and the 21 Club were places to be seen while washing down olives and mixed nuts with an old-fashioned or a Manhattan. As the city changes, so do New Yorkers' tastes in watering holes. The post-pandemic era has ushered in less of a club scene of the late '70s to '90s, but rather a more intimate atmosphere. Welcome to the new era of cocktail-lounge culture.
Arora
505 Park Avenue, 917-565-9388, thearora.com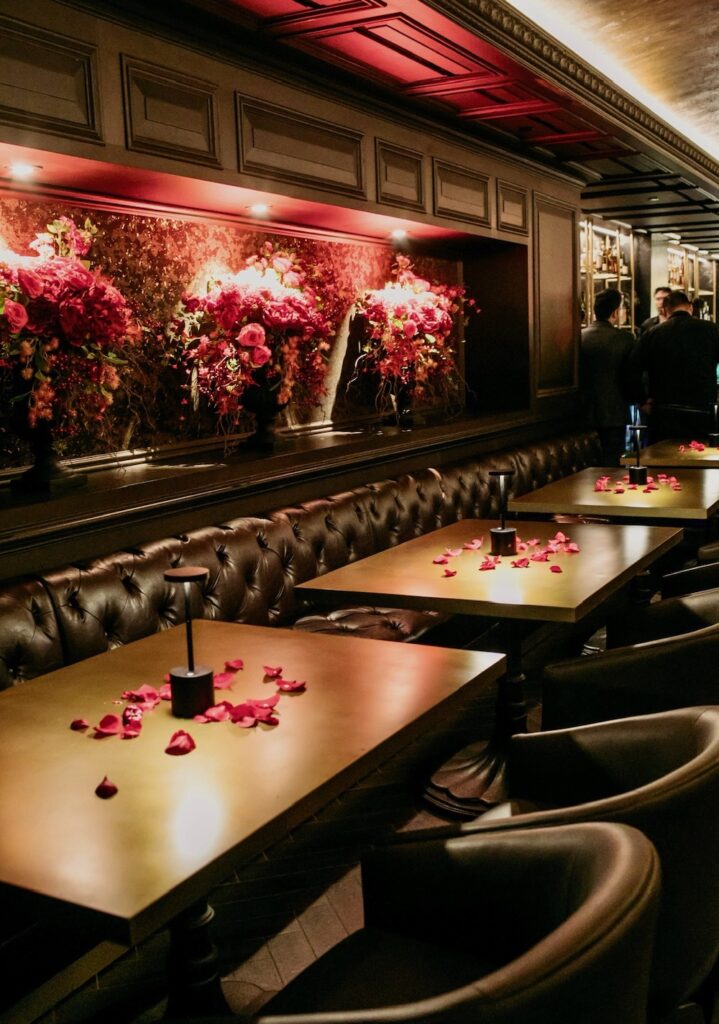 Swanky Arora has gained a loyal following in the under a year it's been open. Upper East Side residents come for the live jazz on the weekend and take advantage of the back room for private parties. The cocktail lounge features 10 variations on an old-fashioned. The Oaxacan is made with tequila and agave, while the Opulent features Rémy Martin XO and chocolate. The Arora's bar menu presents cocktails as collections, allowing guests to choose from a variety of libations. Try the Sinatra from the whiskey/scotch/bourbon collection, or the Van Gogh, which is in the gin/vodka collection, and also includes absinthe. "Personally, I love old Victorian architecture, so, when it was time to design the space, we wanted all walls and surfaces to be covered in millwork," says Rahul Arora, chairperson and CEO of Arora Estates. "The bar itself is clad in natural stone with leather texture, all in a matte finish."
Whether you are popping in for an after-work cocktail or a late-evening nightcap, the Arora is classic Manhattan, straight up.
---
Jac's on Bond
26 Bond Street, 646-370-1446, jacsonbond.com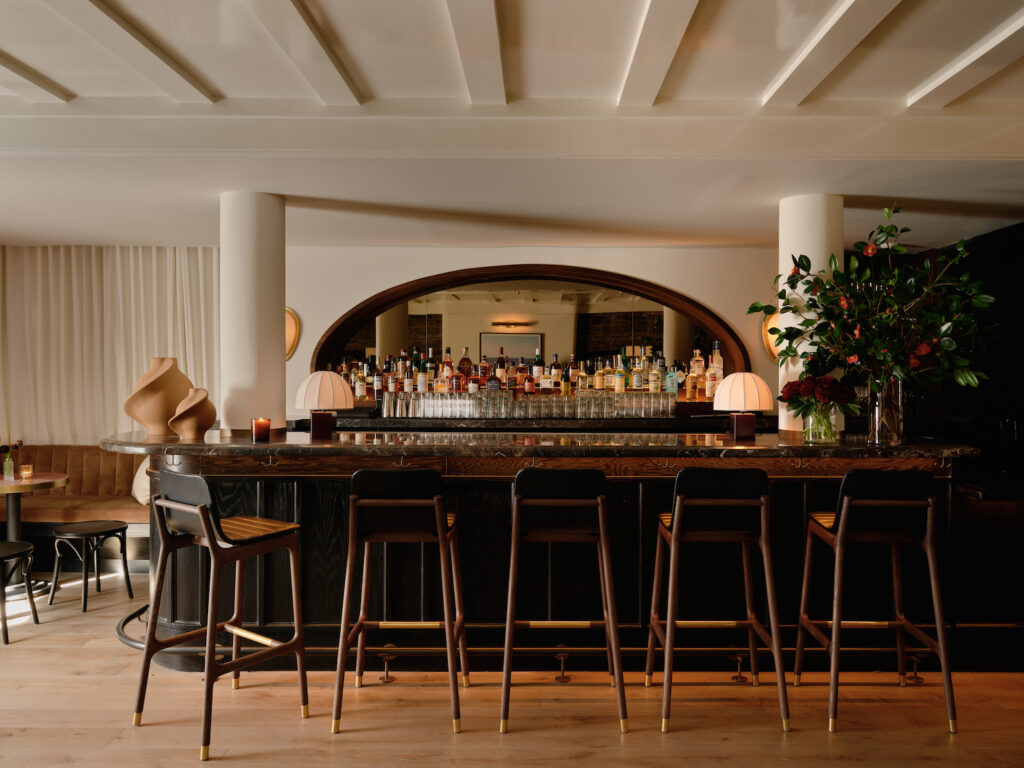 In a restored 1830's town house in NoHo, the former site of the hipster eatery the Smile, Jac's on Bond welcomes a clientele that Carlos Quirarte, partner in Authentic Hospitality, calls "a true representation of the city."
"We're not private-club guys—it's more of a place that can become your clubhouse," he clarifies. Jac's opened during New York Fashion Week last February with a party for the brand Rodarte. Pretty young things love the Caprese Martini (made with olive oil, tomato, balsamic vinegar, and basil-infused Grey Goose vodka) which tastes kind of like a salad. The B.B.O.F. stands for "Banana Bread Old-Fashioned," but to insiders its letters represent a state of inebriation ("Big Ball of F*cked-Upness"). Authentic Hospitality, the guys behind the Freehand hotel's Georgia Room and Pebble Bar (which counts Mark Ronson and Pete Davidson among its investors) created three distinct spaces within Jac's: an upstairs parlor room, a living room, and a subterranean party room. Jac's is a place where Quirarte wants New Yorkers to get together. "I love to hear people say, 'We met at Jac's.'"
---
Romeo's
118 Saint Marks Place, romeosnyc.com
"We are surrounded by the greatest collection of cocktail bars — the best of the best and I wanted to do something different," says Evan Hawkins, co-owner of Romeo's, which just opened in the East Village. Romeo's eschews the decades-old man cave vibe of many bars (Edison lightbulbs, brick walls) for what Hawkins calls "loud, bright, and slightly eccentric — like my brain in a cocktail bar." The design features French-window seating, stucco peach banquettes, and dueling movie projectors showing kung fu films. This spirit of custom creativity extends to the cocktail menu, divided into three sections: "Fizzy Bubbles," which includes a coconut whiskey ginger served directly from a nitrous tap, utilizing a creamer disk to achieve the perfect density; a pistachio mai thai qualifies as a "Smasher;" and Romeo's gin martini and chocolate Negroni are filed under "Boozers."
"We want the space to be unpretentious and fun — we are cultivating a great energy here," promises Hawkins.
---
Martiny's
121 East 17th Street, martinys.com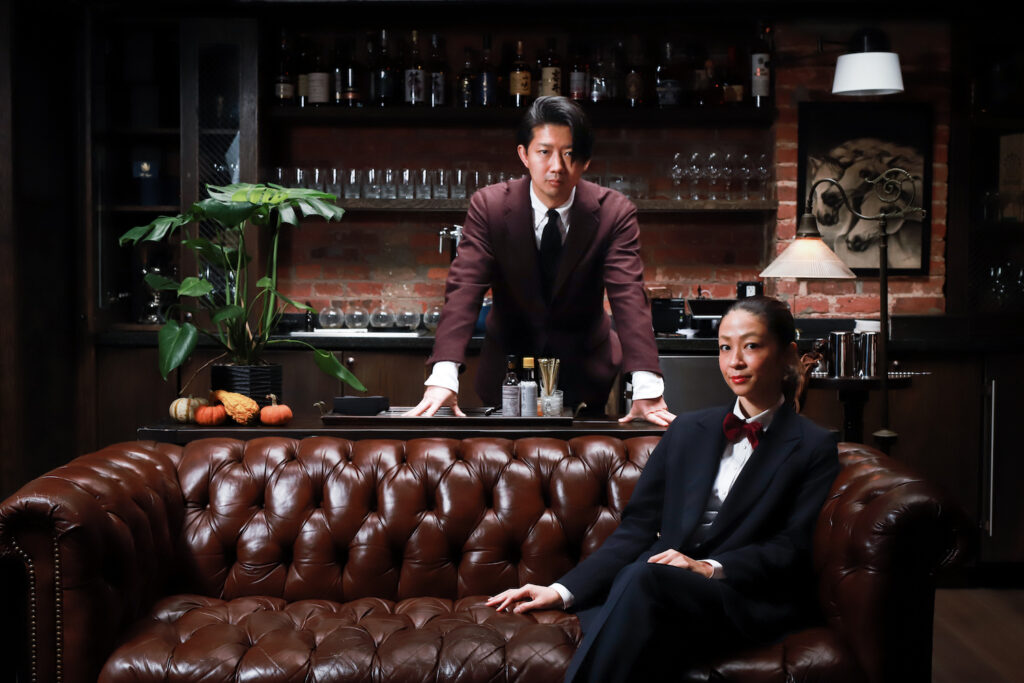 Caviar bumps, Japanese river crabs, shio kombu? We must be at Martiny's — where you will find a martini on the menu, since it's co-founder Takuma Watanabe's favorite cocktail. It also pays homage to Philip Martiny, a French-American sculptor whose studio used to occupy the space that opened in spring of 2022 in an original 1800's carriage house. "Modern Japanese elements are worked in throughout the space to honor my influences from training in bars across Japan," notes Watanabe. The food includes Wagyu tartare with parmigiano, XO sauce, and Hokkaido uni served on top of a mochi rice risotto ball made with brown butter and nori, paired with a tea ceremony: bourbon, matcha, cacao, and coconut water. "At Martiny's, every detail matters. From the way the menu is laid out, to the warm or cool towel upon arrival at the bar, depending on the season," he says.
---
The Irish Exit
Moynihan Train Hall, 421 Eighth Ave, irishexit.com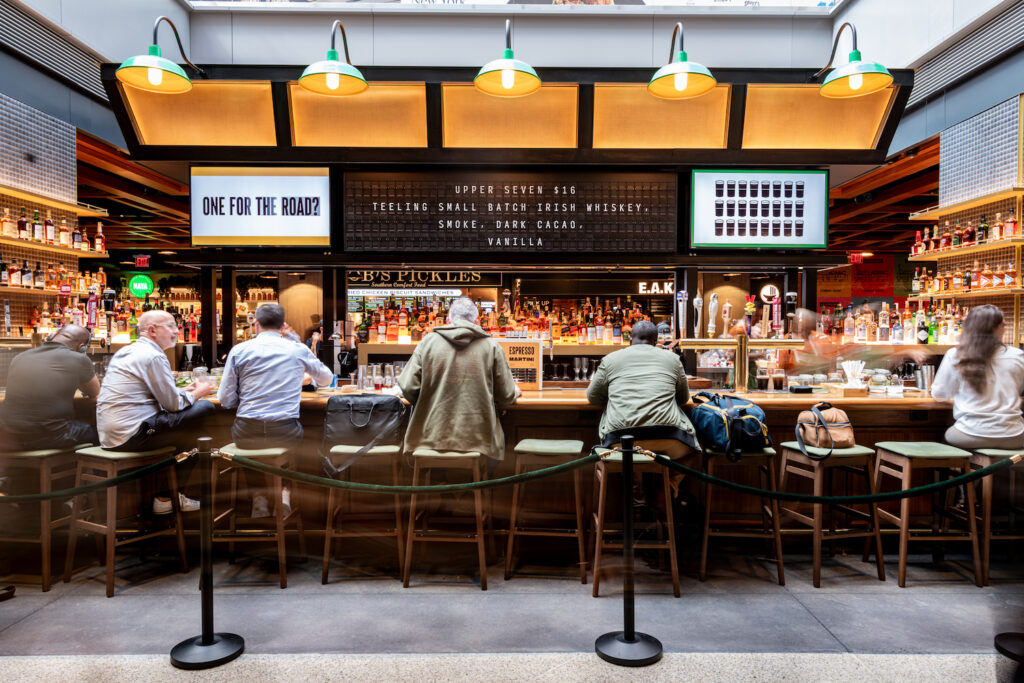 The Irish Exit may be the term for dipping out of a bar without saying goodbye, but at managing partner Jack McGarry's new place, which opened in September, it's more like an Irish entrance. "It was designed for locals and passengers on the go — arriving and departing via Amtrak, LIRR, and the MTA. The bar is the centerpiece for Moynihan Food Hall," he explains. Located on Eighth Avenue across from Penn Station and Madison Square Garden, the Irish Exit offers classic Irish staples such as Guinness, Irish "caw-fees," Irish chips, sausage rolls, deviled eggs, and shepherd's pie, along with clever cocktails with transport-themed names, like the Pullman Sleeper (their version of a Manhattan, made with herbal liqueur) or Train of Thought (a twist on a Negroni with coffee in it). "It's a uniquely authentic, fresh, and contemporary take on the Irish pub, with the warmth and hospitality, without veering into plastic paddy land," says McGarry. "For too long, Irish pubs in America have pandered to a stereotypical reflection, or lowest common denominator, of what a true Irish pub can represent."