It's Christmastime, when the ghosts of the past, present, and future come waddling up to you like dread ducklings muttering of mortality. It's Christmastime, when, from behind panes of glass, trees glimmer and families in ugly sweaters smile in a silent tableau while you watch, forlorn from the sidewalk on the Upper West Side, collar turned up against the cold winds of inflation and loneliness. It's Christmastime, goddammit. Time to head to a bar.
Ever since George Bailey walked into Martini's Bar — "where we serve hard drinks for men who want to get drunk fast," in that ur-yuletide flick It's a Wonderful Life — the bar has been a refuge for the forlorn and brokenhearted on the holidays. But, as George also finds out when he bellies up next to kindly Clarence, it's also where angels order flaming rum punches and rest their wings too.
New York City, where I call home, has perhaps the most varied and diverse bar scene in the world. There are secret cocktail lounges and preening watering holes. There are dives of profound depth and radiant rooftop bars, towering above the street. Bars can be found that specialize in amaro and agave and bourbon and bitters. There are bars that serve only natural wine (though no bars that serve unnatural wine). There are bars that serve hard drinks for men who want to get drunk fast and bars that serve nonalcoholic drinks for men who want to stay sober. (Women are serviced too.) So, it is into bars I burrow more than restaurant banquettes to seek comfort from the chill wind howling its Christmas carol along the avenue. And it is in bars I find glimpses of past, present, and future.
Live in New York long enough and on every street corner lurks a memory: a first kiss on 1st and First, circa 2006; the sound of a man's head cracking on the pavement as he fell in front of Staples on 15th and Union Square West; passing the boat basin on the long walk home during the blackout of 2008. But corners remain corners, relatively little changed. Bars and restaurants, though, flicker in and out of existence like a teleporter on the fritz. Today's bistro is tomorrow's all-day cafe. Yesterday's dark and sexy tequila cantina is now a bright and airy juice bar.
When, in the winter of 2015, Andrew Carmellini opened Little Park in the Smyth Hotel in Tribeca, I wrote for the New York Observer, for whom I was the restaurant critic, that the restaurant "flourishes precisely because its innovations appear modest and easy to grasp." (I have no memory of writing that, but it sounds good.) What I do remember was it being a light and airy space, signaling a step toward healthy eating from a chef known more for his filling fare at Lafayette, Locanda Verde, et al. What I remember are scores of breakfasts accompanied by well-coddled eggs and business lunches over his beetroot risotto.
Last week, when I walked into Smyth Tavern, those memories flooded back, both real and unreal. Little Park, beacon of beige, had blinkered out. The new tenant for the corner space, Smyth Tavern, is the brainchild of the restaurateur John McDonald, and as close to Clarence Odbody as Soho has. The light curtains have been replaced by mahogany paneling. Empty space has been filled with large, framed photographs by Peter Schlesinger, Len Prince, and Anne Collier (they are on loan from a private collector). And the bar, hitherto where one simply waited for one's table, was lively. I settled myself into a deep banquette and ordered a drink, then more drinks.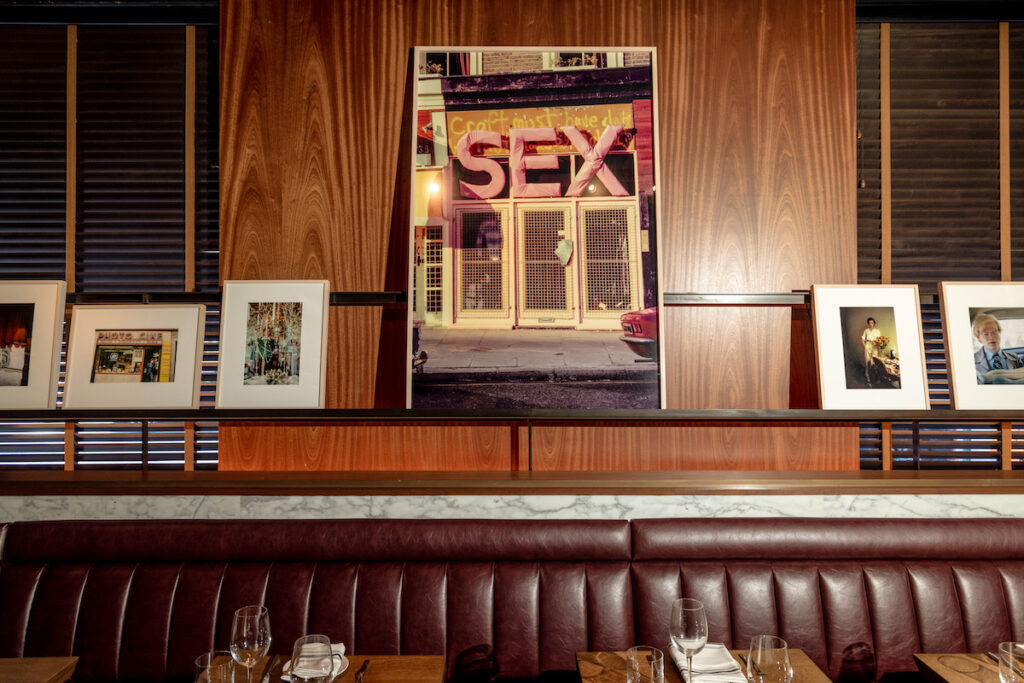 It has become de rigueur these days to have a super fancy Manhattan on the cocktail list that towers above the other drinks in terms of consideration and price. Smyth Tavern's variation, at $40, is by far the most expensive drink on the menu — the other cocktails hover around $18 — and is, by far, the best. Stiff as a schoolmarm's spine, the drink weds Maker's Mark Cask Strength whiskey with an artisanal corn-based whiskey called Abasolo from Mexico and silky Suntory Toki from Japan. It's rounded out by a sweet vermouth made in the Finger Lakes and an amaro made in Brooklyn. It's not quite Manhattan, but it's ambitious and powerful enough to make it here.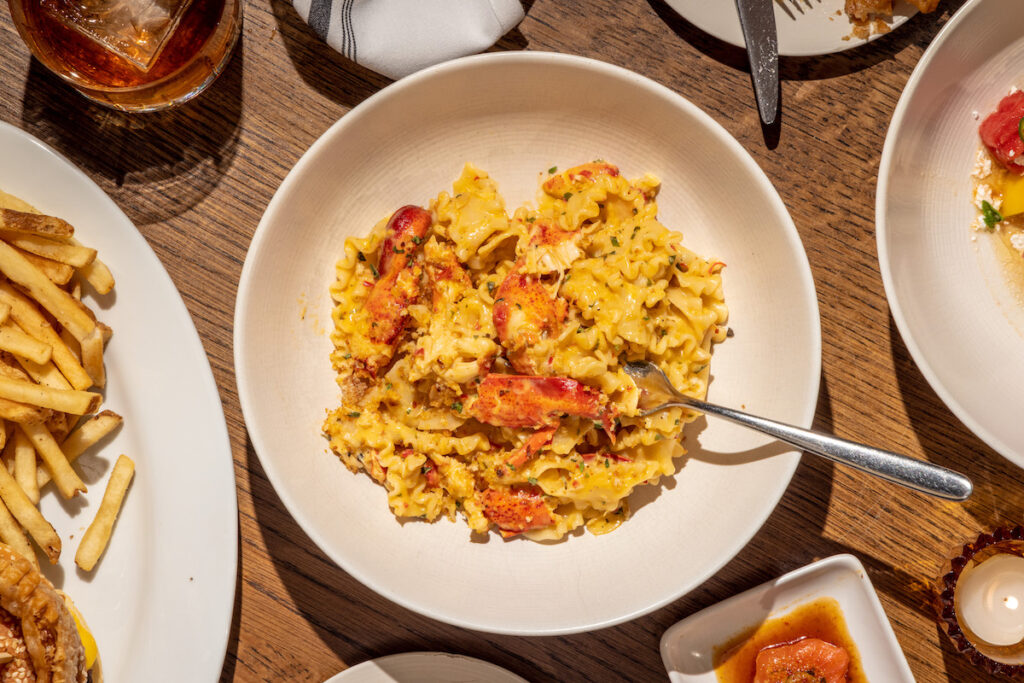 McDonald, whose other recently opened restaurants include Hancock Street and Bar Tulix, has always paid attention to the food at his bars too. And, as befitting a tavern, this one also offers sustenance. What, I wonder, does it indicate that Carmellini's light sandwiches of great virtue have been replaced by hearty fare like deviled eggs, each topped with a quenelle of caviar or — even better — a fried oyster; or a double cheeseburger with bacon jam which wears three onion rings like the hat seller in Esphyr Slobodkina's Caps for Sale? (I think it means that in times of increased uncertainty, we turn to caloric comfort and fin de siècle decadence as a bulwark against the economic and cultural chaos unfolding just outside the restaurant window.) Whatever the underlying reasoning, I'm all for it, especially because the flavors in every dish burst with an appealing dynamism. Take, for instance, the Branzino St. Tropez, which, generally speaking, isn't a thing. (It does exist, whole and at $112, at McDonald's other restaurant, Lure Fishbar on Mercer Street.) But who cares if it's made up when the fish, crispy skinned and tender fleshed, arrives perched on a hillock of creamy mashed potatoes under a bracingly acidic lemon and caper sauce? It's as bright as the room is dark, as cheerful as my thoughts are saturnine.
I'm lost in a fog of first kisses and third cocktails. The night before I stopped by Deux Chats, a new Parisian-esque wine bar on Broadway in Brooklyn, near one of my first Williamsburg apartments. Back then, the corner of Deux Chats was just another home in the shadow of the Williamsburg Bridge. The Williamsburgh Savings Bank was still a bank and the only restaurant on that stretch was Diner, God bless it. For a while, 27 Broadway, where Deux Chats is now, was Donna, a really good and surprising cocktail bar. That closed in 2021 — 'rona — and now it's been reborn by Jon Neidich, the nightlife impresario behind Acme and the piano bar The Nines in NoHo. God, the martinis were strong and so crystal clear when I was there, both the standard (made with manzanilla) and the kinky (made with spicy vodka, Ancho Reyes Verde, vermouth, and Cocchi Americano). And the "petits plats" of tomato carpaccio or chilled mussels were delightful. They embodied a certain spritely hopefulness and well-being.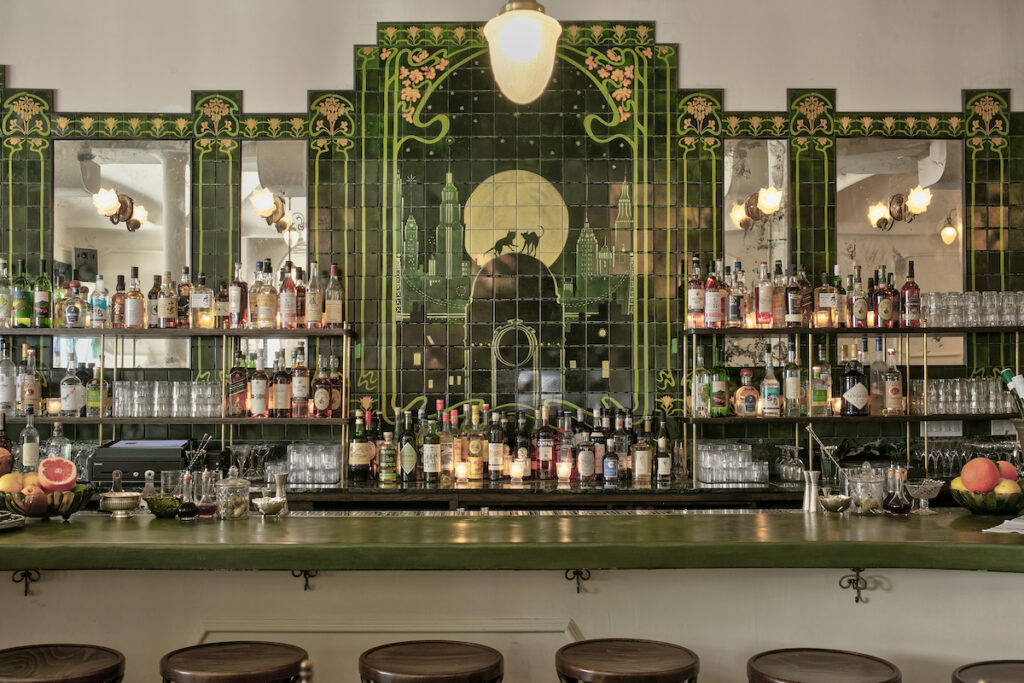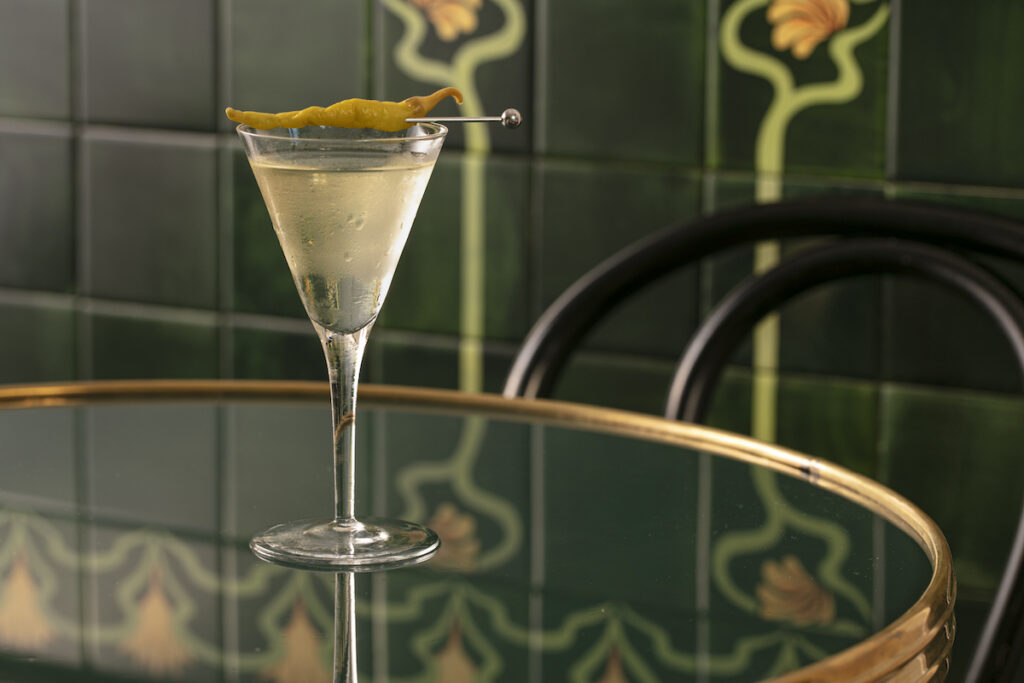 How young our waiter seemed, an elfling of a boy, a former journalist from Portugal, with a charming mustache perched atop his cherubim lips. Youth seems to bathe that place like the sun setting upon the coast: golden. Naturally, my own thoughts turn toward the past too. I've made up in restaurants, but I've made out only in bars. I've dined in the former, but danced in the latter. Memories surface like diamond bubbles from dive bars like the Rock Star Bar, a few blocks north of Deux Chats, where Pies 'n' Thighs was run out of a closet in the back to jazz clubs like Wild Birds in Bed-Stuy that unceremoniously closed in September. (Not all that unceremoniously actually. An all-female brass band led a touching Second Line that snaked around the block.) It's hard to believe that the original neo-speakeasy Milk & Honey, locus of so many late nights and later dates, closed ten years ago. And that Joanna is happily married with two kids and Christina doesn't live in the city anymore and that I just turned 41 and have arthritis. It seems like yesterday I was lithe and young.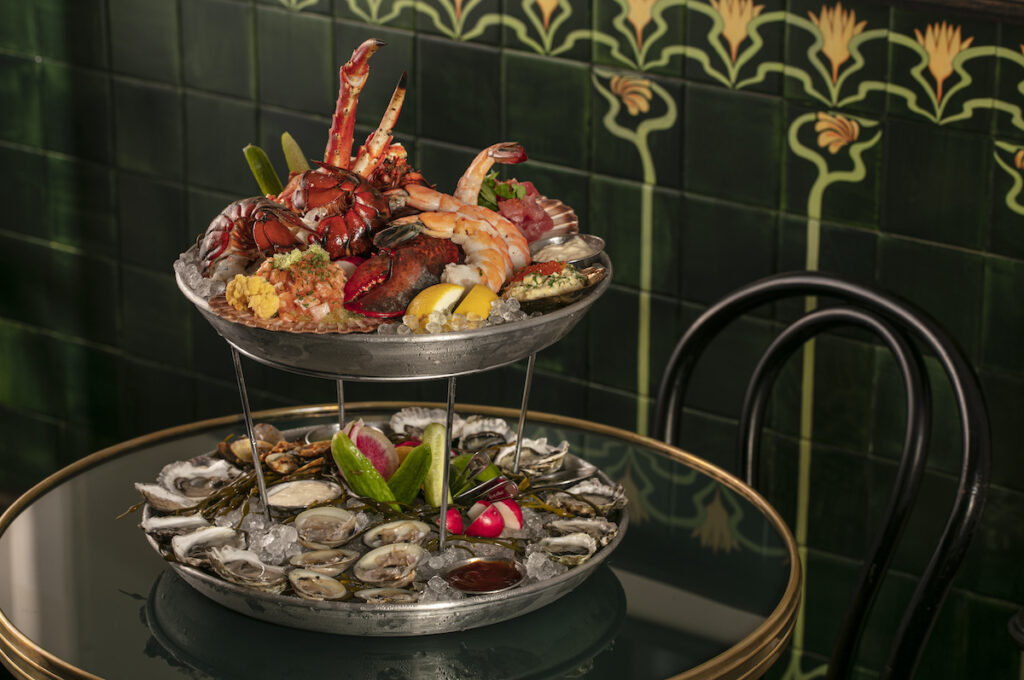 But yesterday seems like an eternity ago. I snap out of it. I'm back at Smyth Tavern, present day. Just like Martini's, Smyth Tavern serves hard drinks for men who like to get drunk fast. And, as I am gradually filled with mafaldine coated with uni-butter and interspersed with lobster knuckle, not to mention a few more Manhattans, I become simultaneously euphoric and overcome with melancholy. How many of the drinkers at the bar remember what was once here so recently? And if they don't, who does, and does it matter? And surely even this thought itself is not original, nor will it be unthought again for long. For New York City, especially around the holidays when half the city has gone home, is a city of ghosts, a few angels, and many bars.