Daniel Arsham
friedmanbenda.com
With a design practice that exists at the intersection of art, architecture, and performance, Daniel Arsham's work reflects his varied life experience since graduating from Cooper Union nearly two decades ago. After designing sets for the Merce Cunningham Dance Company, he went on to launch the pioneering New York–based architecture firm, Snarkitecture, in 2007 with partner Alex Mustonen. Arsham has collaborated on a suite of high-profile projects with music producer Pharrell Williams and designer Hedi Slimane, as well as luxury brands Dior, Porsche, and Rimowa. His editioned lighting fixtures, fractured tables, and "rubble" couches, available through Friedman Benda, reflect Arsham's fascination with archaeology, poetically combining a sense of the past, present, and future.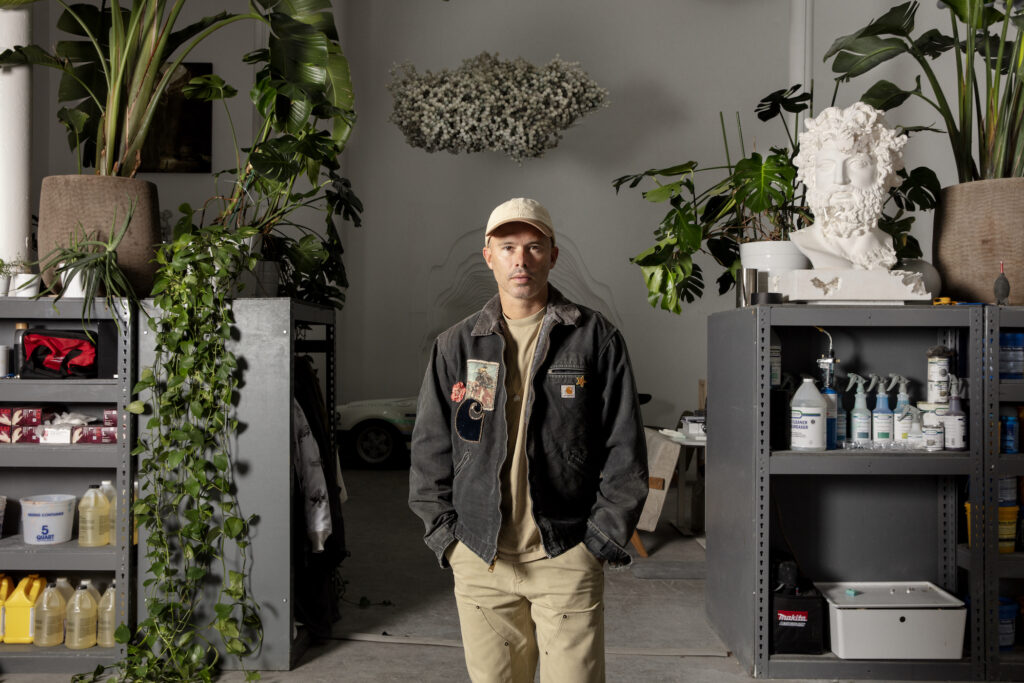 Gabriel Hendifar
apparatusstudio.com
Though he split at the end of 2020 with his business and romantic partner Jeremy Anderson, who is now turning his hand to sculpture and ceramics, Apparatus co-founder and creative director Hendifar remains a name to watch and drop in chic lighting and design circles. His heady mix of intellectualism and sexy, retro-inflected aesthetic that owes as much to Cardin and Halston as it does to the Wiener Werkstätte, was on full display at the May unveiling of his latest 1960s-inspired collection, "Act Four." We eagerly await the next installment.
Karl Zahn
karlzahn.com
A graduate of the Rhode Island School of Design, and later the real-world school of Lindsey Adelman in New York, where he worked as design director of the Lafayette Street studio, Vermont-raised freelance designer Zahn is a gun for hire for companies such as Artecnica and Teroforma. In addition, the Brooklyn-based designer has a line of hard-edged and beautifully crafted modern pendants, sconces, and floor lamps (to say nothing of furniture) sold through Roll & Hill, the Mercer Street showroom that, much like Flos and Artemide in Europe, collaborates with exciting local talents.
Chiara de Rege & Costanza Theodoli-Braschi
maisonc.com
"Neither of us wanted to put out another wallpaper line with the expected motifs," says interior designer Chiara de Rege of Maison C, the decorative wallpaper firm she founded with fine artist Costanza Theodoli-Braschi. "We wanted something mural-like with depth. Ultimately we hope the paper feels like it's always been there, as if painted onto the walls." Theodoli-Braschi's drawings are all meticulously drawn by hand riffing on myths, nature, fantasy and folklore such as a coven of naked women frolicking and a girl named "Parachute Pip" floating amongst the stars. "I use wallpaper for color and pattern in a room," de Rege explains. "But it can also serve as a backdrop in a room, like art does." Next up for Maison C: their dreamlike patterns will appear on textiles this fall.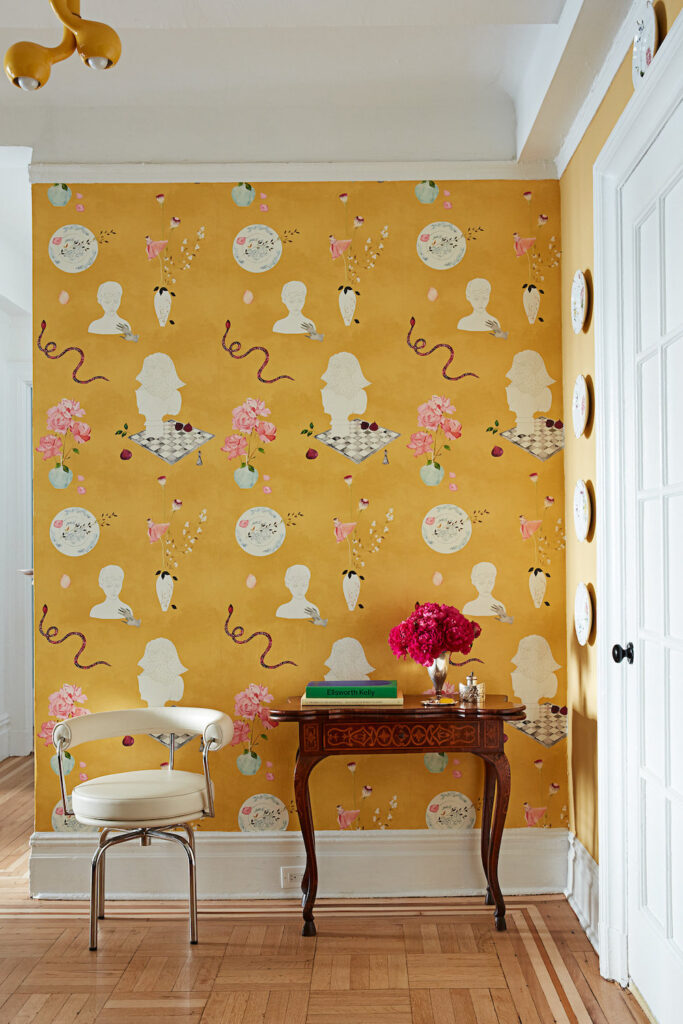 Jay Johnson
jedjohnson.com
Jed Johnson Home, the luxury textile collection, is an outgrowth of the interior design firm Jed Johnson Associates and was started by Jed Johnson (who tragically died in the TWA flight 800 crash in 1996) and carried on by his twin brother, Jay, in 2006 to honor his legacy. Jed and Jay were habitués of Andy Warhol's Factory, but JJA textiles are decidedly elegant and restrained, with nary a soup can or Marilyn Monroe face to be found.
Tom Sachs
tomsachsfurniture.com
Art world star Tom Sachs, famous for his NASA, Hello Kitty, and Chanel guillotine bricolage sculptures, has always designed furniture, but now, in a Warholian manner, he is bringing his DIY pieces to the masses. Made with his New York studio team (which he likens to a "teaching hospital or cult that worships plywood and an ethos of transparency"), Sachs's pieces made out of plywood, resin, steel, and ceramic, feel purposely handmade and utilitarian, like the Crate Table, which is made with orange and white ConEd barriers.
Liz Collins
lizcollins.com
"Much like the tapestry artists of the Renaissance, Liz Collins has pushed fabric into the realm of contemporary art, on par with painting and sculpture," says curator and critic Glenn Adamson of the Brooklyn–based, RISD-trained textile designer who first made a name for herself in knitwear. Collins has collaborated on home furnishings with brands such as Ligne Roset, Flavor Paper, and Harry Allan, and has just executed a major commission for Meta, which graces its new 700,000-square-foot office space in the Moynihan Train Station.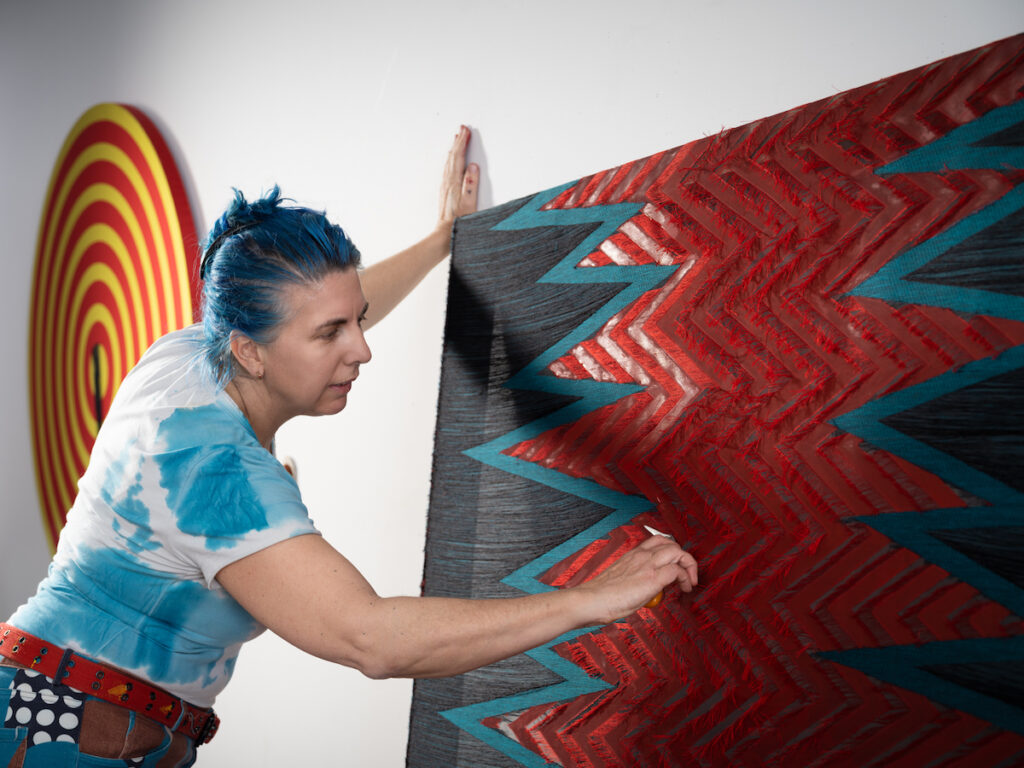 Flavor Paper
flavorpaper.com
Brooklyn-based Flavor Paper creates wallpaper that flips the design world upside down. Think: Day-Glo and invisible inks, holographic patterns, and scratch-and-sniff scented designs straight out of Willy Wonka's Chocolate Factory. At their headquarters, known as the Flavor Lair, the collective produces wallpaper by hand-screened and digital printing, using water-based inks to be as green as possible. In 2013, Flavor Paper was granted the exclusive rights to Warhol's masterpieces, which they bring to life in wallpaper.
Nicholas & Rachel Cope
calicowallpaper.com
Wallpaper is never just wallpaper when it comes to Calico, the bespoke paper making studio founded nearly a decade ago by Rachel and Nicholas Cope. Instead, it is an immersive space of hypnotic cloud formations, or an ethereal night sky, or a tranquil panorama of trees, as with their "Forest of Reflection" wallpaper unveiled this June at the Salone del Mobile in Milan and part of their new Tableau collection. "It gives this feeling of the seasons changing," Nicholas Cope says of the non-repeating pattern based on photographs taken in woodland in Karuizawa, Japan. Since creating their inaugural "Wabi" wallpaper in 2012, the couple and their New York–based team of 23 have collaborated with artists such as Faye Toogood and Lindsey Adelman. Their latest collection is "Scenic," created in partnership with the architect-academic Elizabeth Roberts, who was inspired by late-19th century landscape murals and the Frederick Law Olmsted–designed Prospect Park.