Chris Schanck
friedmanbenda.com
"My works exist on a spectrum. On the one end they are practical and functional, and on the other they are aspirational and speculative — the ultimate blend of reality and fantasy," says Detroit-based designer Chris Schanck, who has gained quite a following for his otherworldly fusion of sculpture and furniture. The strange, unfamiliar forms of Schanck's chairs, sofas, lighting, mirrors, and more suggest coral reefs, extraterrestrial worlds, and artifacts from ancient civilizations. An exhibition of his oeuvre, currently on view at the Museum of Arts and Design, runs through January 8, 2023. He is represented by Friedman Benda.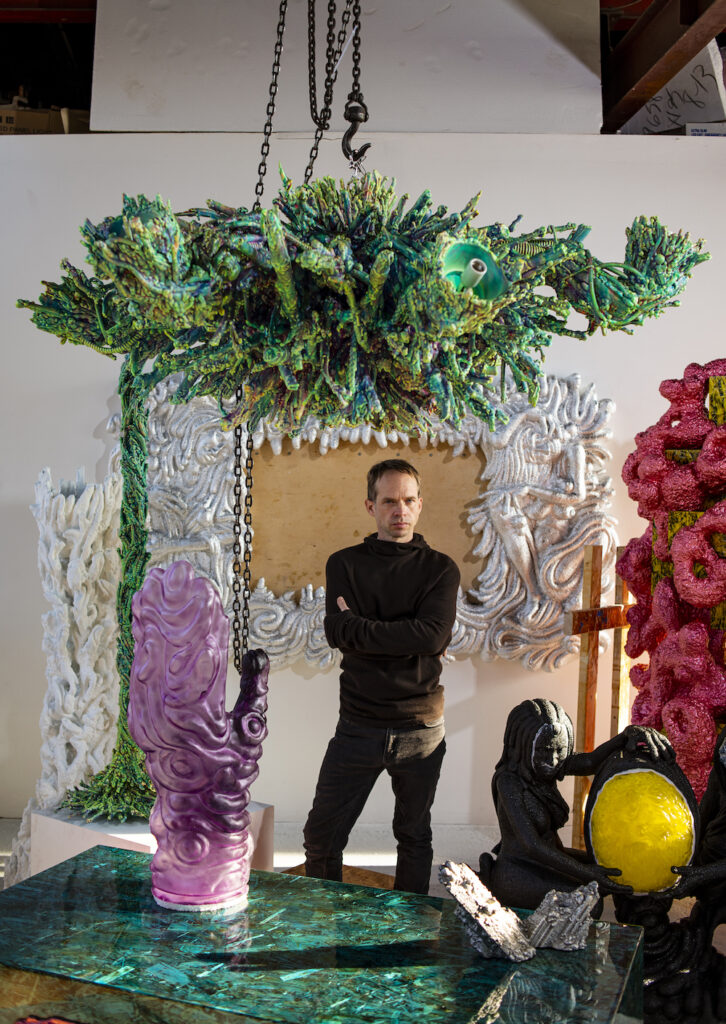 Lindsey Adelman
lindseyadelman.com
"I have long been obsessed with illumination in all its forms," says maverick New York lighting designer Lindsey Adelman, who tells Avenue that her work has been inspired by such diverse sources as Eva Hesse's Rope sculptures; the pattern, colors, and bodily ornamentation of the Maasai of Kenya; and even the films of David Lynch. Since the 2006 debut of her "Branching Bubble" chandelier, the first product to roll out of her NoHo studio, the Rhode Island School of Design-minted designer has strived to "transform the ephemeral nature of light into something not merely tangible but enduring."
Pierre Yovanovitch
pierreyovanovitch.com
After the success of his furniture pieces for the R & Company gallery (his coveted Mama Bear Chair, inspired by the Goldilocks fairy-tale, was recently acquired by the Musée des Arts Décoratifs), the acclaimed Paris and New York–based French designer launched his own brand last year, Pierre Yovanovitch Mobilier. Highlights of the 45-piece collection of refined lighting, seating, and accessories is the Hopper armchair, with its bronze frame, and the Quinn coffee table, with its rose-tinted glass top and oxidized metal base inspired by the shape of langues de chat cookies.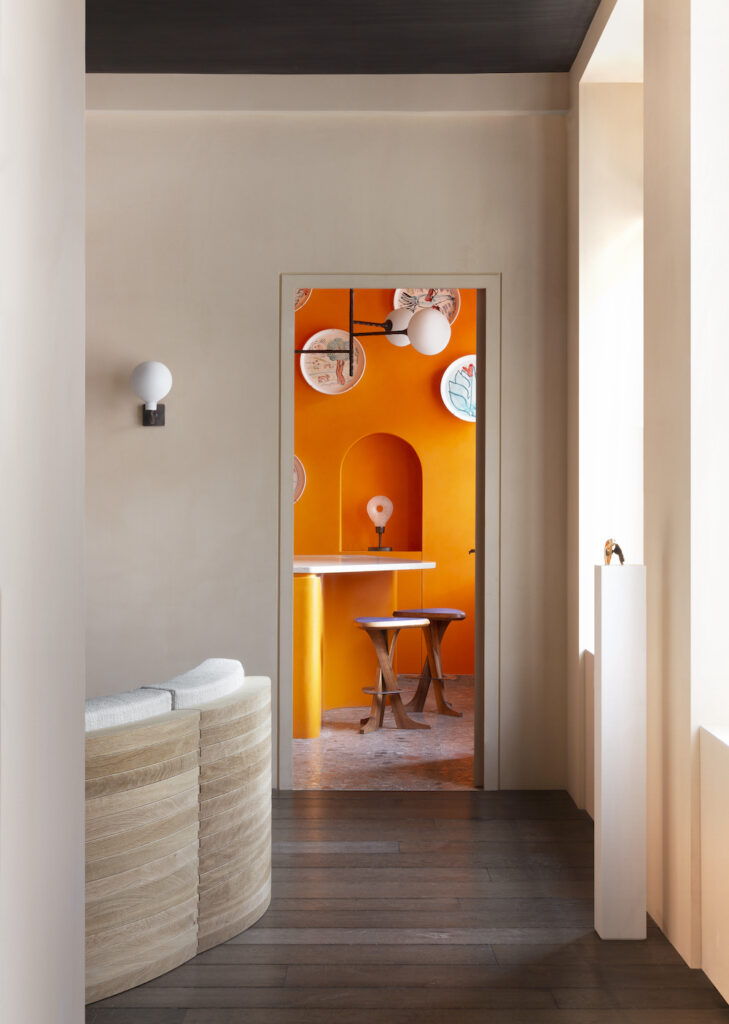 Rick Owens & Michèle Lamy
carpentersworkshopgallery.com
In the decade since West Coast fashion bad-boy Rick Owens and his Parisian muse Michèle Lamy began custom designing furniture, their austere Brutalist sculpted creations have found a following among the fashionable in art and entertainment. An A-List designer's favorite: the leather cushion covered "Double Bubble" recamier, available in poured concrete, plywood, and alabaster. They are represented by Carpenters Workshop in New York.
Anna Karlin
annakarlin.com
At once luxurious, sensuous, and austere, Anna Karlin's lightworks and furniture pieces are elemental, tactile meditations on form that draw the viewer in — look here, rest here. "When it comes to lighting," says critic Glenn Adamson, "the young London-born, New York–based designer's work bridges that of notables Michael Anastassiades and Lindsey Adelman, Karlin's luminous objects being quasi-autonomous sculptures with extraordinary craft integrity."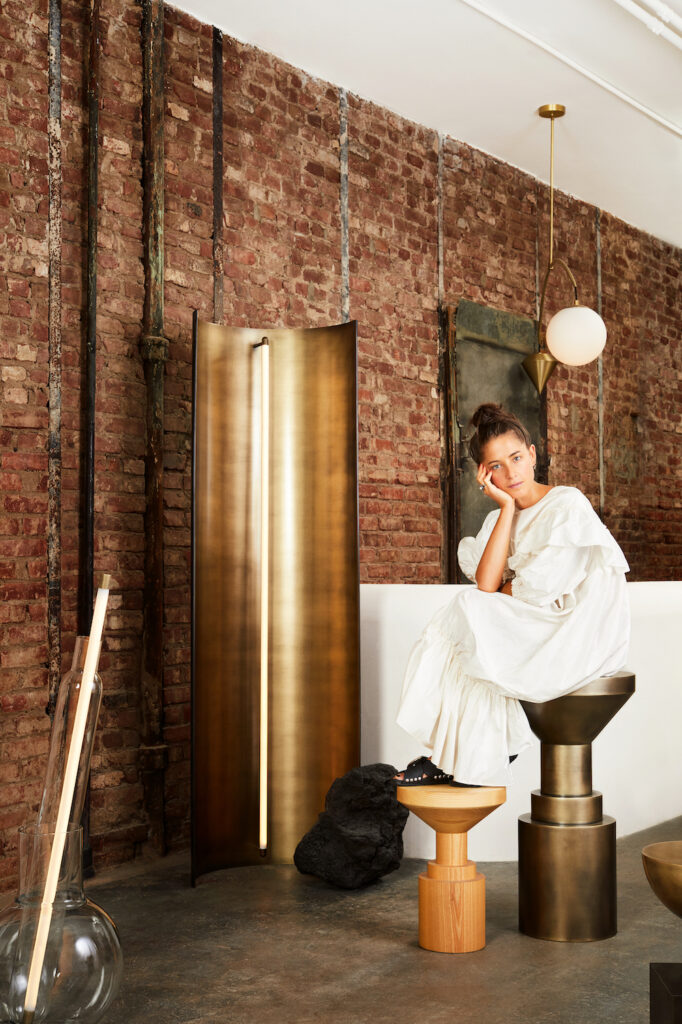 Asad Syrkett
A former editor at Curbed and writer and brand consultant who ran the New York operations for the Swedish brand Hem, Syrkett was hired as editor-in-chief of Elle Decor in September 2020. Since his first official issue as editor of the industry standard bearer in March 2021, Syrkett has given new life to established franchises such as the A-List, and introduced a new project devoted to sustainability, as well as being part of a committee to give out grants for the #BlackVisionairies collaboration between Instagram and the Brooklyn Museum.
Niamh Barry
niamhbarry.com
A self-confessed pyromaniac who picked up her first welding torch in 1991, Dublin-based lighting designer Niamh Barry has been charged with creating ethereal LED-powered bronze fixtures for residential and commercial spaces alike. Her personal goal: "To create pieces that emit a primal light that draws one in." Given the shear physicality of welding, annealing, quenching, and hammering, Barry's luminous output is but three dozen pieces a year. She is represented in New York by Benoist Drut of Maison Gerard.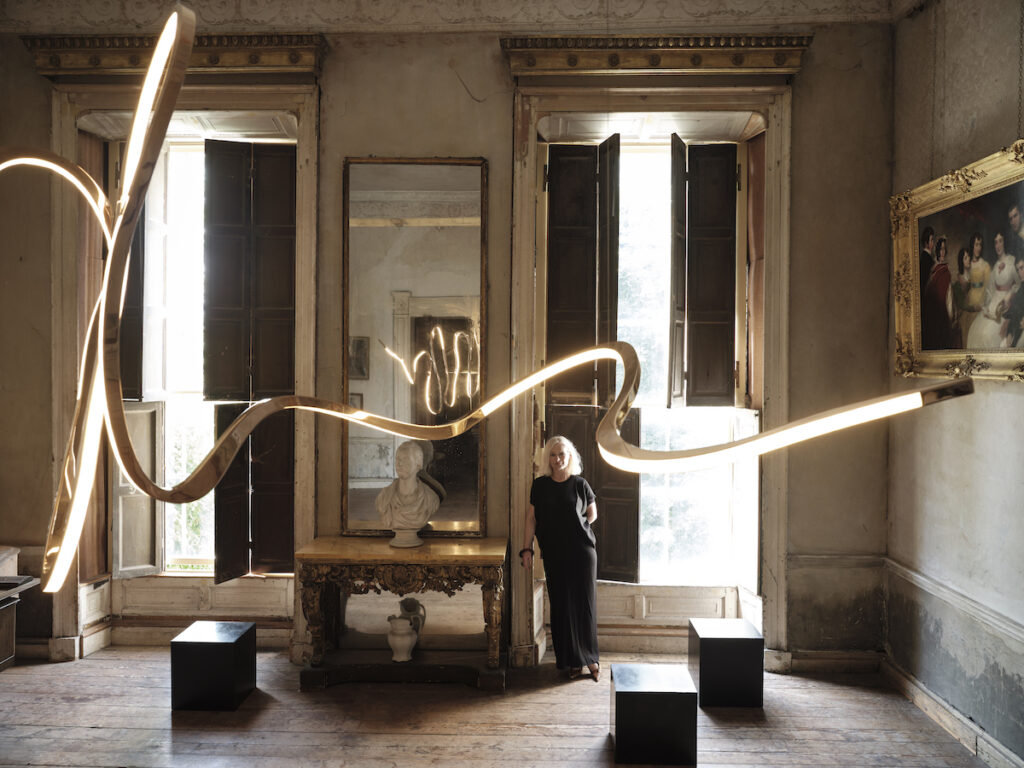 Juan & Paloma Garrido
maisongerard.com
Madrid-based siblings Juan and Paloma Garrido, who trained under the watchful eye of their silversmith father, have made waves in the design world with their statement pieces, ranging from candlesticks to coffee tables. Signature offerings include geometric masses of highly polished metal topped with glass, such as the "Aristas" table from 2019. They are represented in New York by Benoist Drut of Maison Gerard.
Bec Brittain
becbrittain.com
A protégé of one of the materfamilias of American lightning design, Lindsey Adelman, Brittain has been making a name for herself since launching her conscionable namesake brand in 2011. Her dramatic lighting fixtures, including the reconfigurable, award-winning SHY light, and site-specific installations at Patrick Parrish Gallery and The Future Perfect, among others, are all exclusively made in New York, while a healthy percentage of the company's annual profits goes to support worthwhile initiatives such as National Bail Out.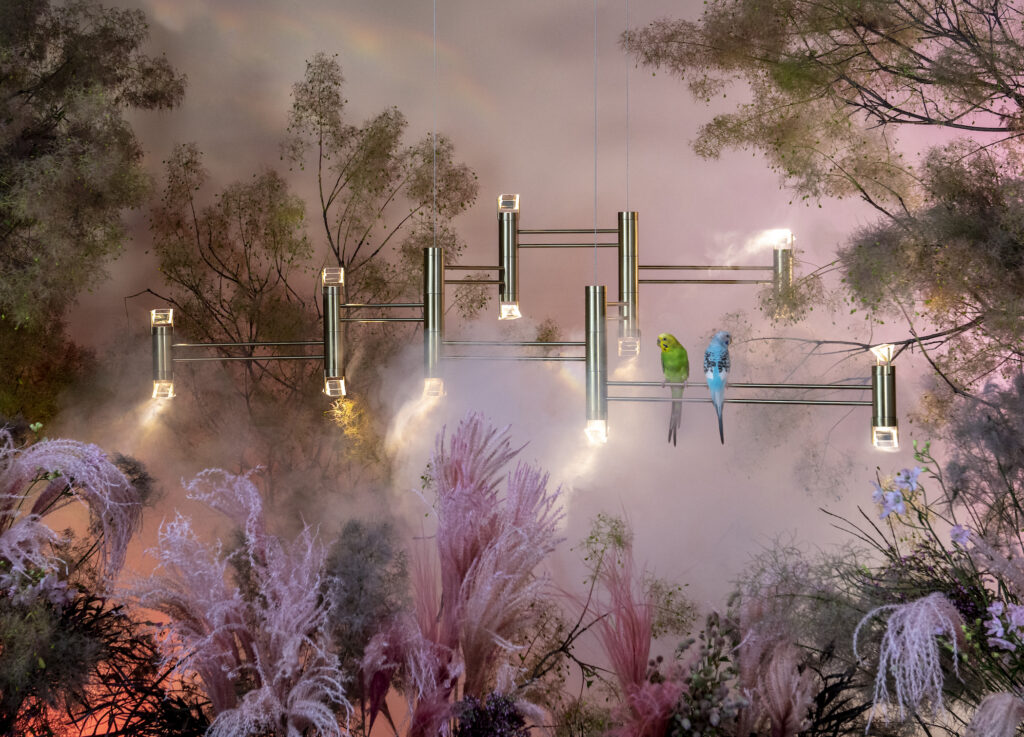 Colin King
colinking.com
As handsome as he is talented, the former classically trained dancer and social media adept King is enjoying a tireless pas de deux with the design world, a stylist for brands such as West Elm, Anthropologie, and Roman and Williams Guild, and celebrated in publications such as Architectural Digest and T Magazine. In addition, the 34-year-old Columbus, Ohio native has a number of product lines including for Beni Rugs, of which he is artistic director-at-large, as well as accessories for MENU.
Christian Siriano
christiansiriano.com, sirianointeriors.com
Fashion favorite Christian Siriano grew up going to furniture showrooms with his mother. "I fell in love with the lines and architecture of furniture design," he says. "I think a perfectly cut leg of a table or chair is a lot like a beautifully cut dress — it can be so sexy, chic and functional." Siriano's sculptural, modern furniture collection, which he launched last year, are definitely statement pieces. "They are not really something you are lounging on, watching TV," he admits. The fashion world darling, who has dressed everyone from Jennifer Lopez to First Lady Michelle Obama, also runs Siriano Interiors, his design firm that has eight residential projects in the works and just completed the 15-room Inn of Chagrin in Chagrin Falls, Ohio. "I get sick of looking at clothes," he says. "It's nice to have another outlet to explore my ideas and design a fabulous chair or beautiful room."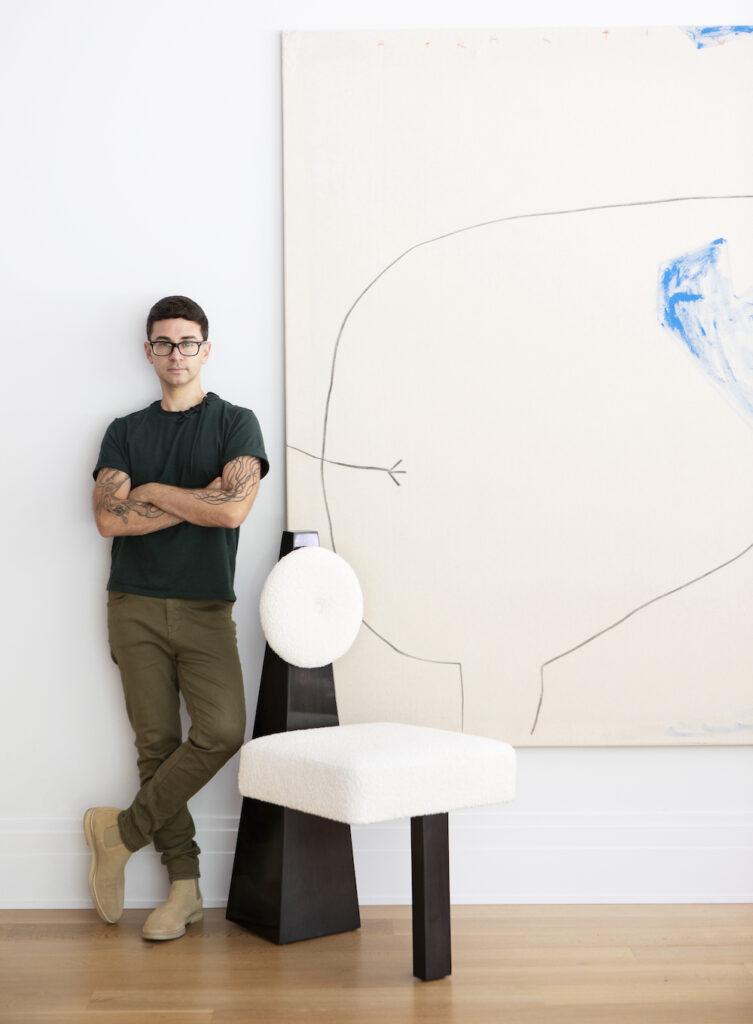 John Robshaw
johnrobshaw.com
John Robshaw got his start in textile design as a smuggler, he jokes. "I had a teacher at Pratt who did sequined dresses hand-loomed in India for all the big runway shows. He used to fly students over with the patterns, and when the dresses were done, we smuggled them back." India is, of course, where Robshaw learned about block printing, a tradition manifest in every line of casually luxe bedding, pillows, and furnishings he introduces, including, this year, little pavilions inspired by Indian wedding and riding tents.
Tom Dixon
tomdixon.net
"It is all about 'future-proofing' our product line," says vaunted British designer Tom Dixon, who is currently celebrating his 20th year in the business. To mark the occasion, Dixon has released a host of new covetables crafted with the future in mind — towering turmeric-scented room-diffusers made of mycelium; generously scaled cork dining ensembles; and luminous bubbled chandeliers for which he is known, reimagined out of recycled materials. Reflecting on his two decades of output, Dixon tells Avenue, "It's about longevity and living in the future — exploring new materialities as we continue to make the very things that got us to where we are now." In terms of his interiors projects, next on the drawing board is the design of a "collector-car-garage-meets-gentlemen's-club" in Japan.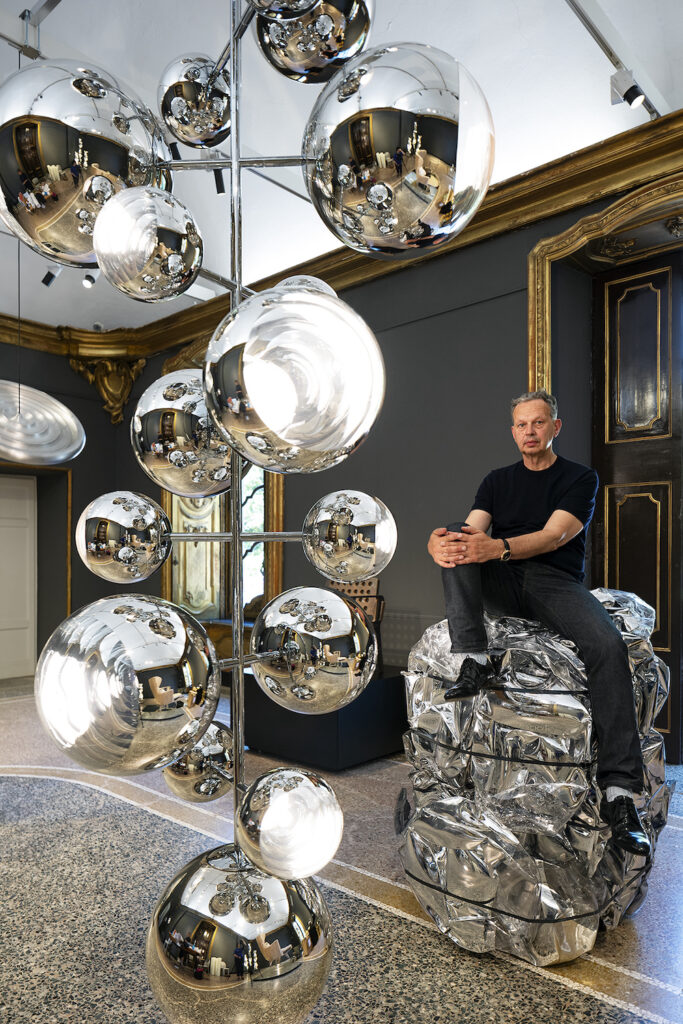 Thomas O'Brien
aerostudios.com
Thomas O'Brien is unabashed about "looking for beauty," as he puts it, wherever he can find it, whether in his finely calibrated past-meets-present interiors for such clients as Giorgio Armani, Donna Karan, and his old boss, Ralph Lauren, or the destination shop Aero, which recently moved from SoHo to the New York Design Center. "I want to create a shop within the shop there," the interiors and furnishings designer reports. "I have so much I've collected for years, beautiful things no matter what they are, and this is a way to share them."