Now that Palm Beach is officially New York society's adopted zip code, restaurants (and a tough table code) reign supreme. Avenue gets the scoop on how to crack the island's social dining scene — and score a reservation.
SWIFTY'S
The Colony Hotel, 155 Hamon Avenue
There were mascara-smeared tears shed along New York's Lexington Avenue when Swifty's restaurant closed in 2016. But the famed New York socialite clubhouse lived to see another day, thanks to Sarah and Andrew Wetenhall, who purchased the iconic Colony Hotel in Palm Beach that same year and gave Swifty's a limited-engagement pop-up at the hotel in 2020. It was such a smash that the pop-up quickly turned permanent.
The Vibe: "Swifty's reminds me of why I chose to live and work in Palm Beach. It's a vibe," says CEO and founder of luxury skincare brand MUTHA and full-time resident, Hope Smith. Since opening, this restaurant in the "Pink Paradise" — as Joey Wölffer, the co-owner of Wölffer Estate Vineyard, describes The Colony Hotel, which turns 75 years old this year — has lured the likes of Venus Williams, Delfina Blaquier, Georgina Bloomberg, Jonathan Adler, Austin Mahone, Kiernan Shipka, and Nicky Hilton Rothschild to its doors. "There is always such a great crowd and buzzing energy at Swifty's, making it a perfect spot for date night or a fun evening out with friends," reports Wölffer. Sunday bingo and Monday trivia nights, which Andrew Wetenhall calls "spirited competitions poolside," attracts the younger crowd (by Palm Beach standards, at least). Plus: the layout of the hotel is perfect for private events — if you're on the guest list, that is.
Where to Sit: Malcolm Carfrae, the urbane owner of Carfrae Consulting, says a perch by the pool at The Colony is "Palm Beach glamour personified. Chic, fun, and lots to look at." These tables also make for the best Instagramable moments, so expect the PTY of PB — Pretty Young Things of Palm Beach — to make a mad dash for them, especially at photo-friendly sunset. If you want something a little more low-key, tastemaker Celerie Kemble, who assisted in the redesign of The Colony, suggests having a martini and stone crab at the bar, "where you can see a scene and be cozy at the same time."
What to Order: The Colony's iteration of Swifty's has many of the same hallmarks of the original, including a meat loaf that legendarily came from Bill Blass's mother's cookbook. All of the seafood, but especially the crab cakes, get rave reviews, and Hope Smith insists you get the "crushed avocado appetizer, which is served with the most amazing d'Espelette tortilla chips that are drizzled with honey. They are addicting and I crave them all the time." We're sold.
How to Snag a Reservation: Be on first-name terms with Robert Caravaggi, the former chef and maître d' respectively of legendary Upper East Side boîte Mortimer's and the original New York Swifty's location. He now mans the Palm Beach location as well.
Pro Tip: "Be a lady or gentleman. Introduce yourself to the proprietor or maître d' and be polite and kind. Those who bluster and are demanding or rude find that restaurants are booked when they call," says Wetenhall, who dishes out this principled advice for any institution in Palm Beach.
LE BILBOUQUET
245A Worth Avenue
Palm Beach isn't known for its wild nightlife (you'll have to drive to Miami for that), but it does have a makeshift glam disco-like scene in the form of Le Bilboquet, the island's iteration of the fabled UES French bistro of the same name. It's also fitting that the liveliest joint in town is housed in a building owned by Jane Holzer, a.k.a. "Baby Jane Holzer" — one of Andy Warhol's muses and a fixture in the New York nightlife world in the '60s and '70s. A native of Palm Beach, she moved back to her hometown a handful of years ago, and "Bilbo," as it is known to the rich and lucky, followed suit in 2021.
The Vibe: "Le Bilboquet is for sure an 'it' place," explains Carfrae. "Such a stunning location and a beautiful, well-heeled crowd." Perhaps, that is, until the lights dim, and things start to get a little bit unrestrained. "Weekend nights get very lively at Bilboquet after the music goes up at 9 p.m.," confirms Andrew Wetenhall. "Expect a lot of table-hopping and perhaps more than one espresso martini." This is perhaps why a table on any given night or time, particularly for the second seating (the restaurant has two seating times each night), is one of, if not the hottest ticket in town. Rebecca Hessel Cohen, founder and creative director of fashion brand LoveShackFancy, praises the chummy staff for their "super fun vibes" and the restaurant's "always great energy." "The whole island still shuts down at midnight, so you have to have your fun while you still can," opines Michael Gregson Reinert, Palm Beach man about town. "At the 6:30 p.m. seating, you may see some powdered wigs and Chanel suits, but at the 9:30 p.m. seating, that's when they turn the music up." Day or night, it is not surprising to spot fashion designer Alvin Valley in the company of one of his many socialite muses, or Sylvester Stallone's bevy of beautiful daughters, Sistine, Scarlet, or Sophia.
Where to Sit: Who knew a table could declare: "I'm glamorous"? The tables flanking the entryway at Le Bilboquet "are the most lively and tend to be occupied by the most beautiful people," explains Wetenhall. But the true VIPs, she claims, "often prefer the tables in the far corners of the courtyard, where they can see all the guests, but are themselves somewhat hidden." And if you can't get a table, you can still be part of the party: "It's even nice to have drinks at the bar!" says Hessel Cohen.
What to Order: The famous Le Poulet Cajun — or cajun chicken with beurre blanc sauce and a side of fries and greens — is the top contender. Hessel Cohen suggests ordering a Chablis or a skinny margarita, while Wetenhall advises ordering The Ivey, which is "a tequila cocktail with fresh citrus created by wellness coach and family friend, Ivey Leidy."
How to Snag a Reservation: Securing a table is about as hard as scoring a new Birkin bag at Hermès, but Reinert recommends buddying up to "Dobi, Phillippe, or Martin," referring to director of operations Dobi Trendafilova, the dapper owner-proprietor Philippe Delgrange, and Martin Martinov, the maître d' of Le Bilboquet, who holds the keys to the rose-drenched castle. Martinov "cuts a dashing figure, greeting guests by name while also enforcing a strict dress code which is an anomaly for Florida. No shorts at dinner!" says Reinert.
Pro Tip: The Silicon Valley slobby-chic look won't get you any points with Martinov, who advocates a luxury-plus dress code, while Delgrange, who always sports a beautifully cut suit, once said his "nemesis" was customers who wear flip-flops. You have been warned.
LA GOULUE
288 S Country Road
There were whoops of delight when La Goulue, the clubby French bistro on the Upper East Side, opened its Palm Beach iteration in 2020. Situated on the best corner of Palm Beach — Royal Palm and South County — everything is reassuringly the same (as the Parisian restaurateur Jean Denoyer commented at the time, "Looks like La Goulue, tastes like La Goulue"), including the froggy-green matchbooks, the interiors reminiscent of a Toulouse-Lautrec painting, and the delicious Franco-American food.
The Vibe: When La Goulue opened in October two years ago it started pulling in a similar crowd, including Dr. Oz and his wife Lisa, Sharon Bush, snapper Patrick McMullan, restaurateur Danny Meyer, and Sylvester Stallone. And while you may see a flashy name or two, expect them to be on the mature side. The classic French bistro attracts an older crowd than a lot of similarly popular restaurants in the area.
Where to Sit: The most social seats are the ones that are closest to the street (La Goulue has folding doors that accommodate Palm Beach's nice weather), but for date night, the tables in the back are a popular choice. Younger patrons prefer the bar area.
What to Order: "Since the cheese souffle tastes like air, I assume it's calorie-free," jokes Michael Reinert.
How to Snag a Reservation: Make friendly with the maître d' Mo Ahmed, or skip it altogether and grab a seat at the bar.
Pro Tip: Book ahead for Bastille Day — July 14 — if you're planning on being stateside.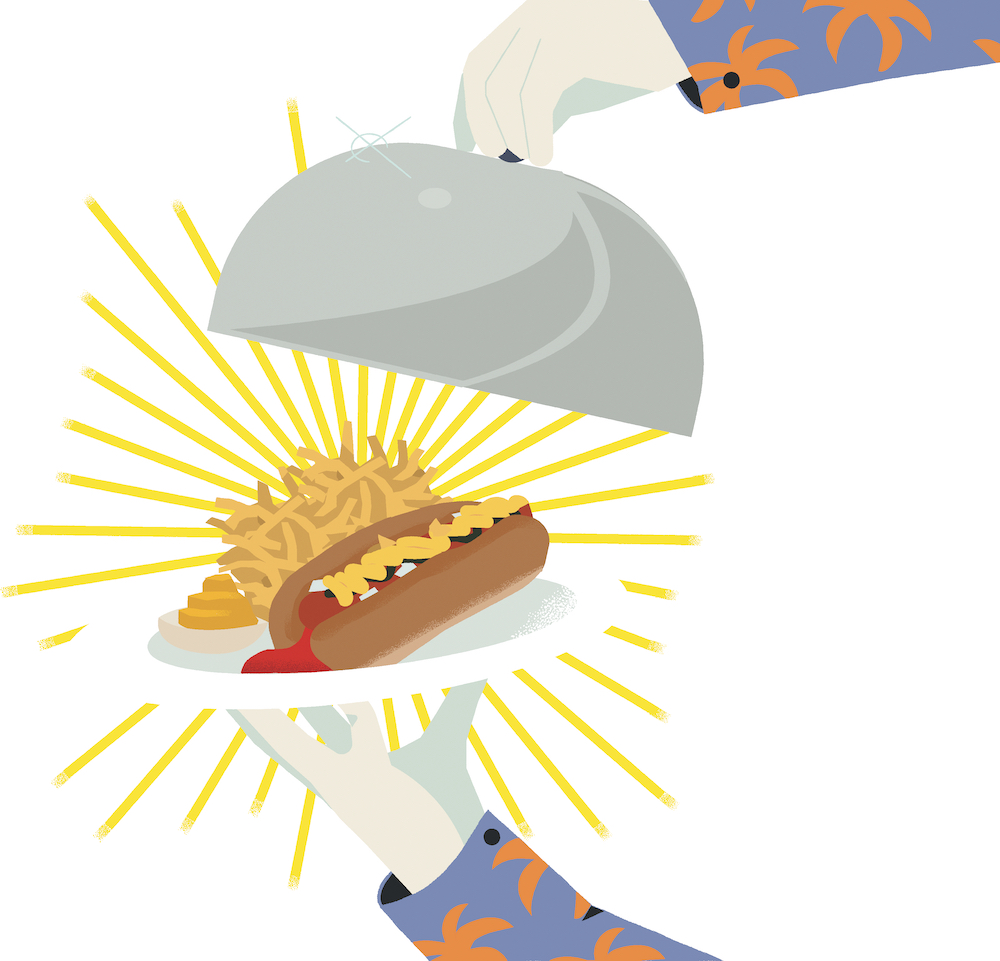 PALM BEACH GRILL
340 Royal Poinciana Way
Most regulars will say it's hard to remember Palm Beach before Palm Beach Grill, but the classic, all-American restaurant and bar has only been around since the end of '90s. Still, more than two decades since the busy, buzzy eatery opened in the Royal Poinciana Plaza, Palm Beach Grill has become a mainstay of the Palm Beach dining scene.
The Vibe: Expect to see… well, basically everyone. From your plastic surgeon to the latest dilettante, everyone heads to Palm Beach Grill. To circumvent Palm Beach's strict code against chain restaurants, Hillstone Restaurant Group named the fancied-up Houston's "Palm Beach Grill," and the touch of upscale branding has done the trick: between November and April, the place is busier than Grand Central Station during rush hour. "It is especially fun to go with a group for dinner," exclaims Dee Ocleppo Hilfiger, founder of her eponymous luxury lifestyle brand, who you might see dining with friends or her husband, Tommy. Every generation is represented — anonymous octogenarians will be seated next to younger locals such as Palm Beach native Bettina Anderson.
Where to Sit: The leather booths are prime real estate as they are the most comfortable and offer the most privacy. But those looking to mix and mingle prefer the bar area, which is the perfect place to head if you show up sans reservation.
What to Order: "My favorite thing to order is the hot dog which is like no other hot dog I have ever tasted. It comes with shoestring fries and a deviled egg and pairs perfectly with their amazing martinis," says Ocleppo Hilfiger. Palm Beach Grill is famed for the drink, which Michael Gregson Reinert calls "the best martini in Palm Beach." The calorie-laden banana cream pie has close to a cult following.
How to Snag a Reservation: If you don't have a boldface name to drop with the hostess, make sure to plan ahead. Palm Beach Grill takes reservations a month in advance, and it's not uncommon for regulars to call ahead and secure rolling reservations for the season.
Pro Tip: If you don't have a rez, try the newer sister restaurant next door, The Honor Bar, which scores high marks and is on a first-come, first-serve basis: "The Honor Bar is great because it feels a little like the Polo Bar in New York," says Reinert. "It's sort of a younger crowd."
BUCCAN (IMOTO)
350 S County Road
"I love Buccan for dinner; I think that's a given for all Palm Beachers," says Hope Smith. Sarah Wetenhall claims the restaurant "really revolutionized dining in Palm Beach" and that "besides being delicious with an innovative and constantly changing menu, Buccan was the first destination on Palm Beach island to offer a more modern, sophisticated, and energized dining environment."
The Vibe: Buccan has combined the sought-after exclusivity of Palm Beach with a bustling informal ambience that makes the place constantly packed with foodies and famous faces alike. Don't be surprised if you spot Maria Sharapova, Michael Jordan, or Jon Bon Jovi on any given night.
Where to Sit: The only thing better than getting a reservation at Buccan is getting a seat at one of the chef's tables, which are attached to the kitchen. They are "the place to be," according to Wettenhall, where "professional athletes, titans of business, and well-known models are known to watch chef Clay Conley in action from these special seats." Regulars include Tiger Woods and businessman Robert Kraft.
What to Order: The inventive hot dog panini is a crowd-pleaser, which Wetenhall calls "creative comfort food at its best." Hope Smith orders a "mix from both Buccan and their sushi restaurant Imoto next door," which is also a favorite of Rebecca Hessel Cohen, who calls Imoto "a bit of NYC in Palm Beach."
How to Snag a Reservation: Be a friend of owner Piper Quinn — or his father, Democratic lobbyist Tom Quinn.
Pro Tip: The Sandwich Shop, which operates out of the back of the restaurant, is a good way to get a bite of what the place is serving up without a reservation. And for a late-night fix, the bar at Imoto packs the pretty people after 10 p.m.
SANT AMBROEUS
340 Royal Poinciana Way
Homesick New Yorkers have been seeking refuge at Sant Ambroeus since it arrived in Palm Beach in 2016. The Milanese eatery, which first launched in the United States 40 years ago, has outposts on the Upper East Side, as well as SoHo, the West Village, and Southampton, but there's something specialissimo about the colorful Palm Beach location which sits just a few blocks from the beach.
The Vibe: Hope Smith sums it up best, calling the restaurant the "best for people watching." Tucked in the Royal Poinciana Plaza, it's the ideal spot to take a break between shopping and even catch a few celebrity faces. Soccer icon David Beckham noshed here with his future in-law, billionaire Nelson Peltz, before the two mega-moguls married off their children, Brooklyn and Nicola.
Where to Sit: The most requested seated area is Sant Ambroeus's courtyard, the place to see and be seen in. Rebecca Hessel Cohen says her go-to seat is near the fountain, which is located on the restaurant's patio, an area Ocleppo Hilfiger says "is wonderful for lunch." For those eating inside, the coral-colored banquettes are considered prime real estate, especially when the weather hits high temperatures.
What to Order: "I am obsessed with the truffle pizza and every pasta dish is amazing," gushes Ocleppo Hilfiger. Hessel Cohen seconds that. "Everything is delicious," she says. "The pizza is my favorite and I love the cacio e pepe, of course." The Palm Beach location also offers all the regular Sant Ambroeus favorites, such as vitello tonnato and cotoletta alla Milanese, as well as the eatery's famous creamy millefoglie dessert.
How to Snag a Reservation: "Tip your maître d'; it's amazing what a $50 bill can get you in Palm Beach," suggests Reinert.