Years ago, when I was younger and intemperate, I was the restaurant critic for the now zombified New York Observer. Once, after a particularly decadent feast and nursing a nasty meat-and-martini hangover, I declared that, due to both personal and planetary health reasons, I would heretofore cease eating meat. I would, I declared not without a tinge of waggish self-importance, become the city's first vegetarian food critic at a major newspaper. That lasted all of… a week.
Rash was the decision, and premature too. And despite its underlying logical soundness, my resolve soon faded. At the time — this was seven years ago — vegan and vegetarian options in the city seemed to exist on a continuum wholly independent from ambitious and mainstream restaurants, the kind of restaurants a critic generally critiques. (There were a few exceptions, which we'll get to in due time.) It quickly became clear that the reason there were no vegetarian critics was that most chefs saw vegetarian options as afterthoughts, toss-aways for the temporarily cleansing and hippie-inclined, and at any rate not worth the full application of the chef's creativity.
But that was then and this is now. Now, when the climatic cost of eating meat has been made abundantly clear; now, when my cardiologist flips his lid reading my LDL; now, when our mayor is (mostly kinda) vegan; now, when New York is an Eden of vegetarian eating. But I am older, more measured and less inclined to sudden outbursts. I still am not yet ready to forswear the pleasures of flesh. However, I can say this: meat eaters need not eat meat exclusively. From a health perspective, they probably shouldn't. From a pleasure perspective, they definitely are missing out. Taken together, a trio of restaurants — among them Cadence, a sliver of a vegan Southern food restaurant in the East Village; Dirt Candy, the long-running haute cuisine temple in the Lower East Side; and Musket Room, a fine dining destination in Nolita — can't help but make one yearn for what lies beyond the pastures and feedlots and in the fields.
Cadence, the latest addition, has only eight seats indoors and a kitchen as narrow as a tenement hallway. But since it opened in 2021, the restaurant has set the world on fire. It was recently named one of the Best New Restaurants by Esquire [full disclosure: by me] and the chef, Shenarri Freeman, is now a habitué of Vogue and WWD. Pete Wells, the New York Times critic, gave the place a review so glowing it's amazing that day's edition didn't catch fire on the embers. All the hullabaloo is occasioned by Green's reimagination (some might call it a reclamation) of Southern food from a cuisine so unhealthy it'll clog your arteries like the BQE at rush hour into something equally hearty and satisfying, more surprising, just as delicious, and much healthier.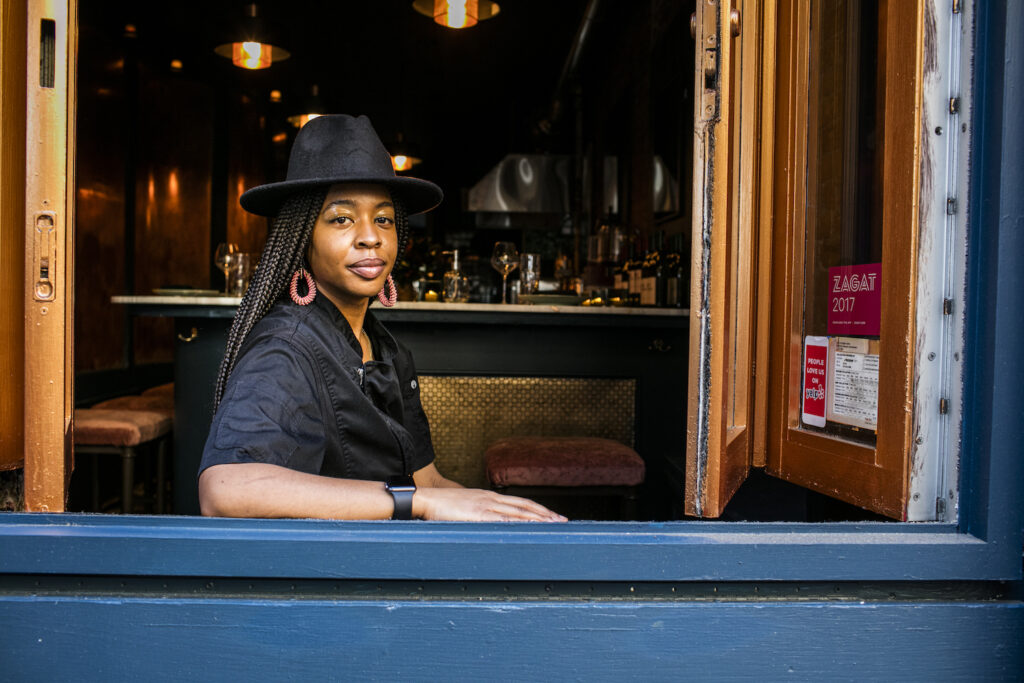 Refreshingly, there are no tricks on the menu or clever subterfuge. Nothing is fronting. Nothing is stunting. One of my favorite dishes, the buffalo oyster mushroom, is a simple symphony of crunch and gloop. A neon orange sauce–bathed mushroom is accompanied by avocado and "buttermilk" (i.e. not buttermilk) ranch in a pretzel bun. It does not taste like chicken. It tastes better, something bursting with umami and heat. Another wonder is the Southern fried lasagna, consisting of two rolled "cigars" of lasagna, which are fried then and served atop a Beyond Meat Bolognese. That the dish contains no meat is the least exciting thing about it. Instead it is the interplay of texture, the crunch and chew, the turning of something I thought I knew into something I'm thrilled to meet.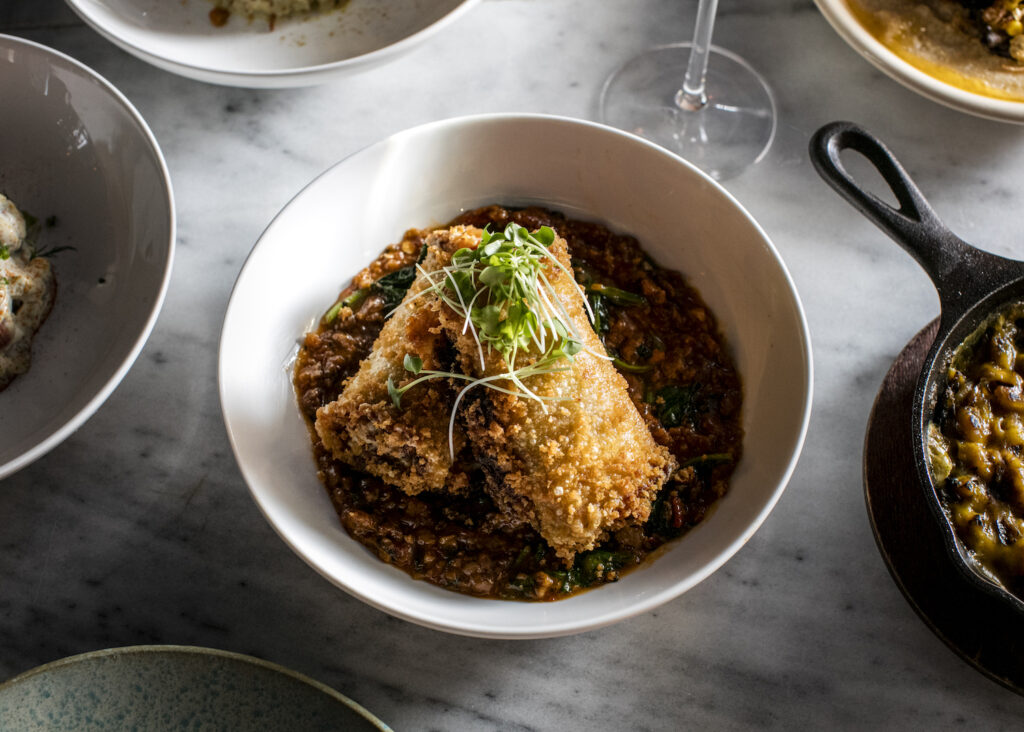 With so small a staff and so minuscule a kitchen, understandably the menu is limited at Cadence, and it isn't difficult to eat its entirety in one evening with a friend. And, as I yearned to return again and again, I wish it might be refreshed or revived or reimagined. For Greens's creativity is as deep as her skill, and I wonder what more she can do if stretched. But I needn't soothe myself with cheesesteaks in the interim. Just a few blocks south, Dirt Candy promises plenty more vegetable invention.
The best evangelists are often the least preachy. That being the case, then Amanda Cohen, of Dirt Candy, is veganism's St. Paul. To the best of my knowledge, Dirt Candy is the longest running, most ambitious, and most successful vegan restaurant in New York. The restaurant opened not far from where Cadence is now in 2008 but in 2015 relocated to a more modern setting in the Lower East Side. Since 2017 it has been tasting menu only. On the night I visited, the space emits the tell-tale susurrus of fine dining. Dirt Candy, despite the playful name, is a serious restaurant. It is neither portentous, pedantic, or self-serious, but it is clearly the work of an ambitious chef. From the first course of the five-course tasting menu, dubbed the Vegetable Party ($90), Cohen's intentions are clear: to disprove the false dichotomy between virtue and pleasure that dominates the conversation around veganism. There is pleasure in virtue, of course, but there are also outright unproviso'd pleasures here too.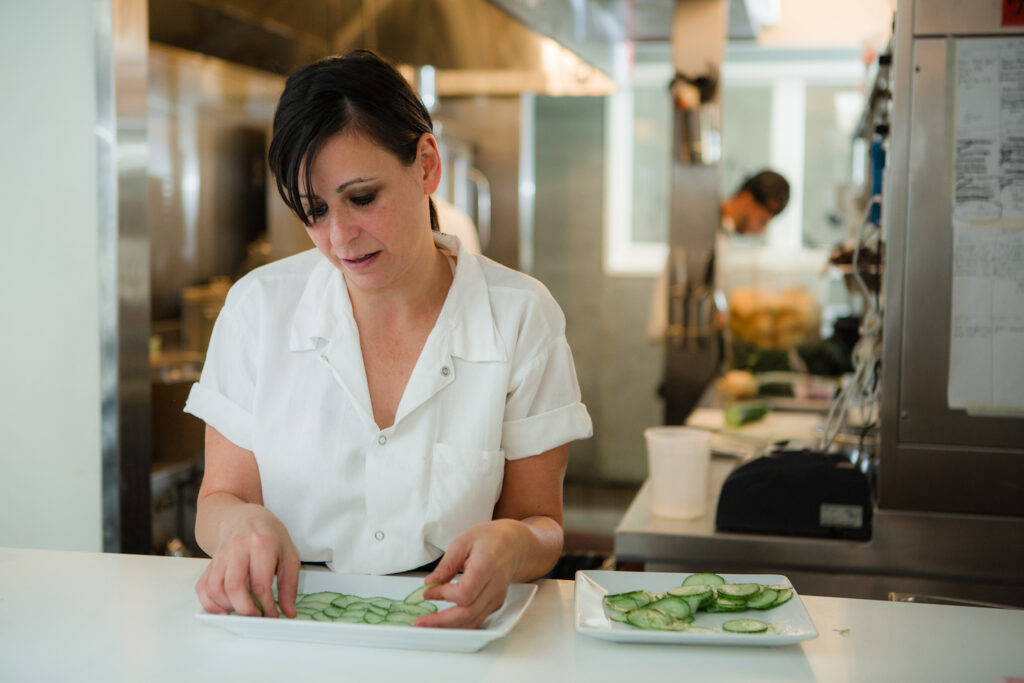 A caviar-and-potato pie is a great example. Perhaps an homage to Russ & Daughters around the corner as well as the Lower East Side's Jewish roots, it appears as a cupped latke with a payload of glistening Danish seaweed caviar and a dollop of crème fraîche atop it. No one misses the osetra. The second course recasts kale into silky bright green noodles, finished with a kale broth. The result, far from being sternly salutary, is instead as warm and comforting as rolling hills. A buche de mushroom mousse, a witty play on a Black Forest bûche de Noël, meanwhile, showcases the mushroom's versatility; as mousse, layered with Bing cherry puree; as grilled, like shaved black truffle.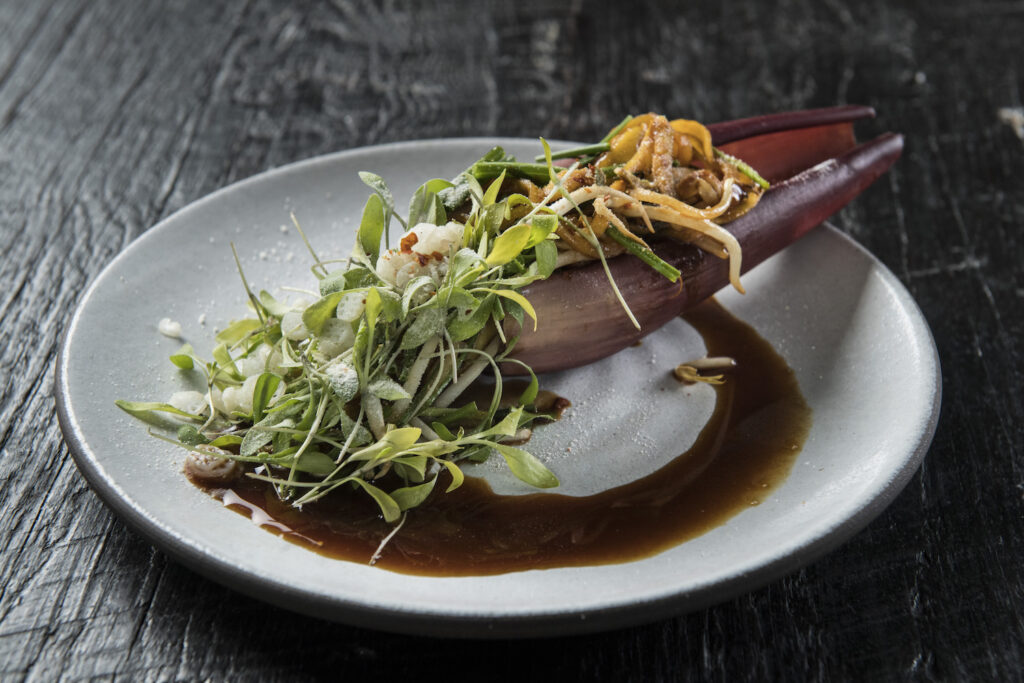 But Cohen's work goes well beyond the plate. One of the things I most admire about the chef is how she has been an early and committed advocate to building a more fair and just restaurant workplace. She was one of the first chefs to eliminate tipping, and a little note, even more than pastry chef Rachel Bossett's black garlic sticky toffee pudding, left a sweet taste in my mouth: "The restaurant pays its staff a fair living wage plus benefits."
In this critic's opinion, Dirt Candy and Cadence are the best vegan restaurants in Manhattan. Unlike some other recent vegan affairs, these are not sanctimonious, they are not performative, they do not place the ego of the chef at the center of the plate and expect us to quaver with awe at his ability to disguise vegetables into something far removed from the field. They don't have a secret meat room.
But one of the most promising trends are non-vegetarian restaurants that now offer vegetarian and vegan tasting menus just as well cared for as their carnivorous ones. When Daniel Boulud reopened his flagship last year, he offered a fully vegetarian tasting menu, for example. When Mary Attea, the brilliant new chef at Musket Room in Nolita, offers both an omnivore menu and a vegan menu. On a recent dinner with a friend, we chose one of each. Even as my companion's pearlescent hamachi crudo with pomegranate and winter citrus arrived, a bright, perky combination of flavors I know and love, my eyes stayed fixed on a far-out salad of grilled lotus root with bright pink baby beets and Thai basil. It was as interesting visually as it was texturally and in terms of flavor. Even as my friend's sweetbreads were served, plump and crisp in hazelnut browned butter, I wasn't jealous. For I had a maitake mushroom with cacao nibs, cashew, and celeriac to devour. Let them eat pork, for I have cabbage, smoked, with wheat berries in a sourdough consommé.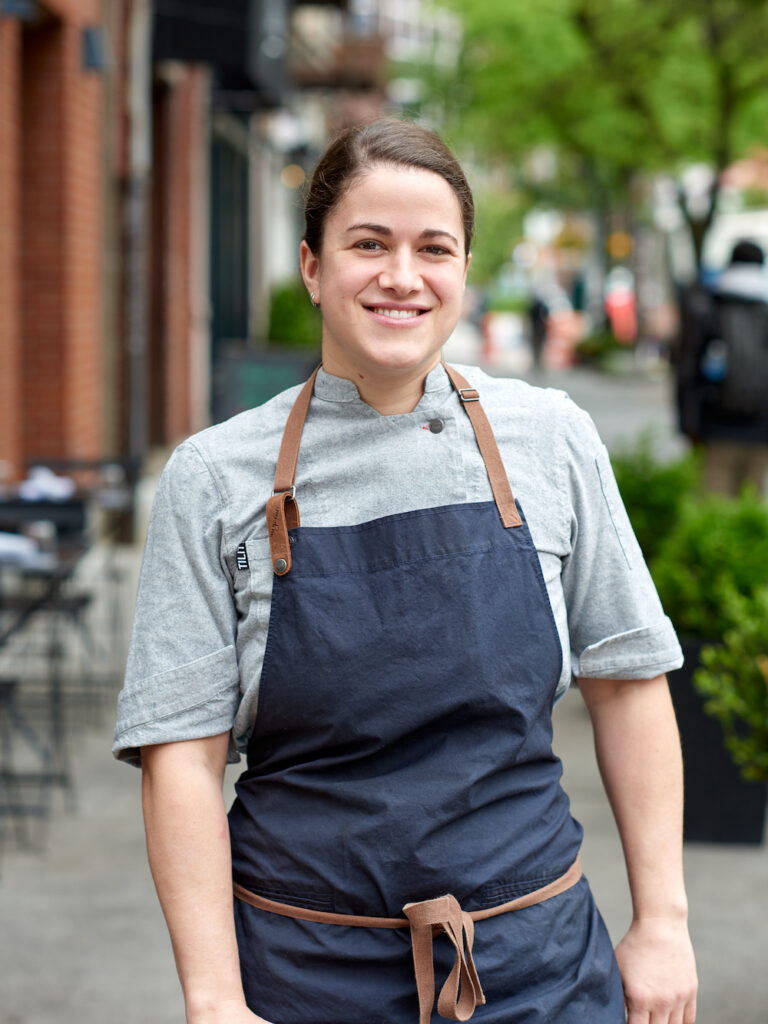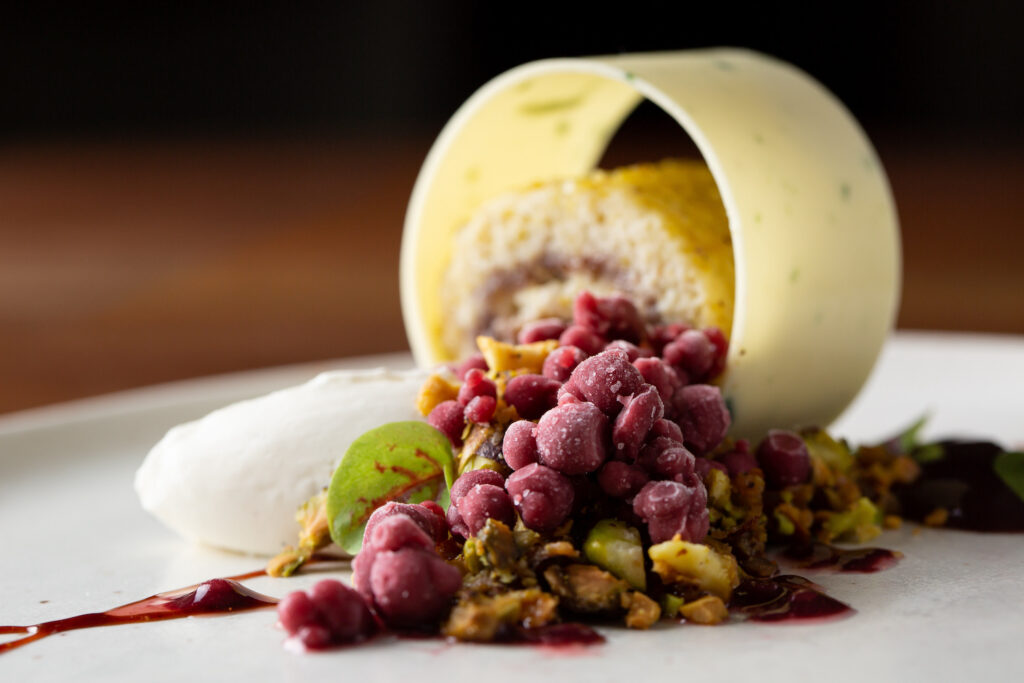 Such is the power of pleasure seeking — and the weakness of principle — that for most of us vegan and vegetarianism will not be options we choose if it means giving anything up. Like lipograms, the mark of a successful vegan restaurant is that you don't miss what's not there. You appreciate what is. It takes a special kind of chef to pull it off, yet thankfully these three brilliant women and their teams do just that.