Few people noticed them at first. New Yorkers were too busy being stuck in traffic jams created by the supply trucks to pay much attention to what was being built. So, there were a bunch more cranes in uptown Manhattan — what else is new? Then, in 2014, a $1.5 billion condominium tower, One57, was completed opposite Carnegie Hall, casting long shadows over Central Park and obscuring a children's playground. Who lived there? Russians? The Saudis? The Chinese? Nobody?
One57 was soon joined by 432 Park, Harry Macklowe's 1,396-foot tower that snatched the record for tallest residential building by 292 feet — until developer Gary Barnett struck back with the 1,550-foot Central Park Tower, "a shimmering beacon of class, optimism, and chutzpah," according to its promo video, with a massive ballroom overlooking the city, and a 63-foot saltwater indoor pool inspired by the one at Hearst's San Simeon castle. Within the space of a few years, 57th Street, once a schlocky patchwork of luxury stores, souvenir shops, and kitschy-themed restaurants selling branded T-shirts and baby back ribs to fanny-pack-wearing tourists, had transformed itself into a dazzling row of "gilded, gated communities in the sky," as Katherine Clarke puts it in her new book, Billionaire's Row: Tycoons, High Rollers, and the Epic Race to Build the World's Most Exclusive Skyscrapers (Currency, $30).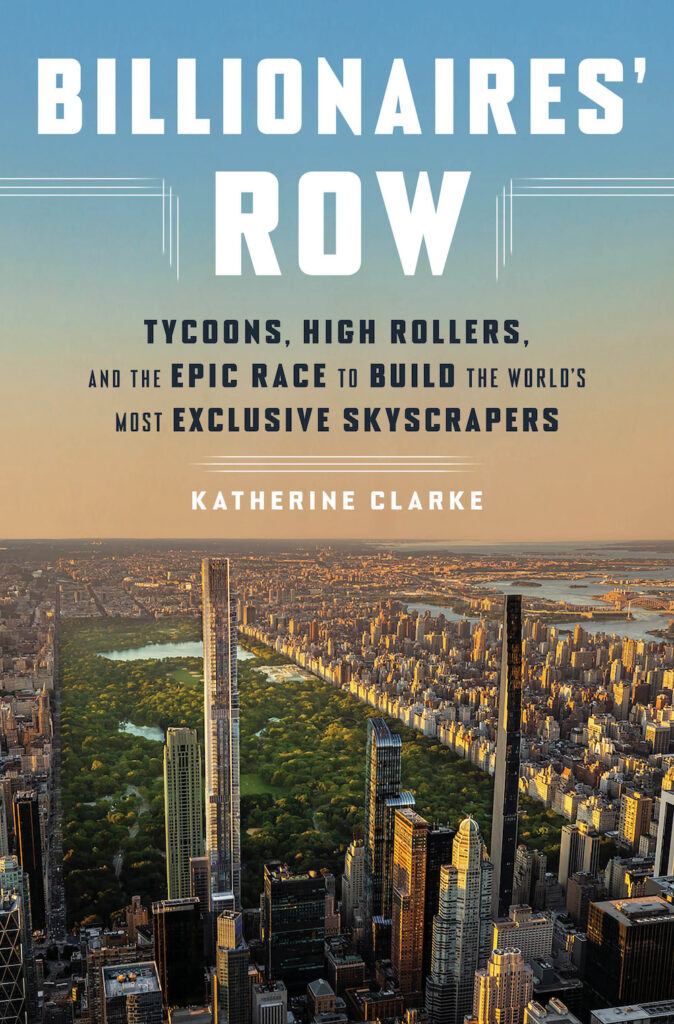 With backward glances to Edith Wharton, the Gilded Age, and her novelistic first-person style ("Gary Barnett could see the future and it involved a real estate gold rush"), Clarke intends a rollicking tribute to what she calls a "dying breed" of real-estate high rollers, but the story that emerges is both bigger and less American than is first suggested by her Trumpian subtitle. Her moguls are, for the most part, a rather bloodless, interchangeable bunch: "Harry Macklowe traversed Manhattan in designer loafers and silk pocket squares; Barnett was more likely to be seen in a comfortable pair of black sneakers." Footwear is doing a lot of work here. Their buildings boasted no observation decks, or public areas. "We have not run a single advertisement and I don't think we will," said developer Steven Roth of his 952-foot limestone tower, 220 Central Park South, signaling the discretion that would recommend it to the likes of Sting and Trudie Styler, who paid $65.75 million to customize their airy penthouse-in-the-sky.
Their identities shielded by LLC's, the buyers for this American dream were, as often as not, a new breed of superrich who circled the globe looking for a place to park their cash, paying designers handsomely to furnish penthouses they never once set foot in. Who lives on "Billionaire's Row"? Money. Money lives there. Clarke does not skimp on the bling. We get elevators lined with Hermès leather. Climate-controlled wine cellars. Penthouse suites with solid oak floors. Bathrooms fitted with freestanding egg-shaped soaking tubs crafted from the same marble as the Parthenon and Michelangelo's David. Fifty-eight-foot heated infinity pools with operable atrium windows that retreat with the push of a button to reveal a bird's-eye view of the Manhattan skyline. And all perched on 60-foot plots of land that could fit into most American's backyards. The trick to building so tall, apparently, is to buy up "air rights" from a fistful of neighboring properties and then leave some floors empty to reduce wind shear. What could be more American? A dick-swinging contest built on nothing more than thin air.
After allegations of money-laundering, lawsuits over dangling cranes, foreclosures, and Covid slowed sales to a trickle, the supply of billionaires seems, in recent years, to be running dry. "It's like the 'greater fools' theory," said appraiser Jonathan Miller. "They were running out of fools to send the market further up." A study by the residential brokerage firm Serhant found that as of 2021, roughly 44% of the new units along Billionaire's Row remained vacant, whistling in the wind like Charles Foster Kane's Xanadu. Clarke ends her book with an attack of vertigo while attending a cocktail party in Brooklyn's 93-story tower atop the Dime Savings Bank. The top of the building was yet to be built: the only thing standing between the guests and a 1,000-foot drop was some bright orange construction netting. It didn't look particularly safe to her.
No head for heights is required for Tria Giovan's new book of photographs, Loisaida: New York Street Work 1984–1990 (Damiani, $55) — just a feel for the sun-faded splendor of the pre-gentrified Lower East Side. Families crowd the fire escape of a salmon-pink tenement. A father and his daughters eating a lunch of boiled crabs on the sidewalk. A family hangs out in front of a dusty bodega. Graffiti snakes the walls of crumbling concrete. The title comes from the Spanish pronunciation of "Lower East Side" ("Loisaida") and was coined by Puerto Rican poet Bimbo Rivas. Born in Chicago, Giovan grew up in the Virgin Islands, and, in 1984, moved into a tenement on Clinton Street. She left the city in 1990, and her work from those six years offers a time-capsule of the Lower East Side before the galleries and charcuteries took over: funky, exotic, vibrant, colorful. Even the empty car lots and faded advertising hoardings take on a dusty piquancy. The book feels like a street party, or perhaps the cleanup after one. You can practically smell the hot asphalt.
Pushing further back in time, and heading uptown, Colson Whitehead's splendid new novel, Crook Manifesto (Doubleday, $29), is a sequel to his 2021 caper Harlem Shuffle, about a furniture dealer named Ray Carney caught up in a jewel heist. The new novel finds him on the point of retiring from his store on 125th Street, when his teenage daughter, May, pesters him for tickets to see the Jackson 5 at Madison Square Garden. So, he looks up a crooked NYPD officer named Munson, who wants to dispose of a paper bag of stolen diamonds, and in the time it takes the streetlights to change from "Don't Walk'" to "Walk," Carney is sucked back into the underworld of pimps and fat cats, hustlers, chumps, and showboats. "Deeper you went the more crooked," writes Whitehead. "Crooked stays crooked and bent hates straight. All the rest was survival."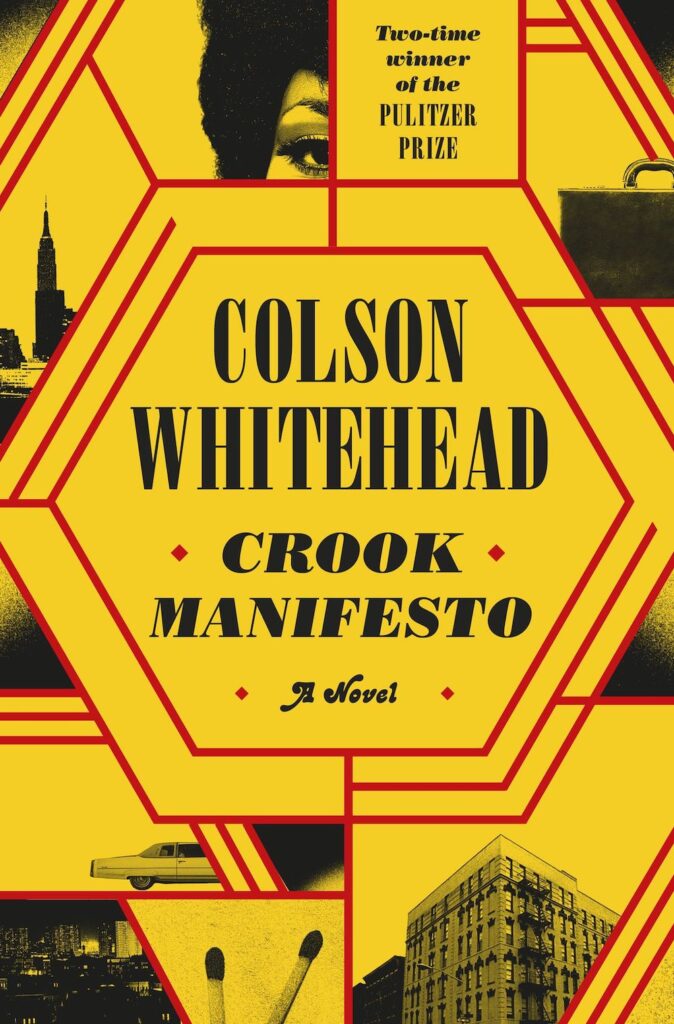 The shift of registers from writing Pulitzer winners like The Underground Railroad seems to suit Whitehead down to the ground. The Serpico-era corruption feels snug as a slipper, and the social history as layered as the graffiti that covers the drugstores. Pimps in purple suits and spangled, broad-brimmed hats lounge on warm summer nights, illumined by the klieg lights of a blaxploitation movie shooting nearby. You sink into the book like a retiree sinking one of Carney's polyurethane sofa suites. It's a more downbeat book than Harlem Shuffle, swapping out the gleam of Kennedy-era New York for the scuzz and gloom of the Nixon era, but like all the best crime novels, from Chandler to Chester Himes, the lower the city sinks, the richer the writing seems to get. For all its smashed windshields and overflowing garbage cans, the book has a jaunty, capering rhythm, not unlike the Jackson 5 themselves, whom we glimpse twirling in rainbow-colored vests to a wave of squeals in Madison Square Garden.
In Paved Paradise: How Parking Explains the World (Penguin Press, $30), Slate columnist Henry Graber has pulled off the seemingly impossible, and written a genuinely interesting book about parking. Roaming far and wide, from Los Angeles to Chicago to New York, he meets traffic agent Ana Russi, who once gave out 135 parking tickets in a day, and "the country's foremost parking scholar," UCLA professor and engineer Donald Shoup, who calls for the return of parking meters. Finding a parking spot in Manhattan, Jerry Seinfeld once quipped, is "like musical chairs except everyone sat down around 1964." Grabar's solution — allow developers to provide less parking rather than meet mandatory minimums — may sound head-spinning to most New Yorkers, but for a moment back there, during Covid, when restaurants set up curbside gazebos hung with paper lanterns, and thoroughfares opened up for ambulance and firetrucks to whizz by unimpeded, anything seemed possible.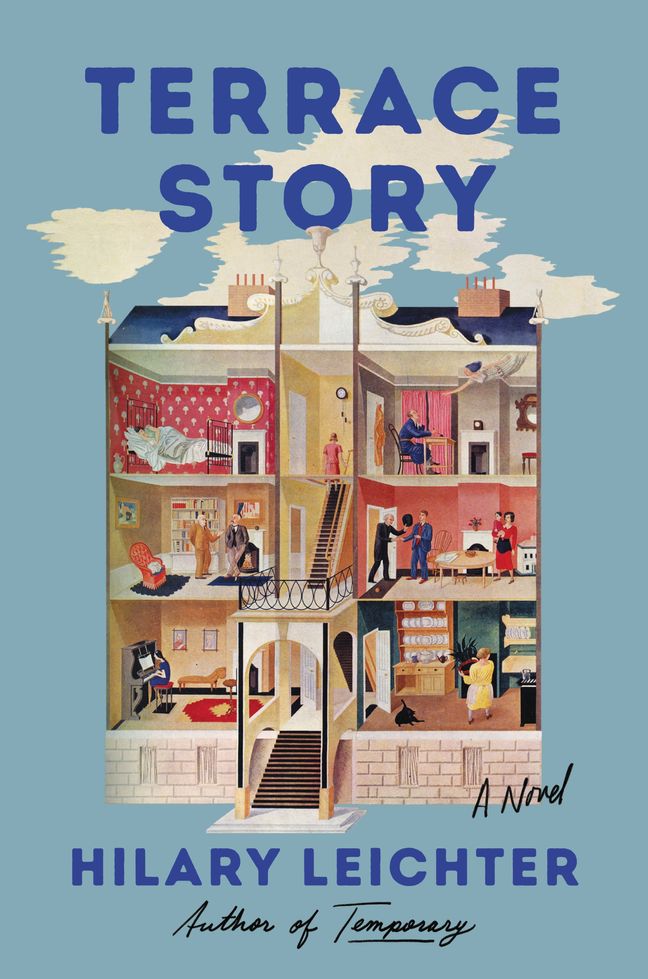 The search for space in the big city also haunts Hilary Leichter's second novel, Terrace Story (HarperCollins, $28), about a young couple, Annie and Edward, who move into a new apartment with their baby daughter, Rose. It is a little cramped, "but the amicable kind of cramped, the colorful balls and bags and dolls on the floor." But when Annie's workmate Stephanie comes to visit, one of their closet doors mysteriously opens onto a terrace that had never been there before — with amazing views, plenty of room, a grill, and fantastic weather. But it only appears when Stephanie is around, and within the space of several more visits, Annie begins to feel like she is beginning to take over their lives. Such is the premise of Leichter's sweet, dotty fable, which began life as a short story for Harper's, and has now been unfolded into a series of interlinked stories, as airy as a child's mobile, whose theme might be something like: why do our lives feel like penthouses one moment and six-story walk-ups the next? Why can't our souls be rent-controlled?