In this impressive portrait of Bunny Mellon, Mac Griswold, who knew the landscape architect and designer personally, makes the argument that Mellon aspired to create an "American pastoral" for the 20th century, rooted in the promise of prosperity, civic order, and domestic bliss. Although she grew up in a world where horses were thoroughbreds, society was glittering, and marriage was eventually to Paul Mellon, as fellow decorator Bunny Williams put it, she "was no Brooke Astor, entertaining twenty-four for dinner three nights a week," but, rather, a "sculptor, sculpting space… She created an American vision of English country house style."
From Tuxedo Park to Virginia to the White House, Griswold escorts us through Mellon's life as we meet icons of culture, fashion, and politics: Queen Elizabeth and Jackie Kennedy, Givenchy and Balenciaga, JFK and I.M. Pei, Audrey Hepburn, Richard Diebenkorn, Katharine Graham. Daughter of the president of the Gillette Safety Razor Co. and granddaughter of the inventor of Listerine, Rachel ("Bunny") Lambert was born into money and groomed for social success. Her appetite for prestige, although ever discreet, only increased with her second marriage, to Mellon, in 1948.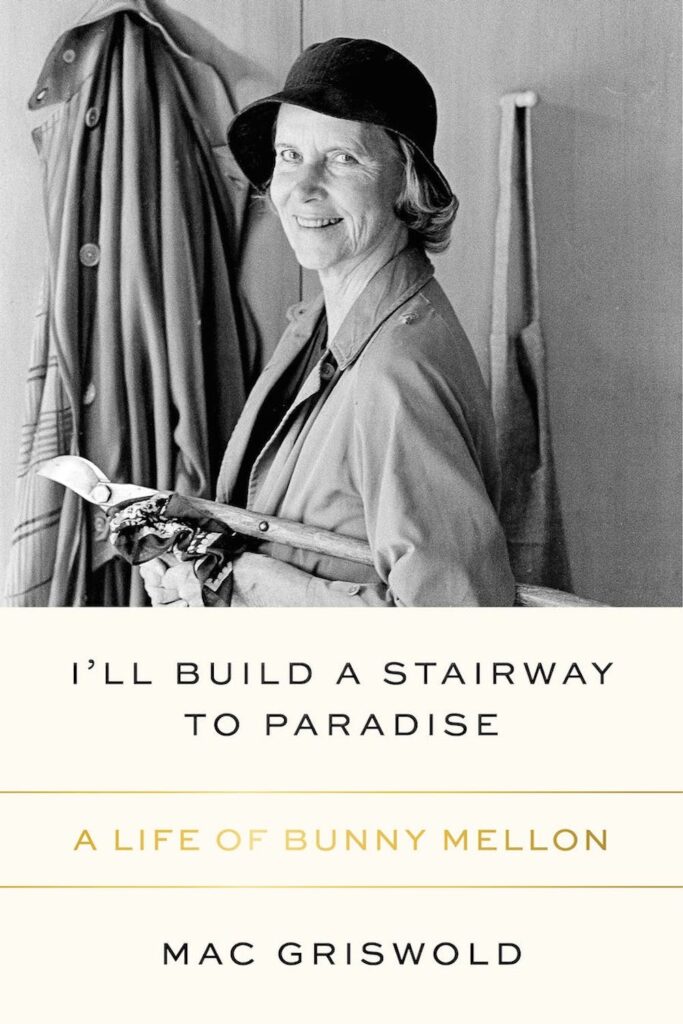 At debutante balls, fundraisers, and art openings, I'll Build a Stairway to Paradise shows how Mellon became a tastemaker. Her social climbing didn't always follow an easy path. With only a high school education, she frequently had to play catch-up in the sophisticated circles in which she moved, often cultivating powerful men to achieve her goals. This could also lead her astray: late in life, hoping to try her hand at politics, she bet on the wrong horse with handsome John Edwards, only to find herself entangled in an unsavory state of affairs.
Griswold has mined Bunny Mellon's personal archives for journal entries, poems, and photographs. These resources reveal how many of her designs were derived from fairy tales. She wanted visitors — to her own gardens and the gardens she designed for others — to feel transported to another world. But there was more to the story: her gardens were an escape. According to Griswold, Paul Mellon's very public affair with Dorcas Hardin, for one, caused his wife such pain she distracted herself with increasingly bigger and bolder projects — the expansion of the National Gallery of Art, the flourish of the Kennedy's White House Rose Garden. Then her daughter was fatally hit in a car accident, and she threw herself even deeper into her career.
I'll Build a Stairway to Paradise spans the full 103 years of Bunny Mellon's life. Some may find the pacing too leisurely, and the book is at its best when Mellon's curious personality comes out in full. A giver of parties and designer of landscapes brimming with "imagination and magic," she herself tended to the "expressionless and forbidding," a "society figure with an almost pathological dislike for publicity," who loved coming home from galas to water the plants at night.
I'll Build a Stairway to Paradise by Mac Griswold (Farrar, Straus and Giroux) is available online and in stores now.