[Editor's note: the following interview and photoshoot were conducted before the actors strike of 2023]
It's May, and Colman Domingo is in Toronto shooting an eight-part Netflix series called The Madness. In a few weeks, the movie Transformers: Rise of the Beasts (in which he voices the villainous Unicron), will debut at number one at American box offices. Meanwhile, Fat Ham — the Tony-nominated, Pulitzer Prize-winning play he produced — is in its final weeks on Broadway. At 53, Domingo's busier than ever before. He's also gearing up to debut his most personal project yet.
You Are Here, which premiered on AMC on Juneteenth, is a four-part docuseries starring Domingo and produced by Edith Productions, the company he founded with his husband, Raúl, in 2020. Part travel show, part memoir, each episode is set in a different city — Savannah (where he spent years filming Fear the Walking Dead), Philadelphia, New York, and Chicago — tied to his life story. But how Domingo explores his history and these locations is more through the people who populate them than the places themselves.
"I have a curiosity about who we are as human beings, and how we're all making it work. What our struggles are, and what our humanity is, and how we're reflections of each other," he tells me over the phone. "You don't create a show like You Are Here for profit. You create it because you think, '[T]his is important.' This is an important exercise and journey into the world to discover who we are."
In various ways, this exploration is something that has fascinated Domingo far before he became an actor. He majored in journalism at Temple University in Philadelphia. Despite falling in love with performance instead, he still learned what made a story successful, and, more importantly, how to identify the humanity inside it. "One of my biggest problems in school, especially in my news-writing class, was that my writing was too 'florid,' as my teacher said. I was much more of a creative writer, I didn't just stick to the facts and what was newsworthy," he recalls. "I always painted the colors, which is more of an opinion than just news."
But different mediums favor different skill sets, and Domingo quickly found his literary voice in playwriting. An early source of inspiration was his own family. Among the first shows he penned was the semi-autobiographical A Boy and His Soul, which premiered Off Broadway in 2010. The coming-of-age story featured anecdotes from the performer's childhood. When his family saw it, they were taken aback by how enthralled the audience around them was. "I think they came to the show with such reservations, wondering why anyone would care about the ordinary and mundane of what they believe their lives are," he says. "You have no idea how fascinating you are as character studies, and what makes you strong, what makes you soft. What makes you the people that I admire the most."
Naturally, his family is once again on full display in You Are Here's second episode, which is set in Domingo's hometown of Philly. In warm, but deeply intimate conversations with family and lifelong friends, the glamor of celebrity is dropped in favor of nostalgia, and a glimpse of the world that made him. "The whole intention was to really pull back the curtain," he explains. "If I show you a little bit more of who I am — my vulnerabilities in my family, the details of where I grew up, who these people are and all their beauty and complexity — then I can help people do that examination themselves. We have to go back a little bit to find out where we come from, or what has made us who we are."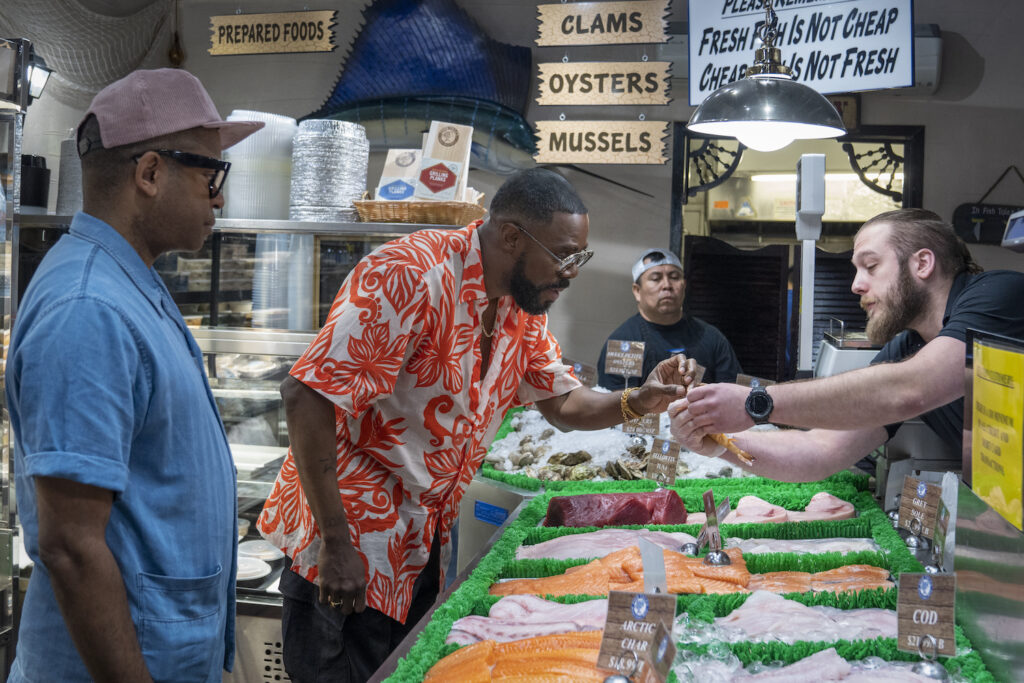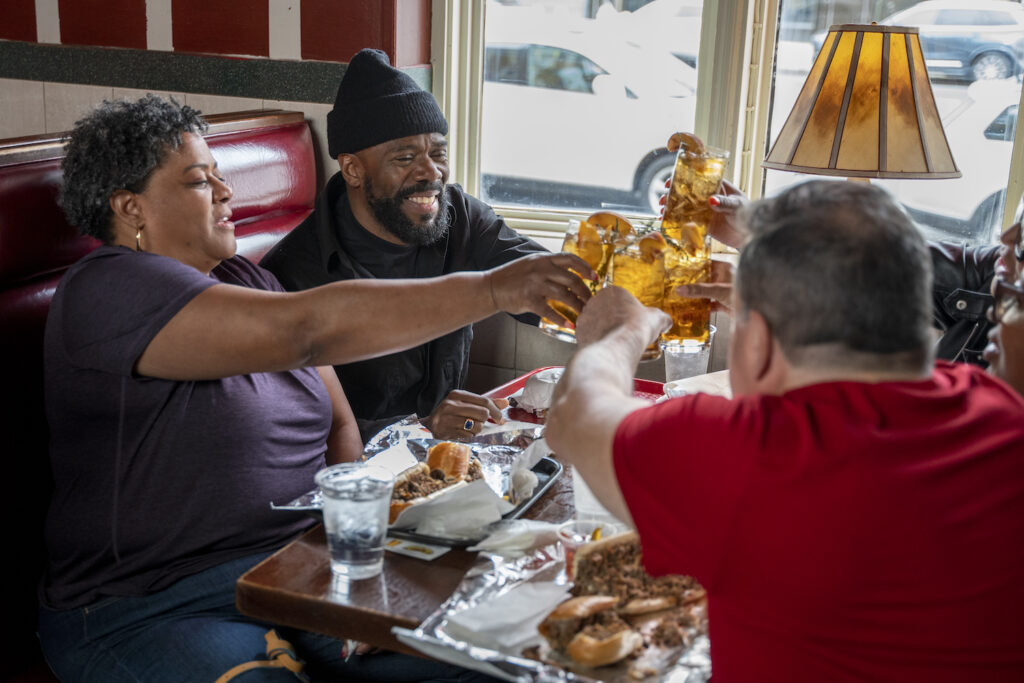 Our era is so heavily defined by social media and communicating through devices that to watch Domingo sit across from his interview subjects in an effort to connect — and confidently confront the spectrum of emotions that arise, whatever they may be — feels radical. He brings the same level of nuanced introspection to the characters he plays.
This fall, Domingo has a starring role in the Netflix film Rustin, about Bayard Rustin, a gay civil rights leader who influenced Dr. Martin Luther King Jr. and helped organize the March on Washington in 1963. Until recently, the figure had been largely excluded from history due to his sexuality, and as such the character is dear to Domingo's heart. The actor prepared for six months before production began, going down a "rabbit hole" of biographies and history books about the era. Even when not filming, Domingo, who does not consider himself a method actor, stayed closer to the character than usual.
Staying close is easy when the subject is beloved and revered. But perhaps his reason for only doing it rarely is because of how frequently he's willing to explore darker subjects. Later this year he can be seen as the abusive Mister in the musical adaptation of The Color Purple. He probes both characters — one, a hero, the other, a scoundrel — as he does his interview subjects, and himself. "There has to be some of my own humanity in these characters that I play," he says. "I never want my character to suddenly just be anglicized in some way or vilified. If anything, I want them to be that tricky in-between. To challenge audiences on what people can be. It can be both, sometimes in the same breath. They can be incredibly cruel and incredibly loving in the blink of an eye."
This devotion to his craft has garnered him an impressive list of accolades. He's won an Obie Award for his work as Mr. Franklin Jones and Mr. Venus in the 2007 musical Passing Strange. He was nominated for a 2011 Tony for portraying Mr. Bones in The Scottsboro Boys. Both Jordan Peele and Sam Levinson have written characters specifically for him (the latter of which was Ali, a recovering drug addict-turned-father figure on HBO's Euphoria, a role which earned Domingo an Emmy award last year). In 2020, writer/director Janicza Bravo cast him as the terrifying pimp X in the A24 film, Zola.
Despite all this, there's still a lot he has yet to do. While he's made appearances in sketch shows, Domingo would really like to do a traditional comedy (a Paul Feig film, to be specific). He also wants to use Edith Productions to lift the voices of others, with stories of joy, hope, warmth, and, of course, humanity. He considers New Moon, an animated short Edith produced that was shortlisted for an Oscar nomination, to be exemplary of the work the company is interested in.
Between portraying historical figures and reconnecting with the figures and settings that have defined his life, it's as if Domingo is speeding forward, but navigating with the rearview mirror. This metaphor is clunky, but how else do you describe how successfully he has built a future by interpreting the past? His goal is to shape what he already has in hand.
"Nothing in my career I've actually imagined," he confesses. "People will say, 'I always dreamed of being on Broadway, I dreamed of being in TV or films.' I didn't have those dreams. I dreamed of being a creative and being respected and doing good work."
You Are Here is now streaming on AMC+
---
Grooming: Laura Costa for Exclusive Artists
Photo assistants: Tatum Mangus and Violet Burburan
Styling: Carlos Gaona and Aria Darcella