There may have been a collective gasp on May 5, when Sotheby's auctioneer Oliver Barker gaveled in a record-shattering bid of €135 million ($142.4 million) for a 1955 Mercedes-Benz 300 SLR Uhlenhaut Coupé — one of just two prototypes built by the Mercedes-Benz racing department. But it came as no surprise to automotive insiders. That figure, they say, is merely a testament to the passion and financial commitment of the most ardent classic cars collectors. After all, what is $142 million for what has been hailed as "the most beautiful car in the world"?
The 300 SLR belongs to a class of car that can only be seen up close at a select few events around the globe, among them the Pebble Beach Concours d'Elegance, held each August in that sunny northern California locale. Talk to any collector in the classic car universe and they will tell you that the vaunted and highly competitive Concours — as well as the the action-packed calendar of Monterey Car Week exhibitions, rallies, concours, and auctions leading up to it—is an absolute must-attend. The Concours d'Elegance is the premier event of its kind in North America, comparable only to the Concorso d'Eleganza at Villa d'Este, held at the palatial property on the shores of Lake Como each May.
At Pebble Beach, fewer than a dozen international collectors in each of some 20 classes showcase more than a century's worth of automotive excellence at the invitation-only event. Each competitor on the field hopes to snag the Best in Class award though only one entrant will be awarded Best of Show.
So how does a collector of classic cars enter this demimonde? Avenue caught up with several behind-the-scenes players who share their insights on what it takes to make the winner's circle and, ultimately, Best of Show.
"Just being invited to show at Pebble Beach is a significant accomplishment, reserved for the best of the best," says Donovan Leyden, an International Ferrari chief class judge who has been taking measure of that marque at Pebble Beach for more than two decades. As Leyden explains it, contenders for Best of Show tend to be the only one or one of a very few of their kind. They have been extremely special cars from their conception — built to high standards to be shown at major salons in Geneva, Paris, London, Turin, or New York — or they were originally produced for royalty, celebrities, or the most exclusive of customers. Some may have been forerunners of a new direction in design, technology, or technique, or they may have had a successful history of winning major international races that cemented their place and value.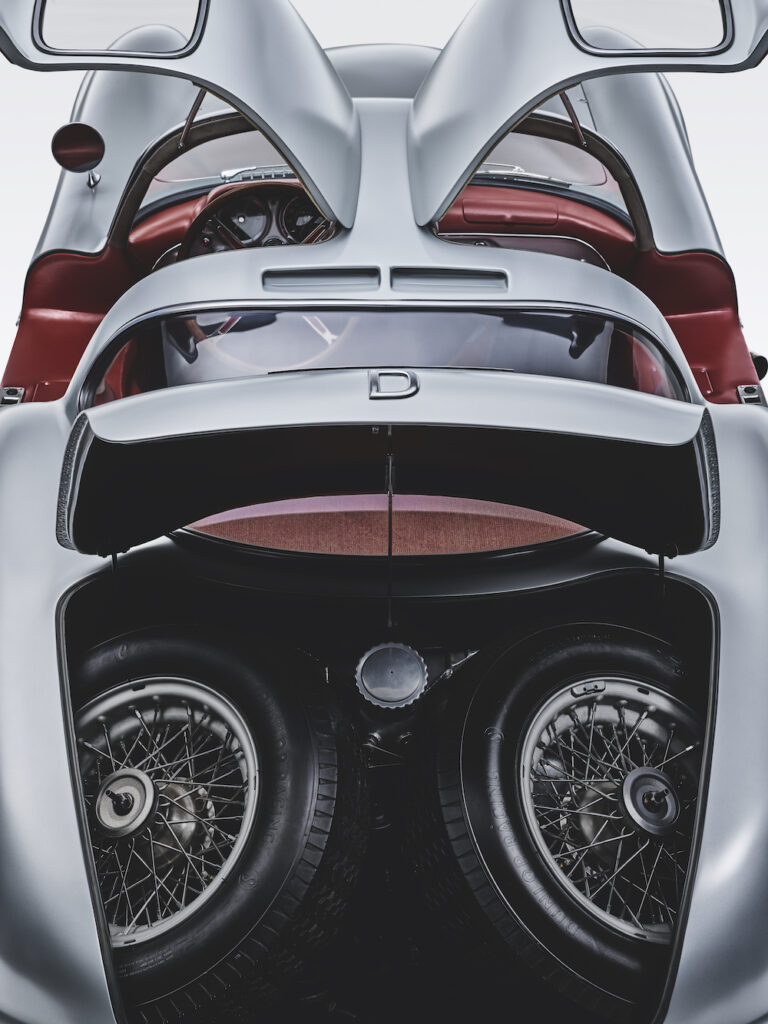 "For the best chance to win, however, a car must be very rare and significant. It must have been historically well-documented at the time of its creation so it can be determined within reason how it appeared when it left the factory or appeared it its most significant early configuration."
At Pebble Beach, returning a car to that "original factory state" has become the gold standard. Yet, that has not always been the case. As recently as a decade or so ago, winning was largely about luxe and looks, with many Best of Show honorees exhibiting a host of "upgrades" — from original upholstery being replaced with the finest Italian leather to wire wheels being rebuilt with durable stainless-steel spokes, not to mention the untold tweaks under the hood. But there has been a decisive shift from prizing the most dazzling entrants to those far more faithful to original design and factory spec. To accomplish this, Leyden explains, owners and restorers work from original documents, be they owner's manuals, archival photographs, or even sales brochures. "The goal," he says, "is not to improve on the original but to preserve and restore its the original character."
Take, for instance, a 1954 Ferrari 375 MM Scaglietti Coupé owned by Microsoft executive Jon Shirley and restored by Butch Dennison that, in 2014, become the first postwar car to be named Best of Show since the first edition of the Concours in 1950.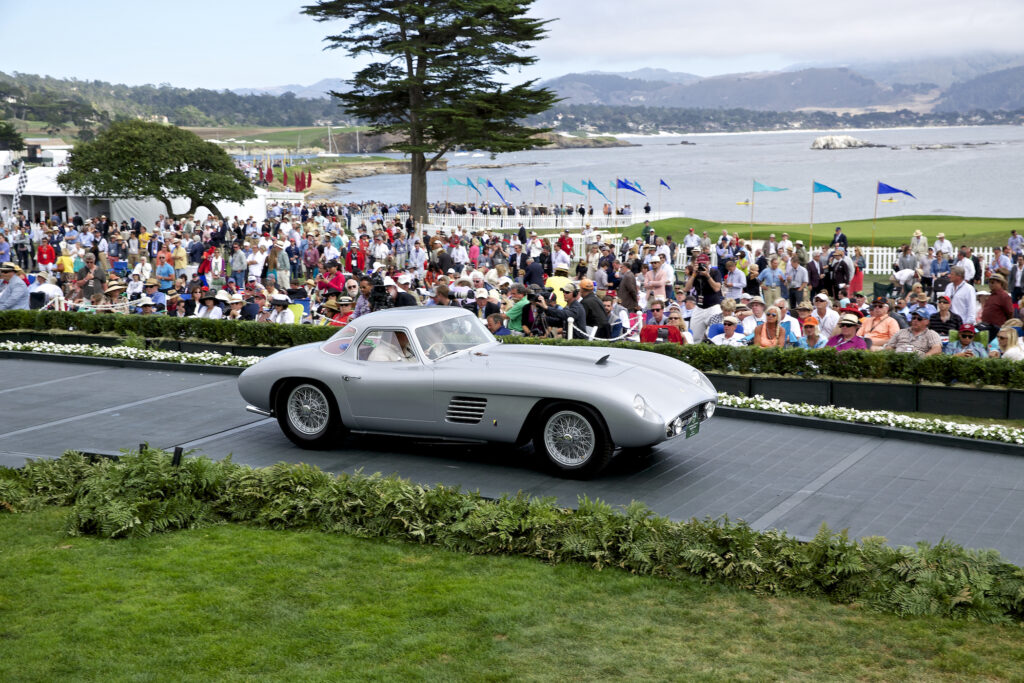 The car started life as a Pininfarina-bodied competition Spyder (0402AM), commissioned by Roberto Rossellini, one of Ferrari's best customers. The film director had driven the car just a few times before it was in an accident, which damaged its original body beyond repair. Rather than engaging Pininfarina to replace the body, Rossellini had the chassis sent to coach builder Carrozzeria Scaglietti, a company conveniently located across the street from the Ferrari factory in Maranello, on the outskirts of Modena. The result: Scaglietti's first passenger car design for Ferrari, a unique and finely sculpted Coupé Speciate. After passing through several hands, the car was discovered some three decades ago in a forlorn state in an underground garage in a Paris suburb.
Following Shirley's first restoration car in 1995, the car won numerous awards, including a First in Class at Pebble Beach in 1998. But subsequent research turned up details of the car that were previously unknown, including details regarding its original vinyl upholstery, which had been replaced by fine Italian leather. He decided to rip out the leather and other chronological inaccuracies and enhancements, and restore the car again before bringing it back to Pebble Beach in 2014, when it took top honors.
Among the most revered restorers on the circuit is Lowell, Massachusetts–based Paul Russell, who has a quartet of Pebble Beach Best of Show titles under his belt, the most recent of which was just this past year — a 1938 Mercedes-Benz 540K Autobahn Kurier. Two other wins were notched with cars owned by designer Ralph Lauren, for whom he has restored 16 classic rides. (As of this writing, Lauren's collection of classic and exotic cars numbers nearly 100.)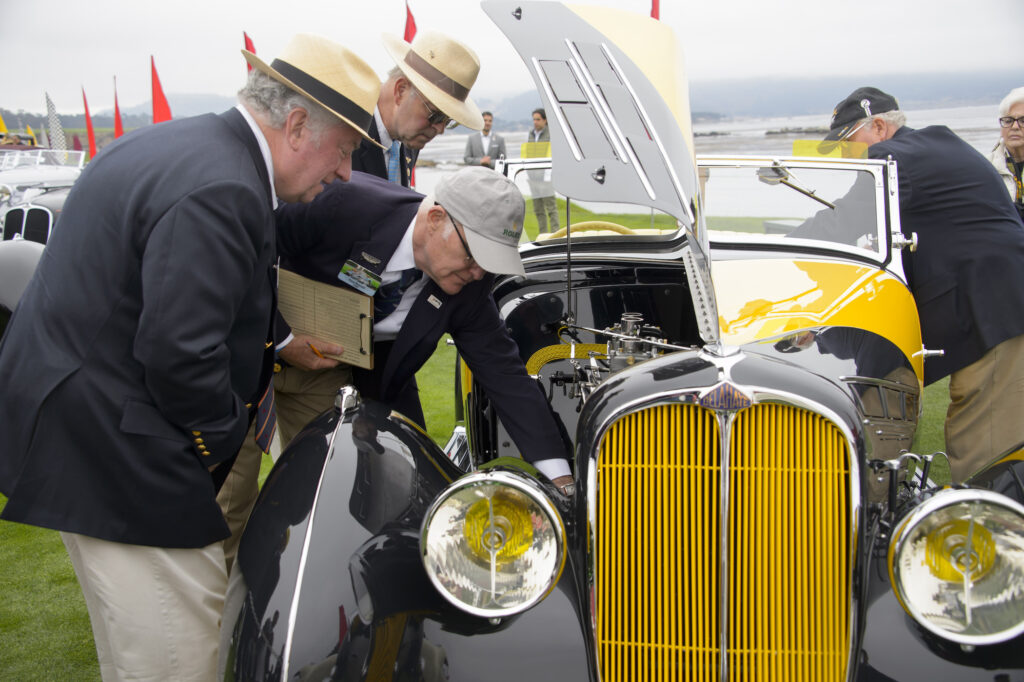 "It was back in 1988 that Lauren, who had been a good client of mine for some time, first asked me if I would take on a project outside of our shop's normal specialty — Mercedes-Benz — that being the restoration of a beautiful black teardrop-shaped 1938 Bugatti Type 57SC Atlantic Coupé. Our collaboration with him on the restoration led to Best of Show honors at Pebble Beach in 1990." (The car, now worth an estimated $40 million, would go on to take the prestigious Coppa d'Oro at the Concorso d'Eleganza at Villa d'Este in 2013.)
"That Pebble Beach win led to Lauren to ask us to restore his 1930 Mercedes-Benz 'Count Trossi' SSK for the 1993 event," says Russell, chuckling as he recounts the all-nighter his team pulled on the eve of the competition — burnishing the car's fully spun aluminum wheel covers in a hotel kitchen. "We had photographs of its first owner, Count Carlo Felice Trossi, and the car both with and without the wheel covers. As we proceeded with the restoration, I thought that the car's wire wheels looked far better without them. Mr. Lauren, however, thought that the car might look better with them, so we were determined to give him that option." Shortly after daybreak, says Russell, the polished wheel covers were installed only to be nixed as visual distractions. The car went on to place Best of Show.
"Paul is a true master when it comes to the art of restoration," Lauren tells Avenue, fondly recalling his first encounter with Russell, whom he calls "the professor," back in 1983. "I had just purchased a 1955 Mercedes-Benz 300 SL Coupé, a 'Gullwing,' from the pre-owned department at Mercedes in Manhattan. When I asked what it would take to put this classic in tip-top shape, I was handed a copy of the Mercedes quarterly, which had an article on Paul and his dedication to automotive craftsmanship. He sounded so great and so tuned in. And he is such a great historian when it comes to cars. So, I called him and said, 'Would you restore my Gullwing?'"
As Russell says, "The rest is history."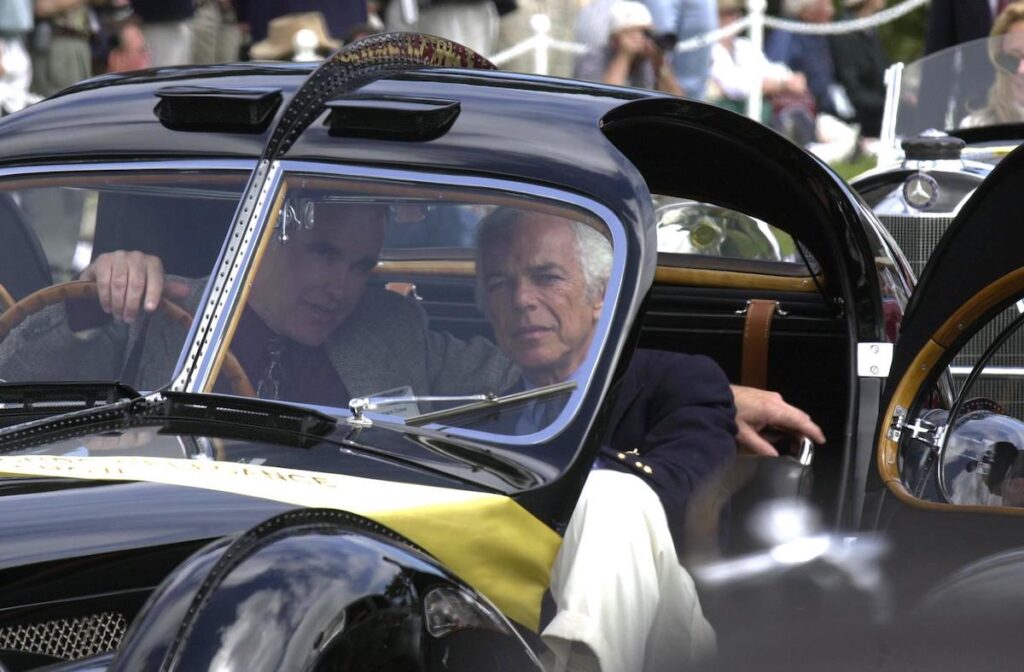 In commenting on the Pebble Beach wins, says Lauren, "I don't go [to Pebble Beach] thinking I am going to win. If I go, I go. Some people buy cars because they just want to be in the winner's circle. I do it because I just happen to love beautiful cars."
As for what Russell has in store for this year's show: "We have a 1959 Ferrari 250 GT Tour de France that we will be presenting for a good client from California, which we acquired on his behalf from an owner in Chicago. We are completing its restoration as we speak, and it will be on the field in August."
It is worth noting that in recognition of Russell's talent, the Kansas-based McPherson College Automotive Restoration dedicated a new research center in his honor this past May.
For those on a quest for the most original of cars, it might be worthwhile pursuing ones known by that less-than-glamorous moniker, a "barn find" — that is, a ride that has been warehoused, if not altogether forgotten, often found in a semi-fossilized state. Several notable barn finds have come on the block in recent years, including a 1969 Lamborghini Miura P400 S, which sold for $1.6 million at RM Sotheby's in October 2018.
"The beauty of a barn find is that the car may be far less likely to have been subjected to insensitive restoration," says noted automotive writer and collector Robert Ross, who for more than two decades has covered the classic car market for Robb Report. "As a result, taking it back to its bones presents a far simpler proposition." However, he explains, such a restoration could hardly be less expensive. "It entails the faithful replication of original parts. Add to this, the challenge often presented by the rarest cars — one-offs of which only a couple were ever made — where original documentation may be scant at best, making the determination of original paint colors and the like dependent on careful investigation."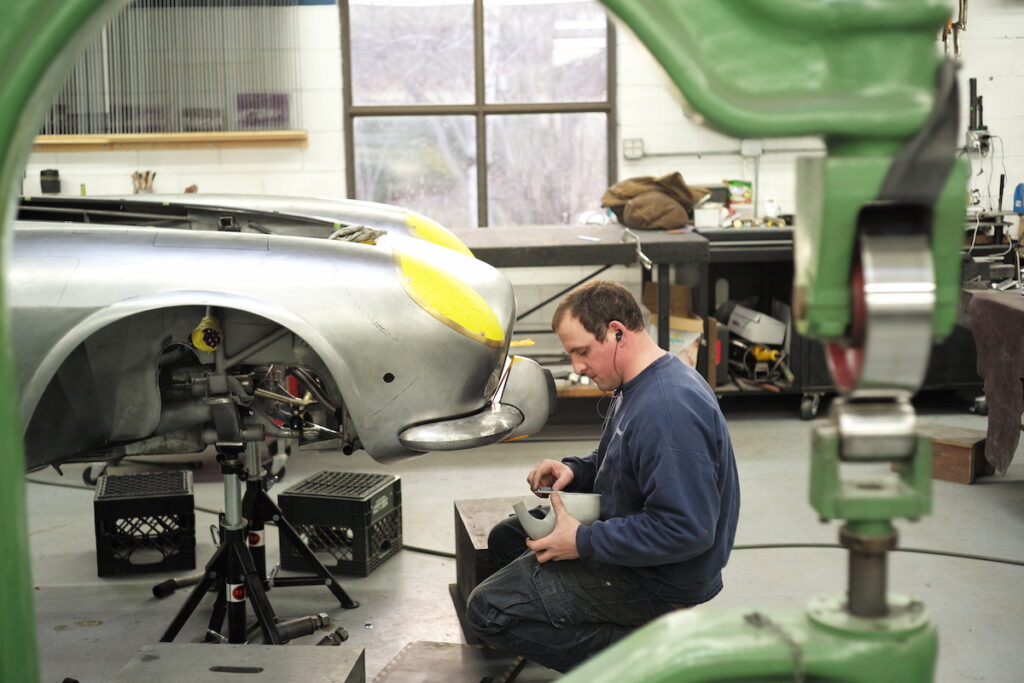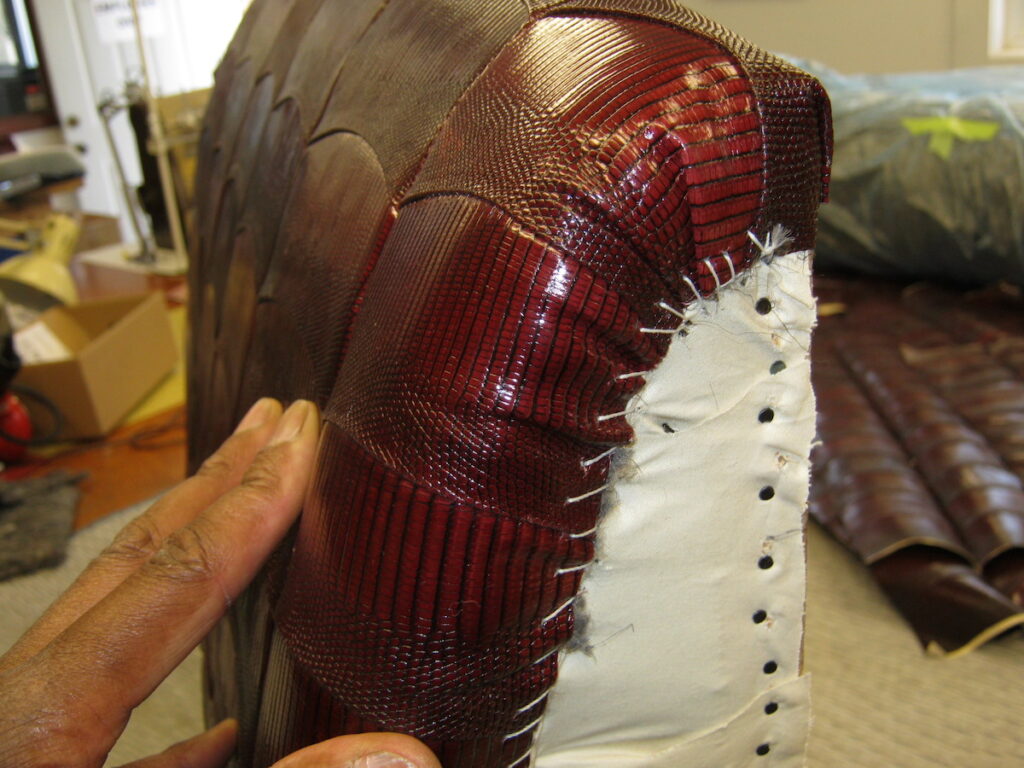 "In even the most faithful restorations, one often winds up with a certain anonymization, an architype of a make and marque rather than a portrait of an individual work of art," says former race car driver, collector, preservation advocate, and honorary Pebble Beach judge Miles Collier, founder of the Naples, Florida–based Revs Institute and author of the recently released volume The Archaeological Automobile. It is the pursuit of that unique portrait that has guided Collier's recent restoration of a 1962 Lotus Elite SE, one of the first monolithic unibody automobiles ever made with a composite material — in this case, fiberglass.
"With the car mounted on a rotisserie that allows it to be spun 360 degrees around its longitudinal axis, my colleague Tim Blair and I were able to finally inspect its unseen parts, where one finds evidence of a car's history — layer upon layer of fillers, primers, and coats of paint. Each of these uncovered strata spoke to misadventures and accidents, to the various owners who had left their mark, having painted the car five different colors, and surely performed other unknowable work. With each intervention, the car was reimagined, corrected, and enhanced, as its historical past continued to be destroyed in favor of a new and evolving present. While others may burn up cubic money in pursuit of lapidary perfection, my goal has always been to go back in time — to the car's birth and place of origin, to find its unique personality."
"Finding that car's personality really is the ultimate OCD activity, and hardly one for the shallow pocketed," says Ross, adding that a restoration back to factory spec can out-cost even the most lavish appointments. And he would know, having himself restored several barn finds, including a 1965 Shelby GT350 and a 1966 Lamborghini 400 GT Interim, which had been squirreled away in a dark garage for many years. "Not only was the Lamborghini complete and intact, it's a rare 'Interim' model, featuring a 4-liter V-12 with Lamborghini's own transmission and differential, in contrast to most of the two-seat GTs that use a 3.5-liter engine." Ross has restored that car not once but twice, the current restoration being undertaken by Santa Monica–based Joseph DeMeo with the aim of correcting "anachronistic details," among them restoring the car's original braided steel fuel lines and machining correct fittings from scratch.
Despite all the perceived "flaws" now being righted, the car, which Ross acquired in 2002, did win the 2018 Hillsborough Best of Show, and took first at two collateral events leading up to the Concours during the Monterey Car Week of that year — the Carmel Mission Classic and at the Quail.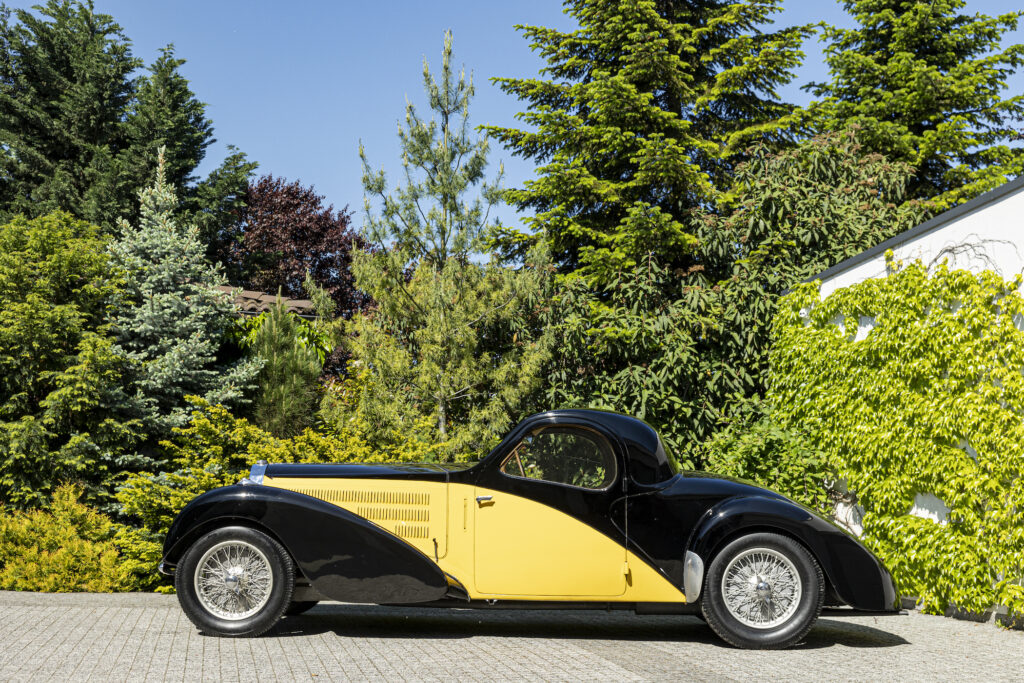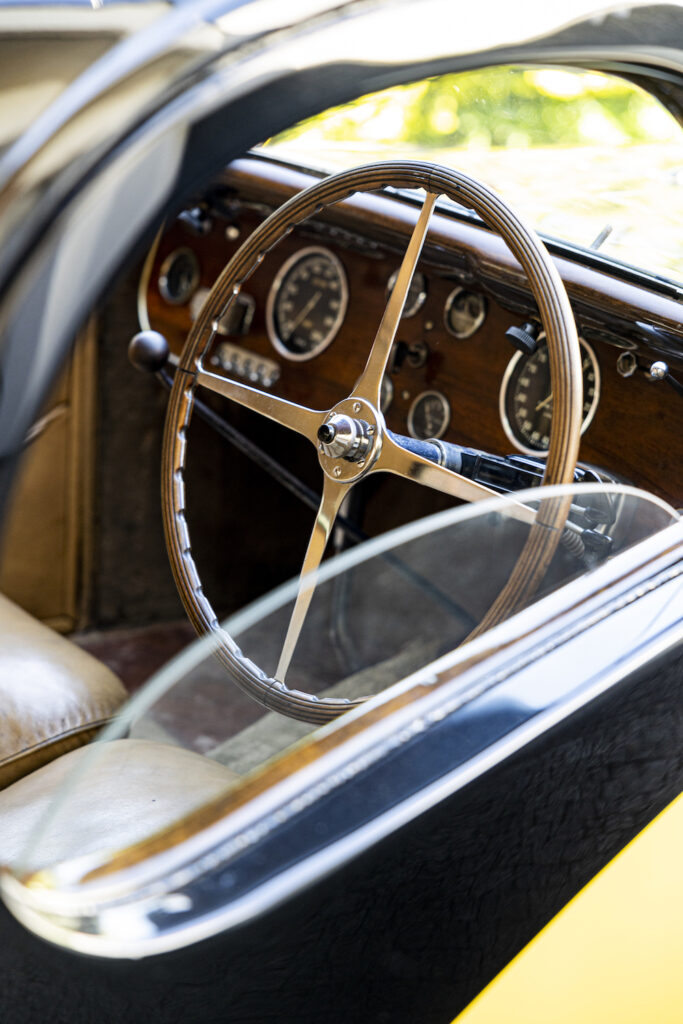 "The best part of bringing a car like the 400 GT to a concours is surprising the visitors, most of whom have never seen such an early Lamborghini. It's so elegant and soft. It doesn't look like a Lamborghini at all!" When queried whether the car might have a chance at Pebble Beach once the current restoration is complete, Ross pauses for a moment. "Anticipating the recognition at Pebble Beach of Lamborghini's 60th anniversary celebration in 2023, the car has been restored in order to establish a reference standard for the first of Lamborghini's GTs. For that reason alone, we might warrant a place on the field."
"The interesting thing about adhering to such faithful restoration," says Russell, "is that a lot of these projects take two years, especially on a pre–World War II car. And then, when bringing the car to Pebble Beach to be judged by three marque experts, it's all over in 20 minutes. In a lot of ways, the presentation of a car on the judging field is like an attorney's closing argument after a very long case."
"When it comes to taking Best in Show at Pebble Beach," says Leyden, "the bottom line is you start with the best car you can possibly get. You do the deepest research you can possibly do. And then you restore the car sympathetically in accordance with this research. You have, in a sense, all the special factors that set a car apart: historical importance, rarity, design, and engineering. And, hopefully, it's an elegant car as well. That's how you get to the winner's circle."
For those looking to get into the race, some of the most coveted classic cars in the world come on the auction block during Monterey Car Week — presented by Bonhams, RM Sotheby's, Gooding & Company, Russo and Steele, and newcomer Broad Arrow Group. Among the most highly anticipated lots this year is a 1938 Bugatti Type 57C Atalante, of which just 16 were made. "It is a stunningly original car, with great measures taken to preserve its original finishes, and has outstanding provenance, including a 1938 Paris Salon exhibition and 60 years in singular ownership," says Jakob Greisen, vice president and head of US Motoring for Bonhams. The house is offering the car during its Quail Lodge sale, tagged at $2.8 to $3.4 million.