Just when people were abandoning Manhattan after COVID-19 struck in March, Cortney and husband Robert Novogratz, the popular design duo, decided to return to the city after six years in Los Angeles and turn a derelict townhouse near Washington Square into their next family home.
"We loved LA, but all of our friends and family are here," Robert says. "New York is going through tough times, and we thought this was an opportunity to come back to the city and help bring it back. We're really New Yorkers who happened to live in LA for a while."
"I may be from Georgia," says Cortney, "but I moved to New York when I was 20 and consider myself a New Yorker."
Over the past 25 years, the handsome couple has become a phenomenon. They have starred in two popular reality TV shows, created an eponymous line of furniture and home accessories, produced four interiors and lifestyle books, and completed dozens of design projects. The public ones include boutique hotels (Hotel Dylan in Woodstock, New York, and the Timber Cove resort in Sonoma, California), condos (Boston East in East Boston, Massachusetts), stores (the Babakul Fred Segal boutique in Santa Monica and the Novogratz Holiday Pop-Up shop in the West Village), bars, clubs, corporate headquarters, and recording studios.
And then there is the private work, including several houses they restored and decorated all over the United States, from San Diego to Montauk.
"We've done ten townhouses in downtown New York alone over the past 29 years, sprinkled in with seven children," Cortney says. (The seven include two sets of twins.)
The Novogratz, as they call the company, has an unconventional design aesthetic, mixing high and low decorative elements, such as custom upholstery with flea market finds, and Boffi kitchens with reclaimed wood floors.
"The eclectic mix of the old brings in soul, and the new makes it happy, fun, and livable," she adds.
And they are clever when budgets are tight: instead of expensive wallpaper, for example, they might simply paint diagonal stripes on the walls or cover them with blown-up digital photographs. When the art budget is limited, they might use vintage movie and music posters found at flea markets or on eBay. The style has a youthful vibe.
While they have renovated several townhouses for others in Manhattan, the charming but derelict 6,700-square-foot townhouse and garden at 114 Waverly Place (which they acquired in 2019 for $8.5 million, according to public records) is for their family.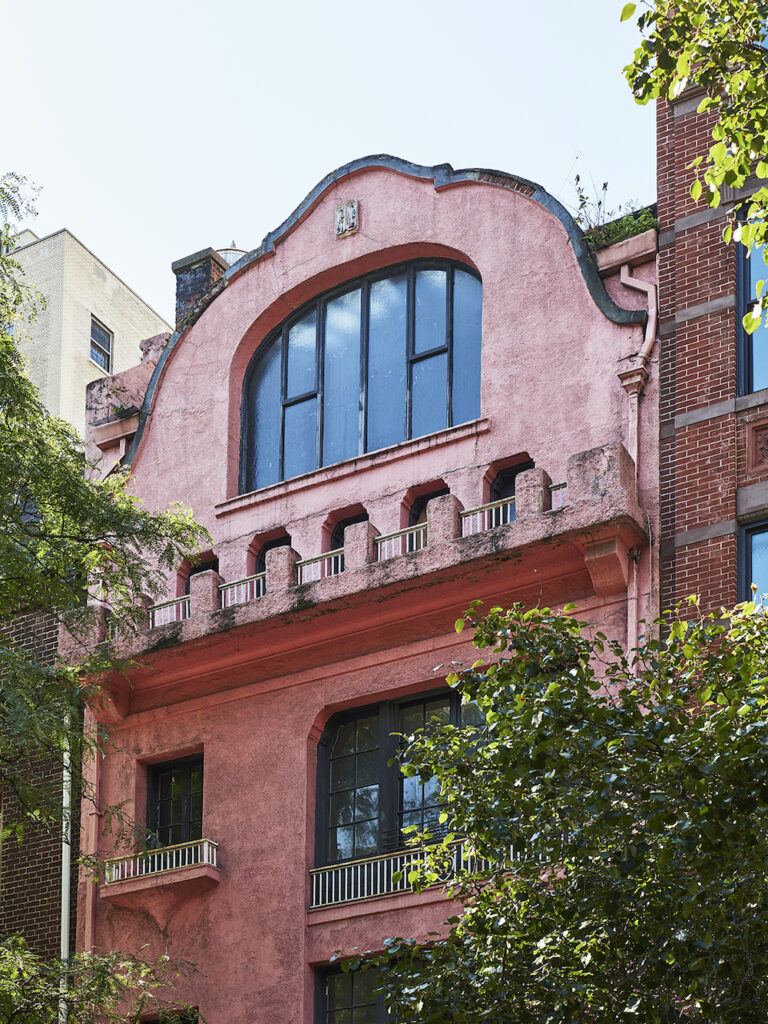 The story of the acquisition shows just how much Cortney Novogratz is a force of nature.
When a broker showed her the 1826 townhouse with bright pink stucco, she thought to herself, "'This house has a happy feeling.' My son Five, at age 15, felt it too." Then she learned that its longtime owner, a onetime Rockette named Celeste Martin who had recently gone into a retirement home, had died that very day. "Celeste was all about the arts, so I thought, 'We have to honor her spirit.' It felt so positive, like it was meant to be."
Then they came to appreciate Celeste even more. Left behind were collections of theater Playbills, old stage costumes, and menus from the most famous restaurants in town.
"We learned she used to hold court on the front stoop and would throw beads to people during gay pride parades. She was beloved in the neighborhood," Cortney continues. "She was only the third owner of the house in almost 200 years. It's rare to find a place that's been untouched for so many years."
They were anxious to begin the renovation this summer.
"When we got the go-ahead from the city, we started phase one, to make the site safe, putting in restrooms and sanitary kits, and reduced the number of crew who could work inside at one time," Robert explains. They also took pictures of the millwork and moldings for reference before they gutted the interior to install new wiring and plumbing.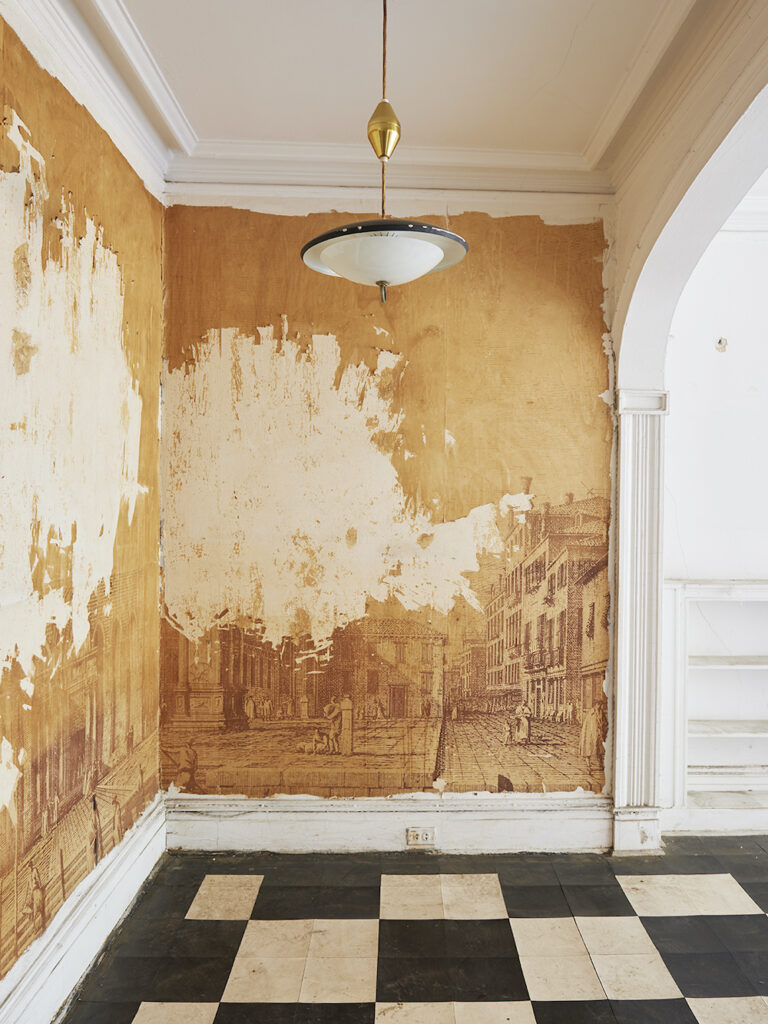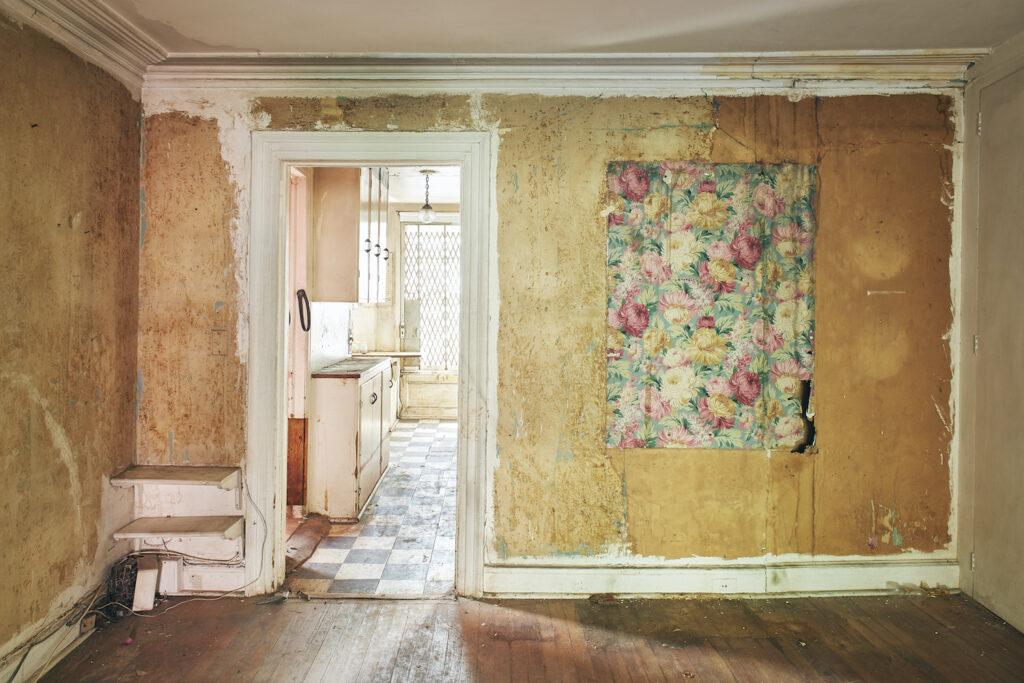 They explain their design process: "We start with one inspiration, in this case the huge fireplace on the top floor, which is a large studio that was a mecca for artists and poets in the 1920s," Robert says, explaining that the floor is vaulted with a mezzanine balcony and tall windows.
"We will keep it an event space, put in a grand piano and movable seating so we can have public events here." He points out that their eldest son, Wolfgang, is an actor who is the star of a Netflix show, while their son Breaker is a composer and musician.
They plan to make the large first floor, which opens into a garden in the back, an open-plan living, dining, and kitchen area, with its original black-and-white floor as a nod to Parisian cafés. The floor has 14-foot ceilings and southerly windows, so it's flooded with light. They will make the second floor a master bedroom suite for themselves, with their school-age children's bedrooms on the third floor (twins Holleder and Five, aged 15, as well as 11-year-old Major).
The basement will become an apartment for the older kids when they are home from college (twins Bellamy and Tallulah, 22, as well as Breaker, 20) with a gym, bedrooms, living area, and kitchen.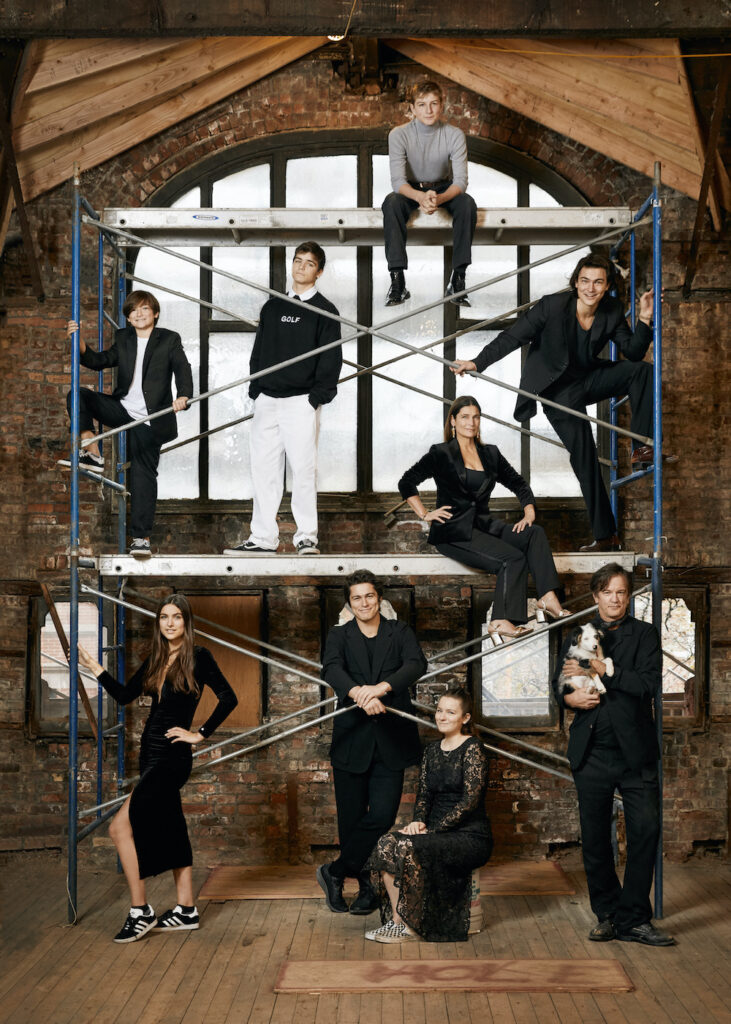 "We want to honor the neighborhood," Robert continues. "Bring the house back to the way it was in the 1920s era, when Waverly Place was full of artists and writers."
When it comes to furnishing interiors, the Novogratzes go shopping.
"We love flea markets in Paris, the South of France, Nice, Hudson, New York, the Rose Bowl in Pasadena, and Austin, Texas," Cortney says. "When we were dating in New York, we would dance all night, then get up before dawn to go to the flea markets. Then, when we had kids, even when they were younger, we would take them and give them 'assignments' — the girls were to look for paintings of women and old chandeliers — one-of-a-kind pieces. The boys were told to look for vintage toys and sports-related objects."
They are avid art collectors, for themselves and clients. Favorite personal purchases include a Self Portrait by Vik Muniz and a painting, Get Paid, by Mark Bradford.
"We have been collecting contemporary art for 25 years," Robert says. "We go to the Armory show in New York, Art Basel Miami Beach, and all the galleries in SoHo and the Meatpacking District. Cortney and I have become very knowledgeable about art. The more you know, the more you have fun with it."
The business is truly a family affair.
"Robert and I wear all the hats," Cortney says. "I do the space planning. Robert has an incredible eye. We try to maintain the integrity of a space but bring it up to date. We complement each other, as we balance family and design."
They supervise a loyal crew of painters, plasterers, carpenters, and workmen. Robert's sister Elizabeth, a writer, contributed to their new book: Novogratz Design Fix: Chic and Stylish Tips for Every Decorating Scenario, published by Rizzoli.
As they devote their energies to Waverly Place, they are still thinking ahead. They are building the Waverly Place Collection, including a zebra wallpaper and textile pattern with their friend Donald Robertson, a commercial illustrator in Los Angeles.
And, inspired by Colette and the Merci shops in Paris, they are thinking of opening an "experience store" in lower Manhattan where you can listen to music as you buy books, shop for fashion, acquire furniture and art, and attend events. They are wildly optimistic about the future of New York.
"New York is our favorite city on Earth," Robert says. "There will be a time soon when there will always be something going on in the city."
And they definitely plan to be part of it.