Legend has it that on February 25, 1960, Queen Elizabeth the Queen Mother was perched majestically on her chintz sofa, trusty gin-and-tonic in hand, watching the televised burial-at-sea of Edwina, Countess Mountbatten of Burma. The Countess, last vicereine of India and an internationally celebrated symbol of beauty, jet-set style, and panache, had died in Borneo, and had requested a burial at sea, off the coast of Portsmouth. As her coffin slid majestically beneath the waves, the Queen Mum is reported to have purred, "Dear Edwina. She always liked to make a splash."
Splash-making seems to be a habit Edwina passed down to her great-granddaughter Daisy Knatchbull, the 30-year-old founder of The Deck, the first women's tailoring brand to take up shop on the traditionally male-dominated Savile Row. In another pioneering move, last month The Deck moved from number 19 to number 32, one of the largest storefronts on the row — 2,000 square feet of de Gournay hand-woven wallpaper, blond parquet floors, plush velvet sofas, and antique gilded mirrors, designed by Cordles, a luxury design firm.
Bold acts are catnip to Knatchbull. After all, this is the woman who strode into the Royal Enclosure at Ascot, a bastion of tradition and respectability, in 2016, in top hat and tails. Her duds were by Huntsman, the venerable Savile Row establishment where she was working in public relations at the time, and her sartorial hijinks were a stroke of promo genius. As she wrote in Tatler magazine in 2019, the year she launched The Deck, "Once, I was described as having 'a genetic predisposition for rebellion '— which matches perfectly an ethos that guided my youth: 'It's better to ask forgiveness than permission.'"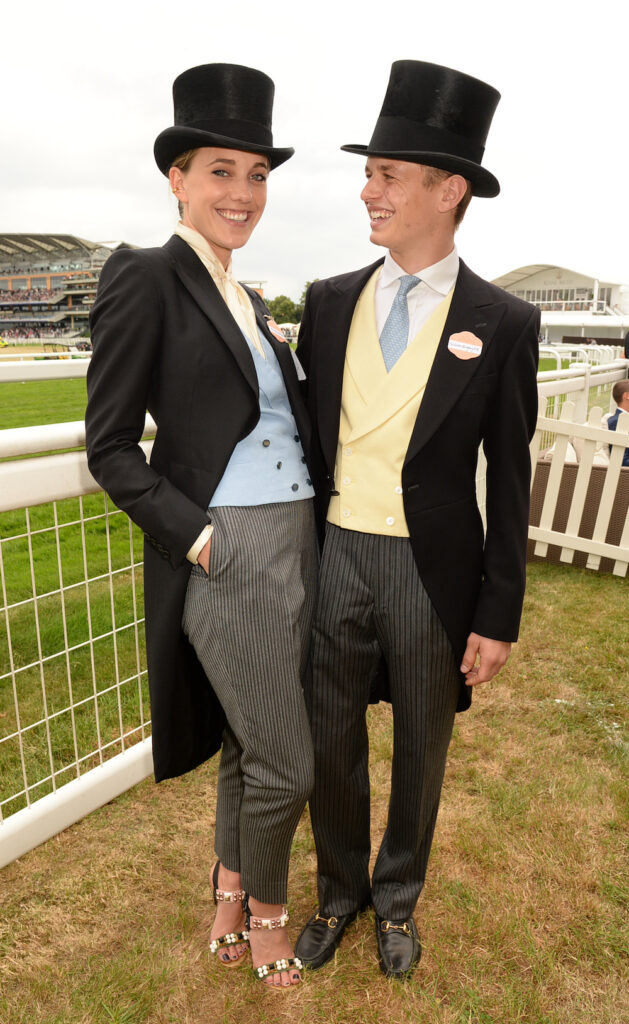 I caught up with Knatchbull and her all-female crew in New York last fall at her inaugural American trunk show. In a loft on Lower Broadway, the three-day event, which was fully booked, managed to project a feeling of British urban luxury and American downtown cool. Knatchbull wore trousers and a blouse from The Deck, naturally, and looked so stunning that she could have been mistaken for the fit model. We drank tea — of course.
"We were really trying to make Savile Row feel more relevant and more interesting for women, to bring more women to the street," Knatchbull told me of her caper in the Royal Enclosure. "We thought it was a really fun idea to make a scene and generate some kind of fun, cool coverage, and it worked!" The day had its bumps though. "They tried to stop me from getting in because I think they knew I was going to make a fuss," Knatchbull recalled, "so they tried to call me out on the fact that I was wearing these six-inch Louboutin heels. They said, 'The rule is if you wear a top hat and tails, you must wear correct footwear,' of which obviously heels wasn't a thing." She asked to speak to the manager of the enclosure, who took one gander at Knatchbull, and said, "Come on in." A press frenzy ensued, making Knatchbull the poster girl for women's bespoke tailoring from then on. "That was really such a catalyst moment for this business," she said.
As a child growing up in London, Knatchbull was a bit of a tomboy, and loved to wear non-"ladylike" things, like camouflage trousers. "My stepmother always tried to put me and my sister Phoebe in matching dresses." she laughed. "I wanted to dress in things that I felt comfy and cool in rather than pretty and girly." She went on to boarding school at Benenden in Kent. These days she lives in London's Little Venice with an Italian boyfriend who cooks her dinner every night. Her father is Curzon Cinemas CEO Philip Knatchbull. Anyone who has watched The Crown knows that her aunt Penelope Knatchbull was quite close to Prince Philip.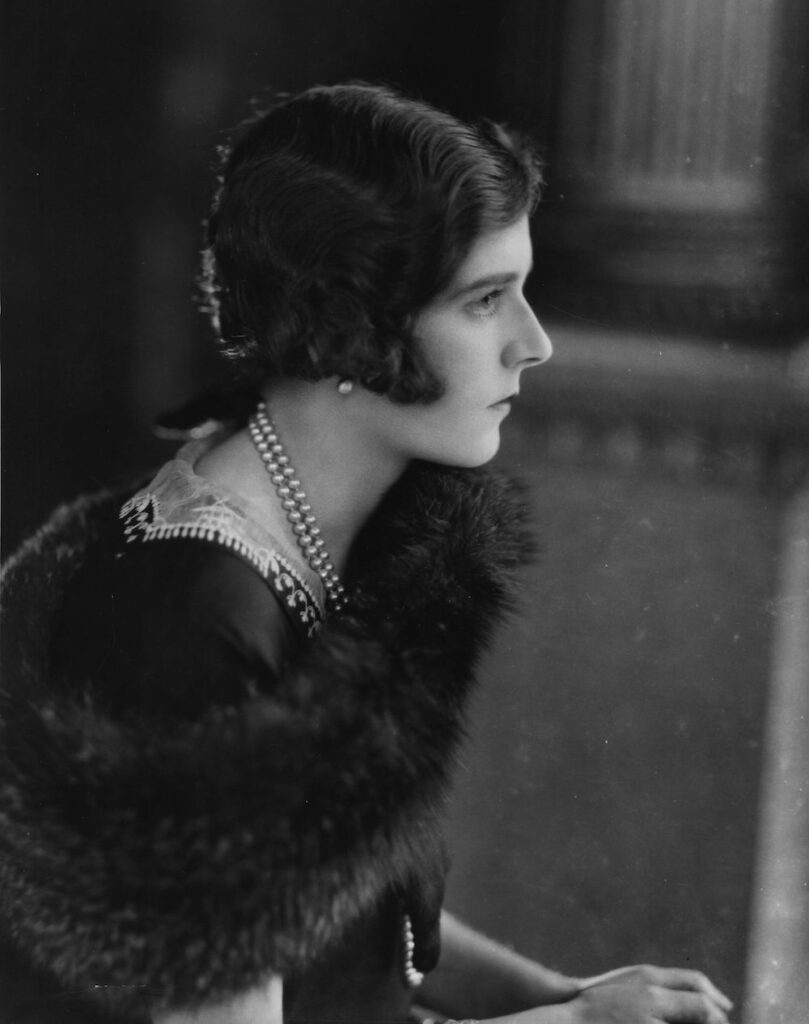 Today you're still not likely to find her in a frilly frock. "Ball gowns are beautiful," Knatchbull said, "and I appreciate that, but for me, I always feel sexier and more elegant when I'm in a really good trouser suit. There's something about it that gives you this unapologetic confidence."
Her clients, many of them friends from similarly royal-adjacent backgrounds, share her sensibility. "The simplicity of a suit to an untrained eye is just that — seemingly simple," said Lady Violet Manners, an old friend, and the Duke of Rutland's daughter. "But the detail in The Deck's suits, with refined tailoring to your shape, is so subtle, but it makes the most enormous difference. Wearing The Deck always makes me feel an intoxicating mix of feminine and masculine, a yin and yang that no off-the-peg dress trousers and shirt combo ever would."
Knatchbull's maternal grandmother, Sydney Smith, was married to the fashion photographer John Cowan, and told her stories of London in the Swinging Sixties. She and Knatchbull would make dress patterns on the floor together while Granny caught Knatchbull up on fashion history. "She taught me about the 'New Look' and what that meant," Knatchbull said. "About each era and what that did to fashion with what was going on at the time."
Her early interest in fashion gave her "this feeling that I can't describe," she said, "this insane feeling. When you really are passionate about something, you feel that. I have it with my business."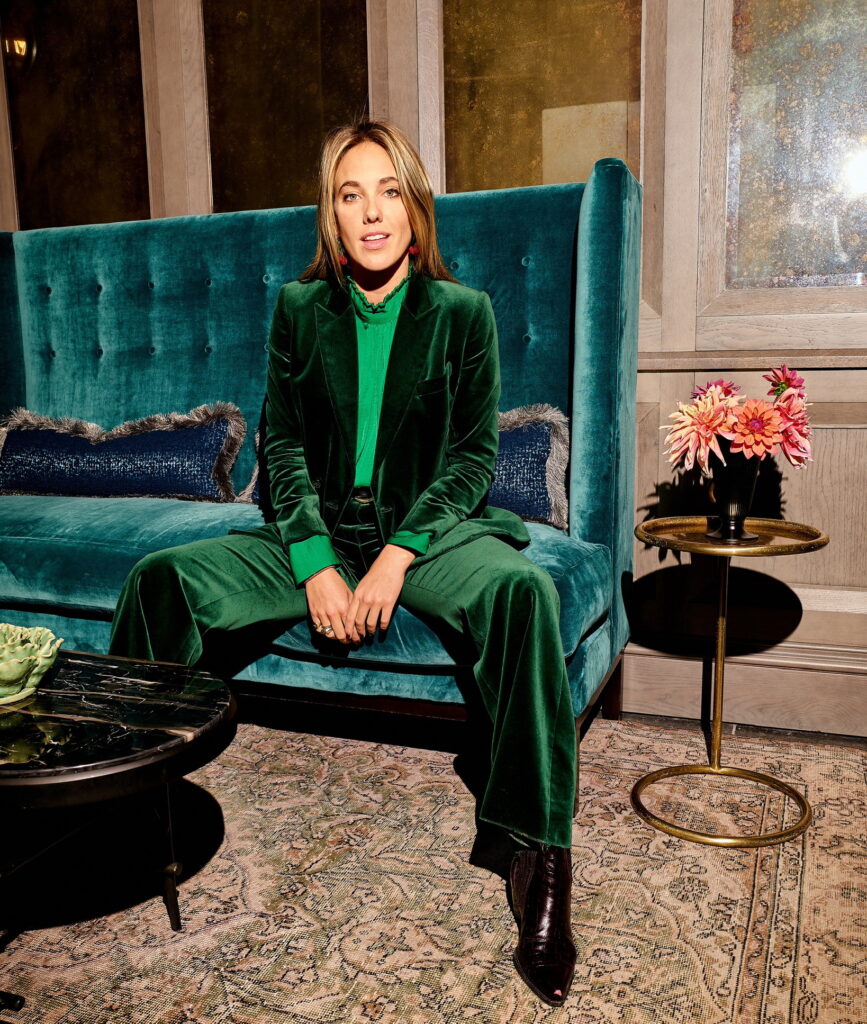 The passion became the through line to her career. After college at the University of Leeds, she segued from internships at Huntsman and Purple PR to styling, then fashion journalism at the Evening Standard and The Sunday Times, designing her own line seemed the natural next step, but deciding that men's fashion was going to be her jumping off point was a bold move. Having landed on Savile Row in her early 20s, she said, "I fell into this beautiful world, and this opportunity fell into my lap." If that's what you want to call the sensation of showing up at Ascot in Savile Row regalia. She ran with it.
Knatchbull was The Deck's initial designer, and she handpicked her tailoring team. The results were soon snapped up by women of all ages, from her cousin India Hicks to the Duchess of York, Elizabeth Hurley, Jodie Whittaker, and a healthy smattering of CEOs. If it looks like a breeze, it isn't. Hicks, who knows a thing or two about creating a business, said, "Daisy Knatchbull did not just stroll onto Savile Row. She worked her arse off to be there."
Prices at the Deck start at $2,500, quite reasonable considering that Knatchbull's suits are fully custom and made-to-measure, and come with free repairs for life. Each style has a different name: the Boyfriend, the Single-Breasted, the Safari, and are modeled on The Deck website by friends and notables like former Spice Girl Mel C, model Olivia Arben, and paralympian Nikki Maxwell.
What's the process for ordering a Deck suit? There's the standard measurement taking, but Knatchbull also believes in really getting to know each client: What does the suit seeker love to wear? What doesn't she like in her wardrobe? Does she perspire a lot? Which assets might she want to show off, and are there things she'd rather downplay? "We find out everything," Knatchbull said, "to make sure that what they have from us, they adore and love and wear repeatedly." There are several fittings, and each client chooses her own fabric — the options include velvets, corduroys, tartans, and cashmeres — as well as the lining, buttons, and monogramming for her suit. "We spend three hours on average with each client," said Knatchbull, "so you build a really close relationship. You understand them. You know about their nightmare mother-in-law and their sick dog and their annoying husband." The Deck's reorder rate is 40%. The entire process takes 12 to 14 weeks.
The Deck also welcomes women of any size. "It's being able to have these women come in and show off their beautiful figures, and get it right in the right proportions and places," Knatchbull said. "That makes up a big part of our business because people are tired of just not being heard or seen. It doesn't work."
Her list of style influences is a who's who of glamorous legends in trousers: Marlene Dietrich, Katharine Hepburn, Lauren Hutton. "If I tell you every time someone comes in and wants a bridal suit and their reference point is Bianca Jagger…" She'd love to dress Ellen DeGeneres, who, she said, knows a beautifully tailored suit when she sees one, and Oprah.
When Knatchbull started her business, she said, men would continually say to her, "So you're doing men's suits for women?" "No," she always countered. "We're doing women's suits for women." The benighted fellows were probably thinking of the '80s power suit, she said. "And it had its moments. But beautifully tailored garments will always be in style. A well-fitting jacket and trousers or skirt are never going to go out of fashion." Skirts? Dresses? "We just launched this kilt skirt that has gone a bit bananas," Knatchbull said. If there's something in particular a client asks for, The Deck can almost always oblige. "It's all bespoke," Knatchbull reiterated.
To her, a Deck customer doesn't only look chic, powerful, and sophisticated but also singularly sexy. Most people, she said, "think of sexy as short. Short and maybe off the shoulder. A suit's not like that, but it's [sexy] in certain ways, whether it's that part of an ankle that you see with heels, or the clavicle, which I think is the sexiest part of the body. The clavicle or the wrist — if [a suit] is beautifully made, there's something that just highlights all the best features, projects strength, and has that softness as well. For me, that's just the ultimate look."
Perhaps Knatchbull could dispense advice to the royal family as it struggles to adapt and modernize. After all, her uncle Norton Knatchbull is godfather to the Prince of Wales. She'd be thrilled to dress the Princess of Wales, she admitted. "We say that The Deck is classical-elegance-meets-modern-femininity," Knatchbull said, "and it's that combination you want to keep: some of that heritage and tradition, and, you know, the craft and the art of the street. You want to make it sexy and understated and elegant and all of those things."
Her biggest challenge, she said, is being able to keep up with demand. Growth spurts are a constant. The Deck's New York trunk show sold out. She'll be back in New York in late April, and Palm Beach, Los Angeles, Chicago, and Texas. "In five years," Knatchbull told me, "I see The Deck as the destination for women's tailoring. That's where I want to be." Her goal, she said, only half-joking: "Global domination."