Growing up in sunny Jacksonville, Florida, Dantiel W. Moniz was drawn to dark stories. "My parents didn't moderate what I read," she says, then laughs. "I read Goosebumps. Animorphs, tons of Christopher Pike and R.L. Stine. Honestly, I think my mom introduced me to Flowers in the Attic, by V.C. Andrews. I read so much V.C. Andrews, which makes sense now, considering what I write about: messed-up family dynamics."
Speaking via FaceTime one recent afternoon from her apartment in Jacksonville, she sits on a patio chair, skin glowing and dreads draped over her shoulders. Her balcony overlooks a large apartment complex, a pond, blue skies. She's surrounded by a jungle of green potted plants she accumulated during the early days of the quarantine.
"Being really patient with them and learning what they need has taught me a lot," she says, and calls them by name: rubber tree, Monstera, spiky cactus, hanging fern. They grow well in this climate, and so, it seems, does she.
Moniz, 31, has been writing for as long as she can remember. With a combined five children in a blended family, her parents worked different jobs over the years, but often worked for themselves. As a girl, Moniz would occupy herself with reading and composing stories, typing them out on an old word processor, or writing them longhand on loose-leaf paper and tying the pages together with yarn.
"Sagas about my friends and me, all married to our crushes, living together," she says. "That sort of thing."
On an eighth-grade field trip to Douglas School of the Arts in Jacksonville, she stumbled across information about the school's creative writing program and was struck for the first time by the idea that writing could become a viable career path. Her friends had planned to attend high school together and were angry that she might break up the "group" for the sake of the arts. But she followed her gut and enrolled at the school the following fall.
Her path has been set ever since.
In the past half-decade, Moniz has tended to the seed of her talent, letting her imagination blossom into the brooding tales that comprise her highly anticipated debut short story collection, Milk Blood Heat. From page one, readers are brought into the seductive, electric world of girlhood, as two 13-year-old best friends, Kiera and Ava, slash their palms and mix their blood with milk to drink. "Blood sisters," they vow. And thus, the terror of growing older begins.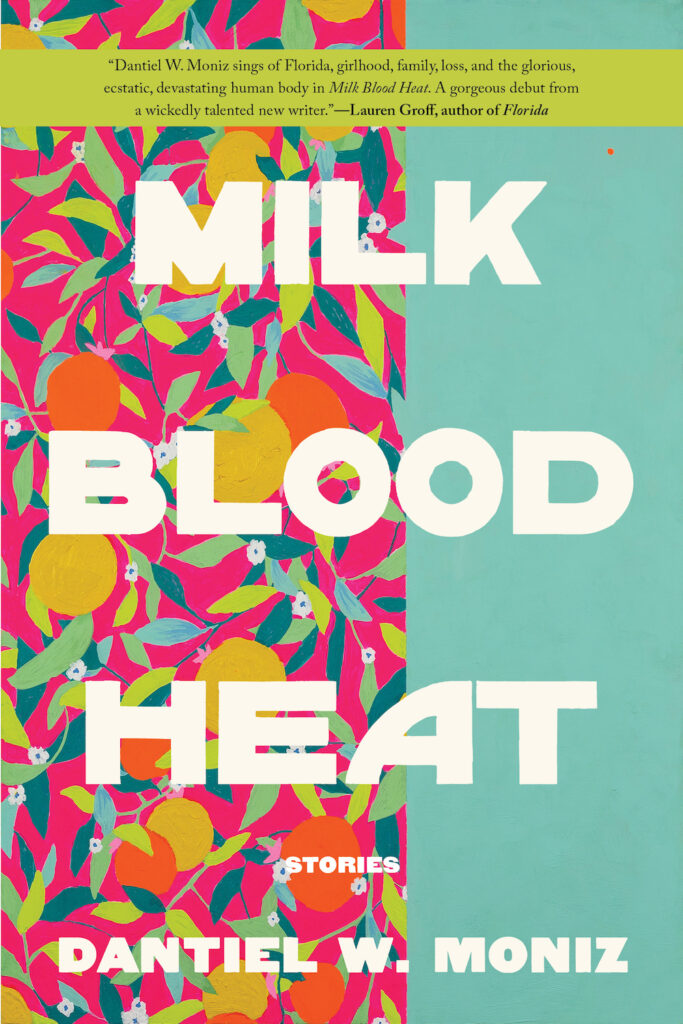 That short story, like many in this collection, was written while Moniz was pursuing an MFA through the creative writing program at the University of Wisconsin–Madison.
Stories in Milk Blood Heat were originally published in 2018 in Ploughshares, for which she was later awarded the 2019 Alice Hoffman Prize for fiction, and several other noteworthy and award-winning short stories have appeared in The Paris Review and Tin House, among other literary magazines. The stories tend to ruminate on early adolescence and mortality.
There's something eerie and fragile about those years just before adolescence, when the human mind and body experience a range of intense sensations and changes. With guidance from some of her mentors and professors, including Jamel Brinkley and Danielle Evans, Moniz chose to hone her obsession.
"Children are way more intelligent and perceptive than adults think they are," she says. "That time period is a great way to get into the questions: Who are we going to be as people? How are we going to be in the world? How do you begin to understand that, before you can even understand how the world is conditioning you to be a person?"
Lyrical and rich with images, the stories range in scope, but maintain a similar setting.
In "Outside the Raft," she writes: "It was a typical Floridian summer, both sweltering and sweet. stretching out before us like a wide-open hand." In the opening scene of "The Hearts of Our Enemies," a woman sits in her car, smoking cigarettes, ruefully watching her neighbors while contemplating the demise of her own marriage. Is there such a thing as Florida gothic? If so, then Moniz has earned her place with other authors who claim a love-hate relationship with Florida, including Lauren Groff, a champion of Moniz whose own work focuses on the dark shadows that linger in the Sunshine State.
Will she stay in this hot, airless place? For now, she says, the answer is yes. Once a week, she logs into Zoom to work virtually side by side with other writers. Though the pandemic has been difficult and stultifying, Moniz says she's taken comfort in creative friendships from across the country, including the poet Chet'la Sebree, whom Moniz calls "one of my main support people." And when she's not writing, she tends to the needs of her plants, watching them thrive in a climate often forgotten by the literary set.
As she touches the Monstera's newest leaf, she says, "I've been propagating." She turns and picks up a spiky cactus growing from a small terracotta pot, then points to a much bigger plant across the balcony.
"These came from that, and they were very tiny. It's really cool to see stuff growing. It's a reminder that growth is slow. You can't see it. And then I come out one day, and a whole new leaf unfurls. And I think, there you are. You were doing that the whole time."
Milk Blood Heat will be published on February 2 by Grove Atlantic.