For David Grutman, mornings are sacred. This is not because he's necessarily a morning person (if anything, he's an all-hours kind of guy). Nor is it because he's a sit-and-savor-his-coffee-while-reading-the-paper type (he slams espresso shots and absorbs his news through Twitter). Rather, mornings are the sole time of day in which his core industry has, essentially, gone to bed: Grutman is the founder of Groot Hospitality, the renowned Miami Beach-based group behind some of the world's most successful nightclubs and restaurants, including the ultra-hotspot LIV at the Fontainebleau, and Komodo, the highest-grossing independent restaurant in the country in 2021. Mornings are his ostensible midnights. But this doesn't mean Grutman is lounging. In fact, 99% of the time, he's playing tennis.
"I try to get out here every day of the week. I'm obsessed," says Grutman, standing on the baseline of a private court in Miami Beach's Sunset Islands, where he practices. He calls it the "Terrordome," and it has just been upgraded with Prince-branded windscreens. (In addition to his hospitality work, Grutman is also the co-owner and creative director of the celebrated athletics brand.) "It helps me clear my head for the rest of the day and night, and I like that it's a form of exercise that has a certain level of competition." Even at casual 8am sessions, he tends to go big: Grutman brings high-profile guests such as tour players Genie Bouchard and Reilly Opelka, and regularly hits with the famed coach Jimmy Bollettieri. At his vacation home at Amanyara in Turks and Caicos, Grutman is known to book all the pros, both courts, and invite people to train with him. When he hits an especially good shot — most often on the forehand side — he says, "Buh-bye."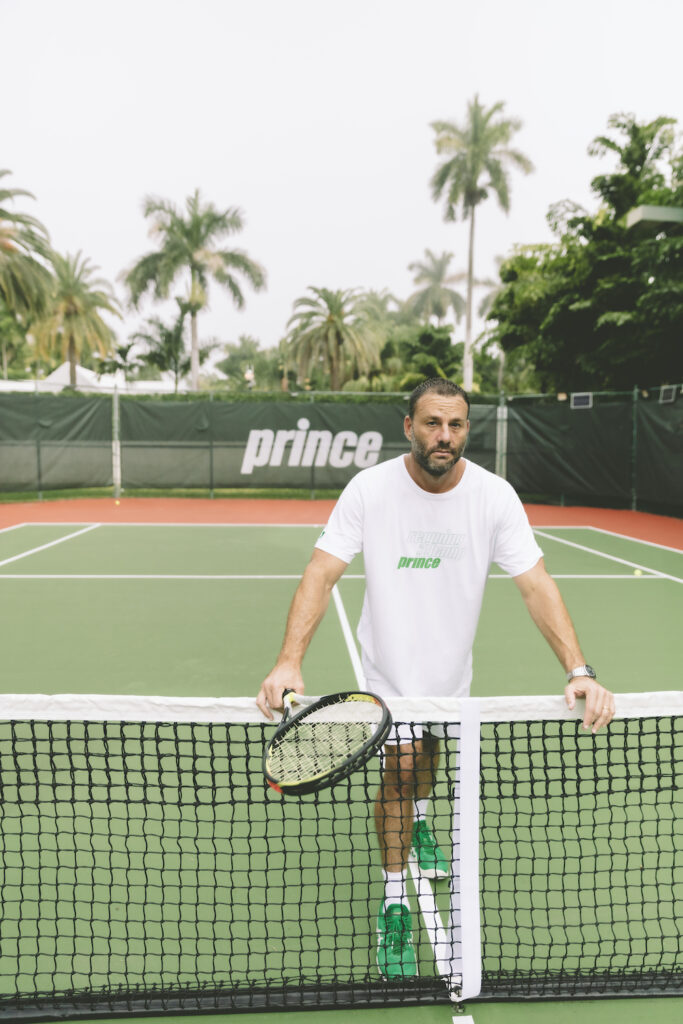 Post-tennis, Grutman usually heads home to settle into an afternoon of calls, networking, and, frankly, helping people who want to experience Miami in as full and as fun a manner as possible. This includes visitors and locals alike. When I arrive at his apartment at 1000 Museum — the striking, exoskeleton-wrapped tower designed by the late Zaha Hadid and considered to be the most luxurious building in the city — he's coordinating a private dining booking for his friend, the musician DJ Khaled.
"I probably speak to about 200 people a day on the phone," says Grutman from his living room table, which offers a 180-degree view of Biscayne Bay, celeb-studded Palm, Star, and Hibiscus Islands, and Miami Beach beyond them. "I still truly enjoy it. I like connecting people. I like talking to people. And it's not below me to help people book a table, or get them in when the restaurants are packed. It's what keeps me motivated in this business. I genuinely want people to have a good time, and I like being able to make that happen."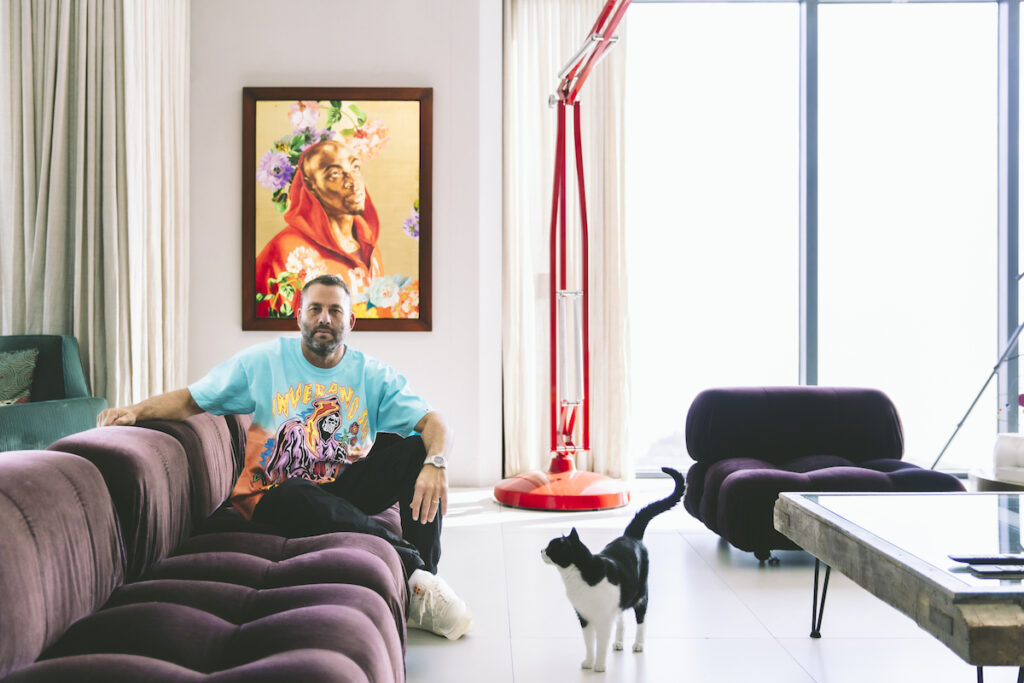 Grutman's apartment features an open floor plan, with curved balconies that give it a kind of light-filled sky cave feel (Hadid's building is extraordinary — it's clad in a concrete-fiberglass trim, no two pieces of which are the same, and all of which had to be forged one by one in Dubai before being shipped to Miami). The table acts as a kind of juncture between the modern kitchen and his art-filled sitting room. Grutman has an eye for Pop art, and collects pieces that are bright, vivid, and optimistic. He's also started to acquire a few NFTs, some of which are displayed on a rotating basis on a recently installed LED screen.
The table is also often the display console for a number of companies in which Grutman is invested, or at least interested. When I visit, there are boxes of Goodles, the healthy boxed macaroni-and-cheese company founded by the actress Gal Gadot. Grutman has a stake in it. Some collegiate-inspired sample Prince shirts hang on the back of a chair. There's also a bottle of 818 Reserve, which is from Kendall Jenner's tequila brand (he's close friends with the Kardashian-Jenner crew), and a box carrying boots designed by Victoria Beckham, who happens to have a residence in this same building. These shoes have been ordered by Grutman's wife, the Brazilian model, designer, and philanthropist Isabela Rangel Grutman. The two tied the knot in 2016, after Grutman proposed the year before beneath the famed outdoor murals of Miami's Wynwood district. Their wedding occurred in the same neighborhood — a star-studded event that many still talk about. The Grutmans now have two daughters, Kaia and Vida.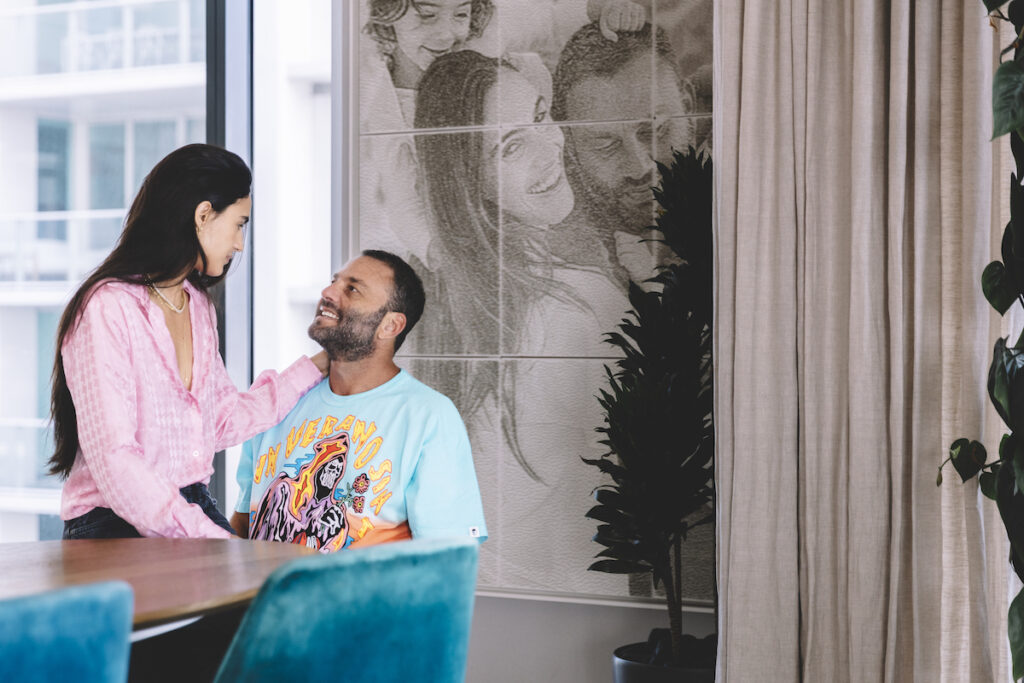 Back to business: success in hospitality has allowed Grutman to fund and partner with brands outside of the space, yet there always seems to be a tie back to people-pleasing. When I ask him about what draws him to an investment opportunity, he says, "I'm interested in ideas that serve popular, everyday needs. Things like apps, social media, wellness, food and beverage start-ups, and consumer goods."
After a few more calls and a quick lunch of açai bowls and more espresso, we hop in Grutman's elegant Bentley Mulsanne. As we drive east across the bay, he fondly brings up his old boat, called Groot, for which he even had merchandise made over the years (including T-shirts designed by Virgil Abloh). That swag is a hot commodity in Miami these days, if you can get your hands on it. While the boat has been sold, a new one is under construction.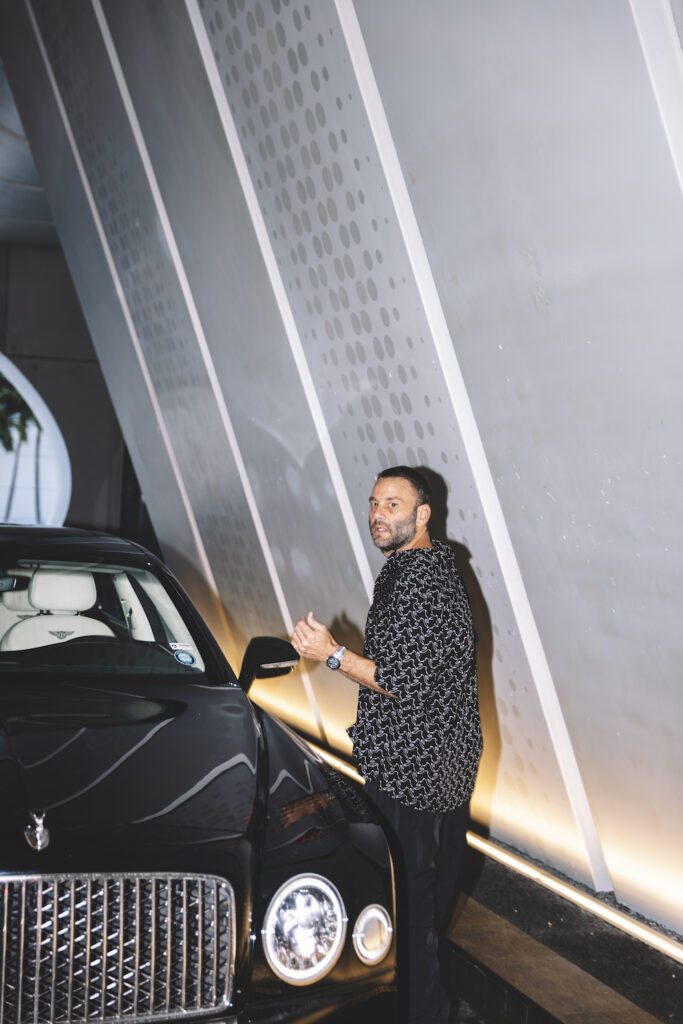 We're traversing the MacArthur Causeway to get to the the Goodtime Hotel. On a typical day, Grutman may or may not visit one of his venues until nighttime — but today he's en route to the Goodtime for a content shoot.
The Goodtime is Groot Hospitality's first hotel property. It opened in 2021 in partnership with the multi-hyphenate talent Pharrell Williams. Williams is also a partner on a Groot restaurant called Swan, in the Miami Design District, and in 2024 Grutman and Williams will jointly debut a resort named Somewhere Else on Atlantis Paradise Island in the Bahamas. Do not be surprised to see their joint ventures expand to other cities and regions in the near future.
From the hotel's pink, gold, and wicker-accented library, Grutman scans the clearing as a waiter brings me a spicy Jaja margarita and him a green juice. "I mean, look at this," he says. "It's the best. It really shows what we try to do with all of our spaces. Not only great food and great drinks, but also world-class entertainment and eye-catching decor. We want our experiences to be high impact — and we want them to be shareable." A few minutes later, I count at least two people taking selfies, no doubt destined for Instagram stories.
Groot Hospitality's restaurant roster is expanding substantially. In addition to those aforementioned, there's also Papi Steak, a high-energy intimate steakhouse in Miami Beach's tony South of Fifth neighborhood; Strawberry Moon, a Mediterranean restaurant located at the Goodtime Hotel; Gekkō, a high-end Japanese-inspired steakhouse opened in partnership with the recording artist Bad Bunny located in Brickell; and the Key Club, a clean and contemporary take on an all-American bistro, nestled in Coconut Grove. Komodo will soon open its second iteration in Dallas; many more restaurants, overall, will follow in the coming years. One compelling point to consider here is that Groot is owned in part by Live Nation, the entertainment company that — shrewdly — sees the value of aligning talent with hospitality as a major pull for patrons. Grutman, however, noticed this long ago.
It's now twilight — about 7pm, a few hours after wrapping at the Goodtime — and we're sitting in a booth at the Key Club, surrounded by wood-paneled walls and a colorful, uplit mural. I ask Grutman about the seemingly ever-increasing confluence of hospitality and entertainment — of the supercharge that celebrity can add to a space. "I first saw the power of it years ago," he says. "This was the era of pre-social media. By a long shot. And you know who it was that made me see the potential? Janet Jackson. Of course, celebrities in nightclubs have always been a thing. Ian Schrager and Studio 54? Legends. But this felt different. The way people approached Janet, asking for pictures on their phones, obtaining a portable memory from a moment. I thought, 'This is just the beginning.'"
Good times with famous friends
The sentiment underscores what Grutman told me back at the Goodtime: he's not engineering an outing based on one pillar. It's more that he excels at creating a world within a world. Through this, he strives to make everyone in the room feel as important as the next, and, in doing so, imparts a bit of Magic City electricity through all of it — food, drink, sights, sounds, proximity to fame, and, mostly, purpose of fun.
"I can't turn it off," he says. "It's the natural host in me. I'm OK with the late hours. I want to make sure people are taken care of. It makes me happy when my guests are happy." With that, he gets up, and heads out into a night still young.