When Dee Ocleppo Hilfiger along with her husband and fellow designer, Tommy Hilfiger, decamped from Miami to Palm Beach a little over a year ago, one reason was to find the right school for their son.
Like many other business and creative leaders, the family is putting down deeper roots in this Arcadian community, formerly associated with mid-century snowbirds like C.Z. Guest.
Today, the designer couple is overseeing the (they hope) two-year-long renovation of a new home on Billionaires Row, while they reside in a smaller house nearby. And Ocleppo Hilfiger herself is busier than ever. Five years into being the creative director and co-owner of Judith Leiber, the iconic handbag and accessory line, she also designs Dee Ocleppo, her affordable luxury collection. She's mother or stepmother to seven children — three of whom have special needs — all the while being the supportive partner of one of the world's top designers.
So yes, Ocleppo Hilfiger has some balls in the air. "There's a lot of juggling going on here," she said matter-of-factly. "More than people know or can understand."
Palm Beach affords the couple a chance to let go, to every now and again drop one of those balls and not worry anything will break except the waves on the Atlantic. "The lifestyle here is a lot more relaxed," she said. "Both Tommy and I have slowed down a lot. I don't know that we would have made this change without Covid."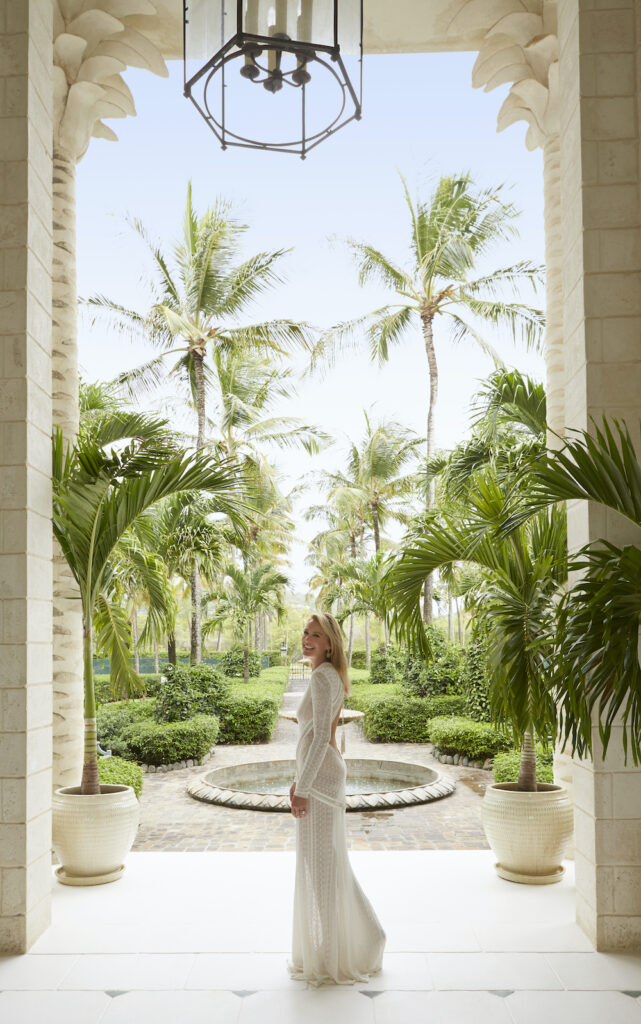 Before the move to South Florida, their daily schedules were stacked, with cars zooming them back and forth between Greenwich, Connecticut, and Manhattan to attend meeting after meeting. "It was just hustle, bustle all the time," said Hilfiger. Now, they're more likely to be doing another sort of Zooming.
For our interview, Ocleppo Hilfiger logs in to the video chat from her bedroom, which, along with their living room, doubles as an office for her and her husband. Tall and slim, with long, polished blond hair, she's wearing a simple black top and stylish large, black-frame reading glasses. She has a friendly, no-nonsense manner, and at 55 she could still model.
Space won't be an issue in the new digs, which the couple purchased for a reported $46.25 million. When finished the home will offer seven bedrooms — five in the main house and two in the guest cottage. There will also be his-and-hers offices.
Hilfiger exuberantly describes the style of the house as Old World tropical to which Ocleppo Hilfiger adds, "Classic. Palm Beach Regency." The town "has a great history," she continued. "It's interesting what was done in the '20s and '40s, so when you buy these houses there's a lot of work to do to make the house applicable to today."
One of the features Hilfiger likes most is the almost three-acre property's water views on both sides: the Atlantic Ocean in the front and Lake Worth Lagoon at the back. They're working with interior designer Cindy Rinfret, who is to Greenwich interiors what Lilly Pulitzer is to Palm Beach fashion. She is known for her mastery of a certain Greenwich style, classic yet comfortable with luxurious drapery, lush furnishings like tufted bed-heads, and touches of blue, articulated in her luscious tome from Rizzoli in 2013, Greenwich Style: Inspired Family Homes. Hilfiger thought she'd also be perfect for the Palm Beach redo. They have collaborated on a slew of projects together, including the Hilfigers' former Greenwich estate and the Plaza penthouse apartment he sold in 2019.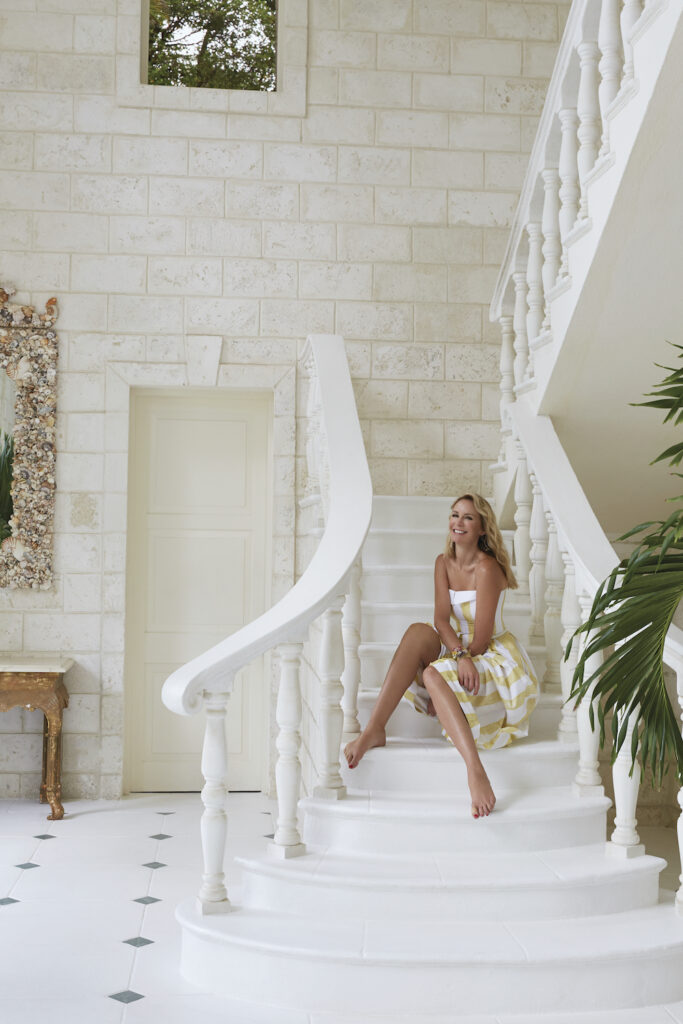 He also points out that he and his wife are "not your typical client whom a designer comes in and decorates for. We are very involved in every single detail. The colors, the tiles, the floors." But he added, Rinfret "has great ideas and she executes very well."
During the week emails, phone calls, and texts between designer and clients fly back and forth. Ocleppo Hilfiger hopes their house will be finished by the end of the year, but there's some doubt that will happen, what with historic supply chain and labor disruptions. "It's crazy," Hilfiger exclaimed of the worker shortage. "I don't know. We'd like to be done in 2022, but everything has become so slow."
When they're not working on the house, the couple go on walks every morning. They enjoy seeing friends like Harry and Laura Slatkin, one of the reasons they were ultimately lured to Palm Beach. And what luxury fashion girl or guy wouldn't love Worth Avenue? Exploring and discovering hidden restaurants and boutiques on the fabled shopping boulevard delights Ocleppo Hilfiger, who misses the inspiration she found in New York and L.A. "Tommy says it's like a Rodeo Drive but it's beyond Rodeo Drive," she said.
But she also draws succor from her husband as a business adviser and confidant. "We are best friends, first of all," said Hilfiger. "We like to go to the same places, we like the same things. That makes it pretty easy." It helps that he loves Palm Beach's great shopping and restaurants as much as his wife, and the ability to do all sorts of sports, especially if it involves water.
Last fall, she traveled with her husband to London when he was honored by the British Fashion Council. Just two weeks earlier, she was by his side when he received the Fashion Group International's Night of Stars Superstar Award in New York. Yet she has a healthy sense of self, and no illusions about what it means to be married to one of the top designers in the world while still maintaining her own mental and emotional space as a designer.
"There have been many times that I'm with him and people don't see me," she said. "It's fine. I get it. I'm fine with my husband getting the attention. I'm proud of him and he's proud of me."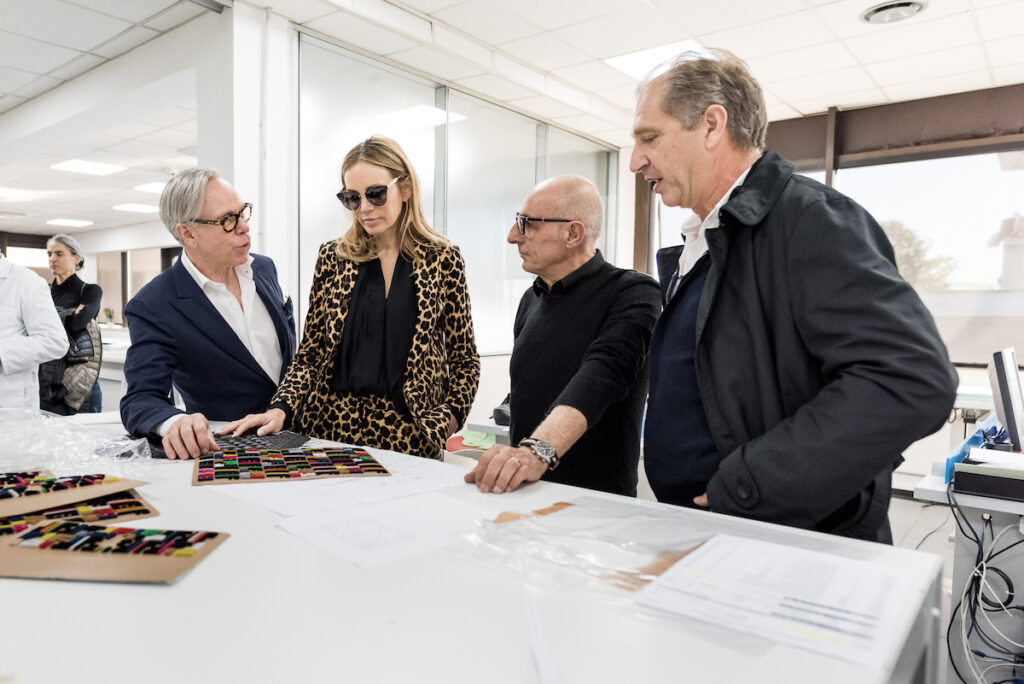 She added: "I don't feel competitive with Tommy at all. He's like a mentor. I'm never jealous of his success. He's been doing this for 30-plus years. I happen to be lucky enough to be in a healthy, loving, respectful relationship. We have seven kids together. To keep it all together we have to be united as a team."
At this time of year, the couple leaves the Palm Beach sun for family skiing in Aspen. They'll take off again for their son's spring break to travel to parts unknown — though Hilfiger is known to spend plenty of time vacationing in Mustique, the glamorous Caribbean isle where they also have a beautiful home. Coming up in March, they celebrate Hilfiger's birthday, when he turns 71.
But while Palm Beach may have slowed the hustle, business is never not happening for this couple. Ocleppo Hilfiger's regularly visits Italy, where her signature brand is produced; Hilfiger plans to travel to his brand's European headquarters in Amsterdam this spring.
Double-duty designers are no longer rare: Raf Simons designs his own collection and co-creates Prada; Laura Kim and Fernando Garcia helm Oscar de la Renta and their own Monse line, and so on. But how on earth do they manage the workload?
Ocleppo Hilfiger waves off any concerns. "It's easy for me to keep them separate," she said. The two are so different: Judith Leiber's collectible handbags and minaudières are an instantly recognizable motif of the high life, with prices to match.
Dee Ocleppo, by contrast, is an affordable luxury lifestyle brand that boasts minimalist cashmere sportswear with distinctive touches like monogrammed letters or luxe jogging pants. There are stylish utility boots that Ocleppo Hilfiger says "are not too chunky," and the kind of smooth leather totes and cross-body bags that would be as at home slung over the shoulder of a suburban mom as an urban professional fashionista.
This year, she will add silk pajamas, and expand the personalized monograms that have proven popular with customers. "Dee has a very clear picture of what she wants her brand to be," said Hilfiger.
Ocleppo Hilfiger reluctantly tried livestreaming for the first time a few months ago. Hosted with her friend, the editor and stylist Mary Alice Stephenson, she found it actually wasn't too bad. "Tommy really pushed me to do that," she said.
He's been a big believer in collaborations and in livestream shopping (after having watched it take off in China) as a growth stimulator for fashion brands. And she continues her run of partnering with artists to create distinctive handbags for her collection, and for Judith Leiber she has forged collaborations with Timex and Iris Apfel.
As for Hilfiger, he's following up a head-turning partnership with Timberland this winter with a 2022 collaboration with actor Anthony Ramos, now famous for Hamilton and In the Heights.
It will all be done from a home base with year-round sunshine and endless beaches, where shimmering waters meet clear skies, and Miami and Disney World are less than a three-hour drive away. And — as we hate to remind Ocleppo Hilfiger's son — it also has great schools.