Don Peebles will give it to you straight.
"In America, one of the true equalizers is money," the business leader told Avenue magazine in June, as Black Lives Matter activists were staging the most significant social justice protests the nation has experienced in decades.
"[But] from the period of slavery, through segregation, the civil rights movement of the 1960s, to the current state of economic oppression and police brutality, African Americans have been denied equal rights and equal opportunities," he said. "Being a part of a solution to knock down these barriers has driven me throughout my career to be transformative in business."
Clarity of purpose is a hallmark of R. Donahue Peebles, who is the founder and chief executive of the Peebles Corporation, a real estate giant with developments from Boston to Miami. (Forbes once estimated his personal fortune to be $700 million.)
His success up and down the Eastern seaboard has provided a national platform for his philanthropic and political activism.
"Inside the clubby world of New York City politics, half of them want him to run for mayor, and the other half are terrified he will," said one longtime City Hall handicapper. "Don has previously indicated he might be interested, and he would be a formidable candidate."
Peebles, who hails from Washington, D.C., began developing his political résumé from a young age. He worked as a page in the House of Representatives, interned for congressmen Charles Rangel, Ron Dellums, and John Conyers, and later served as chairman of the board of the Congressional Black Caucus Foundation and on President Barack Obama's National Finance Committee.
In interviews before New York's last mayoral election, Peebles admitted giving a bid for Gracie Mansion "a lot of thought." But for now, he prefers to focus on business solutions to political and social challenges, rather than running for office.
"I am raising a private equity fund to invest in minority and women real estate developers and investors, therefore creating a channel where their aspirations become a reality," he said. "The fund will demonstrate that deploying capital where there is talent will reap significant financial returns and transform communities."
Peebles's most valuable allies in furthering his family's political and business influence may be his own wife and children. With Katrina, whom he married in 1994, they are parents to Donahue Peebles III, 26, and Chloe, 17.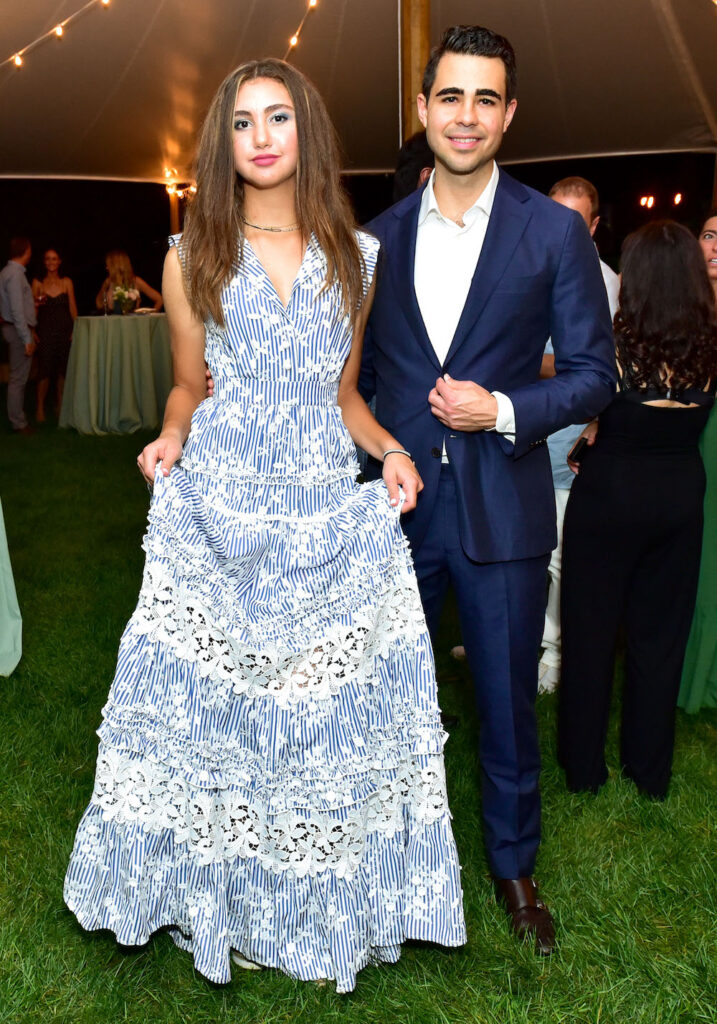 Katrina works on the board of directors of the family corporation; Don is its chief of staff; Chloe is a noted equestrienne — and all four members of the family are well-known fixtures on the Manhattan and Hamptons social circuit.
"My title in the Peebles Corporation is creative director," Katrina told Avenue, "and my responsibilities include the selection of interior designers and architects who will bring the company's developments to life."
Significant recent projects have included the Residences at the Bath Club and the Royal Palm South Beach Hotel, both in Miami, as well as the Courtyard by Marriott Convention Center and two other large developments in Washington, D.C.
"I bring the same strengths to my philanthropy work," Katrina adds. "The ability to explain a philanthropic effort to others and capture a feeling associated with the organization is basically a visual with an emotional component — and when people see and feel as you do, they often participate."
Katrina has served on the boards of CARE Elementary School in Miami, as well as the Mission Society of New York City. And as chatelaine of the Peebles home in Bridgehampton, she has made the estate available to a variety of good causes. One notable fundraiser took place in August, 2018, for Give Back for Special Equestrians, an organization close to the hearts of Chloe and her friend, Georgina Bloomberg.
Rolls-Royce and Goldman Sachs sponsored the event, which brought out the Hamptons social set, raising $50,000 for therapeutic horse-riding sessions to assist those facing autism, spina bifida, and other challenges.
"The equestrian sport has been one of the greatest gifts my family has provided me," Chloe told Avenue. With a nod to the family interest, she added that she hopes the skills she learned riding will "aid me in becoming a productive business partner to my father, mother, and brother in the future."
Her brother, Donahue, is equally on message. Asked if there were any challenges in work-ing for his father, he replied: "I don't perceive any aspect of working for a family business as particularly challenging. Working for my father is the opportunity of a lifetime, and one I am very grateful for."
The ultra-focused younger Peebleses are just the latest generation in a long line of strivers who have a record of overcoming obstacles. As their father explained: "My family roots in America were in the segregated South."
"As a child, I watched both [my parents] suffer indignities and obstructions to opportunity. As a teenager, I made promises to myself — I would live a better life, I would provide great opportunities for my children, and I would have a business that provided opportunities for people like my parents and family," he said.
"These experiences instilled in me a sense of awareness on how to overcome society's limitations. I felt a strong desire to assist others in alleviating these unnecessary hurdles, which is why I have dedicated my energy to sharing what has helped me be successful both professionally and personally."