With its favorable climate for training, Florida has emerged as the nation's sporting capital, attracting elite athletes in tennis, golf, polo, sailing, soccer, and more. Avenue rounds up the biggest names and top players that have made their way down south.
GOLF
Tiger Woods, Phenom Emeritus
Florida's biggest resident sports star, who inhabits a large mansion on Jupiter Island, had an unfortunate 12th hole at the US Masters last year, plunking three shots into the water and ending his hopes of defending his title. But in the long dramatic arc of his career, that was merely a blip. In his 44 years, the athlete has been many things: child golfing prodigy; youngest ever Masters champion; first and only player to hold all four pro Grand Slam titles simultaneously; family man; disgraced tabloid persona; washed-up and injured sports star; and finally, a figure of redemption. Amid the tall pines of Augusta National in 2019, he eked out victory by a single stroke, proving that there is still only one Tiger Woods.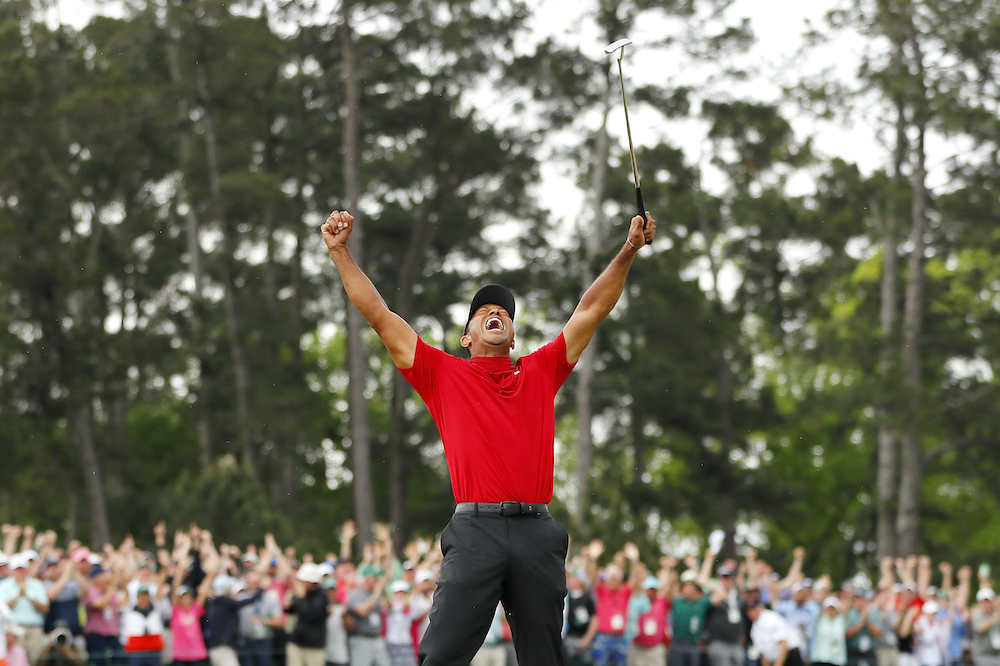 Dustin Johnson, World's Number One Golfer
When Dustin Johnson claimed his first US Masters title in Augusta this past November, his pulse did not discernibly quicken — despite playing a final round 68 in difficult conditions to post a 20-under-par total of 268, a tournament record. "You can't tell if we're coming down the stretch of a major or if we're lying on the couch watching football by his reactions," his brother, Austin, who caddied for him in Georgia, has said of his laid-back style. The 36-year-old, who lives in Palm Beach Gardens with his fiancée, Paulina Gretzky — daughter of the Canadian ice hockey legend Wayne Gretzky — and their two children, did allow for a lower lip wobble when Tiger Woods helped him into the Green Jacket.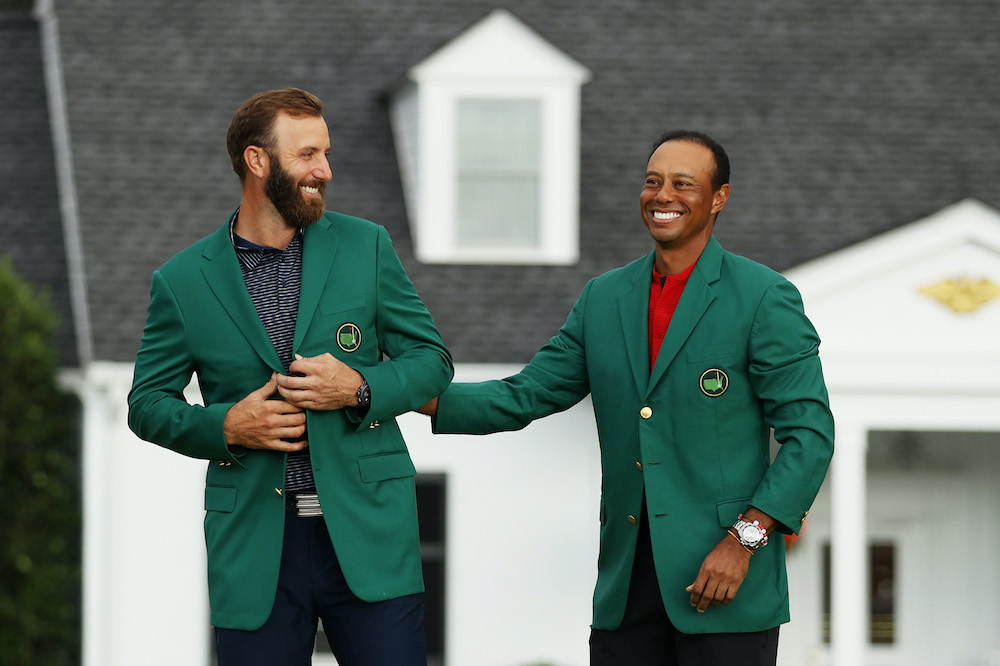 TENNIS
The Williams Sisters, Tennis Aces
Since arriving on the professional women's tennis tour in the late '90s, Venus and Serena Williams have played to win on their own terms. Nothing about their careers has been country-club conventional — from bypassing the juniors circuit (a rite of passage for most players) and wearing the most talked-about tennis apparel since Gussie Moran first wore her trademark frilly knickers half a century earlier, to flexing their business muscles by becoming minority shareholders in the Miami Dolphins.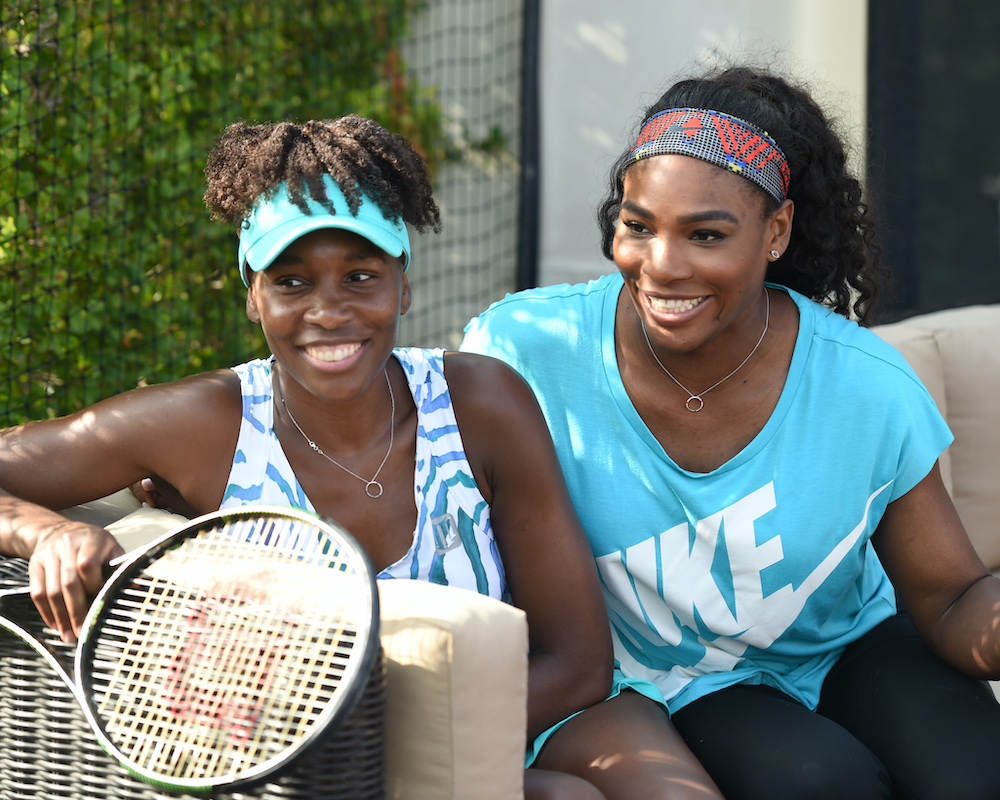 Venus broke out in 1997, when she became the first debuting player to reach the finals of the US Open. Although their father, Richard, once told dumbfounded reporters that Venus was thinking of moonlighting as an astronaut, it was Serena who would soon soar into the stratosphere. During an 18-month period in 2002 and 2003, she won five Grand Slam titles, including the self-styled "Serena Slam" (a reference to her holding on to all four majors at the same time). Venus, still competing at 40, has since extended her tally to seven full Grand Slam wins. And with a haul of 23 Grand Slam titles (a record in the open era), Serena, 39, is without doubt the sport's predominant female force.
The rest of the women's tour has finally caught up with the era of power tennis ushered in by Venus and Serena, but no player is happy to find themselves facing either of the sisters. They have confounded expectations for more than two decades, and no one would be surprised to find one or both of them hoisting the trophy at one of the majors this year.
Sloane Stephens, Sporting Royalty
She is the baseline-hugging tennis player from Plantation, Florida, who returned from a near career-ending foot injury and a ranking of 336 to win the 2017 US Open in only her fifth tournament back. The daughter of former New England Patriots running back John Stephens and Sybil Smith, a champion college swimmer, 27-year-old Sloane has reached as high as number three in the world and came within one set of snatching the 2018 French Open final from favorite Simona Halep. Her soul mate is the mercurial, 31-year-old professional soccer player Jozy Altidore, the Boca Raton-raised forward for the Toronto FC and the United States national team who has played in two World Cups. Having known each other since childhood — and having gotten engaged in April 2018 — they are one of the highest-profile power couples in the world of sports.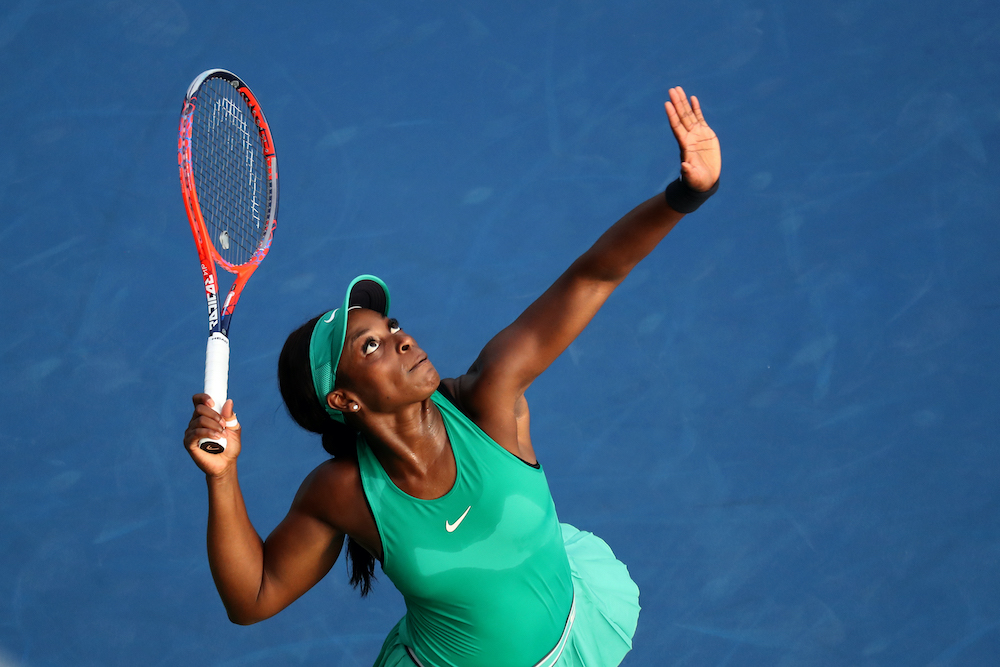 Sofia Kenin, World No. 4 Singles Player
Sofia Kenin had a good year in 2020. When the south Florida tennis prodigy defeated the former world number one, Garbine Muguruza, at the Australian Open last January, her Women's Tennis Association ranking skyrocketed. The 22-year-old is now America's top singles player, and the world number four. The Pembroke Pines resident was born in Russia and emigrated with her parents to America as an infant. Rick Macci, at whose academy she was training by age six, was awed by her preternatural hand-eye coordination and scrappiness on court, calling her "the scariest little creature I'd ever seen." But if Kenin's competitive spirit brings to mind her idol, that other blond Floridian tennis powerhouse, Maria Sharapova, she has made plain that she plays for the USA, saying, "Me, I'm a rising star of American tennis."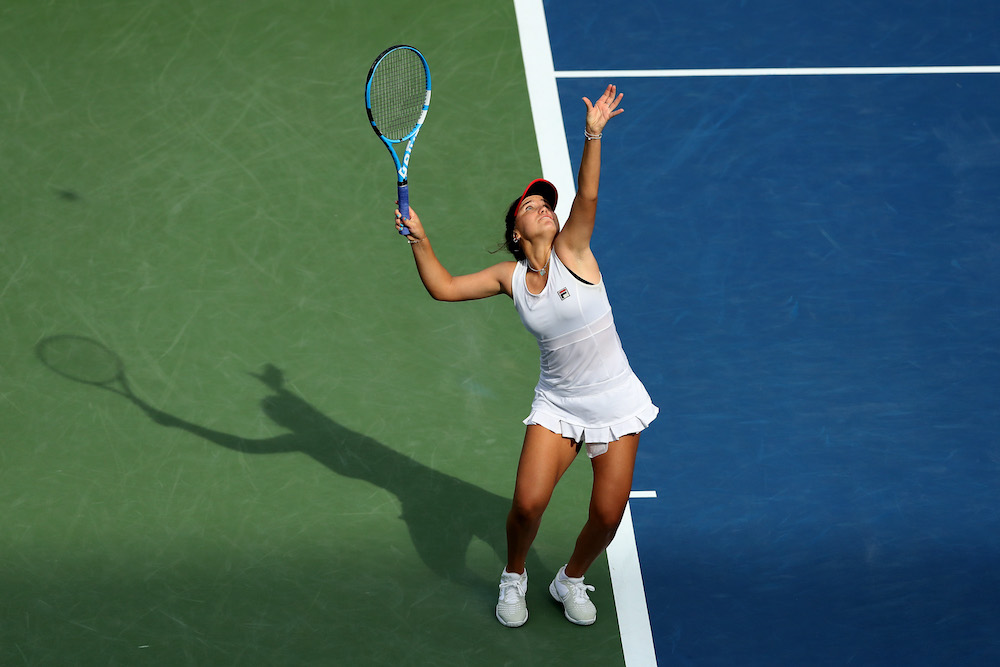 Coco Gauff, Talented Tyro
The most hyped teen phenom since Venus Williams emerged in the late '90s, at 16 Cori Gauff, better known as Coco, has already begun to deliver on her precocious talent. An insider's tip for greatness since she could barely see over the net, the Delray Beach resident announced herself as a future Grand Slam winner with a blazing fourth-round run at Wimbledon in 2019, defeating none other than five-time Wimbledon champion Venus in the first round. Now managed by Roger Federer's company, Team8, Coco is using her considerable clout to bring attention to important social issues like racial and criminal injustice. Though the tennis season was more or less put on hold as she was beginning to make a charge to the top, the months off have just allowed her to grow into her body, which is built for speed and power. The tennis world has been served.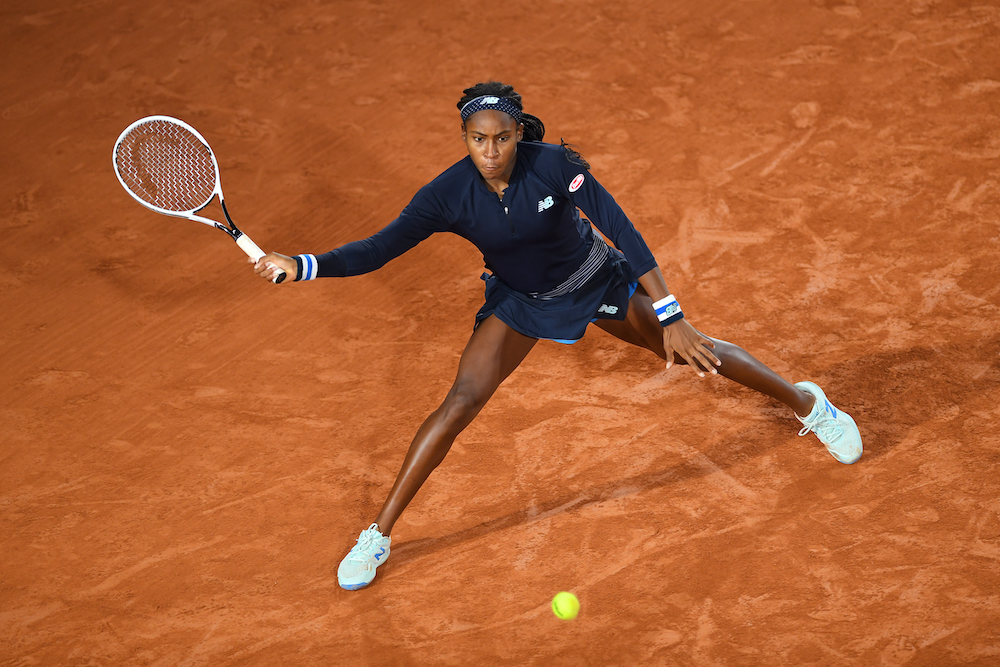 Naomi Osaka, World No. 1 Singles Player
It's only fitting that tennis, an international sport if ever there was, should have as its new standard-bearer a half-Japanese, half-Haitian player who grew up in Boca Raton. Since defeating Serena Williams to win the controversial 2018 US Open, a slugfest in which Williams's circuitry went haywire, 23-year-old Osaka has gone on to win two more Grand Slam titles (the 2019 Australian Open and last year's crowd-free US Open, during which she wore masks highlighting Black Lives Matter) and secured her place atop the sport. (Forget what the WTA rankings computer says: Osaka is the bestwomen's tennis player currently out there.)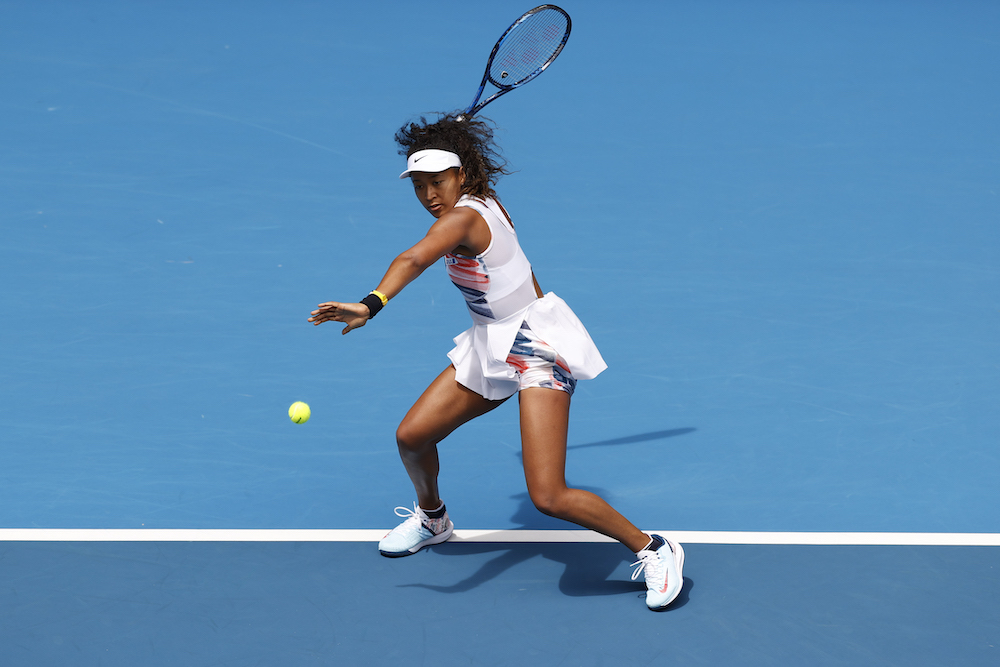 As the first Asian player, male or female, to reach number one in the world rankings, the highly marketable Osaka has muscled past her rivals to become the highest female earner in sports history, as well as a bona fide sensation in Japan. Voted one of the 100 Most Influential People in Time magazine, she recently released a fashion capsule collection in collaboration with the Japanese label ADEAM and a tennis apparel line with Nike.
THE KORDA-SHIANS
Sebastian, Jessica, and Nelly Korda, Golf and Tennis
A top 10 fixture of the men's tennis tour in the '90s, who made an improbable run to capture the Australian Open in 1998, Czech-born, Bradenton-based Petr Korda was best known for his trademark post-match scissor kicks. Until now.
Korda's 20-year-old son, Sebastian, is the hottest new name in American men's tennis, and daughters Jessica, 27, and Nelly, 22, are standout professional golfers on the LPGA Tour. A former junior champion ranked 213 who had yet to have a tour-level victory, Sebi, as he is better known, went from nowhere to everywhere at the French Open last year, qualifying for the main draw and reaching the fourth round (the youngest American to do so since Michael Chang in 1991) where he eventually lost to his idol, Rafael Nadal. The six-foot-five rightie made fans with his cannonball serve and effortless shot-making, and with his hijinks on and off the court. Like the rest of his family he often tags his posts on social media with #KeepingUpWithTheKordashians. And after upsetting 21st seed John Isner in the second round, he made a swimming motion toward his team — a reference, he later he explained on Instagram, to having bet them they would have to swim the length of the Charles Bridge in Prague if he made it to the third round.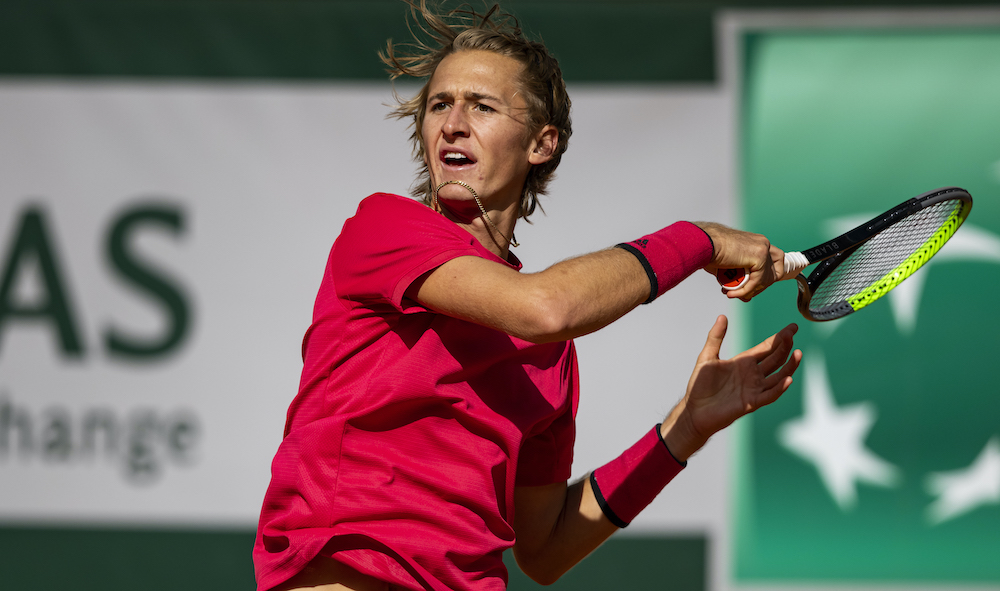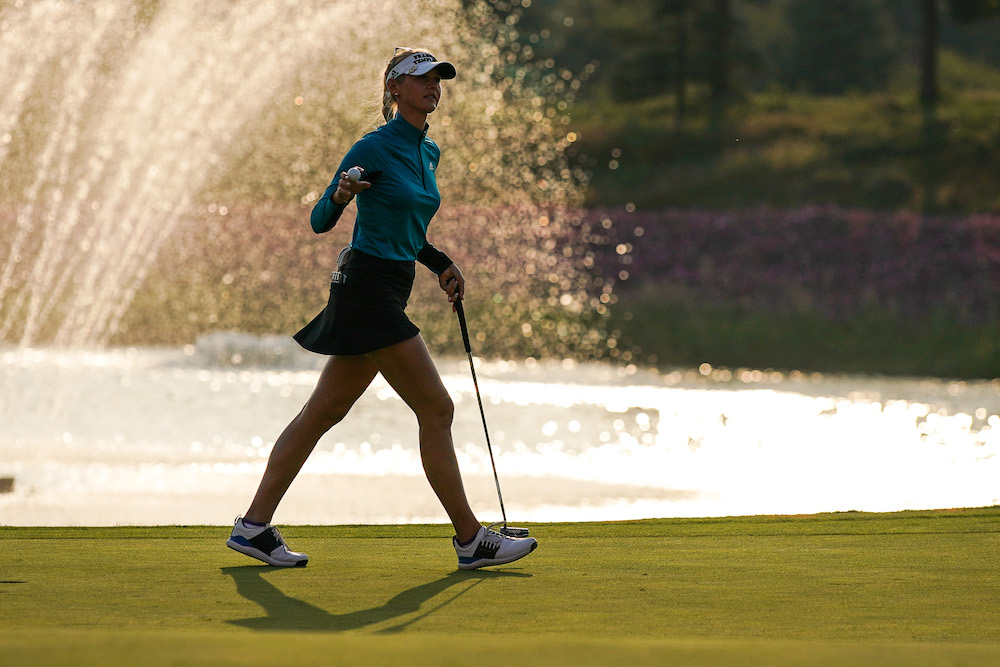 "I would say Jess is the most outgoing of us three, and Seb's definitely the biggest goofball," Nelly told reporters during the French Open.
The first of the Korda sisters to break through on the women's tour, Jessica has five tour titles to her name and is currently ranked 71 after a string of injuries over the past two years. For her part, Nelly has three titles and is currently number three in the world. Not that she has bragging rights in the Korda household. Dad has serious bona fides on the golf course, and Sebi still dines out on their head to head. "My only claim to fame is the only tournament I ever played I won and I beat [Nelly] when I was like 11 years old," Sebi said in an interview. "[She] will never live that one down." If he has his way, Sebi, who is coached by his father but says he owes his fluid strokes to his mother, Regina Rajchrtová, a former tennis pro who coached her son while Petr was on the tour with Jessica, will also be able to lord it over his dad. "My goal in life is to win two Grand Slams," Korda said, "so I have one more than he has."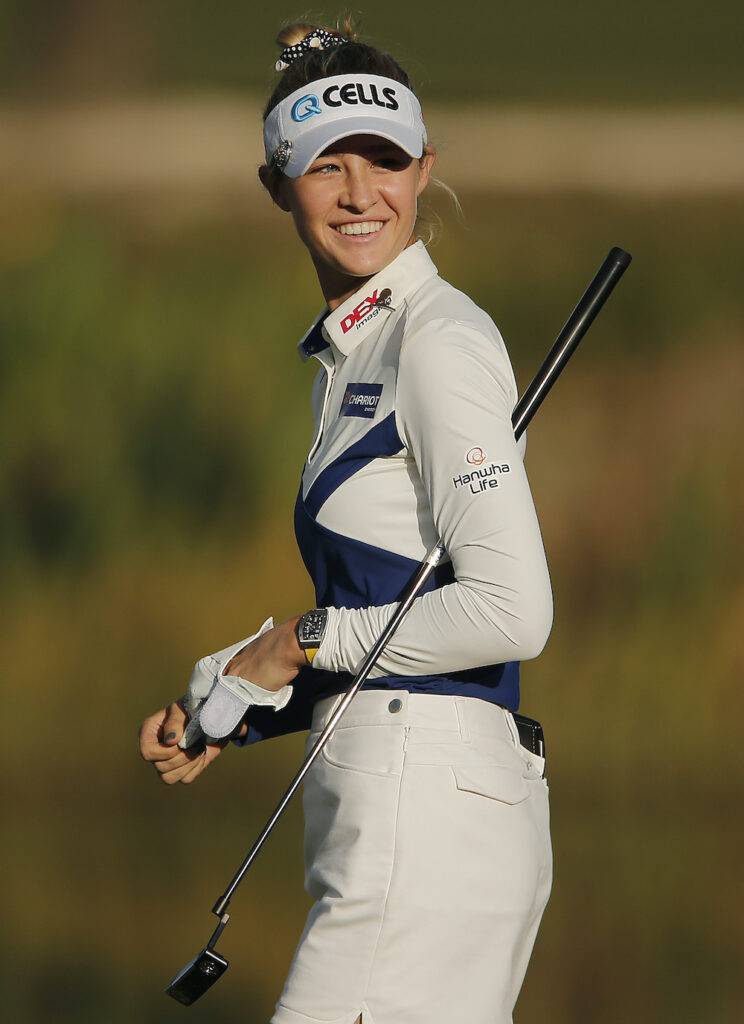 SOCCER
Ashlyn Harris and Ali Krieger, US Women's National Soccer Team and Orlando Pride Players
Soccer and style icons, champions of equal pay and LGBTQ visibility, and among the most important female athletes of the age, Ali Krieger and Ashlyn Harris have long been trailblazers. But for the couple whose athletic careers and romantic life have been intertwined since meeting at a National Women's Soccer League training camp, winning the 2019 World Cup with the US national team was a game changer. At the time, the US women's team was already a leading force in women's sports, its members some of the most accomplished and best-known female athletes in the world, including Alex Morgan, Carli Lloyd, and the violet-haired, pied piper captain and striker Megan Rapinoe.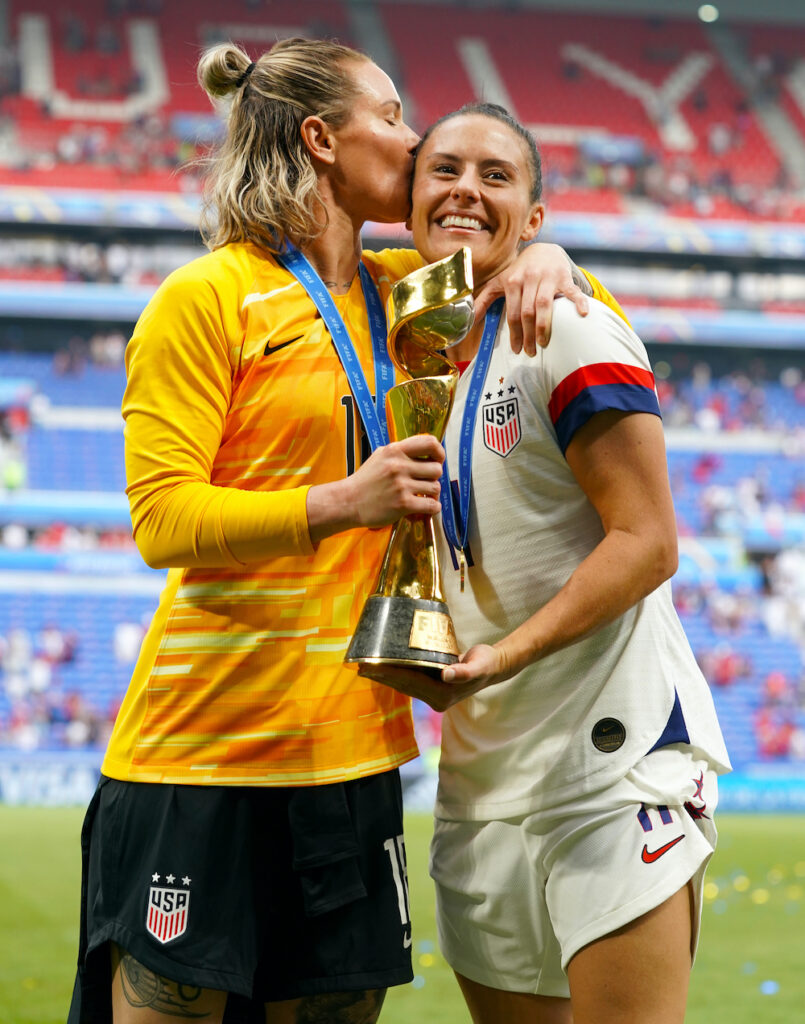 But the women's bravura World Cup performance, equal rights advocacy (28 members of the team had filed a gender discrimination suit against the US Soccer Federation over pay equity and working conditions), and post-victory partying — twerking on rooftops, letting loose on super-yachts, dancing on floats during New York's tickertape parade in their honor, while spraying champagne–elevated them to the status of rock stars. Krashlyn — as defender Krieger and goalkeeper Harris are known — tied the knot in Miami at the end of 2019. Both Orlando Pride players are now in training for the Olympic Games in Tokyo — pandemic permitting. On the side, their business ventures include a beauty deal with Bumble and bumble — because, as Harris has said, "You can never grow or change if you stay in your lane.
Blaise Matuidi, World Cup Winner and Inter Miami Midfielder
The French World Cup winner and feted midfielder landed on Florida's shores with his glamorous wife, Isabelle, last summer, coaxed from the superclub Juventus FC to play for David Beckham's brand-new Major League Soccer club, Inter Miami. The 33 year-old Matuidi has been friends with Beckham since their days at Paris Saint-Germain, and his signing is a score for the fledgling MLS club, not least because he agreed to take a pay cut (to an estimated $1.5 million), allowing Inter Miami to sign a third Designated Player. Matuidi's superlative skills as a midfielder will anchor the team, while Isabelle, his childhood sweetheart and mother of his three children, will surely bring some French style to the Miami wives-and-girlfriends' circuit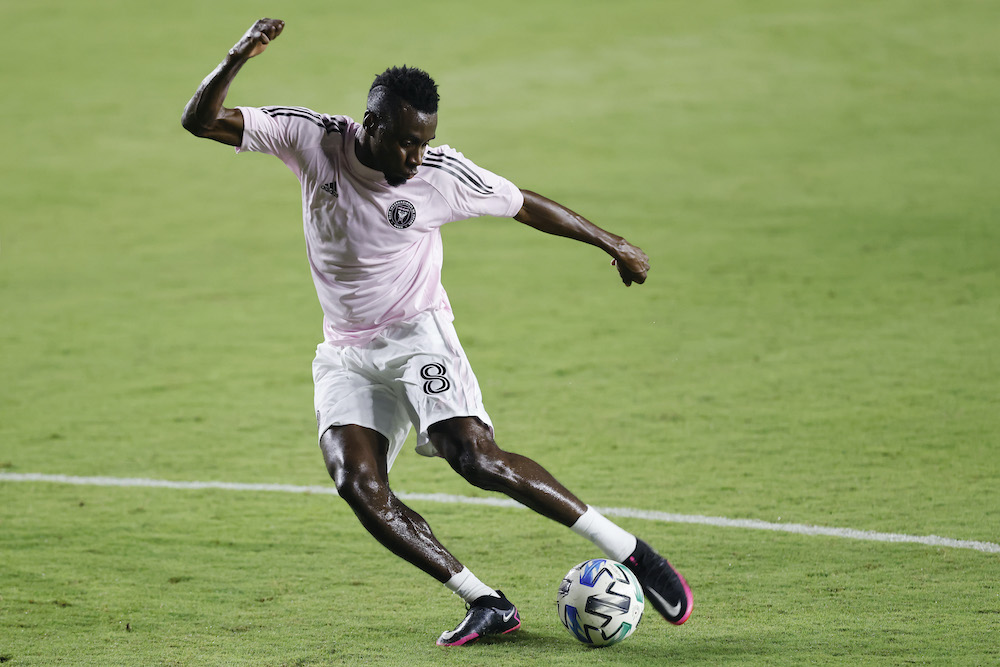 David Beckham, Co-owner, Inter Miami CF
An English former professional soccer player turned international media darling turned president and co-owner of Inter Miami CF, David Beckham is, incontestably, pop culture royalty. Much has been made of his being the most popular blond in England since Diana, Princess of Wales, and of his marrying Victoria Adams, better known as Posh, the imperious former Spice Girl turned high-fashion designer. (Appropriately for a couple who have also assumed the unofficial title of Prince and Princess of Eurotrash in the public imagination, the Beckhams have had a book about them written by Diana's biographer, Andrew Morton, who claims they are "the new royals for the common man.")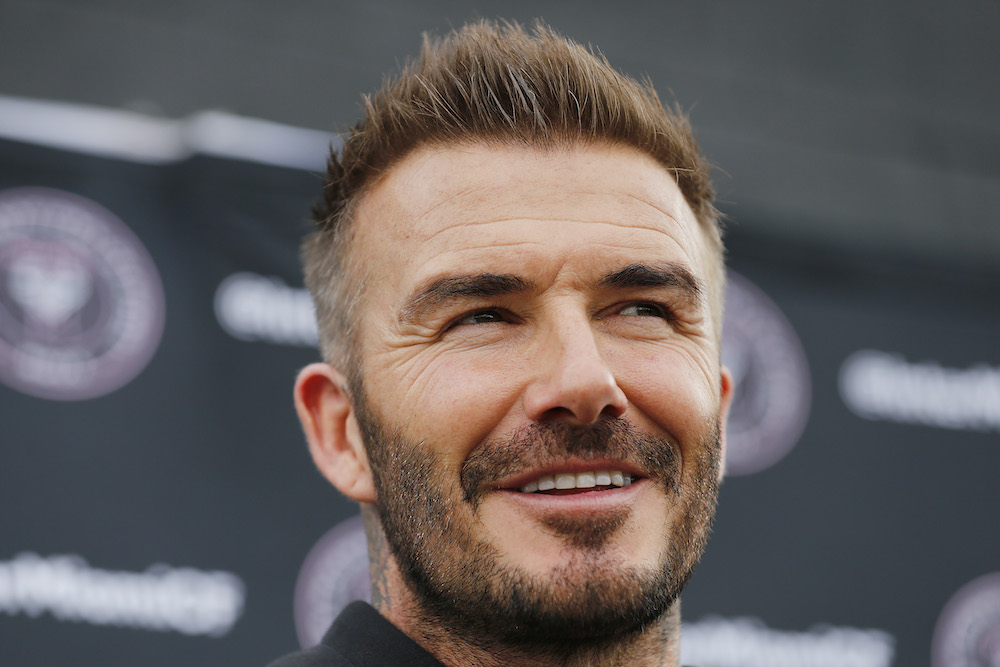 And just as his wife has become a fashion plate for the ages, Becks remains one of the most important influences on contemporary masculine glamour. A walking sandwich board for metrosexuality and male vanity, Beckham has made headlines over the years for his provocative photo spreads and fashion choices, from sarongs and his silk bandannas to hair braids. He also sets trends on the field: the Alice band he sported a few years back was soon adopted by players around the world. And while on most guys the accessory is a way of keeping annoying hair out of their eyes, on Beckham it's the tiara he was born to wear.
EQUESTRIANS
Laura Graves, Olympic Dressage Rider
A year ago Laura Graves, a former hairstylist and cosmetologist, and her 18-year-old horse, Verdades, were preparing to head to the 2020 Olympics as the US's top podium contender. The pair has set the dressage world alight since appearing from nowhere in 2014 to finish second in the freestyle at the Grand Prix national championship. Freestyle is fiendishly difficult, requiring the horse and rider to execute intricate moves such as the flying change (a cadenced canter, giving the impression of the horse skipping) in perfect synchronization to the music. The duo went from outside the top 700 to tenth in the FEI world rankings in less than 18 months, later helping the US team win a rare bronze in team dressage at the 2016 Rio Olympics. That equaled the country's best finish in dressage since 1948, and in 2018 Graves and Verdades became the first American partnership to reach world number one. But 33-year-old Graves, who lives and trains in Orlando, decided to retire "Diddy" when she realized her beloved horse would struggle to regain his top form. She now has a stable of young horses to train and remains American dressage's biggest talent.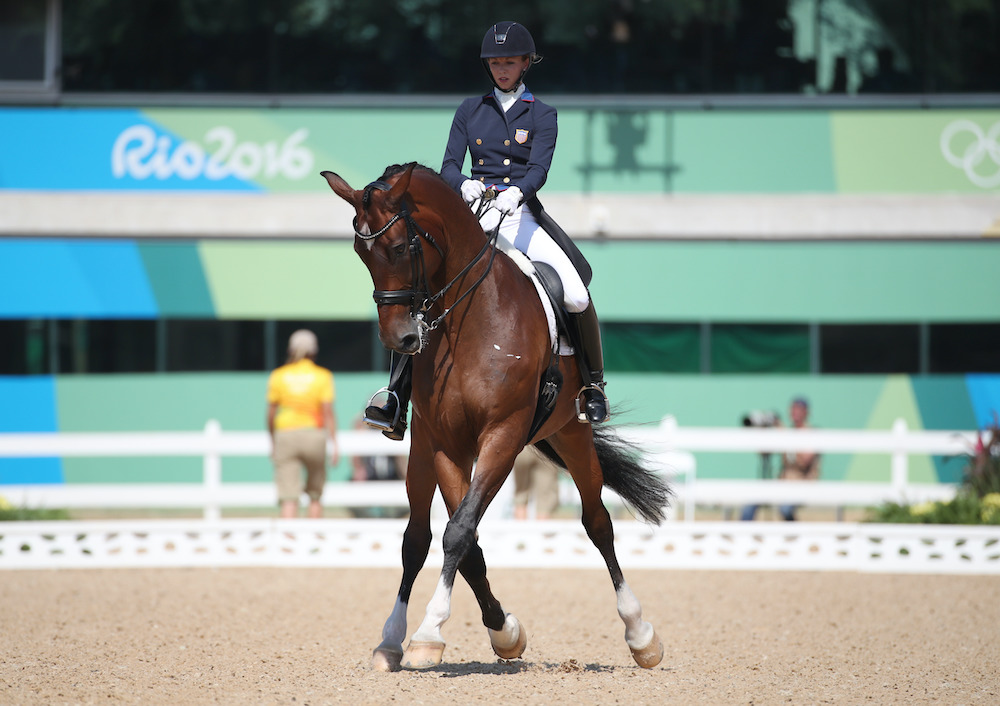 Laura Kraut, Olympic Showjumper
After recovering from a nasty fall last August, the fearless show jumper Laura Kraut, 55, is back in the saddle with her sights set on the Olympic Games. She has been a staple of the US show jumping team for two decades, winning team gold at the 2008 Olympics with her horse Cedric and gold again at the 2018 World Equestrian Games on Zeremonie. Kraut rode throughout her childhood and dropped out of college to become a groom, turning up at shows with her saddle to "catch a ride," once riding 62 rounds in one day. Nowadays she spends summers in England with her partner, the British show jumper and national treasure Nick Skelton, returning home to Wellington and her stable of horses, under the care and management of her sister, Mary Elizabeth, for the rest of the year.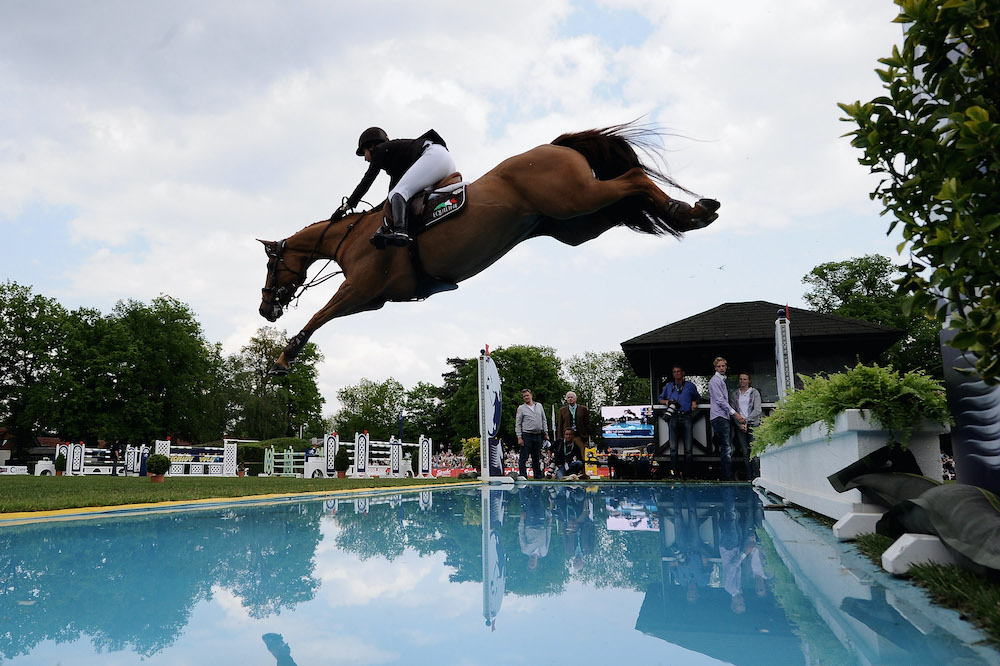 The Ganzi Family, Polo-Playing Dynasty
The surname Ganzi has become synonymous with the sport of kings in the Sunshine State — with third-generation polo player and three-goaler Grant Ganzi, 22, now making his mark. In July, the rakishly handsome Grant led his Team Casablanca to victory for the second year in a row in the United States Arena Handicap held in Aspen, Colorado. In 2018, Grant's parents, Marc and Melissa Ganzi, cofounders of the Wellington-based Grand Champions Polo Club, established the 26-goal World Polo League in partnership with J5 equestrian Bob Jornayvaz. Since then, the league has not only attracted the world's best players, including Adolfo Cambiaso, Pablo Mac Donough, Juan Martin Nero, Nacho Figueras, and Nic Roldán, but also the world's best equine athletes, bringing to American audiences the best polo outside of Argentina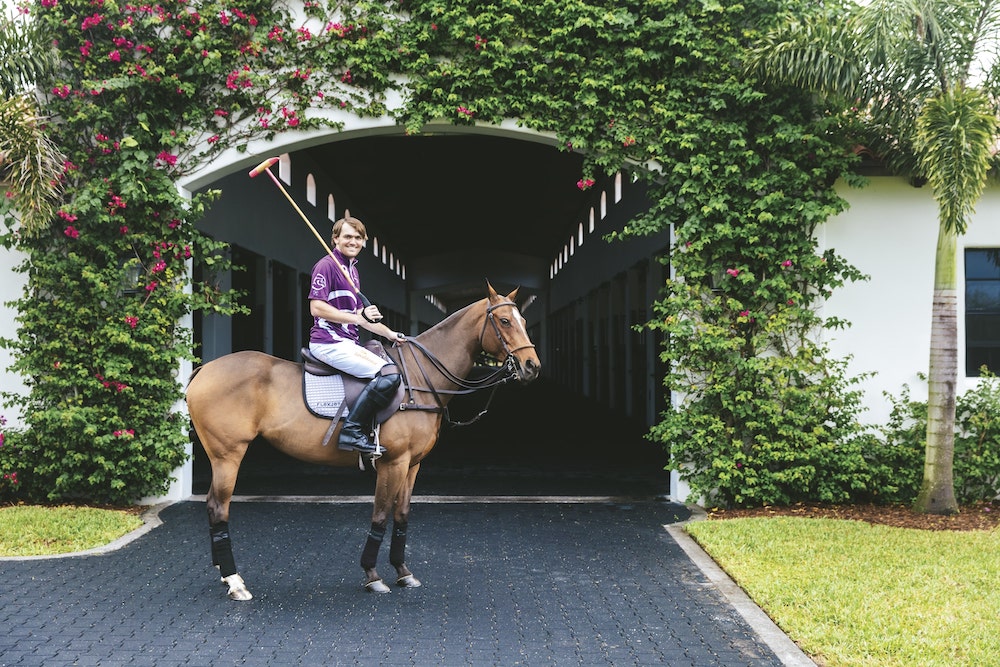 SAILING
Terry Hutchinson, Dean Barker, and American Magic
America's Cup Contenders"Our mentality is that each day is a race day," says Terry Hutchinson, skipper and executive director of American Magic, the New York Yacht Club consortium backing this year's America's Cup challenger. "When you practice like you race, and make your practice days harder than race days, the racing tends to get easier." To that end, he says, "Pensacola, with its consistently good sailing weather, a large and protected flat water training venue, efficient logistics, and a welcoming community, has brought a lot to the table for our team."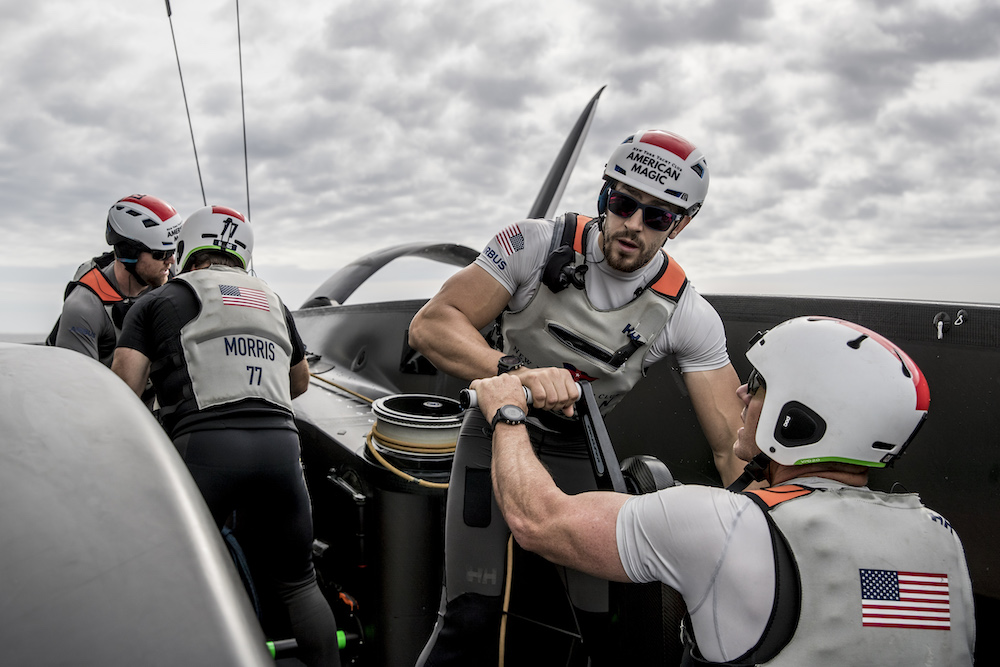 Hutchinson spearheaded the development of the NYYC's Florida training facility, where the team has put a trio of futuristic foiling monohulls through their paces in preparation for the upcoming America's Cup in New Zealand this March. The design began three years ago with a 38-foot concept boat, known affectionately as the Mule, which was followed by the full-scale Defiant to train and iron out any kinks in design and technology, before completion of the AC75 Patriot, their competition entrant, which was christened in Auckland in October. For this year's race, the 36th America's Cup, Hutchinson has teamed up with longtime Kiwi rival Dean Barker in hopes of winning back the oldest trophy in international sports in what he describes as a flying boat with a capacity to move across the water at a 50-knot clip.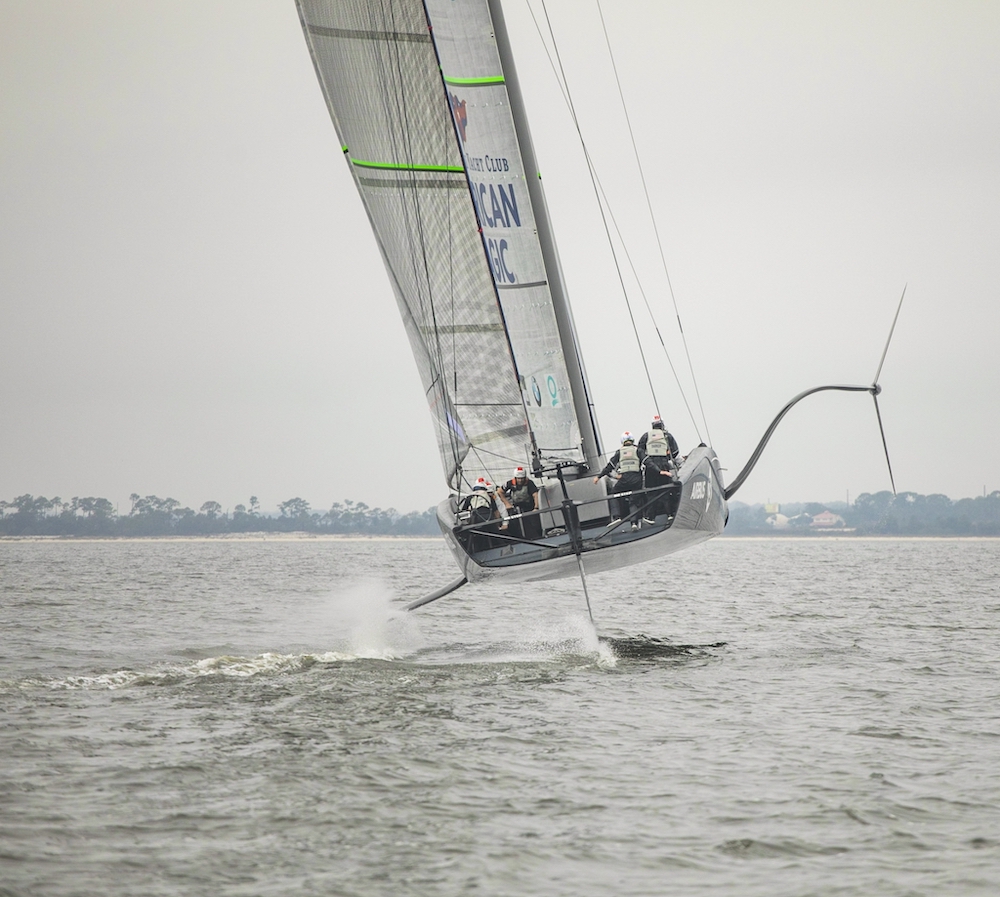 ATHLEISURE
Championship Croquet
It may not surprise anyone to learn that Palm Beach is to elite croquet what Las Vegas is to heavyweight boxing. "I liken it to a game of chess," explains Johnny Mitchell, events manager at the National Croquet Center and Croquet Foundation of America and himself a top player. "People who are more aggressive tend to either win big or lose big, but the people who consistently win are the people who are patient and play a real steady game."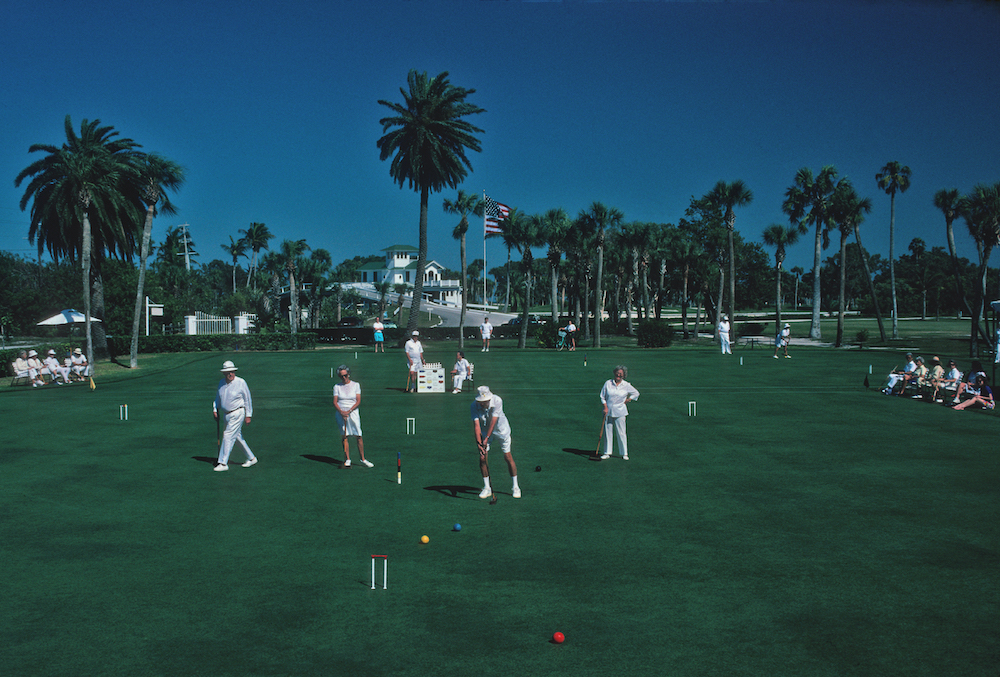 Championship-level croquet, a onetime Olympic sport in 1900, is far more serious than the version one might play at home. Every four years, the United States competes against Great Britain, Australia, and New Zealand for the MacRobertson Shield, a major international tournament.For those players not cut out for the big time, however, variants of the game include "golf croquet," which is faster and simpler. "Really, there's a lot of regular folk who play," Mitchell says.
Pro Shuffleboard
Don't be taken in by shuffleboard's genial image. Dave Kudro, 69, who is the top-ranked player in Florida — and therefore, it might be safe to extrapolate, the world — says the sport can be "brutal."
"At the end of the day, or days, playing in a professional tournament, I am mentally exhausted," he says.For the past four years Kudro, a Hall of Famer, has been president of the Florida Shuffleboard Association. In that time, it has exploded in popularity among young people: 10 years ago, the St. Petersburg Shuffleboard Club had only a dozen members and was at risk of closing; today it has more than 2,000.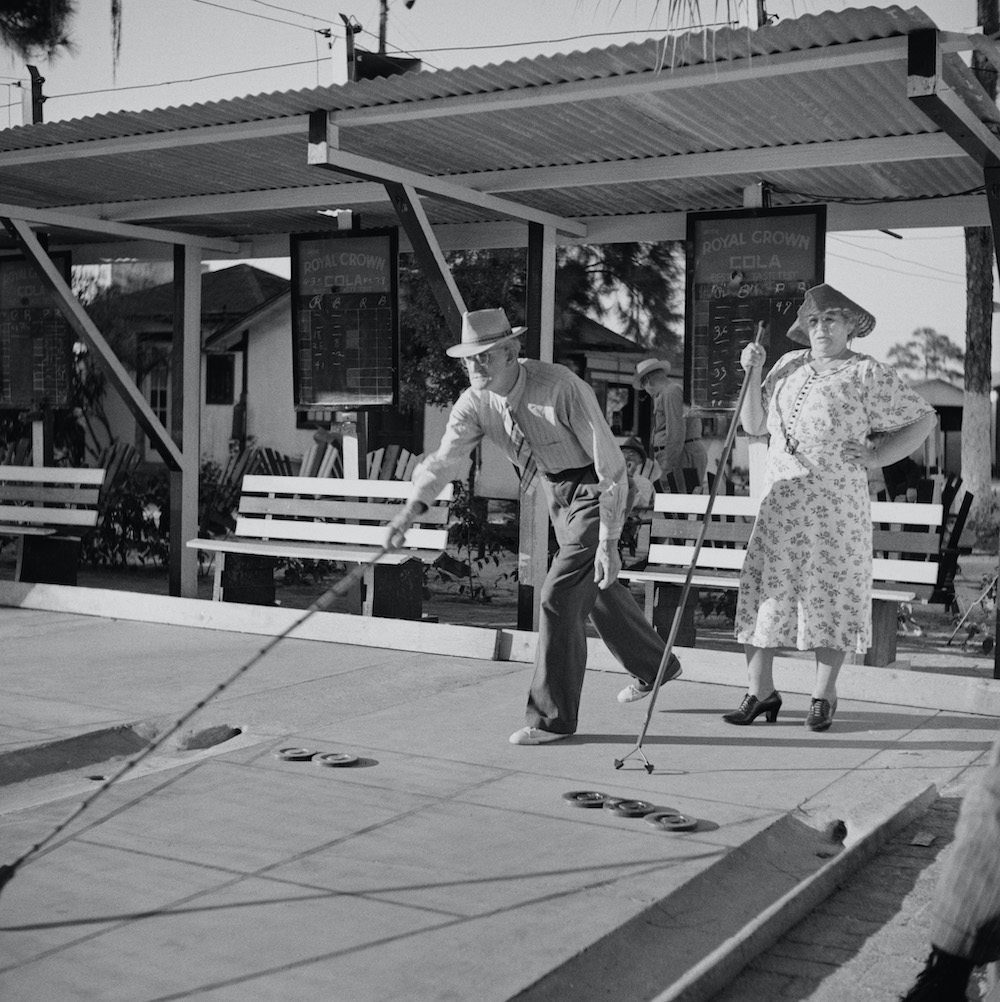 Kudro's personal baptism of fire came at the age of 55, when a 70-year-old local shuffleboard shark wiped the court with him. "I looked at this game as boring and I didn't want to take advantage of what I considered as elder abuse by beating him," he recalls. "To my dismay I found out he wasn't afraid to embarrass me."