"I've always been fascinated by falconry," says Francesca Stanfill. Also, in no particular order, by medieval history, Edith Wharton's architectural theories, Leonardo in Venice, Plantagenet banquet fare, Arab trade routes, 12th-century herb gardens, pagan Europe, biography, court dress, Shakespeare, Angevin divorce law, Saxon enslavement, and books, books, books. Stanfill is seated in the great room of her beachfront home down a hidden private road in Southampton. Books are everywhere, in orderly piles and tasteful displays on carved ottomans and inlaid console tables, on upholstered benches and in the deep bookcases flanking the grand stone fireplace.
The lettered atmosphere may slightly astonish anyone who has encountered Stanfill from one gala to the next on the Upper East Side, or seen the Slim Aarons photograph of her alongside Carolyn Roehm and others in Porto Ercole, or read her New York Times social reportage dissecting Gloria Vanderbilt's bluejeans marketing and the de la Rentas on the climb. Perhaps they still think of her as just the privileged Yale blonde whose father, Dennis Stanfill, was chairman of 20th Century Fox, or they've run into her at book parties for Lee Radziwill and Jacqueline Kennedy Onassis's One Special Summer, or Absolute Beauty by Dr. Gerald Imber.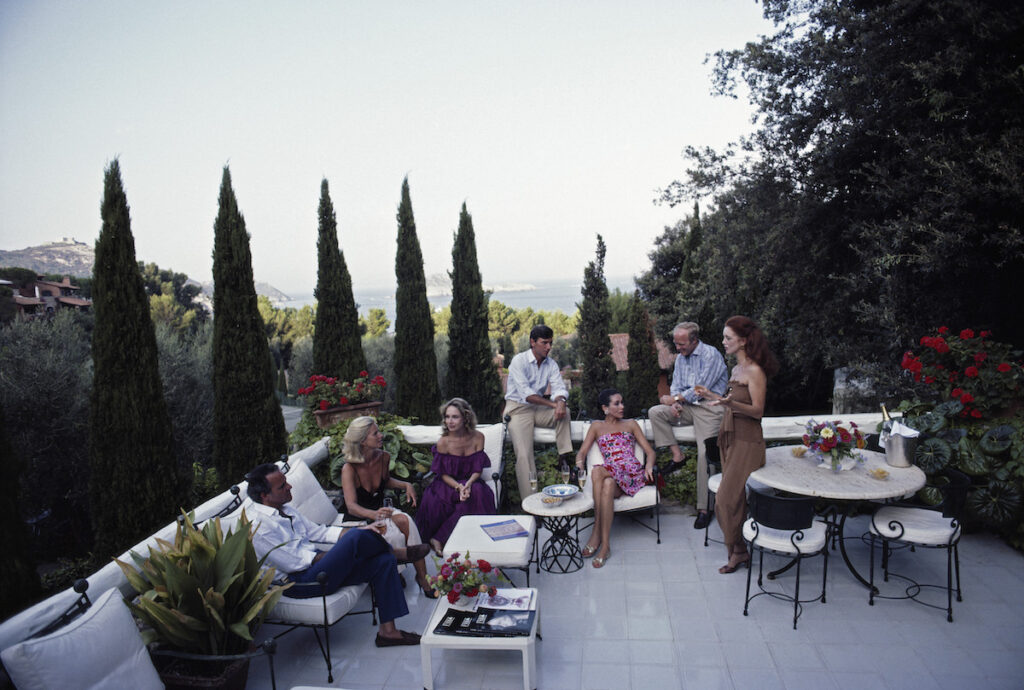 An absolute beauty, her blue eyes immense, her figure trim in summery white trousers, Stanfill explains. "My parents bought me books from the time I was little, and I would go to the library on 23rd Street, near PS 40," where she went to school. The family lived in Peter Cooper Village then, Dennis Stanfill a recent Rhodes scholar not long out of the Navy and a stint of duty at the Pentagon. "Money was very tight," Stanfill says. It wasn't until she was a teenager and her father had gone from corporate finance specialist at Lehman Brothers to vice president of the Chandlers' media fiefdom in Los Angeles that she first went to Europe with her family. "It hit me like a thunderclap," she says. She pulls a notebook from a stack of materials she's balanced on her slender lap. It's her diary from her trip to Poitiers and Limoges, the ruined fortress of Chinon, and the Fontevraud Abbey, bubbling with royal intrigues, most specifically during the various reigns and exiles of Eleanor of Aquitaine. Stanfill reads aloud from the journal, its teenage penmanship tidy and tiny, "One can almost imagine Eleanor and her sons plotting together."
Now she has done just that with The Falcon's Eyes, a detail-rich, suspenseful novel clocking in at 832 pages inspired by Eleanor's life and turbulent times. "She was the greatest queen of the Middle Ages," Stanfill says, "and what an amazing and startling example she must have been to women of that century." One of them is the heroine Stanfill has created for her story, Isabelle de Laplisse, whose striving Provençal family marries her off at sixteen to the powerful Count Gerard de Meurtaigne, seigneur of a vast estate to the north and an intimate of kings and their most merciless counselors. With Isabelle, Stanfill says, she wanted to explore "the eternal struggle for freedom by women and the meaning of the confinements placed on them." Stanfill located a telling symbol of such tensions in the lightning-swift falcons Gerard raises in captivity for his lavish hunting parties, and crystallized in the form of a falcon-shaped incense censer he gifts his young bride.
The object, enthroned in the title of Stanfill's novel, was suggested by a bronze incense burner depicting a bird of prey she saw in "Court and Cosmos," an exhibition on the Seljuq Turks dynasty at the Metropolitan Museum of Art in 2016. It assumes different implications as Isabelle's marriage founders and a darkening world closes in, only to have the bronze falcon's gaze pivot with her escape to the cloistered enlightenment of Fontevraud and the refined order of nuns at its helm. Another course is charted to England and Eleanor's dazzling, imprisoned circle at Sarum, where Isabelle becomes the scheming queen's closest confidante, and back to Fontevraud for Eleanor's final years. In Eleanor's case, Stanfilll writes of intelligence combined with ambition so ruthless it stops at nothing and no one, not even the fates of her own offspring. New York, Stanfill laughs, "is rife with people like that." She sees Eleanor's molding of her image and legacy "rather like Jackie Kennedy's crafting of a legend."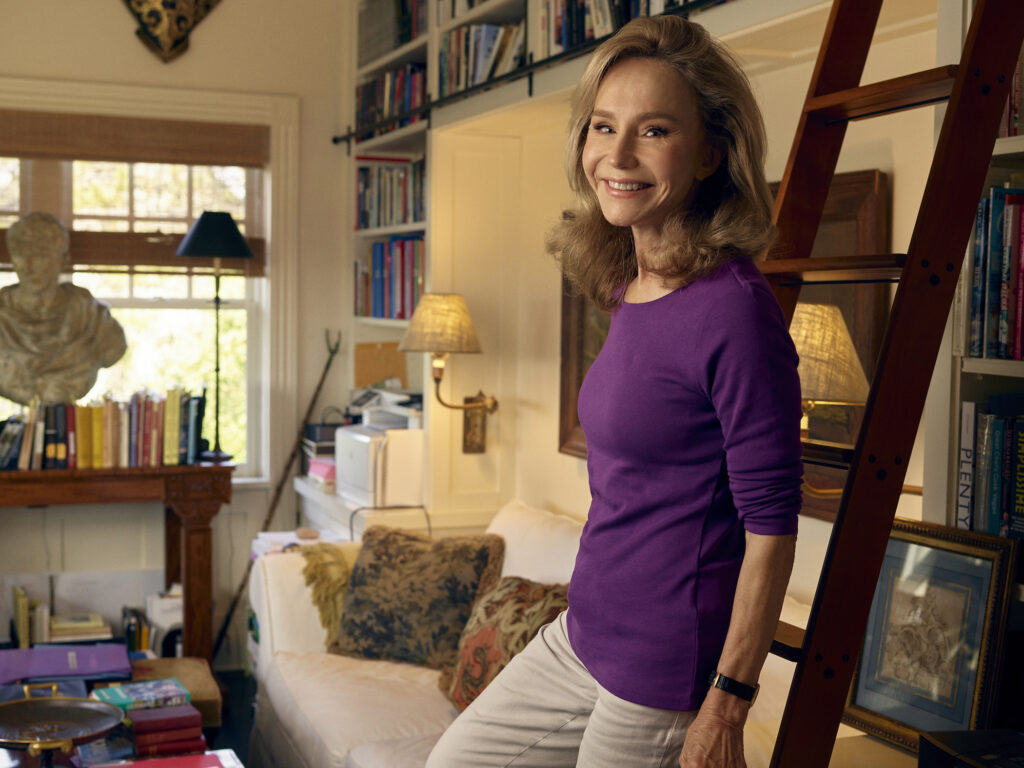 At the same time, the prologue hints at an extraordinary occurrence in Isabelle's life that has her resorting to coded messages, perilous secrets, and a series of actions once more informed by the need for self-determination, independence, and a woman's right to choose. "I was struck," Stanfill says, "by how eternal this struggle is, again today with the challenges to Roe v. Wade."
To write about Isabelle's internal struggles, of her ambivalence toward motherhood and her complicated fears about her ability to nurture and love, Stanfill says, she undertook extensive research into the history of contraception and beliefs surrounding childbirth even while drawing on her own religious background. "It helped to be a Catholic writing this book," she says. "My mother's parents emigrated from southern Italy" to working-class West Haven, Connecticut. "I was brought up not strictly, but Catholicism was a huge part of my childhood — devotion, confession, mortal and venial sin." The more time she spent in Europe, the more deeply she treasured the art, architecture, and history of Catholicism.
In California she attended Polytechnic, a small private school in Pasadena, and decided she wanted to become a stage actress in the vein of Vivian Leigh and Laurence Olivier, which was a reason she applied to Yale. She wrote letters to people she admired, like Lawrence Durrell, who would later blurb her first novel, and Olivier, whose reply she has framed and hanging on the wall of her study in the apartment she shares with her husband, arbitrageur Richard Nye, on East 72nd Street. She gave up on the acting idea by her junior year, lured instead to focus on history, literature, and art history by such renowned Yale teachers as Vincent Scully and George S. Hersey. It was Hersey, she says, "who indulged my love of the imagination" in her papers for him, "and who said to me, 'You really should write novels.'"
Her first, Shadows and Light, "a typical first novel, about erotic obsession," she says she wrote early in the morning before heading into work at the Times, its fictional portrait of tarnished glamour, auction house dalliances, and romantic betrayals mirroring her society beat at the paper and her after-hours social life of cocktails at the Henry Kravises', dinners at Mortimer's, and dates with some of New York's richest and most sought-after men. Her second, Wakefield Hall, had a similar high society setting and centered on the smart, pretty biographer of a celebrated Shakespearean actress, and sinister doings around an estate in the Berkshires not unlike Edith Wharton's The Mount and its transformation into the site of a summer Shakespeare festival.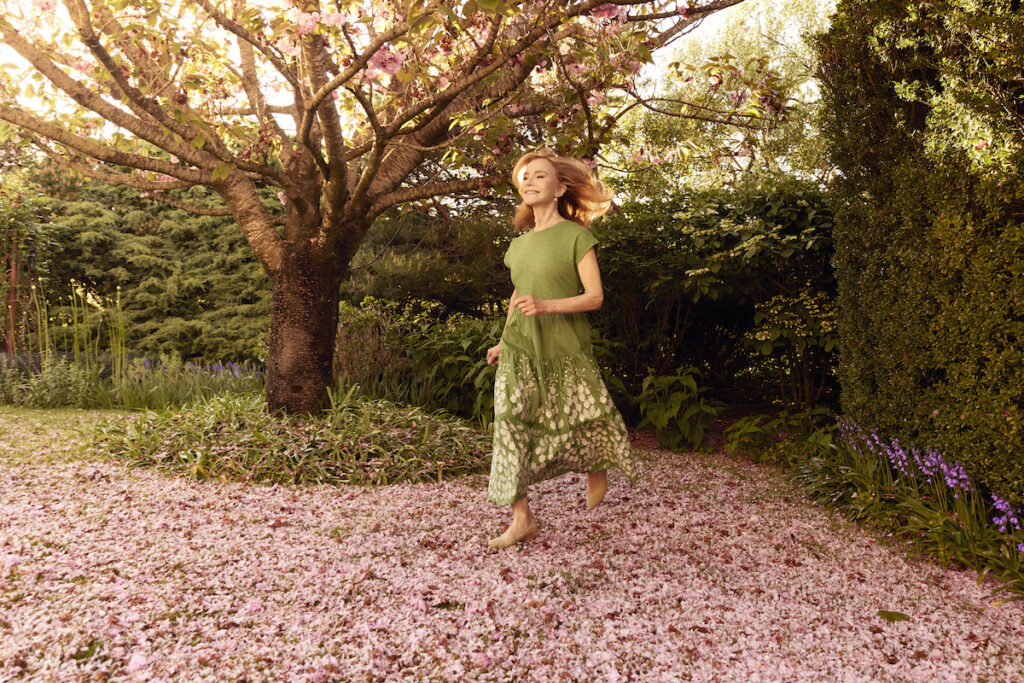 Her next novel, Stanfill divulges, though she isn't yet willing to share the title, will be set in late-19th-century New York and the Europe of the Grand Tour. "I hope it will be a taut and somewhat dark tale about self-invention, money, and social status," she says. Is it reminiscent of Wharton? "Yes," she agrees, "with a touch of Hitchcock." An assemblage of Grand Tour souvenirs, large seashells carved with neoclassical scenes in Naples, are among Stanfill and Nye's varied collections, from classical busts to Byzantine fragments, early Germanic stone carvings, rare books, Eastlake bamboo, monumental paintings by Alex Katz, Sean Scully, and Manolo Valdes — and several falcon pieces, of course. "Collecting," Stanfill says, "is a form of storytelling, of putting things together for beauty, peace and joy."
She's moved out through the living room's tall French doors to the expansive deck, swimming pool, and several thickly grown ocean-view acres connected by a short sandy path to one of the more picturesque beaches on eastern Long Island. Together with her garden designer, Fay Henderson, Stanfill has carved two "garden rooms" into the vegetation near the deck. In one she has arranged in a semicircle four sculptures of the Four Seasons. In the other stands a late-19th century Milanese bust of a gentlewoman, a pearl necklace carved around her neck and a stiff lace collar sculpted into a stately frame for her face and elaborately upswept hair. "I found her at some motley sale," Stanfill says with a smile, "and she came from the Warner Brothers lot. No one else wanted her. She's quite regal, don't you think? I think she looks very much at home."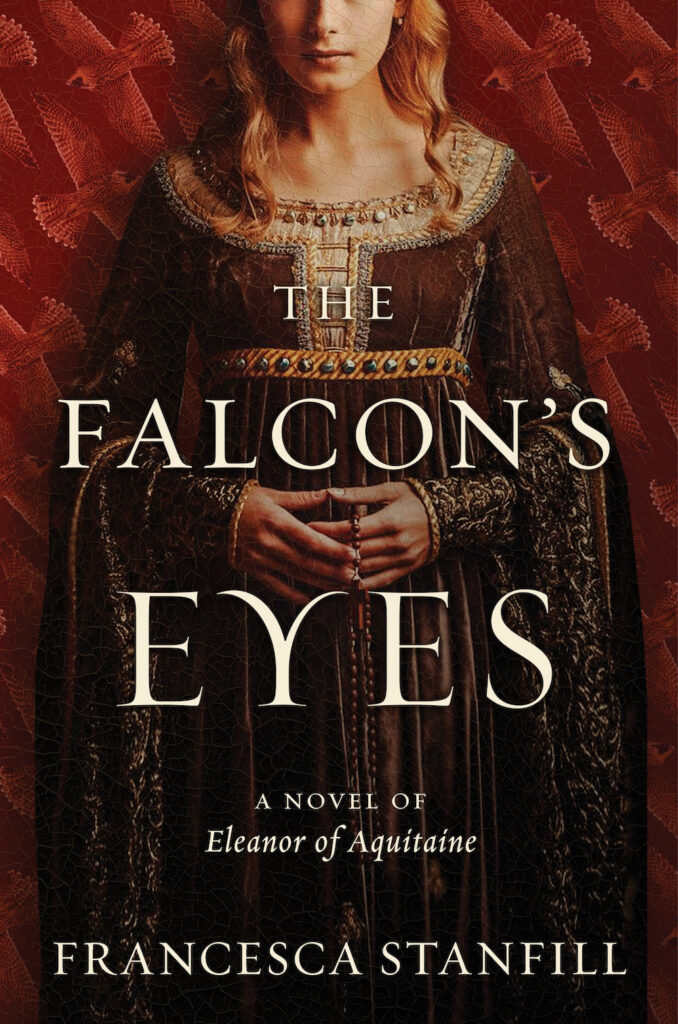 The Falcon's Eyes: A Novel of Eleanor of Aquitaine, by Francesca Stanfill (HarperCollins) is available online and in stores now.