Being of Italian extraction, I regularly return to the land of my maternal ancestors. And, as many times as I have been to Milan, I had never been to Franciacorta, an up-and-coming wine region but an hour's drive to the east. That was until recently, when I had a chance to visit this delightful part of the world and bike along the sinuous shores of Lago Iseo — a pristine glacial lake teeming with tench, whitefish, and diminutive shad, the latter best grilled over smoldering coals and lightly dressed with lemon, olive oil, and a pinch of Maldon salt. And, naturally, we partook of Franciacorta's increasingly famous wines.
Wine, of course, has long been synonymous with Italy. Production of some of the country's most prized vintages — full-bodied reds such as Barolo and Brunello, from the nebbiolo and sangiovese grapes, respectively — date back centuries, if not millennia, with evidence of the first fermentations on the peninsula stretching back more than 4,000 years. Countless shipwrecks with cargo holds laden with wine amphora attest to a boom in exports throughout the Mediterranean world during the height of the Roman Empire.
But for all of Italy's illustrious viticultural past, the wines being produced in Franciacorta today are relative newcomers. The region's first effervescent whites and rosés issued forth some six decades ago, when, in 1961, oenologist Franco Ziliani, aka "the Father of Franciacorta," produced his first "bubble," using the Champagne method of double fermentation. (The first fermentation happens in the vat; the second fermentation taking place right in the bottle.)
The 77-square-mile Franciacorta region is nestled in a geological amphitheater hewn out of the foothills of the Rhaetian Alps during the retreat of the last glaciation some 10,000 years ago. That retreat left in its wake a terminal moraine of rocky, sandy soils rich in limestone, minerals, and clay. This pedological signature proved hostile to most crops, aside from hearty Mediterranean olive and lemon trees, formidable bushes of Salvia rosmarinus and Capparis spinosa, and, of course, grapes. Not that that's a bad thing, at least when it comes to wine.
"Without struggle, grapes lack character," writes New York sommelier Joe Campanale in his lyrical Vino: The Essential Guide to Real Italian Wine, which rolled off the presses just this past year. And struggle they must in Franciacorta's difficult soils. While locals had cultivated indigenous "albamatta" (erbamat) grapes for winemaking since the mid-16th century, it was Ziliani who realized that the region's unique nexus of geomorphology and climate, combined with craftsmanship, had the potential to produce a portfolio of wines rivaling those of the Champagne region of France, if only the imported grapes used to make them — chardonnay, pinot blanc, and pinot noir — would take hold and thrive in Franciacorta's terroir.
And take hold they did. Six years after Ziliani's first bubble, Franciacorta was granted Denominazione di Origine Controllata (DOC) status by presidential decree. In 1995, the region obtained full Denominazione di Origine Controllata e Garantita (DOCG) status, the highest classification Italian wines can achieve.
Much of the process for making Franciacorta is indistinguishable from that of Champagne. The aging process can take 18 to 30 months, sometimes more, after which their bottles are "riddled," that is, placed on special racks and constantly rotated in a semi-inverted state until all yeasts and sediments have settled in the bottlenecks and their contents are crystal clear. The bottles are then fully inverted and their necks flash frozen. Within nanoseconds, the corks, along with the cryogenically sealed yeasts and sediments, are extracted and fresh corks injected. To witness the cleaning and recorking process is to see a Rube Goldberg machine in action in its purest form.
Wine production has soared from a modest 2,000 bottles a year but a few decades back to 20 million bottles a year — much of it sustainably produced, using only natural yeasts and minimal sugars. While such exponential growth may seem impressive, production is still small relative to the Champagne region, which, at nearly twice the geographical size, produces 300 million bottles a year.
The wineries here range from artisanal family operations such as Majolini, a certified organic enterprise that produces 150,000 bottles a year from grapes grown on some 60 acres of terraced hillsides, to more industrial enterprises such as Ca' del Bosco, which produces more than a million bottles per year on its 625-acre estate. As of this writing, some 66% of the vineyards in Franciacorta are under organic cultivation. The goal set by the 122 wineries in the Franciacorta Consortium is for all wines produced in the region to be fully organic by 2030.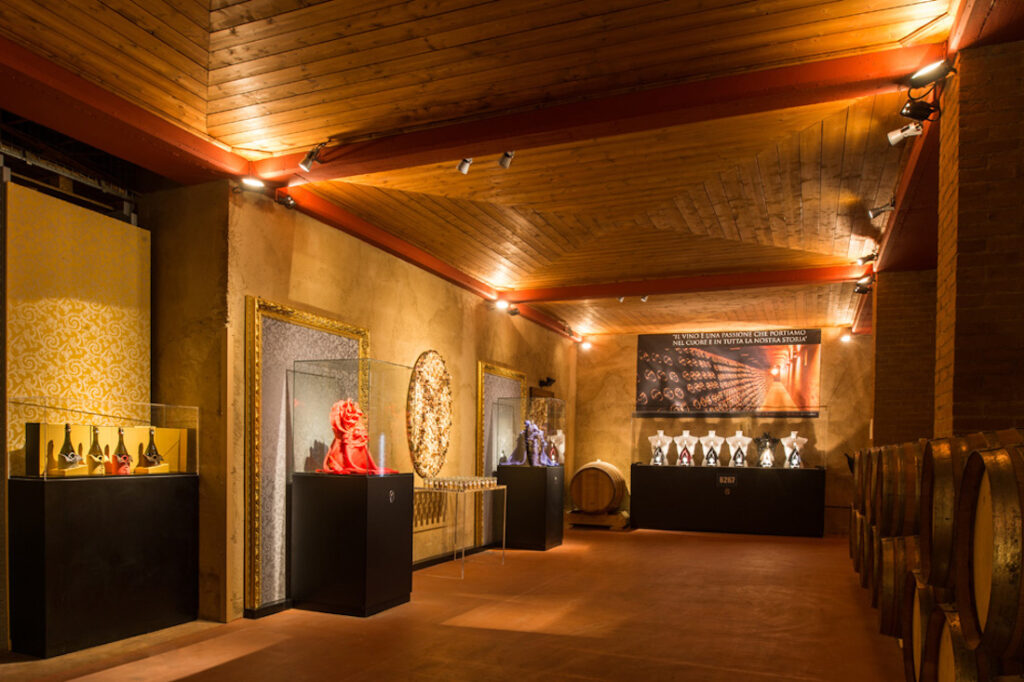 "From my perspective, every business has a duty to make their product in a sustainable way, remembering that Earth's resources are not infinite. What we do today is what we will leave behind for future generations," says Simone Majolini, a third-generation proprietor of his eponymous winery. He is quick to point out that Majolini is one of the first Franciacorta producers to be obtain a SQNPI (Sistema di Qualità Nazionale Produzione Integrata) certification and that his enterprise is propelled solely on renewable energy sources.
As we tour the winery, it is clear that, for Majolini, life is not only about wine but about appealing to all the senses, which is why his labyrinthian cellar, tunneled into the surrounding hillside, is a feast for the soul, not only for the many alcoves of maturing libations and primordial scent of ancient earth, but for the abundance of commissioned art that has been placed throughout its corridors, some of it cloaking the wine bottles themselves.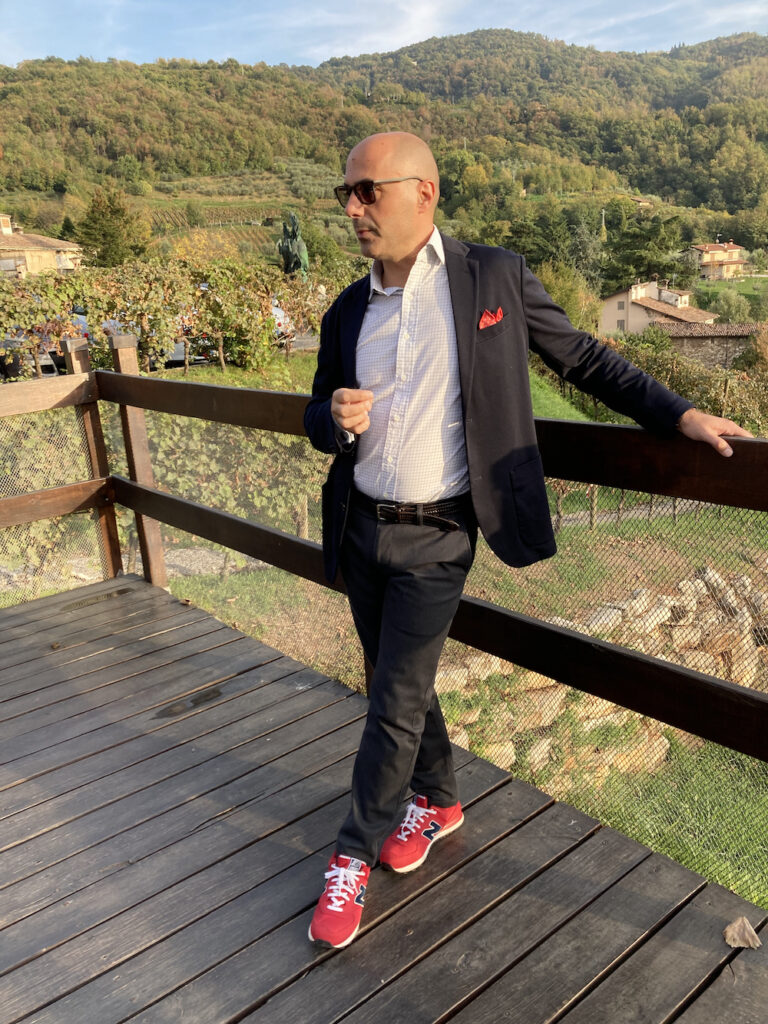 During our conversation, Majolini imparts several important "no's" on this neophyte when it comes to all things Franciacorta. Namely, do not ever refer to it as "sparkling wine." "It simply is not," he says, as he sets out a suite of thin, handblown glasses for us to sample the fruits of his labors — a dry brut, a blanc de noir, and a rosé.
"One would be wrong to compare Franciacorta to other sparkling Italian whites such as prosecco, a popular pocket-friendly tipple that is 'gassed up in the tank' through a process known as Charmat," explains Spencer Harrington, who has been repping Italian wines for American-importer Winebow for more than two decades. "That Franciacorta is the reigning king of effervescence in Italy," he says, "is beyond dispute. I just find it strange the world is still so hung up on Champagne."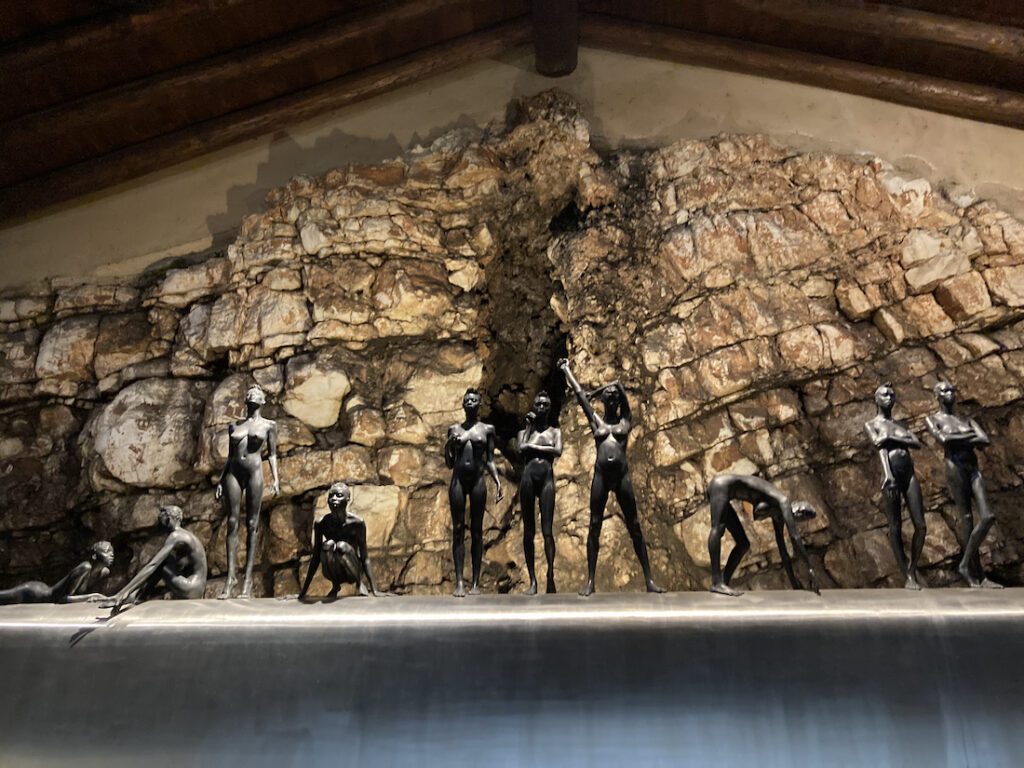 And while it is natural to draw comparisons to Champagne, Majolini says, there are definitive differences, which brings us to another one of his cardinal "no's." "By no means serve Franciacorta in a champagne flute!" The reasoning, he says, is simple. Like Italy's still, full-bodied reds, Franciacortas blossom and come into their own in the glass once exposed to air. And in this regard, he is spot on. A single glass can change in a matter of minutes, its character morphing in marvelous ways as various notes come onto the stage.
Among the highlights from his cellar is a crisp three-year-old satèn brut millesimato, made from 100% chardonnay grapes, and a full-bodied two-year-old rosé brut from 100% pinot nero grapes — opposites for sure that paired equally with a stellar plate of cheese and charcuterie, including a pitina from the Dolomites and a melt-in-your-mouth culatello, the latter a delicate relative of the better-known prosciutto di Parma.
"Making Franciacorta, or any wine for that matter, is not an endeavor for the impatient. It takes at least a hundred years to establish a great wine region," says Ca' del Bosco founder Maurizio Zanella, whose mother acquired the property in 1964. The first traditional Champagne grapes — chardonnay and pinot noir — were planted on the grounds in 1968 and harvested four years later, producing that winery's first bubble — a pinot di Franciacorta bianco. A pinot brut and dosage zéro, as well as a Ca' del Bosco rosé, soon followed.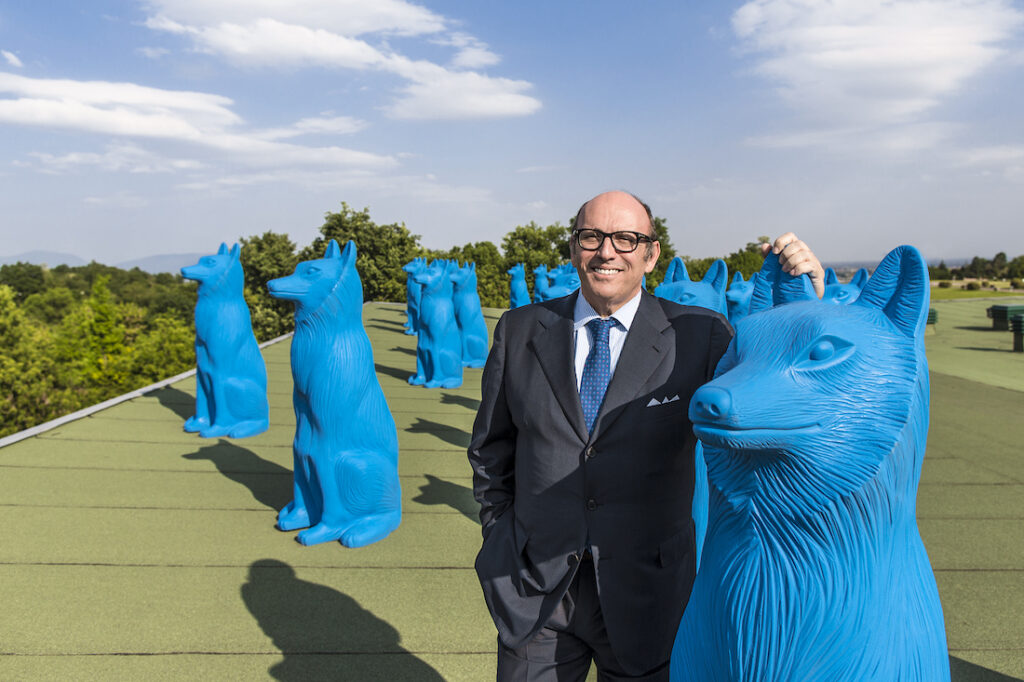 "One must change vines at least three times, as only then will you understand what mistakes you have made," Zanella tells Avenue, explaining that a major part of his own winemaking course correction came after he enlisted the help of André Dubois of Moët & Chandon fame, in 1979. "Once André arrived, change came quickly at almost every level of production. We had been putting our harvested grapes into a large cargo bed for transport, which, of course, sent him into a rage. He demanded that we stop that at once and begin collecting the fruit in small baskets. Absolutely everything had to be done by hand," he says. Dubois stressed that the timing of the harvest was the key — harvesting not only for sugar ripeness but also the acidity to help flavors shine through Champagne's traditional double fermentation. Perhaps most important, the Frenchman confirmed the potential of Ca' del Bosco's terroir.
"There are palpable differences between the morainic hills where Ca' del Bosco is located compared to Champagne," says Stefano Capelli, who manages much of the winery's current production. "We don't have the same soils, we have lower levels of acidity, and fruit that tends to ripen without incident."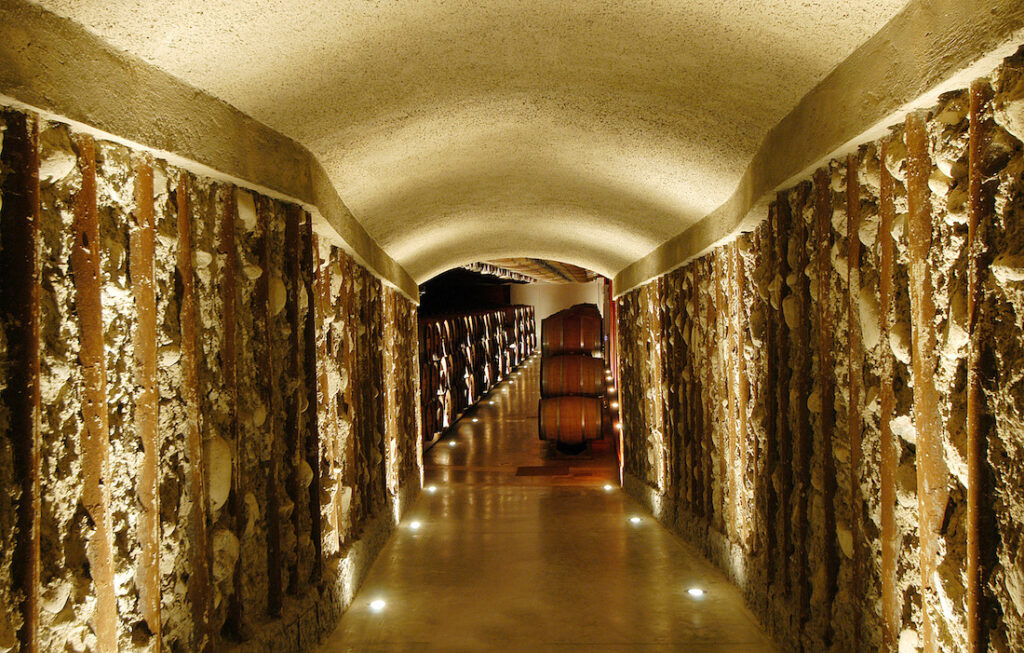 Today, Ca' del Bosco's is among Franciacorta's largest concerns, producing 1.5 million bottles a year on its lush rolling hills, which are punctuated by site-specific works of art that draw on nature for their inspiration. It was here that we delighted in a suite of food and wine pairings showcasing the Ca' del Bosco portfolio. Among the most savory, a fennel pollen-dusted amberjack and tuna carpaccio offered alongside a Cuvée Prestige 44º Edizione Franciacorta that greeted us with a fresh citrus floral nose.
Our final stop on the jaunt was Lo Sparviere ("the sparrowhawk"), a boutique winery producing but 120,000 bottles a year. At its architectural heart is a 16th-century villa that sits at the center of the 150-acre property, 75 acres of which have been planted with chardonnay and pinot noir, organically cultivated since 2013. Unlike the morainic basin of much of Franciacorta, Lo Sparviere is closer to the foothills of the Lombard Prealps and enjoys a somewhat cooler microclimate, forcing a harvest a fortnight later than the rest of the region.
My hands-down favorite at this winery was a Franciacorta DOCG rosé "Monique" — named in honor of Lo Sparviere's owner, Monique Poncelet Gussalli Beretta — paired with the most succulent and supple squid I have ever ingested, presented in a lunchbox of all things, prepared by Stefano Cerveni of Due Colombe.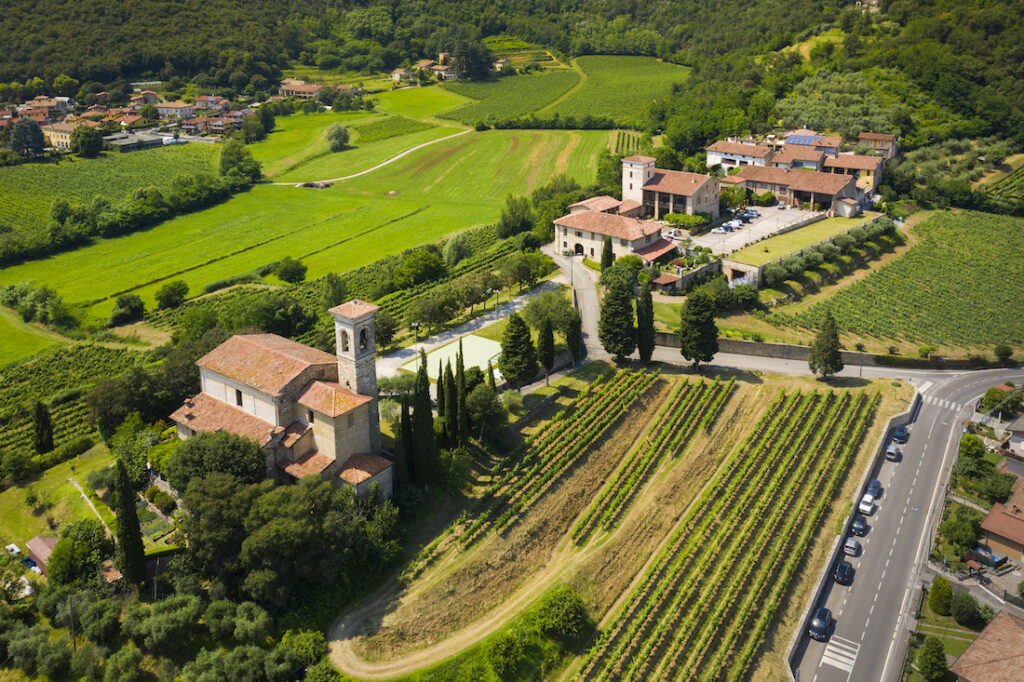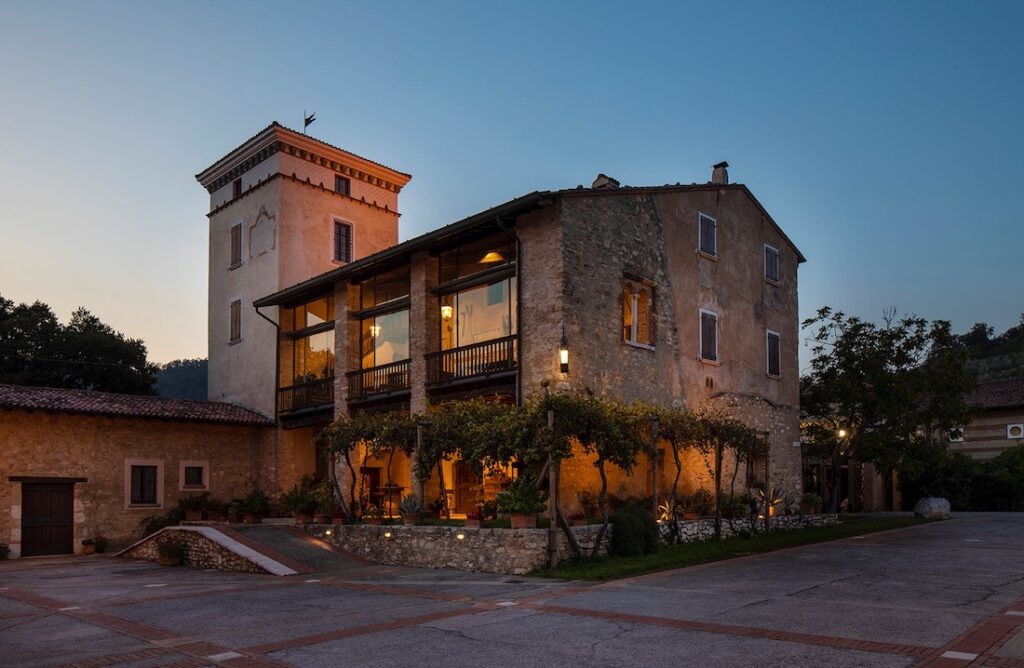 But it took my return to New York to realize just how varied and wide even a small region like Franciacorta is. I reached out to Joe Campanale, a self-confessed purist in terms of his preference for Italian wines grown from native Italian grapes' for his thoughts. "There are more than 2,000 varieties of grapes endemic to Italy — more than France, Spain, and Greece combined," he told me, questioning any need for varietal imports such as the French trio that make up most of Franciacorta's output. Among his own Franciacorta favorites are wines produced by Alessandra Divella, 33, a wunderkind winemaker who, he says, "is truly pushing the conversation forward in terms of terroir purity," producing just 12,000 prized bottles a year on her boutique six-acre property. That's less than 1% of Ca' del Bosco's annual output, as effervescent and delightful as a glass of Franciacorta.