In an era when people are constantly being beat over the head with the idea that making your workplace your "family" creates toxic effects, the Frisbie Group's enterprise is their family. And this collaborative, one-for-all and all-for-one mindset has set up the family-owned, Palm Beach real estate giant for success.
"It means a lot more when it becomes your own," says Rob Frisbie Jr. one morning, as he sits in the company's sleek, modern office situated in the center of Palm Beach. Sunlight floods the room, while well-produced videos of current Frisbie projects roll across a large white wall like a big-budget blockbuster. "It's not like working for the man, quote unquote. You're really trying to see everything succeed, because you're so personally invested in it. So, it doesn't really matter if you're talking about work at 8 AM on a Sunday versus 12 PM on a Thursday — it's all kind of part of the same."
The Frisbie Group, the real estate investment company which has been preserving and revitalizing the Palm Beach and West Palm Beach areas for nearly three decades, is not your stereotypical, suit-and-tie development corporation. Of the company's 25 employees, 13 of them are family members, with three of those being its founders (David, Robert Sr., and Rick). Born and raised in New York, the brothers bought and restored their first property together — a brownstone in Boston — while at Harvard in the early '70s. The trio eventually turned their eyes to Palm Beach, where they completed their first property in 1996.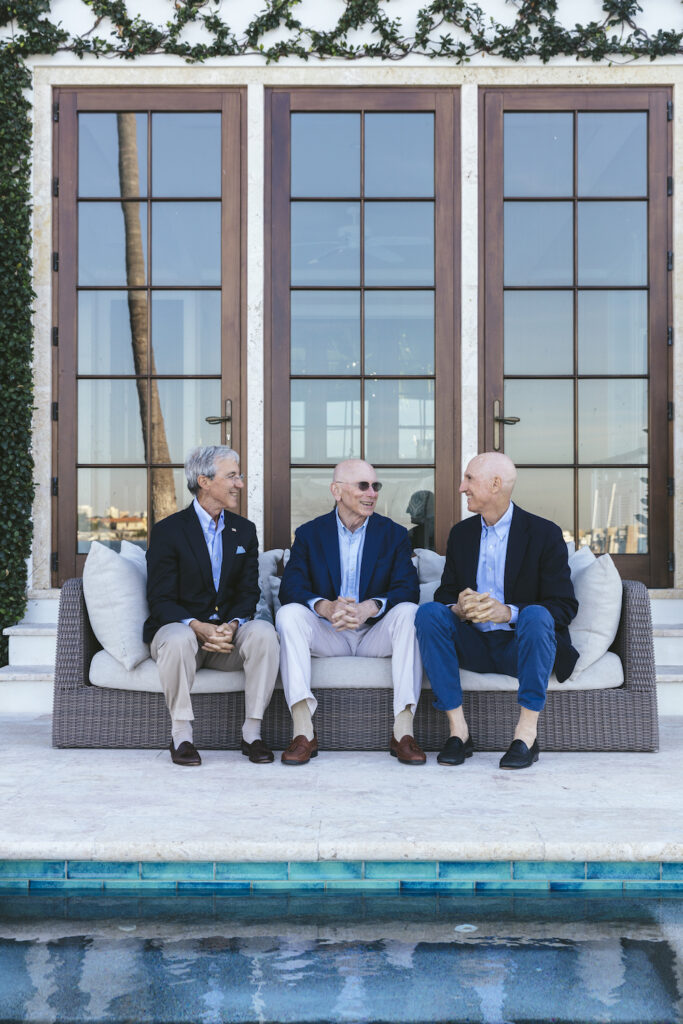 None of the employees at the Frisbie Group carry business cards or have specific job titles. Instead, the company divides the employees by "Gen 1" (short for Generation 1) and "Gen 2," with about two-thirds of the Frisbie family members falling into the latter category. The "Gen 1" set — made up of David, David's wife Suzanne, Robert Sr., and Rick, all senior directors at the firm now — has owned and operated the Frisbie Group since its inception, and has steadily expanded as Gen 2 has trickled in, starting in 2013 when Robert Sr.'s daughters, Katie Frisbie Crowell and Franny Frisbie Criddle, joined followed by his son Rob Jr. in 2016 and the rest of Gen 2 shortly thereafter. Many of the Frisbie family members live within walking distance of both the Frisbie Group office and each other in one of their development projects, Via Flagler.
"I think if you look at more conventional workplaces, you will see people attempting to succeed individually within that environment, because that's how you excel and get promoted," opines one of the original founders, David Frisbie, who goes by Dave. "What's unique here is that within this family business, we don't have the same dynamic, because everything we do is for our family — so we don't need to set individual goals. Instead, it's always about what can we do for the whole? How do we make decisions that are moving our family forward, and that are in the best interest of the family?"
Before a family member can be considered for employment at the Frisbie Group, they must work someplace outside of the company first and show a passion for something which would be additive to the group as a whole. "If you decide this is something you'd like to come join, then we'll evaluate whether you can," says Dave. "It's very clear to everyone in this room that just because your last name happens to be Frisbie, that doesn't award you anything. You have no guaranteed rights to a job. You don't just get a check. Not at all. You get what you get because you live and breathe it and make it better on a daily basis. And we've had the conversation for everybody that shows up. Look, I'm your uncle and I'm always going to love you. But if you're taking energy away from others, I will have to say, 'I'm sorry, but you can't work here anymore.' So, as a boss, I will fire you."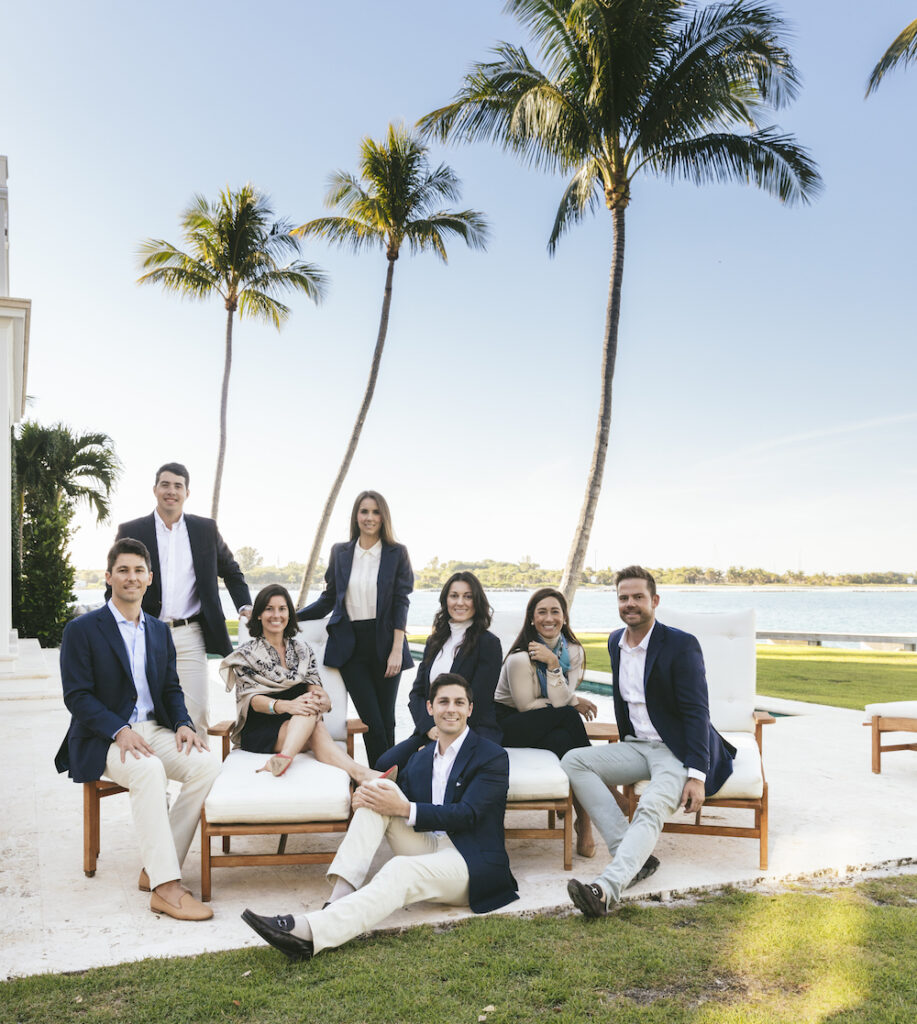 And while this tight-knit infrastructure may not be for everyone, the Frisbie Group doesn't want it to be. Bringing someone into this dynamic isn't something that is done lightly. Employees are "adopted," according to Suzanne, who has a specific focus on residential sales, acquisition, and development through most of coastal Palm Beach County. "So, they have to comport themselves as family."
"When you're trying to differentiate between family and nonfamily, it's just an awkward conversation for us," says Rob Jr. — who serves as a product manager on luxury developments — about employees of the Frisbie Group. "The secret to our business is that we are all one extended family. And so, when we take someone on and they become a member of it, it's a really big deal for us. It's not a temporary thing. You want to really retain that employee for a long time."
The Frisbie family could be called untraditional traditionalists — or, perhaps, traditional untraditionalists — due to the equal priority they put on innovation and preservation. Since the three brothers joined forces in 1973 in Boston, the firm has become a formidable force in both imaginative developments and preservation in Palm Beach County. Some of their commercial and residential projects in Palm Beach include South Flagler House; Worth Avenue condominiums; the 10,000-square-foot townhouses at South Ocean Boulevard; Via Flagler by the Breakers in Palm Beach; and the Islands of Islamorada, a club resort on seven acres which may be recognizable to those who are fans of the Netflix television show Bloodline. The Frisbie Group also has worked on properties outside of Florida, such as the Harborview Nantucket, selecting these projects simply based on areas where they like to spend time.
A prime example of the equal consideration they give to imaginative development and preservation, Rob Jr. points out, is the South Flagler House luxury condominium project. "How do we use the tools that we all know so well about construction and design to create a space that brings a community together? How do we use materials and choose materials that are reverent to historical precedents, that are warm and inviting, but are also timeless in their aesthetic?" she asks. "These sound like simple ideas, but when you put them all together, you end up with a project that is leading by example, and it becomes a landmark that exudes this positive energy, that has lead ratings in terms of sustainability, that has wellness ratings in terms of how future residents are going to live a healthy lifestyle within that building."
Another particularly impressive project in the Frisbie Group portfolio is 5400 North Flagler and Bezos Academy in West Palm Beach. The educational institution has been created in conjunction with Jeff Bezos and will be located on the first floor of the essential housing project, which was inspired by South Flagler House and the boom of people moving to Palm Beach and the Florida area in general.
"People are moving north. They're moving west. They're moving south," explains Cody Crowell, who guides the company in investment organization, focused on place-making, revitalization, and large-scale, mixed-use developments. "We decided to take a project that is best suited for luxury condominiums, because it's on the water in a very convenient location, and go vertical with the internationally-renowned Danish architect Bjarke Ingels, and create this essential housing. And not just do so in a mindless way, where we're just building as inexpensively as possible, but instead prioritizing water views for all the residents," As the company was conceiving the project and reaching out to the community, the question of schools became increasingly pressing. "We found over the course of the last two years, as more and more people are coming in, education is a big issue. And so, we've gone out to numerous different operators and educators. In that building, we're planning the Bezos Academy on the first floor of the building — and the school's free. So, you have the usual amenity deck that a beautiful condominium would have. You have a world class architect. And this is for essential housing, whether you're a fireman, nurse, first responder, policeman, you name it."
This is just another example of putting the greater good above the individual, and heralds back to the Frisbie Group ethos that Dave says powers everything the company — and each person in it — does. "It has to be a major positive for the community," he says, then pauses. "We don't do projects that aren't good for our community." For what is a community, after all, but a very large family?