Last week George Mickum emerged as the grifter du jour after news broke that he fleeced his socialite friends by selling them fake Hermès Birkin bags and faux jewelry. Now, details have emerged on how he carefully crafted his image to worm his way into high society.
Last July, Mickum and his mother, Sally Painter, hosted a lunch on Lily Pond Lane in East Hampton, in a home that did not belong to them. A source tells Avenue that Mickum was "basically squatting" at the four-bedroom house, just a stroll away from Martha Stewart's East Hampton manse. The Lily Pond Lane property is currently available to rent for $250,000 for the summer season. 
"Guests were forced to sign an NDA at the door," said a source who attended the lunch. "It was so suspicious. George was standing at the entrance in a white blazer and white Bermuda shorts with his Birkin bag and a stack of NDAs. Photographs were strictly forbidden."
The blue and white paisley invitation requested RSVPs to a Douglas Elliman email address under Mickum's name. But a rep for the real estate firm told Avenue that "George is no longer with Douglas Elliman."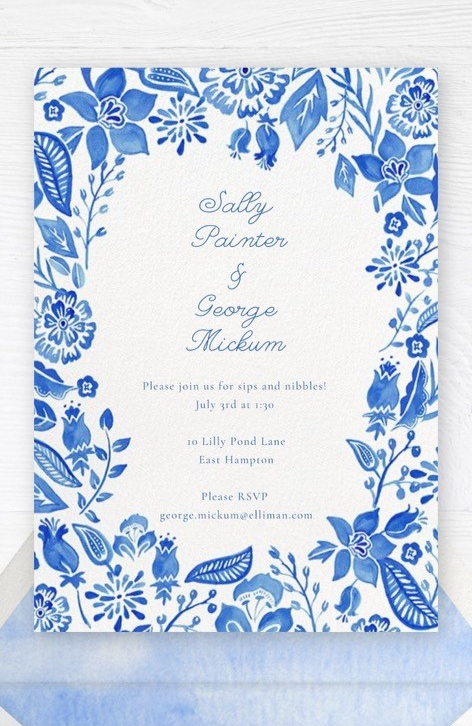 Avenue has also heard a voicemail message in which Mickum promised an invitee that there would be "champs and caviar."
Guests were perched at picnic tables with blue and white tablecloths, and ate a homemade pesto pasta salad that Mickum made himself. "There was no caviar," sniffed another guest at the lunch who did not want to be identified. "I don't want my name in the same sentence as that grifter."
Amongst the roughly 25 guests was Consuelo Vanderbilt Costin, a singer and 7th generation descendant of railroad tycoon Cornelius Vanderbilt; and Ramona Singer, a former cast member of The Real Housewives of New York who was fired from the show in 2022. "It was a random crowd," our snitch went on. "There was more food than people."
Mickum is allegedly notorious for finding rich benefactors who would lend him their Hamptons houses, including a former tech bigwig reported to be worth billions.
"George invited all these young people to this guy's house," a fashion executive told us. "I think George introduced [the tech bigwig] to his 27-year-old girlfriend. I know he has a weird arrangement with older straight men to help them meet women in exchange for gifts and using their homes. And George had a rule with his friends: if he introduces you to a guy and you get engaged, he gets a ring too."
It's unlikely Mickum is in a position to make any more introductions — Page Six reports he is now "banned" from society guest lists, even as a plus one.