There's a moment, just before the spotlight clicks on at the David H. Koch Theater, that is marked by the falling of darkness, the clearing of throats, and the mounting of anticipation. Balanchine's Symphony in C has just ended. The two-ton chandelier has dimmed; the orchestra is silent in their pit, the curtain has not yet opened; and the stage holds all the potential in the world.
Balletomanes live for this moment, and choreographers do too. Especially Gianna Reisen, who, at 23, is the New York City Ballet's youngest choreographer. Last September, Reisen sat in her plush red velvet seat, in a house crowded with a much more diverse (and fashionable) audience than normal, for the New York City Ballet's annual Fall Fashion Gala. Reisen was premiering her third work for the company: a 16-minute affair called Play Time. And in that silent, anticipatory moment, the weight of the world was on Reisen's slender shoulders.
Then the spotlight clicks on. The audience gasps, then, maws gaping and awestruck, applauds. For there — standing, crouching, and lying stage right — is a tangle of dancers in frozen tableaux. Each wears a monochrome outfit, by Spanish designer Alejandro Gómez Palomo: the new principal Chun Wai Chan in a glimmering red jumpsuit; Unity Phelan, also recently promoted from soloist, in a white bodysuit; Harrison Coll in a pair of exaggerated blue slacks, as if David Bowie and David Byrne had tumbled through a Bedazzler, so brilliantly laden in crystals that the combined shine is almost blinding. Every breath they take sends shimmers of light into the house. The music starts: a lone, caterwauling string, a run on the harp, the cry of a trumpet. The score, entitled Villanelle for Times, is by another star of almost blinding luminosity, Solange Knowles — her first for a ballet — and the dancers begin to move. For the next 16 minutes, in frighteningly kinetic movement, they entwine with each other, devouring the stage as if starving, sending beams into the house.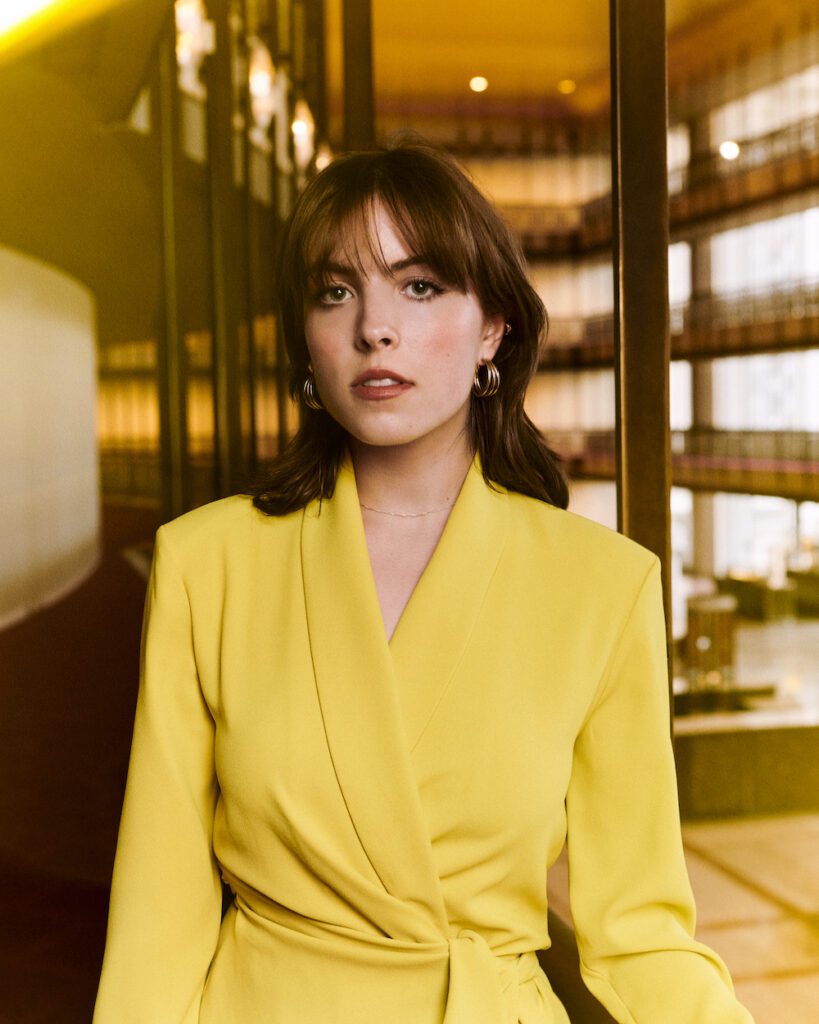 It's hard to reconcile that high-wattage exuberance with the very petite young woman who slides into her seat at Café Luxembourg, a short walk from Lincoln Center, a few days after the world premiere. Reisen, wearing a black leather jacket over a T-shirt, is self-assured, assuredly, but also rather reserved. "I am much less flashy," she laughs, about the comparison with her work, "in real life." Low-key, perhaps, but still moving up the ranks of the ballet world at astonishing speed. Play Time, which will also be performed this spring, is already her third work for New York City Ballet (NYCB). It is, by far, the biggest stage of her career, but it's been a long time coming.
In 2017, Reisen collaborated with the late fashion designer Virgil Abloh for Composer's Holiday. "This was before he blew up," she says. In 2018, she worked with Alberta Ferretti on Judah, another NYCB Fashion Gala offering. At the time, Reisen, who grew up in New Jersey and attended the School of American Ballet, was a rising ballerina. (Her first work for NYCB took place while she was an 18-year-old student there.) By 2019, she was living and working in Los Angeles, splitting her time between choreography and dancing in Benjamin Millepied's L.A. Dance Project. It was an exhilarating, yet exhausting, lifestyle. "When you're dancing full time with a company and making work," she admits, "there's no time to creatively regenerate." When the pandemic hit, she says, she, like so many others, contemplated her life. "I realized I had done everything I wanted to do as a dancer. I realized I wanted to be behind the scenes, controlling everything."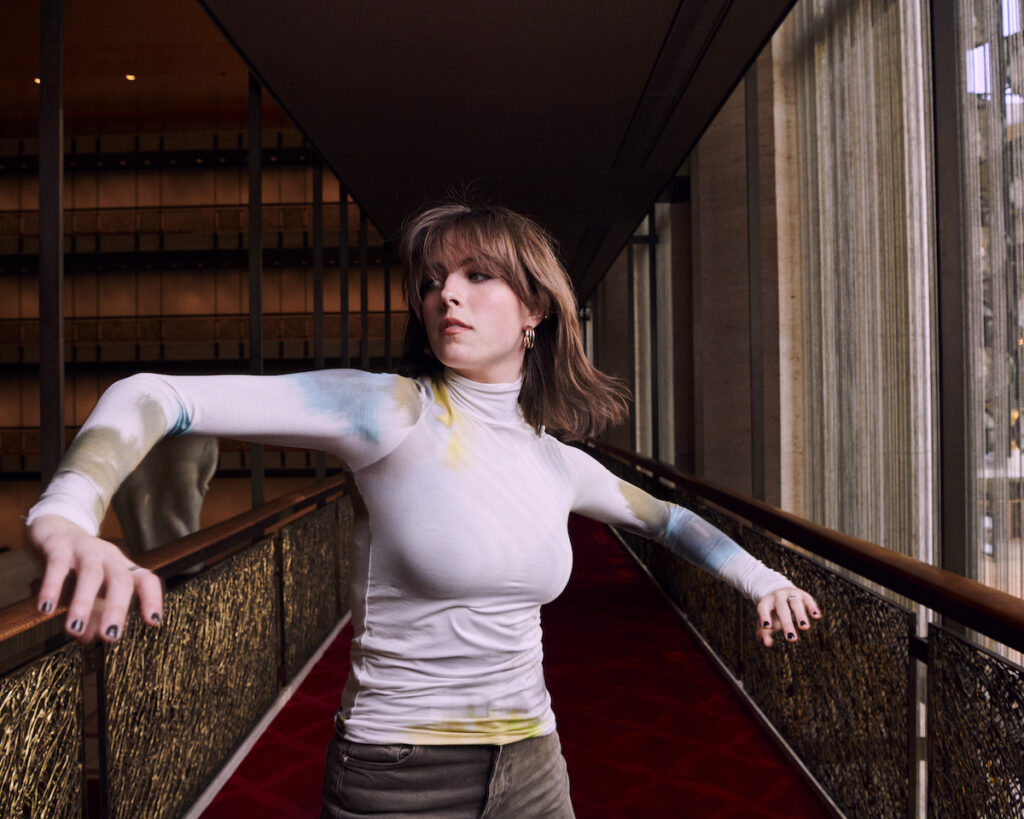 Reisen returned to the East Coast, settling first in Williamsburg and then in a cozy apartment in Bushwick. "Williamsburg was a little too Manhattan for me," she explains. When the call came from Lincoln Center, she was ready but, perhaps, a little hesitant. "I choreographed my first piece for NYCB when I was so young," she says. "Five years later, I felt a lot of pressure to show how I'd grown. It was like, what am I going to do now?" But by the time she returned to the familiar NYCB studio for her third commission for the company, she was resolute. The stakes were high. "This was the tenth anniversary of the Fashion Gala," she tells me. "It needed to be flashy." After a few other designers fell through, Reisen began her own search for a collaborator. "I basically just took it on myself. I saw the work of Alejandro [Gómez Palomo] and reached out." Reisen was taken by the exaggerated lines of the Spanish menswear designer's latest collection. As it turns out, Palomo was interested, available, and shared Reisen's desire for something head-turning. Crucially, he had a preexisting relationship with Swarovski crystals. So, when it came time to add the flash, there were 800,000 glimmering ways to do so.
Perhaps the biggest challenge for the choreographer was how to make movements for dancers weighted down in crystal in silhouettes that so departed from traditional ballet attire. But, says Reisen, like a villanelle or a lipogram, the rules sparked a new creative vitality. "I really enjoyed having those boundaries," she explains. "Weirdly, it meant I could be more free." The weight and fragility of the crystals meant she forewent her intimate pas de deux. The 11,000 crystals on Harrison's pants meant he utilized port de bras more than sky-high extensions. "They definitely got fatigued," says Reisen, "but they were really excited by their costumes."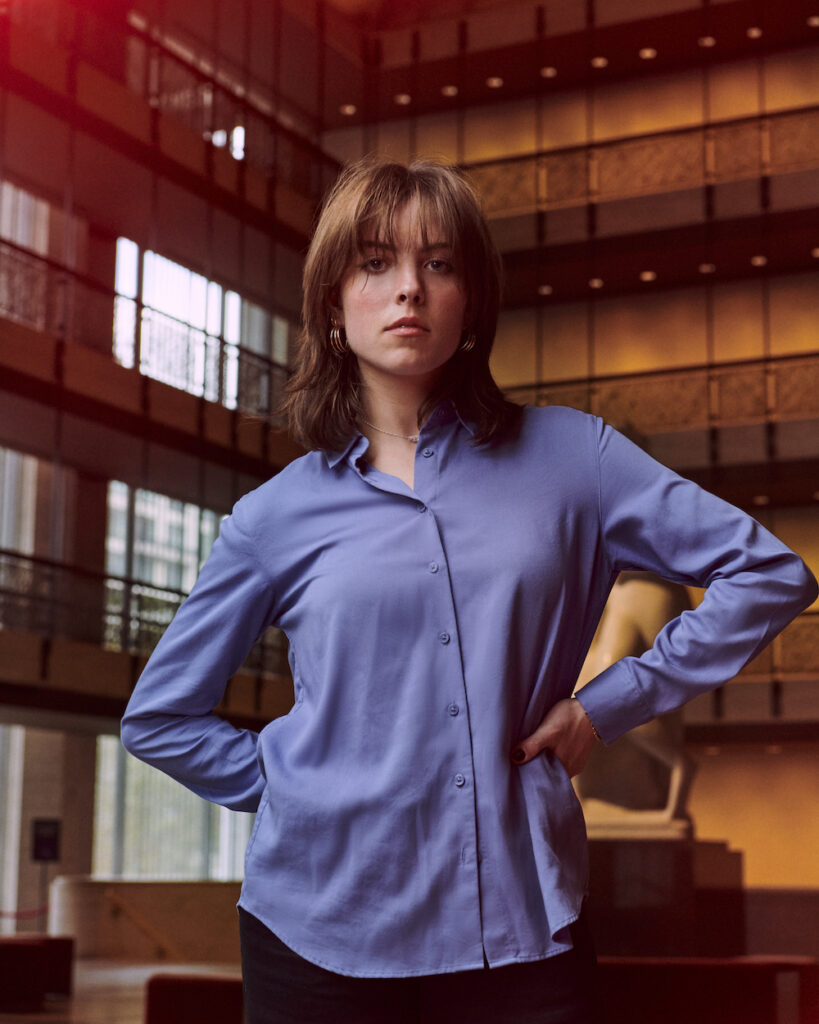 In some ways, though the weight of the colored crystals lowered the limbs of her dancers, it is Reisen herself who feels the most pressure. After all, she carries the mantle as the youngest choreographer of the New York City Ballet, collaborating with the hottest star — in Solange Knowles — to ever grace the company, performing new work in the most-watched program of the best ballet in the world. "I put so much of my soul and my heart and my love into each thing that I make," explains Reisen, "I almost feel like — this is so dramatic — I'm birthing a child into the world." (Note: Reisen does not have any children.)
But, exhausted or not, as the curtain falls, the dancers have enough energy to emerge from behind the gold brocade fabric. As the applause washes over them like waves, they bow and bow and bow again. Each reverence sends thousands of pinpoints of technicolored light into the world, but none can match the brilliant smile of Reisen, watching her work live and shine out into the world.
Play Time will be performed from May 2nd to the 18th at the David H. Koch Theater. Click here for tickets.
---
Photography direction by Catherine G. Talese