New York City is a metropolis of millions and yet, to a shocking extent, its character has been shaped by the vision of one man, Robert Moses. Before they became literally concrete, most of the traffic channels that course through our city from the Bronx to the Hamptons, sluicing cataracts of cars, existed first in the mind of this farsighted but ruthless mid-century maestro of public works.
Entire neighborhoods were razed or bisected to make way for his vision of an automotive-forward city. And yet, one of New York's most iconic quarters, SoHo, is a testament to his failure. Had Moses had his way, the ten-lane Lower Manhattan Expressway would have subsumed Broome Street from the Holland Tunnel in the west to the Williamsburg Bridge in the east. It is hard to imagine that SoHo's charm could have withstood such a bifurcation of its frontal cortex.
Happily, Moses was thwarted by the remarkable urbanist Jane Jacobs, in an epic, true-life confrontation between David and Goliath. Today, Moses has a beach named after him, and is the subject of a long book — a volume essential for a particular caste of New Yorker to have in the background of their Zoom calls — but his reputation has fallen. Jacobs, on the other hand, has become the patron saint of a livable city, and SoHo has blossomed into the perfect distillation of what makes New York New York. The neighborhood, its name a portmanteau indicating its situation South of Houston, boasts extraordinary character, unexpected beauty, the admixture of grit and glitz, luxury and not, along quiet cobblestone streets in the heart of Manhattan.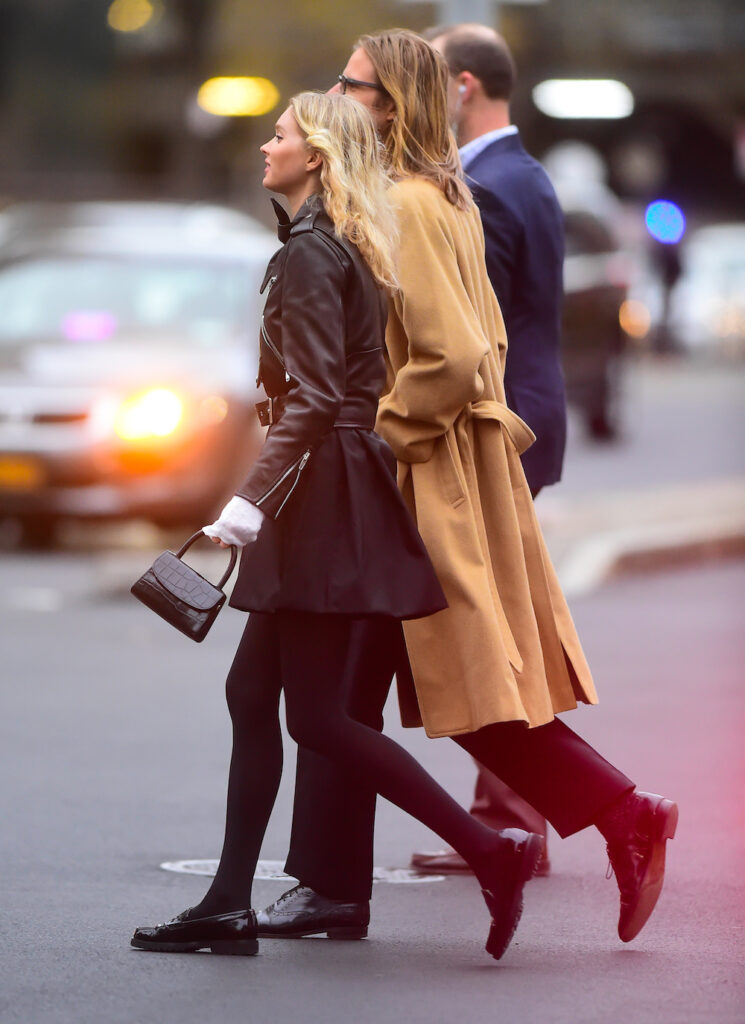 Once dubbed the Cast-Iron District, SoHo's past is proudly on display. Many of the buildings are landmarked, and the windows — which once admitted light for artists like Andy Warhol, Jean-Michel Basquiat, Philip Glass, and Twyla Tharp, who began illegally moving into former manufacturing loft spaces in the 1950s — are still intact. In 1971, after years of organizing and advocacy, the SoHo Artists Association managed to convert those lofts to legal residences, arguing that the arts are a big business for New York. They were, perhaps, too successful. SoHo has now become so prized a locale that only the most successful artists, or the longest-living — Jeff Koons, Tom Sachs, Arthur Elgort — can afford a loft. Nevertheless, art and commerce, history and the cutting edge, still commingle on these charming streets.
THE DUTCH
Chef Andrew Carmellini's charming corner of comfort food opened in 2011, but the warm wooden interior, the fastidious attention to detail, and a menu that reads like the NOW That's What I Call Music compilation of French-tinged American classics, including a famous hot chicken, served with honey butter biscuits, makes the Dutch — named after Manhattan's European colonizers — a timeless SoHo standby.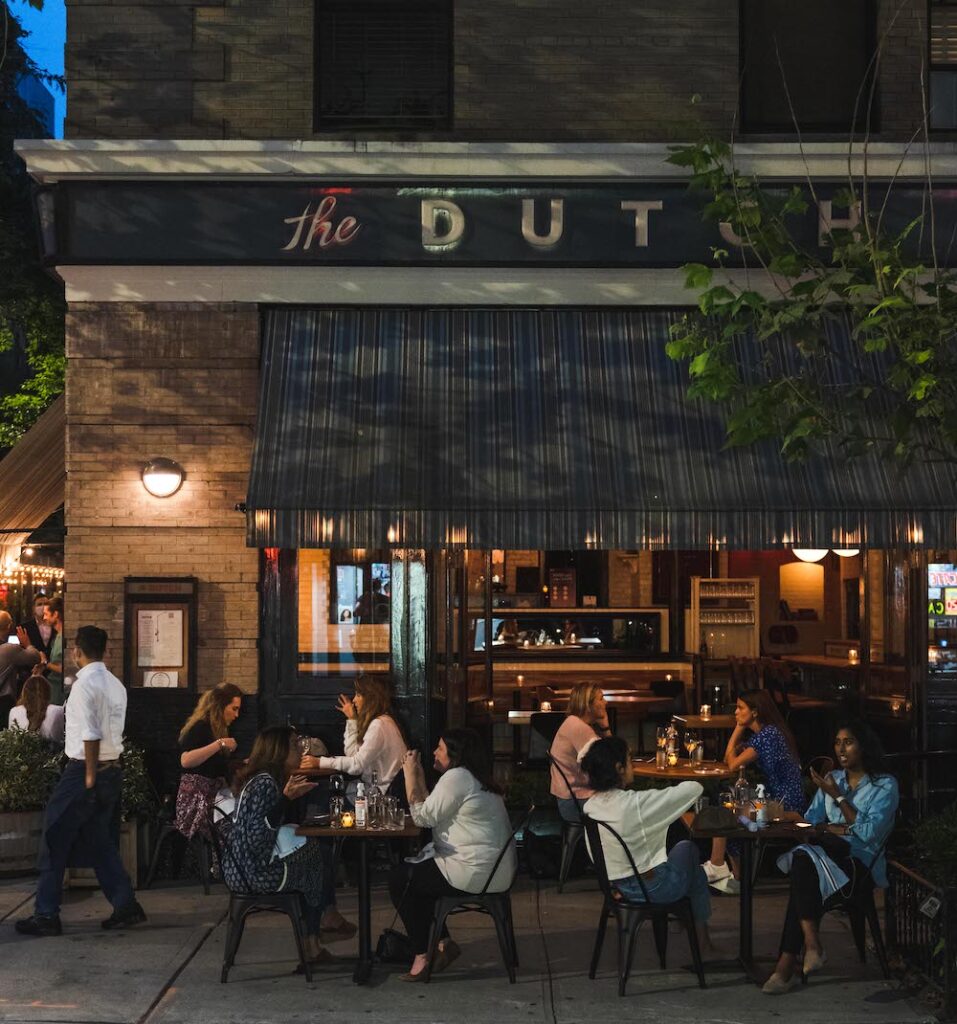 PRADA
When Miuccia Prada hung out a shingle for her family's fashion label at 575 Broadway, in the space formerly occupied by the Guggenheim's downtown branch, it was certification that SoHo had officially become New York's new luxury center. With a reported $40 million interior designed by Rem Koolhaas, the space boasted an undulating zebrawood floor called "The Wave," and was as much a place for the cool kids to gather as it was a boutique of shoes and handbags. Soon after Prada set its stake in SoHo in 2001, an endless procession of luxury stores followed, which now includes everything from a newly designed Celine boutique and a renovated Michael Kors flagship, to Italian streetwear line Stone Island and boutique Swedish brand Acne Studios.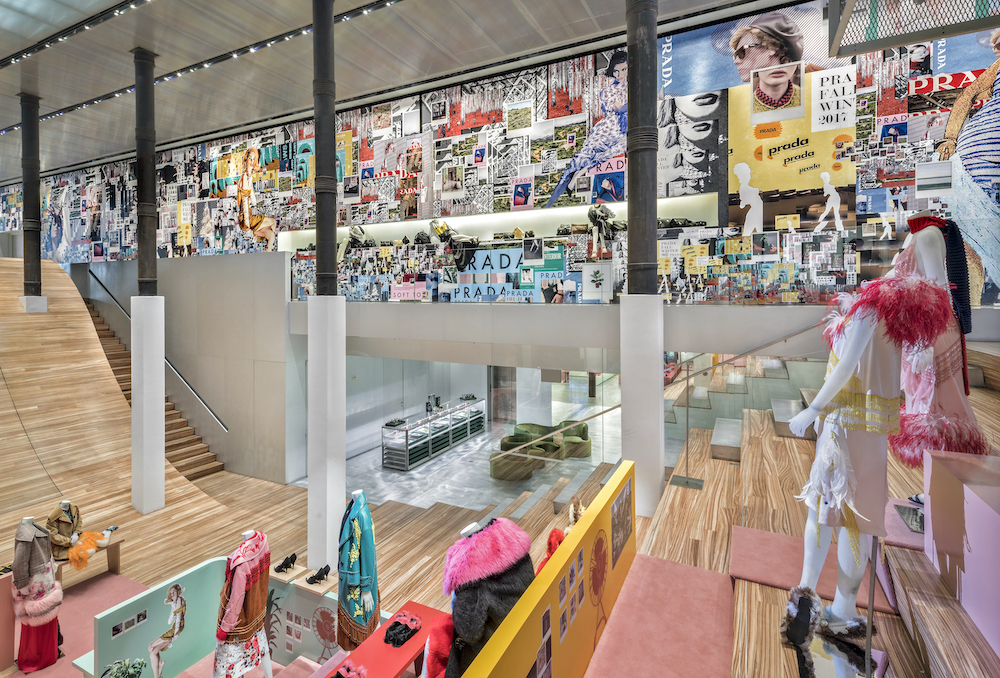 DOMINIQUE ANSEL
If the two-syllable portmanteau "cronut" doesn't immediately conjure images of long lines stretching from Spring, north past the chain-link fence of Vesuvio Playground on Thompson, then you were not alive in 2011. Since then, the French pastry chef has continued to churn out these addictive pastries, a half croissant, half-donut chimera, with ever changing flavors. (A recent variation with pistachio cream was particularly delicious.) But, as he has written on the to-go box, just under "Home of the Cronut," is the admonition "Don't let the creation kill the creativity." But even if the cronuts sell out, which they do to this day, his buttery kouign amann, a Breton pastry, still beckons.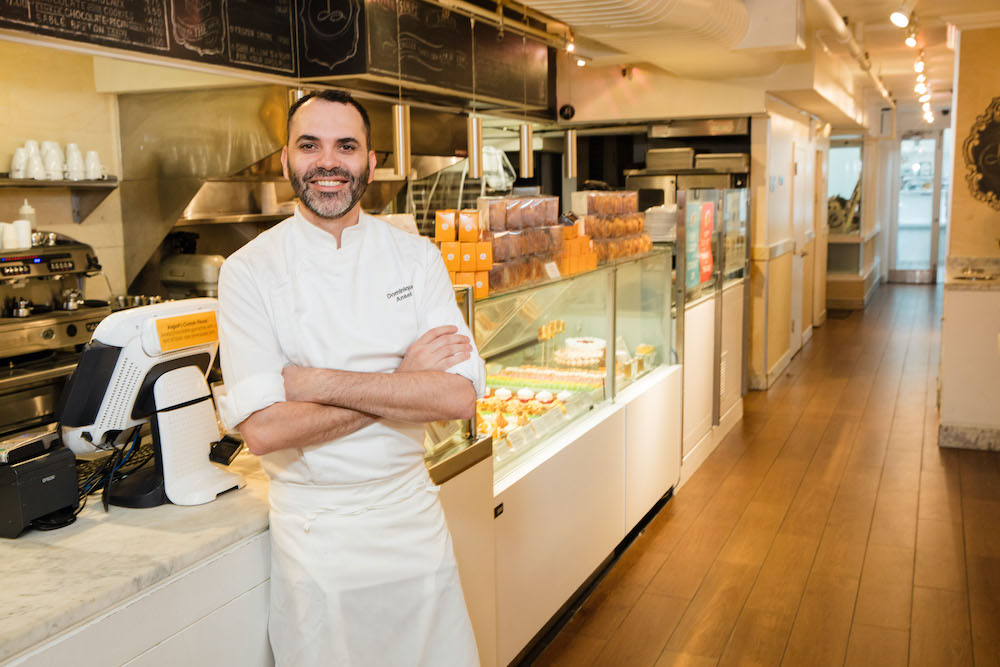 ROMAN AND WILLIAMS GUILD NY
Strange as it may seem, much of SoHo's bobo interior design aesthetic has been determined by Robin Standefer and Stephen Alesch, two former Hollywood set designers who together founded the firm Roman and Williams. After having designed restaurants such as the Dutch and Lafayette; retail spaces for the likes of GOOP and Nike, and hotels like the Ace and the Standard Highline, the pair opened their own block-length emporium Roman and Williams Guild NY in 2017. The space, chock-full of linen napkins, shearling pelts, copper fixtures, and an $1,850 leather log basket, also contains La Mercerie, a (very good) French restaurant run by Marie-Aude Rose, the wife of Daniel Rose, the chef at the nearby (also very good and also Roman and Williams–designed) Le Coucou.
VICTORINOX
A swaggy, sexy store devoted to… Swiss Army knives? It's true: This former firehouse on Wooster has been remastered to showcase the Swiss company's foldable tools. Their line of performance wear is also on display, as are watches, kitchen knives, and fragrances described as "smooth yet highly masculine." Here you'll find not only $430 Swiss Army Knives (with pharmaceutical spatula!) but capsule editions like the all-black Onyx collection and a FieldForce Titanium edition watch. But the boutique also stands for the almost alchemical magic of SoHo, which by its very location adds a mystique not just to knives but to goods in other nearby shops featuring mattresses (Keetsa); socks (Happy Socks), and coffee pods (Nespresso.)
BYREDO
The city during summer is notoriously pungent, but in SoHo even the side streets smell like bergamot and musk. Parfumiers — like the Argentine brand Fueguia 1833; Perfumarie; Florentine house Santa Maria Novella; and MiN New York — proliferate. At Byredo, a Swedish brand whose minimalist flagship opened in 2015 on quiet Wooster Street, those scents include Rodeo, an earthy unisex parfum available exclusively at the SoHo location, as well as richly aromatic candles. These waft over Brazilian pony hair sofas (designed by Byredo's founder, Ben Gorham) that occupy the sweet-smelling aerie.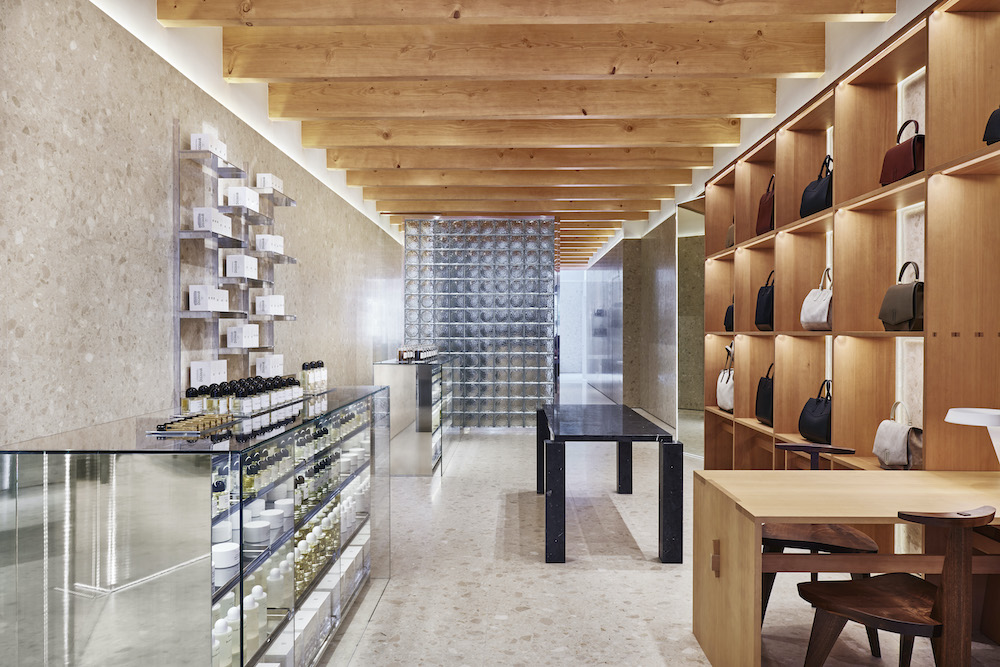 FANELLI CAFÉ
Fanelli's neon sign on the corner of Prince and Mercer Streets has long been a beacon to thirsty or hungry travelers, or just a port for a soul in need of a barman's ear. The second-oldest bar in New York, the Fanelli Café has always catered to a neighborhood crowd. First truckers and warehouse men in the first half of the 20th century, then artists in the '70s and '80s — many fed from early- to mid-career fame — and now a mix of tourists, regulars, and roustabouts who gather under the gaze of framed boxers for beers and a remarkably robust burger.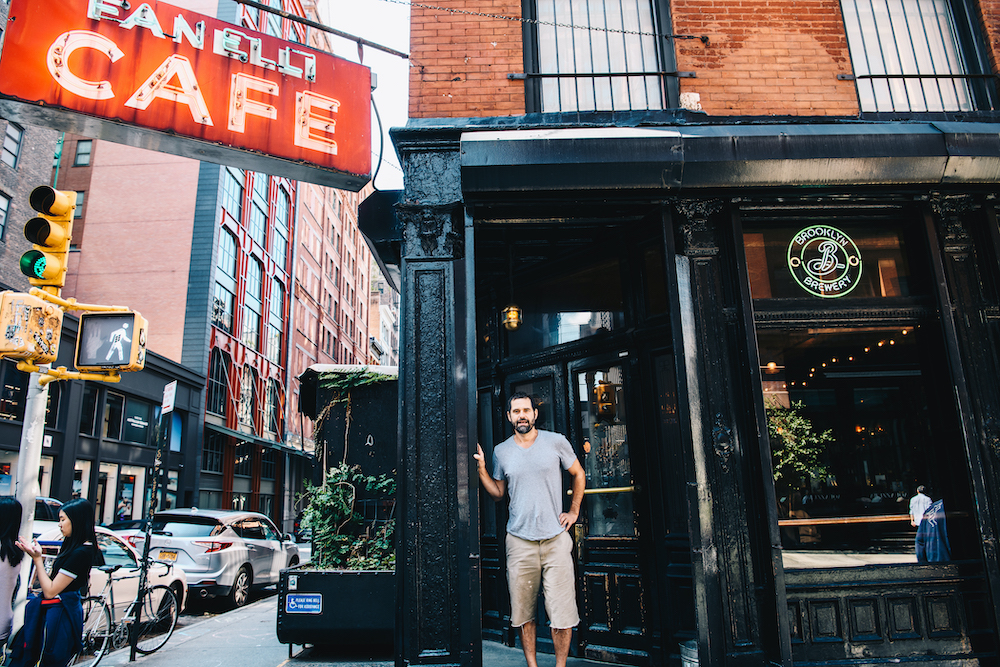 THE DRAWING CENTER
Galleries are the crawling cacti of cultural cachet. From the Upper East Side to Chelsea and the Meatpacking District, they bring and are brought about by the presence of a creative class. SoHo, once the home of many of New York's most daring artists, still bears traces of its heyday as an artists' paradise. Chief among these are the Drawing Center, opened in 1977 by Martha Beck. Over the years, its expansive ground floor gallery has offered space to artists from architect Antoni Gaudí to, most recently, a group of formerly incarcerated artists. But perhaps the most magical gem is the Dia Art Foundation's installation of Walter de Maria's The New York Earth Room, 250 yards of 22-inch deep soil, filling a Wooster Street loft since 1977.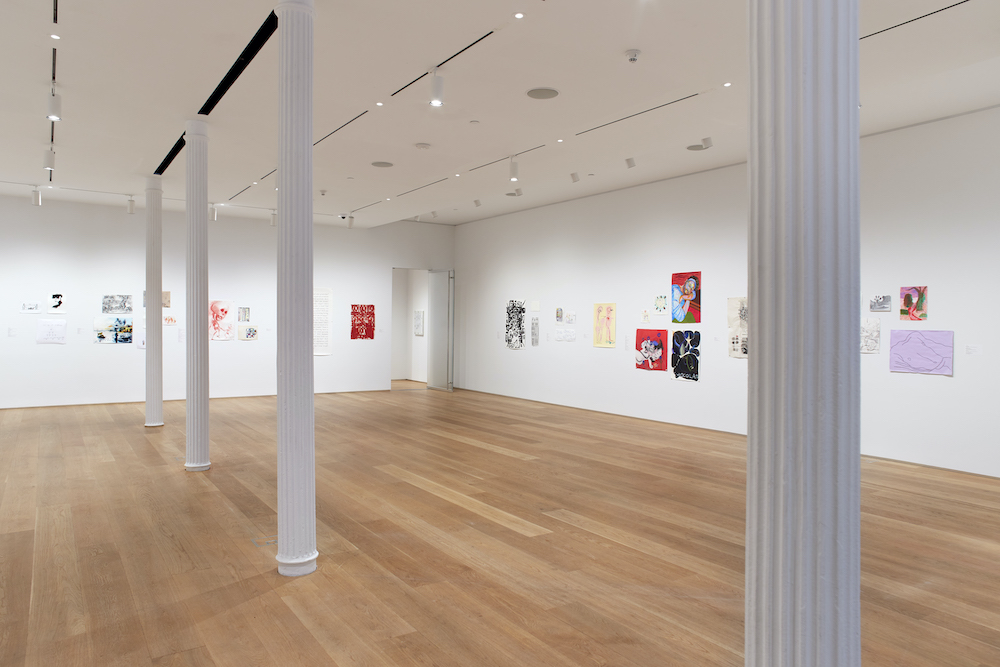 LOUIS VUITTON
Treading up four cast-iron stairs, dotted with small glass circles, into the pleasure domes of international luxury brands is something of a SoHo ritual. The circles, called vault lights or deadlights, once allowed (some) light into the neighborhood's basement factories, like those under 116 Greene Street, now a Louis Vuitton emporium. Built in 1881, the space has been occupied by Vuitton since 1998, and was redesigned by Peter Marino in 2016. Much like the Prada store a few blocks to the northeast, the Vuitton HQ is itself as much a work of art as the wares on display. Its columns boast the work of Japanese artist Shuji Mukai, a member of the Gutai (a sort of Japanese proto-Fluxus art movement) and Italian artist Giuseppe Penone, who, ironically perhaps for a luxury boutique, is a lion in the arte povera movement.
TOM DIXON
On cloudy days, SoHo still seems ablaze, thanks to the many lighting emporia that illuminate its side streets. From the architectural lighting of Milanese firm Artemide, to the Czech designer Leon Jakimič, these represent both SoHo's past as a manufacturing hub, and its present as an intersection of art, design, and commerce. In 2018, the British designer Tom Dixon opened a 6,700-square-foot flagship, where his metallic orbs cast their light upon furry wingback chairs. Sofas, not meant to be sit upon, are arranged as if in the world's most stylish (and brightly lit) living room.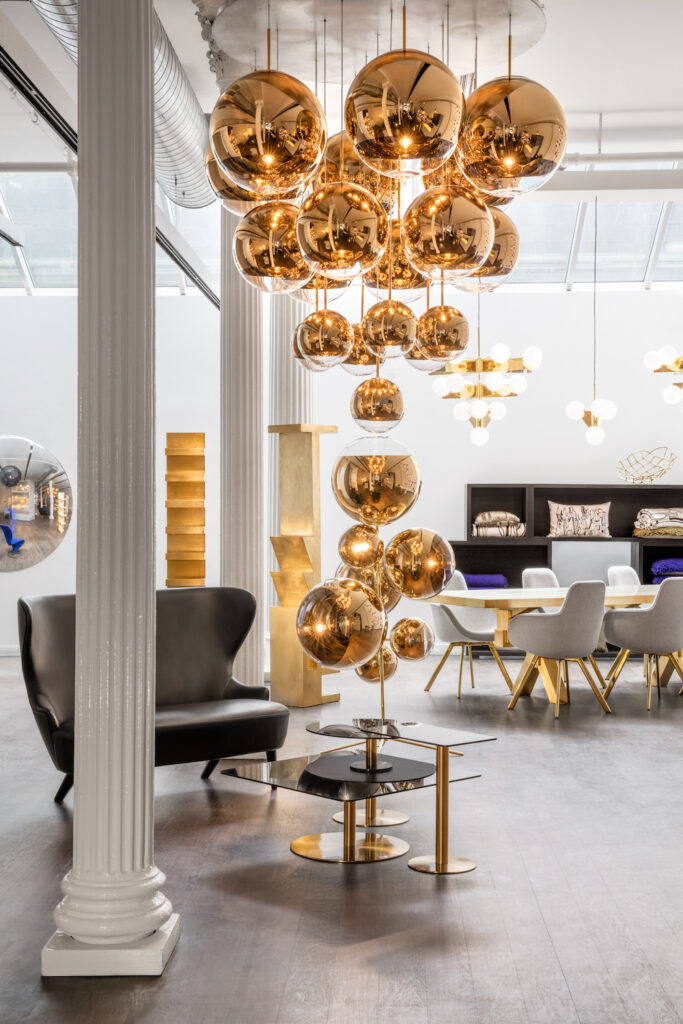 SIXTY SOHO
There are 97 rooms at the Sixty SoHo hotel, each designed by London designer Tara Bernerd, but much of the action happens on the ground, second, and top floors. Working one's way from the bottom (open to the general public) to the top (a members-only rooftop), is the vertical version of Graydon Carter's Seven Room theory of increasingly rarefied access to influence. Perhaps the most appealing is the second-floor boîte, the Butterfly. Run by nightlife veterans Nur Khan and John McDonald, the lush interior boasts Damien Hirst's butterfly collages — pity the lepidoptera! — cocktails like the Gatekeeper, and a late-night crowd that spills out into the SoHo streets after being thoroughly danced out by live deejays. During the warmer months, the rooftop — A60 — whose entrance is guaranteed with a hard-to-obtain membership card, beckons with peaceful perches on an open terrace.